U.S. Energy Information Administration - EIA - Independent Statistics and Analysis
Crude Oil
Prices: Crude oil prices continued trading in a narrow range in February. Brent crude oil front-month futures prices decreased by $1.72 per barrel (b), and West Texas Intermediate (WTI) prices decreased by $1.27/b between February 1 and March 2, settling at $55.08/b and $52.61/b, respectively, on March 2 (Figure 1). Brent and WTI average spot prices in February were higher by 37 cents/b and 94 cents/b, respectively, compared with January averages.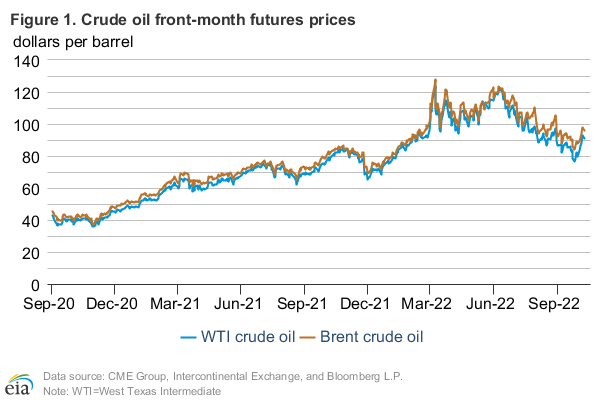 The oil market is showing signs of closer balance between supply and demand in early 2017. Although estimates of January and February crude oil production will remain unconfirmed for another month or two, voluntary oil supply reductions by members of the Organization of the Petroleum Exporting Countries (OPEC) and some non-OPEC producers (following agreements in late 2016) appear to be achieving a high degree of compliance.
EIA estimates that global oil inventories fell at a rate of almost 1.0 million barrels per day (b/d) in February, which would be the third-largest monthly decline rate since the beginning of 2014. Global economic activity continues to remain robust and is supporting oil consumption growth. However, the outlook for the oil market remains uncertain because of supply developments. While supply from non-OPEC countries in the second quarter of 2017 is expected to be close to its level from the fourth quarter of 2016, OPEC supply is forecast to decline during the same period. Lower OPEC market share could complicate whether its members will renegotiate voluntary supply reductions for the second half of 2017. EIA expects increases in non-OPEC supply, particularly in the United States, to limit upward oil price pressure through much of 2017.
EIA forecasts Brent crude oil spot prices to average $55/b in 2017 and $57/b for 2018, which is unchanged from the February STEO.
Oil prices traded in a narrow range in February with a $4/b difference between the highest and lowest prices of the month. Crude oil price implied volatility declined to one-year lows in February. Brent implied volatility decreased to 22.7% on March 2, a decline of five percentage points since February 1. WTI implied volatility declined six percentage points over the same period (Figure 2). Implied volatility in February 2017 was significantly lower than February 2016, when fears about global economic growth and falling commodity prices contributed to heightened volatility across most traded securities.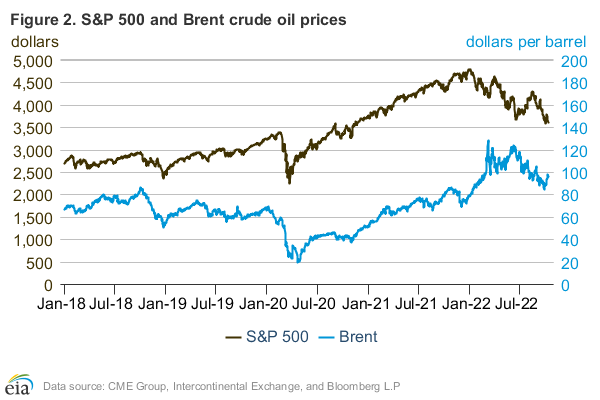 Crude oil price spreads: In contrast to the narrow trading range in front-month prices, the difference between the price of the front-month Brent contract and a contract for delivery 13 months in the future (1st-13th spread) trended higher in February. After briefly reaching backwardation (when near-term prices are higher than longer-dated ones) in late February for the first time since 2014, the Brent 1st-13th spread settled at -57 cents/b on March 2 (Figure 3). Backwardation can occur during supply disruptions, but it can also occur when demand is higher than expected, pulling available supply out of inventory. Global oil inventories are estimated to have fallen at a rate of almost 1.0 million b/d in February.
In the United States, total commercial petroleum inventories decreased by 7 million barrels in February, the first February decline since 2013, driven by declines in petroleum products. The comparatively large draws in petroleum inventories likely contributed to the WTI 1st-13th spread increasing by 85 cents/b from February 1 to settle at -$1.50/b on March 2. As refineries return from maintenance in the second quarter, crude oil inventories could decline, which could put further upward pressure on the 1st-13th spread.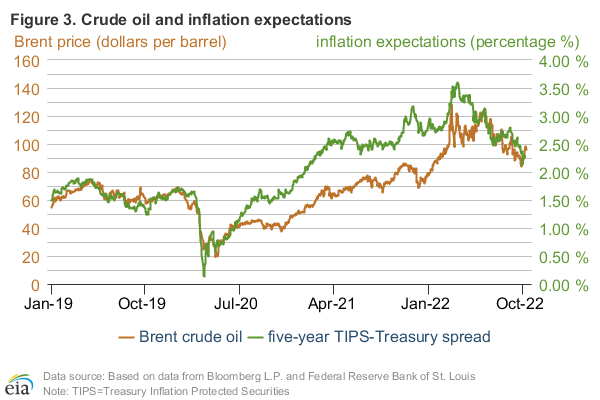 Recent changes in price spreads between crude oil grades are consistent with changing trade flows. Voluntary supply reductions from some OPEC and non-OPEC countries disproportionately reduced the supply of medium-sour crude oils. This supply reduction is contributing to higher prices for medium-sour Dubai and Oman crude oils–the Middle Eastern crude oil benchmarks– making those crudes less attractive to refineries in Asia. The Brent-Dubai Exchange of Futures for Swaps (EFS) is an instrument that allows trade between the Brent futures market and the Dubai swaps market and represents the price premium of Brent over Dubai crude oil. The EFS continues to trade below $2/b and is at the lowest level for this time of year since 2010, settling at $1.50/b on March 2 (Figure 4). A low premium of Brent crude oil over Dubai opens up opportunities for Asian refiners to import more North Sea and West African grades, and trade press is reporting an increase in Atlantic basin cargoes headed to Asia.
Similarly, the price differential of U.S.-produced Mars crude oil and Dubai/Oman oil also declined over the past few months and contributed to an increase in U.S. crude oil exports to Asia. The Mars-Dubai/Oman differential averaged -$3.25/b in February, less than the February 2016 average of -$1.78/b and settled at -$4.40/b on March 2. Not only are supply reductions increasing the price of the Dubai/Oman benchmark, but recent increases in U.S. Federal Offshore Gulf of Mexico production could also be contributing to a relative decrease in the Mars price. Lower U.S. refinery runs during maintenance season are also reducing domestic crude oil demand in the first quarter of 2017 and freeing up more oil for export. The wide price differential is opening up opportunities for U.S. crude oil producers to export to Asia. Initial weekly estimates based on EIA's Weekly Petroleum Status Report indicate that U.S. crude oil exports reached a record high of 0.9 million b/d for the four weeks ending February 24.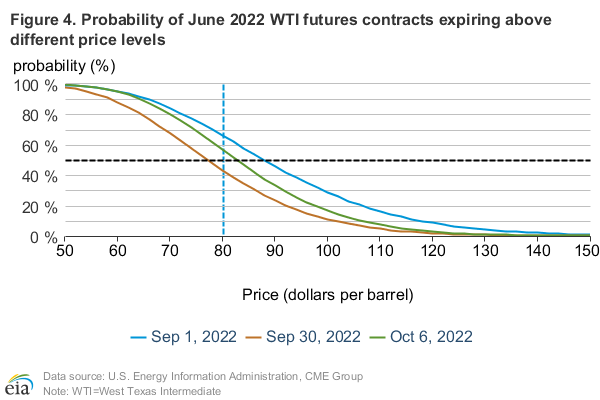 Price Summary
2015
2016
2017

projected

2018

projected

a West Texas Intermediate.

WTI Crude Oila


(dollars per barrel)

48.67
43.33
53.49
56.18
Brent Crude Oil


(dollars per barrel)

52.32
43.74
54.62
57.18
Global Petroleum and Other Liquids
2015
2016
2017

projected

2018

projected

a Weighted by oil consumption.

Supply & Consumption

(million barrels per day)

Non-OPEC Production
58.80
58.18
58.71
59.70
OECD Consumption
46.40
46.78
47.04
47.38
Non-OECD Consumption
48.73
49.86
51.11
52.37
Total World Consumption
95.12
96.64
98.15
99.74
Primary Assumptions

(percent change from prior year)

World Real Gross Domestic Producta
2.6
2.3
2.7
3.0
Real U.S. Dollar Exchange Rateb
10.7
6.3
5.4
0.9