U.S. Energy Information Administration - EIA - Independent Statistics and Analysis
Crude Oil
Prices:
Brent and West Texas Intermediate (WTI) crude oil prices declined by $2.52 per barrel (b) and by $2.84/b, respectively, since June 1, with Brent front-month futures prices settling at $48.11/b and WTI settling at $45.52/b on July 6 (
Figure 1
). June Brent and WTI monthly average spot prices were $3.96/b and $3.34/b lower, respectively, than the May averages.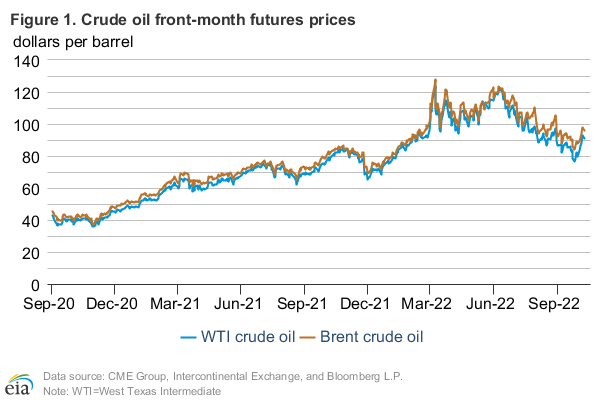 Crude oil prices reached their lowest levels year-to-date in late June. Prices fell after EIA's Weekly Petroleum Status Report (WPSR) reported builds in total U.S. crude oil and petroleum products inventories that were above the five-year average during the weeks ending June 2 and June 9. The build in total petroleum inventories for the week ending June 2 was the largest for any week since 2008. Also, rising Libyan and Nigerian production in June put downward pressure on prices. With production continuing to increase in the United States, total petroleum inventories in the Organization for Economic Cooperation and Development remained 9% above the previous five-year average at the end of June, despite the ongoing voluntary production cuts made by the Organization of the Petroleum Exporting Countries (OPEC).
Price Summary
2015
2016
2017

projected

2018

projected

a West Texas Intermediate.

WTI Crude Oila


(dollars per barrel)

48.67
43.33
48.95
49.58
Brent Crude Oil


(dollars per barrel)

52.32
43.74
50.79
51.58
Global Petroleum and Other Liquids
2015
2016
2017

projected

2018

projected

a Weighted by oil consumption.

Supply & Consumption

(million barrels per day)

Non-OPEC Production
58.49
57.93
58.89
60.05
OECD Consumption
46.41
46.85
47.15
47.53
Non-OECD Consumption
48.99
50.07
51.23
52.47
Total World Consumption
95.40
96.92
98.39
100.00
Primary Assumptions

(percent change from prior year)

World Real Gross Domestic Producta
2.6
2.3
2.8
3.1
Real U.S. Dollar Exchange Rateb
10.7
6.3
2.5
2.2