---
In the News:
Exelon to purchase Everett LNG terminal to ensure supply to Mystic Generating Station
On March 29, Exelon Generation announced an agreement with ENGIE North America to purchase the Everett liquefied natural gas (LNG) import terminal by the fourth quarter of 2018, pending regulatory approvals, to secure fuel for the Mystic Generating Station in Everett, Massachusetts. ENGIE, a French multinational electric utility company, has divested many of its fossil fuel investments and its entire LNG portfolio as it plans to increase the share of renewables in its portfolio.
The Everett LNG terminal―the sole source of natural gas supply for the Mystic Generating Station―also has connections to both interstate pipeline systems that deliver natural gas to New England (Algonquin and Tennessee Gas Pipeline) as well as a direct connection to National Grid, the largest local distribution company (LDC) in the Northeast. The terminal has a baseload sendout capacity of 0.7 billion cubic feet per day (Bcf/d) and a peak send-out capacity of 1.0 Bcf/d. Exelon's purchase of the terminal can therefore ensure a continuous natural gas supply for operations of the power plant.
Because it supplies the Mystic Generation Station, the Everett terminal is also the only LNG terminal in the United States that still imports regular shipments of LNG. Everett accounted for 83% of all U.S. LNG imports in 2016 and 87% in 2017. In both years, 100% of LNG supply to Everett came from Trinidad and Tobago, where ENGIE has a long-term contract with the Atlantic LNG production facility. However, this contract expires in March 2019, according to IHS Markit, and there have been concerns about shortages of upstream natural gas feedstock supply to maintain production at Atlantic LNG in the future. In periods of winter peak demand, Everett terminal also relies on supply procured in the global spot markets to supplement contractual volumes.
Mystic Generating Station is the largest electricity generating station in Massachusetts, consisting of eight units with a total nameplate summer capacity of 1,998 megawatts (MW). Only four of the units are currently operational. Unit 8 (703 MW) and Unit 9 (711 MW), which account for more than 95% of the plant's electric power generation, are combined-cycle units which run exclusively on natural gas. Unit 7 (576 MW) is a dual-fuel combined-cycle plant that can run on either fuel oil or natural gas. The remaining unit is a small (8 MW) combustion turbine fueled by distillate fuel oil and run only during periods of peak demand.
Going forward, new suppliers and heavier reliance on global spot LNG markets might be necessary to supply Mystic, which could affect Exelon's operating fuel cost recovery. As a result of the lower cost of LNG from Trinidad imported into Everett terminal in winter months relative to the cost of domestic natural gas priced off Algonquin Citygate—which tends to have periods of significant daily price spikes because of pipeline constraints in New England—the combined-cycle generators at Mystic (Unit 8 and Unit 9) have been operating at high levels. The annual capacity factors of these generators has been averaging between 50%–58% in recent years, and Unit 8's capacity factor reached as high as 63% in 2017, according to Form EIA-923. In a related action, Exelon Generation announced that it would retire all units at the station on June 1, 2022, unless the Independent System Operator for New England (ISO-NE) implements new market rules that will allow these units to recover future operating costs, including the cost of securing natural gas fuel. Exelon's announcement puts Mystic on a growing list of generators whose owners have indicated that without explicit valuation of their contributions to regional reliability/resilience, their plants will close due to difficult market conditions, including, most recently, FirstEnergy's three nuclear plants in PJM.
In response to Exelon's concerns, ISO-NE has begun analyzing the impacts of the potential closure of Mystic, concluding that its operation is a fuel-security and reliability need for the region's electric power grid. According to a recent memo to stakeholders, ISO-NE plans to file a request with the Federal Energy Regulatory Commission (FERC) to waive its tariff requirements while they prepare new tariff language that addresses the region's reliability criteria and costs necessary to ensure fuel security.
Overview:
(For the Week Ending Wednesday, April 18, 2018)
Natural gas spot prices rose at most locations this report week (Wednesday, April 11 to Wednesday, April 18). The Henry Hub spot price rose from $2.69 per million British thermal units (MMBtu) last Wednesday to $2.84/MMBtu yesterday.
At the New York Mercantile Exchange (Nymex), the May 2018 contract price rose 6¢ from $2.675/MMBtu last Wednesday to $2.739/MMBtu yesterday.
Net withdrawals from working gas totaled 36 billion cubic feet (Bcf) for the week ending April 13. Working natural gas stocks are 1,299 Bcf, which is 38% lower than the year-ago level and 26% lower than the five-year (2013–17) average for this week.
The natural gas plant liquids composite price at Mont Belvieu, Texas, rose by 33¢, averaging $7.57/MMBtu for the week ending April 18. The price of natural gasoline, propane, butane, and isobutane rose by 3%, 7%, 5%, and 6%, respectively. The price of ethane remained flat week over week.
According to Baker Hughes, for the week ending Tuesday, April 10, the natural gas rig count decreased by 2 to 192. The number of oil-directed rigs rose by 7 to 815. The total rig count increased by 5, and it now stands at 1008.
Prices/Supply/Demand:
Prices rise in the eastern half of the country as the Midwest and Northeast experience spring cold snap. This report week (Wednesday, April 11 to Wednesday, April 18), the Henry Hub spot price rose 15¢ from $2.69/MMBtu last Wednesday to $2.84/MMBtu yesterday.
Spot prices increased in the Midwest and Northeast as a cold front moved across the northern part of the Lower 48 states. At the Chicago Citygate, prices increased 61¢ from $2.55/MMBtu last Wednesday to $3.16/MMBtu yesterday with a high of $3.73/MMBtu on Tuesday. At the Algonquin Citygate, which serves Boston-area consumers, prices went up $4.11 from $4.23/MMBtu last Wednesday to $8.34/MMBtu yesterday. Algonquin prices reached a low of $2.94/MMBtu on Thursday, then rose as the cold temperatures moved in and more cold weather was forecast. The Algonquin Gas Transmission Pipeline began planned maintenance at its Stony Point compressor station on April 10, constraining supply.
At the Transcontinental Pipeline Zone 6 trading point for New York City, prices increased 26¢ from $2.79/MMBtu last Wednesday to $3.05/MMBtu yesterday. Tennessee Zone 4 Marcellus spot prices increased 28¢ from $1.71/MMBtu last Wednesday to $1.99/MMBtu yesterday with a low of $1.52/MMBtu on Tuesday. Prices at Dominion South in northwest Pennsylvania rose 64¢ from $2.01/MMBtu last Wednesday to $2.65/MMBtu yesterday. Prices at PG&E Citygate in Northern California rose 18¢, up from $2.74/MMBtu last Wednesday to $2.92/MMBtu yesterday. The price at SoCal Citygate was volatile throughout the week amid fluctuating regional temperatures, but overall, decreased 28¢ from $3.35/MMBtu last Wednesday to $3.07/MMBtu yesterday.
Nymex prices rise. At the Nymex, the price of the May 2018 contract increased 6¢, from $2.675/MMBtu last Wednesday to $2.739/MMBtu yesterday. The price of the 12-month strip averaging May 2018 through April 2019 futures contracts climbed 4¢ to $2.867/MMBtu.
Supply falls slightly. According to data from PointLogic Energy, the average total supply of natural gas fell by 1% compared with the previous report week. Dry natural gas production decreased by 1% compared with the previous report week, and average net imports from Canada decreased by 9% from last week.
Demand falls. Total U.S. consumption of natural gas fell by 9% compared with the previous report week, according to data from PointLogic Energy. In the residential and commercial sectors, consumption declined by 22% as warm temperatures in the South and West offset increases in heating demand in the Midwest and Northeast. Natural gas consumed for power generation climbed by 2% week over week. Industrial sector consumption decreased by 3% week over week. Natural gas exports to Mexico decreased 1%.
U.S. LNG exports increase week over week. Six vessels (combined LNG-carrying capacity 21.6 Bcf) departed the Sabine Pass liquefaction facility from April 12 to April 18. One vessel (LNG-carrying capacity 3.8 Bcf) was loading at the terminal on Wednesday.
Dominion Energy Cove Point liquefaction terminal entered commercial service last week and exported its first contractual cargo via the Adam LNG vessel (LNG-carrying capacity 3.5 Bcf) on April 16, according to Reuters.
Storage:
Working gas storage continues to post net withdrawals for the second week of the refill season. Net withdrawals from storage totaled 36 Bcf for the week ending April 13, compared with the five-year (2013–17) average net injections of 38 Bcf and last year's net injections of 47 Bcf during the same week. The natural gas storage refill season typically begins on April 1. However, continued colder-than-normal temperatures throughout most of the Lower 48 states have resulted in continued withdrawals from storage. This week's report marks the second week in a row—and fifth time since 2010—that net withdrawals from storage on a national level were reported during April. Working gas stocks totaled 1,299 Bcf, which is 449 Bcf lower than the five-year average and 808 Bcf lower than last year at this time.
Colder-than-normal temperatures drive withdrawals in the Midwest, East, and South Central regions. Working gas stocks in the East, Midwest, and South Central regions posted net withdrawals on the week, in contrast to average net injections typically reported for the storage week in the month of April. Net withdrawals totaled 10 Bcf and 18 Bcf in the Midwest and East regions, respectively, compared with the five-year average net injections of 6 Bcf and 5 Bcf in these regions. In the South Central region, the weekly net draw totaled 12 Bcf compared with the five-year average weekly net build of 22 Bcf.
This week's net change included withdrawals from base gas for the second week in row. Withdrawals from base gas were reported to EIA for the storage week. The cumulative net withdrawals of base gas were treated as negative working gas stocks and were reflected in the working gas inventories reported in the Weekly Natural Gas Storage Report (WNGSR). The aggregate effect of these withdrawals from base gas remain lower than the 4 Bcf threshold for reporting reclassifications of working gas. These withdrawals from base gas are expected to be temporary, and these storage operators likely will replenish their base gas as the refill season progresses. EIA will continue to report on these volumes until base gas is replenished.
The average May 2018 futures contract price trades at a discount to the average weekly spot price. During the most recent storage week, the average natural gas spot price at the Henry Hub was $2.72/MMBtu, 4¢ higher than the front-month futures price at the Nymex. This pricing pattern provided economic incentives to withdraw natural gas from storage to avoid exposure to the spot market. A year ago, the spot price was 10¢ lower than the front-month contract.
Reported net withdrawals from storage is outside of the range of most analysts' expectations. According to the Desk survey of natural gas analysts, estimates of the weekly net withdrawal from working natural gas storage ranged from 18 Bcf to 31 Bcf with a median of 25 Bcf. Prices for the futures contract for May delivery at the Henry Hub rose 2¢/MMBtu to $2.70/MMBtu in 1,358 trades following the release of the WNGSR. Prices traded close to that level in subsequent trading.
Temperatures are colder than normal across the eastern U.S. and Midwest during the storage week. Temperatures in the Lower 48 states averaged 46 degrees Fahrenheit (°F), 5°F lower than the normal and 9°F lower than last year at this time. Temperatures in the heavy natural gas-consuming areas of the Midwest and East regions posted significantly colder-than-normal temperatures. The average temperature for the Lower 48 states was somewhat lower than during the prior storage week.
See also: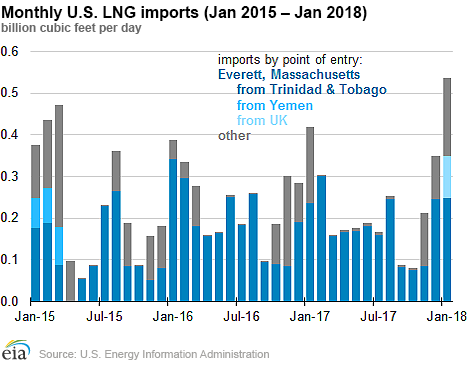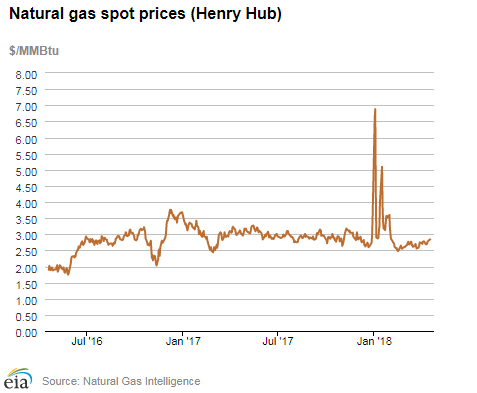 Spot Prices ($/MMBtu)

Thu,
12-Apr

Fri,
13-Apr

Mon,
16-Apr

Tue,
17-Apr

Wed,
18-Apr

Henry Hub

2.71

2.77

2.82

2.83

2.84

New York

2.38

2.81

3.00

2.90

3.05

Chicago

2.50

2.83

3.62

3.73

3.16

Cal. Comp. Avg.*

2.35

2.40

2.51

2.44

2.33

Futures ($/MMBtu)
May contract

2.686

2.735

2.752

2.738

2.739

June contract

2.717

2.764

2.784

2.770

2.768

*Avg. of NGI's reported prices for: Malin, PG&E Citygate, and Southern California Border Avg.
Source: NGI's Daily Gas Price Index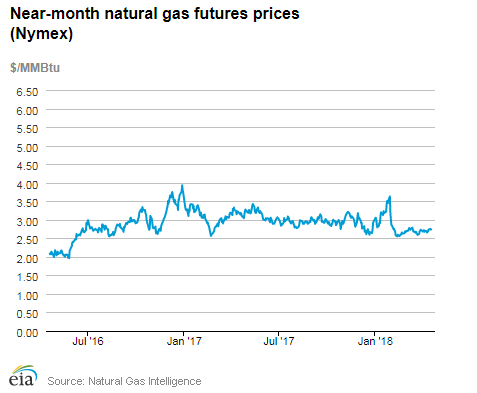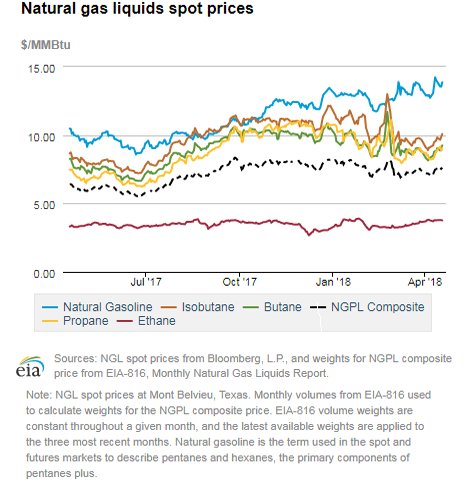 U.S. natural gas supply - Gas Week: (4/12/18 - 4/18/18)

Average daily values (Bcf/d):

this week

last week

last year

Marketed production

90.1

90.8

80.8

Dry production

79.6

80.1

71.7

Net Canada imports

5.7

6.2

5.2

LNG pipeline deliveries

0.1

0.1

0.1

Total supply

85.3

86.4

77.0

Source: OPIS PointLogic Energy, an IHS Company
Note: LNG pipeline deliveries represent gas sendout from LNG import terminals.
U.S. natural gas consumption - Gas Week: (4/12/18 - 4/18/18)

Average daily values (Bcf/d):

this week

last week

last year

U.S. consumption

67.7

74.4

54.9

Power

24.1

23.7

22.6

Industrial

21.2

21.9

20.1

Residential/commercial

22.3

28.8

12.2

Mexico exports

4.2

4.3

3.3

Pipeline fuel use/losses

7.0

7.7

5.7

LNG pipeline receipts

3.4

3.5

2.2

Total demand

82.3

89.8

66.0

Source: OPIS PointLogic Energy, an IHS Company
Note: LNG pipeline receipts represent pipeline deliveries to LNG export terminals.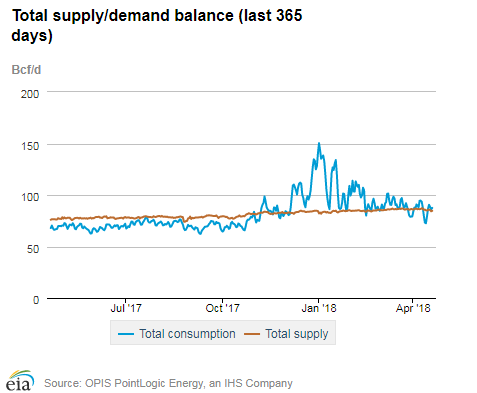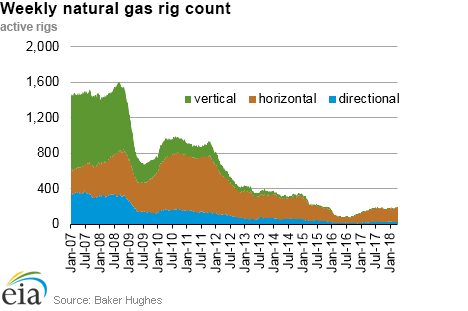 Rigs

Tue, April 10, 2018

Change from

last week

last year

Oil rigs

815

0.9%

19.3%

Natural gas rigs

192

-1.0%

18.5%

Note: Excludes any miscellaneous rigs
Rig numbers by type

Tue, April 10, 2018

Change from

last week

last year

Vertical

55

-1.8%

-28.6%

Horizontal

883

-0.1%

25.1%

Directional

70

11.1%

9.4%

Source: Baker Hughes Inc.
Working gas in underground storage

Stocks
billion cubic feet (Bcf)

Region

2018-04-13

2018-04-06

change

East

207

217

-10

Midwest

228

246

-18

Mountain

83

83

0

Pacific

175

171

4

South Central

606

618

-12

Total

1,299

1,335

-36

Source: U.S. Energy Information Administration
Working gas in underground storage

Historical comparisons

Year ago
(4/13/17)

5-year average
(2013-2017)

Region

Stocks (Bcf)

% change

Stocks (Bcf)

% change

East

276

-25.0

286

-27.6

Midwest

485

-53.0

357

-36.1

Mountain

144

-42.4

123

-32.5

Pacific

223

-21.5

228

-23.2

South Central

979

-38.1

754

-19.6

Total

2,107

-38.3

1,748

-25.7

Source: U.S. Energy Information Administration
Temperature – heating & cooling degree days (week ending Apr 12)

HDD deviation from:

CDD deviation from:

Region

HDD Current

normal

last year

CDD Current

normal

last year

New England

190

42

92

0

0

0

Middle Atlantic

181

50

93

0

0

0

E N Central

182

47

82

0

0

0

W N Central

195

67

98

0

-1

-1

South Atlantic

110

43

56

17

4

4

E S Central

106

45

55

0

-5

-3

W S Central

48

17

26

10

-7

-15

Mountain

128

6

35

2

-4

-5

Pacific

69

-2

-3

0

-2

0

United States

136

34

58

4

-1

-1

Note: HDD = heating degree day; CDD = cooling degree day

Source: National Oceanic and Atmospheric Administration
Average temperature (°F)
7-Day Mean ending Apr 12, 2018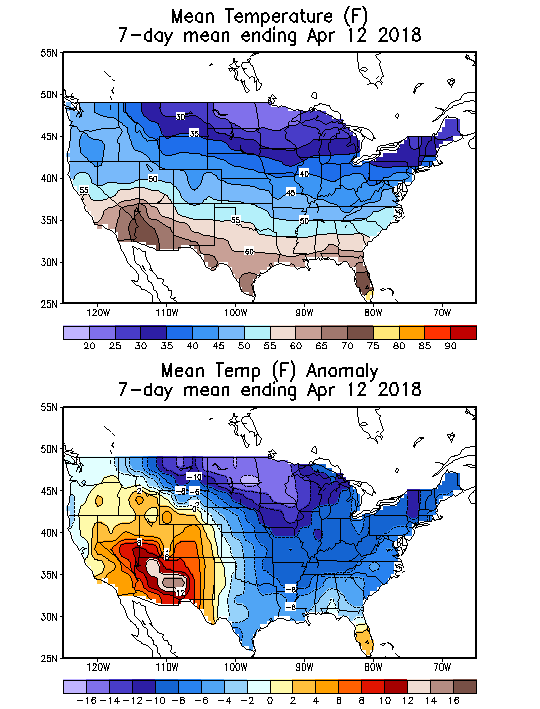 Source: NOAA National Weather Service
Deviation between average and normal (°F)
7-Day Mean ending Apr 12, 2018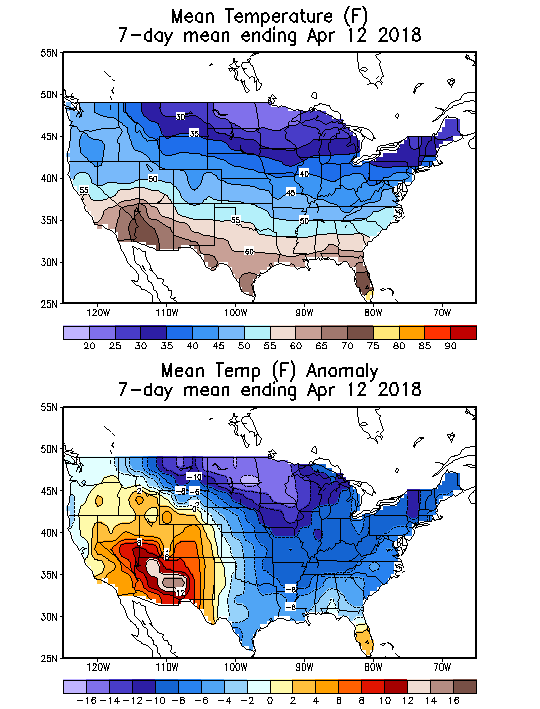 Source: NOAA National Weather Service