---
In the News:
Westbound gas flows on Rockies Express make up supply interrupted by rupture
The Rockies Express Pipeline (REX), a large natural gas transmission pipeline that connects production areas in the Rockies to consuming regions as far east as Ohio, continues to declare force majeure on its Segment 300 in Pike County, Missouri, located about 90 miles northwest of St. Louis The force majeure was declared on January 29, following a weld failure and pipe rupture on the segment. Although 50 homes within a 3-mile radius had to be evacuated for six hours, there were no reports of injuries or fire associated with this incident.
Segment 300 has a capacity of 1.8 billion cubic feet per day (Bcf/d), and during the force majeure the quantity of natural gas scheduled to travel through Segment 300 in Pike County has been brought to zero. With repairs underway, the force majeure remains in effect, and the pipeline expects that service will be restored on or about Sunday, February 8.
Following the rupture, natural gas continued to flow on REX, west of Segment 300, but at a much reduced pressure and volume. Eastbound flows on REX from the Rockies, which had averaged 1.2 Bcf/d for January, have fallen to 0.47 Bcf/d, according to data from SNL Energy.
East of Segment 300, increased westbound REX flows from Clarington, Ohio, are helping to replace the loss of Rockies supply. The first westbound flows on REX occurred in June 2014, but have remained relatively minimal as far west as the ANR pipeline connection in Shelbyville, Indiana. Since the Segment 300 disruption occurred, flows west on REX to Shelbyville have averaged 0.31 Bcf/d. The REX westbound flows also have continued past Shelbyville, averaging 0.29 Bcf/d as far as the border of Indiana and Illinois. The natural gas price at the Lebanon trading point in Ohio, which includes deliveries to REX, climbed 24¢ per million British thermal units (MMBtu) the day following the incident, while prices elsewhere declined.
According to the U.S. Department of Transportation's Pipeline and Hazardous Materials Safety Administration (PHMSA), pipelines "are one of the safest and most cost-effective means" to transport natural gas. PHMSA tracks and reports data on pipeline incidents, which include both issues on pipelines directly, as well as supporting infrastructure, such as compressor stations. On average, over the past five years (2010-14), there were 113 incidents annually on natural gas transmission pipelines. These incidents include, among other things, pipeline breaks caused by digging equipment, metal corrosion, and equipment failure. PHMSA classified 66% of these incidents as "significant" and 2% as "serious", which include a fatality or injury requiring in-patient hospitalization.
The United States has close to 2.5 million miles of natural gas pipelines, including those that gather, transmit, and distribute gas from production regions to the ultimate consumer, according to PHMSA data. Most of this mileage, 2.1 million, comes from smaller-diameter, low-pressure pipelines that are used for local distribution of the gas.
Overview:
(For the Week Ending Wednesday, February 4, 2015)
Natural gas spot prices responded to regional weather through the report week (Wednesday to Wednesday). While the Midwest and Northeast faced severe winter conditions, weather moderated in other regions. The Henry Hub spot price fell 16¢ from $2.89/MMBtu on January 28 to $2.73/MMBtu yesterday, February 4.
At the New York Mercantile Exchange (Nymex), the price of the March 2015 futures contract opened the report week at $2.842/MMBtu and then moved down, with some minor fluctuation, to settle at $2.662/MMBtu on Wednesday.
Working natural gas in storage decreased to 2,428 Bcf as of Friday, January 30, according to the U.S. Energy Information Administration (EIA) Weekly Natural Gas Storage Report (WNGSR). A net withdrawal from storage of 115 Bcf for the week resulted in storage levels 23.9% above year-ago levels and 1.2% below the five-year average for this week.
The total U.S. rotary rig count decreased by 90 active units to 1,543 rigs for the week ending January 30, and is 14% less than a year ago, according to data from Baker Hughes Inc. The natural gas rig count rose by 3 units to 319, while the oil rig count fell by 94 to 1,223. The largest decline in oil rigs occurred in the Permian, where the count fell by 27. One miscellaneous rig was placed into operation.
The natural gas plant liquids composite price dropped 1¢ for the week ending January 30, decreasing by 0.3% from $5.20/MMBtu to $5.19/MMBtu from Friday to Friday. Mont Belvieu NGL spot prices were mixed this week, with natural gasoline and propane rising 2.0% and 0.9% respectively, while ethane fell 1.2%, butane fell 3.5%, and isobutane fell 3.6%.
Prices/Demand/Supply:
Henry Hub falls to lowest level since June 2012. The Henry Hub spot price fell from $2.89/MMBtu last Wednesday to $2.63/MMBtu on Monday, its lowest level since June 26, 2012, before closing the week at $2.73/MMBtu yesterday. Natural gas spot prices declined at most locations outside the Northeast. Declines in the Midwest, Gulf, and Midcontinent regions ranged from a few cents to more than 10¢. Larger declines occurred farther west, in California and the Rockies. At the Malin Hub, servicing Northern California, prices fell from $2.67/MMBtu to $2.43/MMBtu Wednesday to Wednesday. At the Opal trading point in Wyoming, prices fell 26¢, from $2.62/MMBtu to $2.36/MMBtu.
Northeast prices rise with cold and stormy weather. Prices in New England started the report week higher than other trading points. In Boston, at the Algonquin Citygate, prices began the week at $8.96/MMBtu, rose to $12.69/MMBtu on Friday, and dropped back to $8.22/MMBtu on Tuesday. With colder weather forecast, prices rose to close the report week yesterday at $12.30/MMBtu. Transcontinental Pipeline's Zone 6 trading point for New York City (Transco Z6 NY) began the week at $3.75/MMBtu but jumped on Friday to $15.45/MMBtu, likely in anticipation of coming winter weather for the weekend. With milder temperatures on Tuesday, prices fell to $3.74/MMBtu, but gained $9.49/MMBtu in trading on Wednesday, closing the report week at $13.23/MMBtu yesterday with forecasted colder temperatures.
Marcellus-area prices rise through the week. Although Marcellus-area prices rose by more than 20% through the report week, their levels are still far below prices in other parts of the country. Prices at Tennessee's Zone 4 trading region, which represents Marcellus deliveries into Tennessee's system, rose from $1.12/MMBtu at the beginning of the report week to $1.34/MMBtu at its end. Transco's Leidy Line started the week at $1.11/MMBtu and rose 27¢ to $1.38/MMBtu yesterday, a 24% increase. Dominion South, continuing its rising trend from the start of the year, rose approximately 32% this week from $1.84/MMBtu to $2.42/MMBtu, Wednesday to Wednesday.
Nymex prices drop. Beginning its tenure as the near-month contract, the March 2015 Nymex futures contract settled at $2.842/MMBtu last Wednesday. On Monday, February 2, it dropped to a report week low of $2.608/MMBtu, the lowest near-month contract price since June 2012. The March contract increased the next day to $2.754, but then ended the report week down at $2.662/MMBtu. The 12-month strip (the average of the contracts between March 2015 and February 2016) fell from $2.907/MMBtu last Wednesday to $2.776/MMBtu yesterday.
Production remains relatively flat. Dry natural gas production rose 0.5% from last week, and was 12.5% higher than last year, according to data from Bentek Energy. In addition to the force majeure on REX, which may have reduced production in the Rockies by 0.7 Bcf/d, according to Bentek, a force majeure event on February 2 at El Paso Pipeline's Waha Compressor station in western Texas might constrain Permian production. This event, which is being attributed to unscheduled maintenance, will limit deliveries to 0.3 Bcf/d and will remain in effect through March 31. Recently, flows through the affected points have been less than 0.3 Bcf/d because of production freeze-offs earlier in January. However, as recently as December, flows to these points have neared 0.5 Bcf/d.
Imports from Canada were up 2.9% week-over-week, with increases in imports to the Northeast and Midwest and declines of imports to the West. Some of the volumes into the Northeast include LNG deliveries to the Canaport LNG import terminal in eastern Canada, imported into the United States along the Maritimes and Northeast Pipeline to New England. LNG sendout at U.S.-based terminals, while still a small volume, increased nearly 57% from the previous week based on deliveries into the Northeast from terminals at Cove Point, Md.; Everett, Mass.; and the Northeast Gateway, offshore Boston.
Consumption increases. Domestic consumption rose 7.8% from the previous report week. Residential and commercial consumption increased 13.8% week-over-week, while industrial consumption increased 0.7%. Consumption of gas for power generation rose 2.8%, driven by increases in the Northeast, Midwest, and Midcontinent, and is 10.8% more than year-ago levels.
Storage
Storage inventories near five-year average. The net withdrawal reported for the week ending January 30 was 115 Bcf, 50 Bcf lower than the five-year average net withdrawal for that week and 144 Bcf lower than last year's net withdrawal. Working gas inventories as of January 30 totaled 2,428 Bcf, 468 Bcf (23.9%) higher than last year at this time and 29 Bcf (1.2%) lower than the five-year (2010-14) average.
Storage withdrawals are lower than market expectations. Market expectations, on average, called for a pull of 121 Bcf. When the EIA storage report was released at 10:30 a.m. on February 5, the price for the March natural gas futures contract decreased 2¢, to $2.60/MMBtu, in trading on the Nymex. In the next hour, prices oscillated between $2.59 and $2.62/MMBtu.
Stocks in all three regions are above their year-ago levels. Storage levels for the East, West, and Producing regions were above their year-ago levels by 254 Bcf, 66 Bcf, and 148 Bcf, respectively, but the East and Producing regions remain below their five-year average levels. The West region is above its five-year average level by 17 Bcf. The East, West, and Producing regions had net withdrawals of 87 Bcf (18 Bcf lower than its five-year average withdrawal), 4 Bcf (13 Bcf lower), and 24 Bcf (19 Bcf lower), respectively.
Temperatures during the storage report week are warmer than normal. Temperatures in the Lower 48 states averaged 37.7° for the storage report week, 4.1° warmer than the 30-year normal temperature and 11.4° warmer than the temperatures during the same week last year. There were 192 population-weighted heating degree days during the storage report week, 3 fewer than the 5-year average and 80 fewer than during the same period last year.
See also: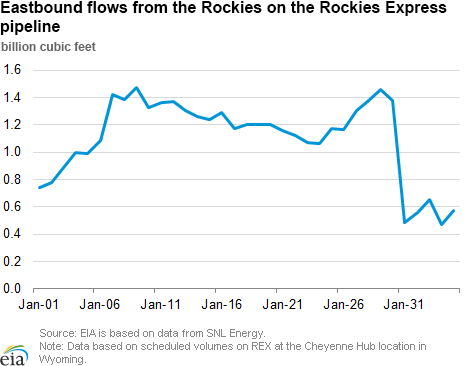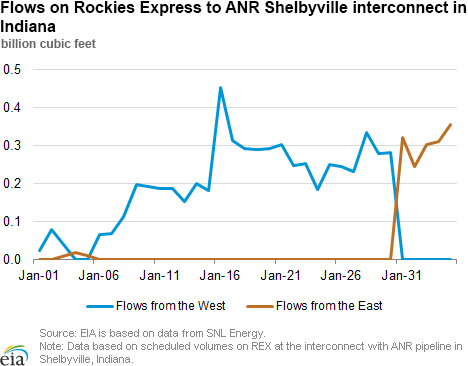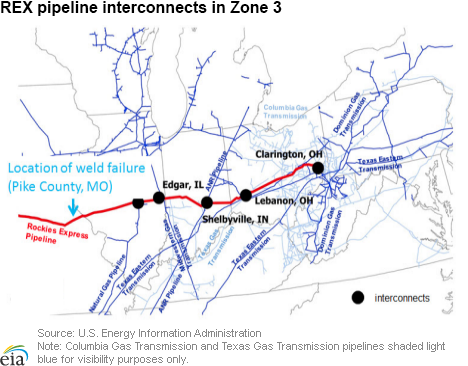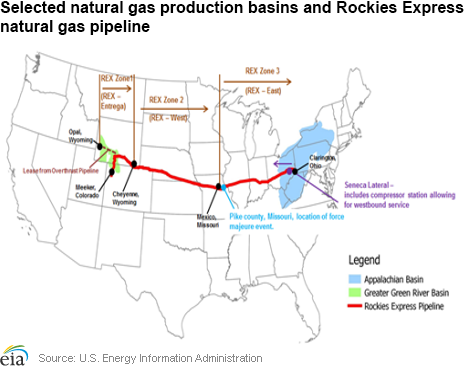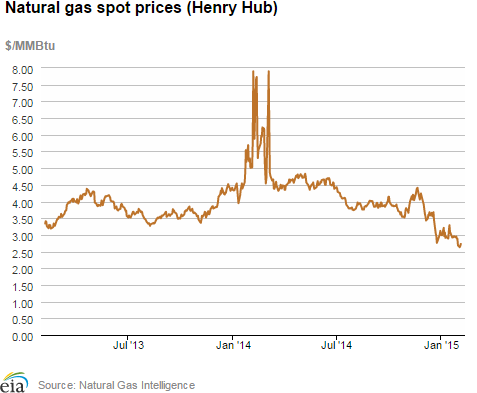 Spot Prices ($/MMBtu)

Thu,
29-Jan

Fri,
30-Jan

Mon,
02-Feb

Tue,
03-Feb

Wed,
04-Feb

Henry Hub

2.88

2.68

2.63

2.67

2.73

New York

8.29

15.45

8.94

3.74

13.23

Chicago

2.79

2.78

2.65

2.75

2.80

Cal. Comp. Avg,*

2.81

2.57

2.59

2.58

2.62

Futures ($/MMBtu)
March contract

2.719

2.691

2.680

2.754

2.662

April contract

2.715

2.687

2.681

2.757

2.669

*Avg. of NGI's reported prices for: Malin, PG&E citygate, and Southern California Border Avg.
Source: NGI's Daily Gas Price Index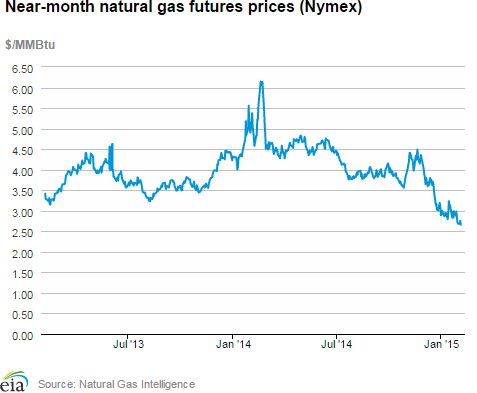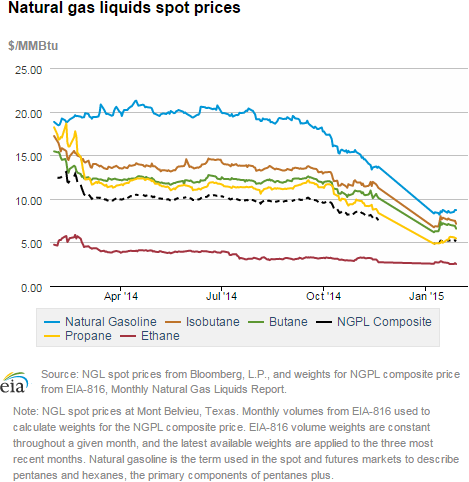 U.S. natural gas supply - Gas Week: (1/28/15 - 2/4/15)

Percent change for week compared with:

last year

last week

Gross production

12.61%

0.46%

Dry production

12.49%

0.46%

Canadian imports

1.69%

2.87%

West (net)

-4.64%

-9.17%

Midwest (net)

-8.63%

16.61%

Northeast (net)

32.63%

16.71%

LNG imports

130.58%

56.93%

Total supply

11.99%

0.91%

Source: BENTEK Energy LLC
U.S. consumption - Gas Week: (1/28/15 - 2/4/15)

Percent change for week compared with:

last year

last week

U.S. consumption

-1.3%

7.8%

Power

10.8%

2.8%

Industrial

-0.0%

0.7%

Residential/commercial

-6.5%

13.8%

Total demand

-1.0%

7.4%

Source: BENTEK Energy LLC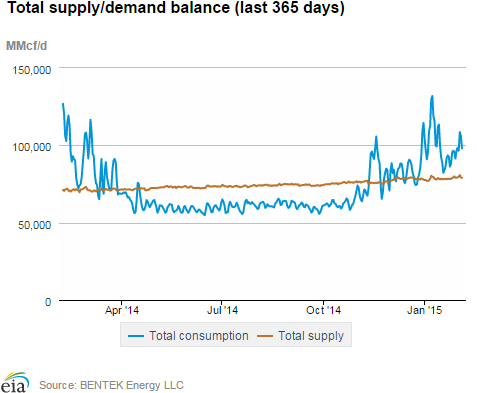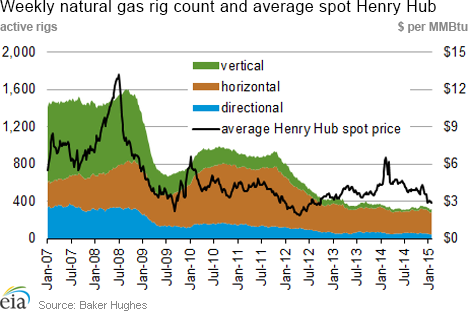 Rigs

Fri, January 30, 2015

Change from

last week

last year

Oil rigs

1,223

-7.14%

-13.99%

Natural gas rigs

319

0.95%

-10.89%

Miscellaneous

1

0.00%

-80.00%
Rig numbers by type

Fri, January 30, 2015

Change from

last week

last year

Vertical

235

-8.91%

-40.05%

Horizontal

1,168

-4.96%

-0.43%

Directional

140

-4.11%

-36.36%

Source: Baker Hughes Inc.
Working gas in underground storage

Stocks
billion cubic feet (bcf)

Region

2015-01-30

2015-01-23

change

East

1,194

1,281

-87

West

371

375

-4

Producing

863

887

-24

Total

2,428

2,543

-115

Source: U.S. Energy Information Administration
Working gas in underground storage

Historical comparisons

Year ago
(1/30/14)

5-year average
(2010-2014)

Region

Stocks (Bcf)

% change

Stocks (Bcf)

% change

East

940

27.0

1,216

-1.8

West

305

21.6

354

4.8

Producing

715

20.7

887

-2.7

Total

1,960

23.9

2,457

-1.2

Source: U.S. Energy Information Administration
Temperature -- heating & cooling degree days (week ending Jan 29)

HDD deviation from:

CDD deviation from:

Region

HDD Current

normal

last year

CDD Current

normal

last year

New England

297

22

-35

0

0

0

Middle Atlantic

277

14

-71

0

0

0

E N Central

269

-25

-121

0

0

0

W N Central

203

-107

-153

0

0

0

South Atlantic

183

3

-75

3

-5

1

E S Central

173

-11

-102

0

-1

0

W S Central

93

-41

-93

1

-3

1

Mountain

164

-62

-49

0

-1

0

Pacific

67

-48

-6

0

-1

0

United States

192

-30

-80

1

-1

0

Note: HDD = heating degree-day; CDD = cooling degree-day

Source: National Oceanic and Atmospheric Administration
Average temperature (°F)
7-Day Mean ending Jan 29, 2015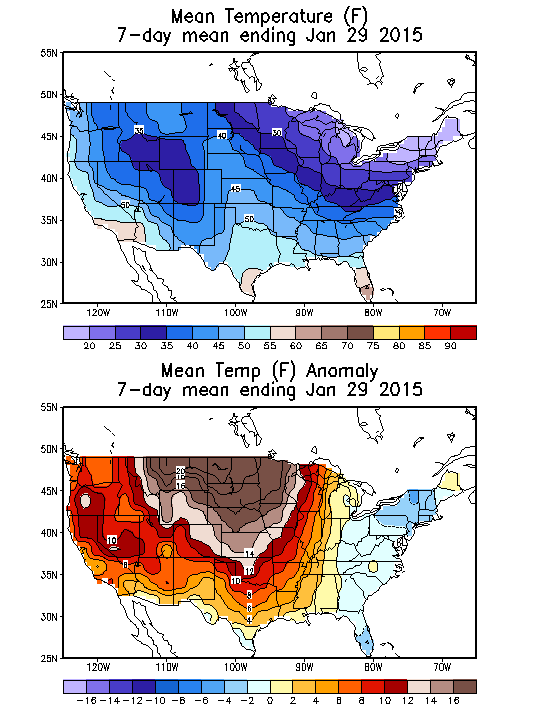 Source: NOAA/National Weather Service
Deviation between average and normal (°F)
7-Day Mean ending Jan 29, 2015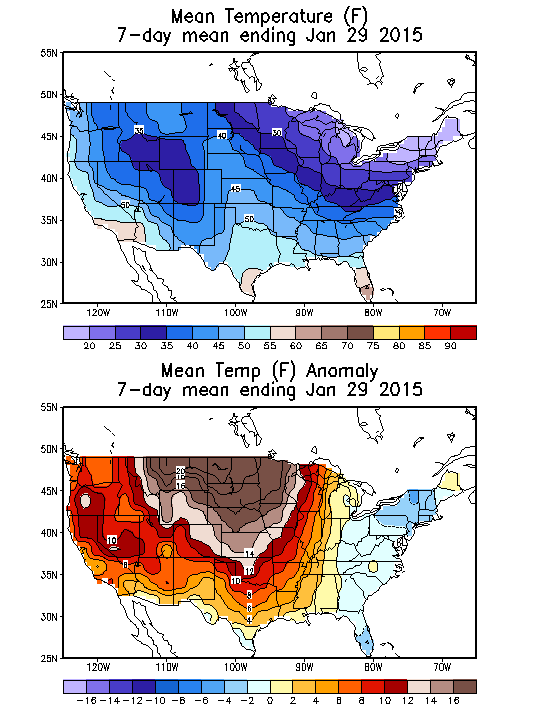 Source: NOAA/National Weather Service