---
In the News:
North Dakota seeks to cut gas flaring to 10% of production by 2020
For the past four years, North Dakota oil producers have flared, or burned into the atmosphere, a third of the natural gas that has come up the wellbore with the oil, as they produced increasingly large volumes of light sweet crude oil.
The huge and rising volumes of this highly desirable oil have helped change the nation's oil import balance and have become a driving force in changing domestic pipelines, oil-train operations, and refining.
Now, the state's principal energy regulator, the North Dakota Industrial Commission (NDIC), is seeking to reduce the volume of flared gas to 10% of production by 2020, even if it means cutting back oil production. The NDIC's order said it will "consider amending… field rules to restrict oil production and/or impose such provisions as deemed appropriate to reduce the amount of flared gas."
The NDIC's most recent data, for June, show that 29% of gas production was flared, or a volume of 364 million cubic feet a day (MMCf/d). Total gas produced in June was 1,243 MMcf/d. After the flaring, the rest was either used on the hydrocarbon lease or sold. The commission seeks to reduce gas flaring to 26% of total gas production by the fourth quarter of this year. Further goals include cutting that flaring percentage to 23% by 1Q15, 15% by 1Q16, and 10% by October 2020.
An NDIC order on July 1 encouraged capturing greater volumes of the produced natural gas for use on the lease. The proportion of lease consumption to total production has remained constant since 2010 at 3%, which currently equates to 32 MMcf/d.
Since January 2010, the proportion of flared gas to total natural gas production has averaged 32%. There are two drivers of this high proportion. First, there is the rapid growth in North Dakota oil production, which rose from 227,000 barrels per day (b/d) in January 2010 to 1,080,000 b/d in June 2014. Second, there is an inability to match construction of new natural gas pipelines and processing plants with regional gas production because of minimum throughput requirements for this new infrastructure to be economic.
It is difficult to appropriately size midstream infrastructure because the Bakken/Three Forks production pattern is for high initial production followed by rapidly declining oil and gas production during its first year of operation. Construction of large-volume gas gathering and processing capacity to serve peak oil and gas production might not be economic. The rapid decline in oil production quickly results in low natural gas production rates for individual wells, which also weakens the economics for gas gathering and processing.
Low natural gas prices further undermine the economics of midstream infrastructure. In June 2014, the average North Dakota well produced 102 b/d of oil and 116 Mcf/d of natural gas, which means that a significant portion of North Dakota wells are producing considerably below these production rates.
As the commission said in launching the hearing on its new policy of reducing gas flaring, "The policy goals were to reduce the flared volume of gas, reduce the number of wells flaring, and reduce the duration of flaring from wells." In recognition of the difficult economics of dealing with rapidly declining production from newly drilled wells, however, the NDIC's order "allows for exemptions on a case-by-case basis."
In addition to the difficulty of some oilfield operations, the NDIC earlier this year highlighted causes of the delays in connecting natural gas to pipelines and processing facilities. The single biggest challenge, NDIC said, is securing landowner permission for connection activities, which can delay projects 180 days or longer.
Other obstacles include delays in zoning by counties and townships for midstream facilities; the short construction season caused by harsh weather; the limited number of available construction crews; and the review of permits for natural gas-fueled equipment.
Overview:
(For the Week Ending Wednesday, August 27, 2014)
Spot prices rose at most trading locations across the country for this report week (Wednesday, August 20, to Wednesday, August 27). The Henry Hub spot price rose from $3.85 per million British thermal unit (MMBtu) last Wednesday to $3.99/MMBtu yesterday.
At the New York Mercantile Exchange (Nymex), the near-month (September 2014) contract rose from $3.823/MMBtu last Wednesday to $3.957/MMBtu yesterday, when it expired.
Working natural gas in storage rose to 2,630 Bcf as of Friday, August 22, according to the U.S. Energy Information Administration (EIA) Weekly Natural Gas Storage Report (WNGSR). A net increase in storage of 75 billion cubic feet (Bcf) for the week resulted in storage levels 15.7% below year-ago levels and 16.5% below the five-year average for this week.
The total U.S. rig count fell by 17 units to 1,896 as of August 22, according to Baker Hughes Inc. The natural gas rig count rose by 9 to 330 and the oil rig count fell by 25 to 1,564. Natural gas rigs are 57 units below year-ago levels, while oil rig counts are 182 units greater than their levels last year.
The Mont Belvieu natural gas plant liquids composite price fell 0.3% to $9.37/MMBtu for the week covering August 18 — August 22. The ethane price rose 1.8%, while the prices of natural gasoline, propane, butane, and isobutane fell 0.1%, 0.3%, 1.5%, and 1.8%, respectively.
Prices/Demand/Supply:
Natural gas prices rise over the week. At most market locations, natural gas prices moved up over the week. The Henry Hub spot price rose from $3.85/MMBtu last week to $3.99/MMBtu yesterday. Prices at most major locations outside of the Northeast mirrored this pattern. The Chicago Citygate, for example, rose from $3.93/MMBtu last Wednesday to $4.01/MMBtu yesterday, while the PG&E Citygate in Northern California rose from $4.44/MMBtu last Wednesday to $4.56/MMBtu yesterday. Temperatures across most of the country were somewhat warmer, overall.
Northeast prices vary widely. Prices at the major Northeast market areas have traded at a strong discount to the Henry Hub since the spring. At Transcontinental Pipeline's Zone 6 delivery point, which serves New York, prices began the week at $2.37/MMBtu, then on Friday fell to $1.86/MMBtu, the lowest level since December 1998, likely on forecasts for mild weather and strength in production in the region. Prices rose later in the week with higher temperatures. Transco Zone 6 rose to $2.92/MMBtu on Tuesday, before ending the week at $2.79/MMBtu. At the Algonquin Citygate, which serves Boston, prices rose from $2.46/MMBtu last Wednesday to $4.23/MMBtu on Tuesday, then fell to $2.92 on Wednesday.
Marcellus prices remain low. Prices in the Marcellus shale displayed a similar pattern to New York and Boston prices, falling on Friday, then rising at the end of the report week. At Tennessee Pipeline's Zone 4 Marcellus trading point, located in Northeast Pennsylvania, prices dropped from $2.10 on Wednesday to $1.79 on Friday, and ended the week at $2.16/MMBtu.
September Nymex contract expires. Nymex prices rose from $3.823/MMBtu last Wednesday to $3.957/MMBtu yesterday, when the September contract expired. The contract rose 17.1 cents per MMBtu during its tenure as the near-month contract. The October contract settled at $4.003/MMBtu yesterday. October starts trading today as the prompt month.
Supply up this week. Dry production this week rose 0.7% week over week, according to data from Bentek Energy. Overall supply was up 0.6%, with increases in production offsetting declines in pipeline imports. Overall pipeline imports from Canada declined 1.0%, with a 4.3% decline in the West. LNG imports rose, but remained at minimal levels.
Power burn drives consumption increases. Natural gas used for power generation (power burn) rose 7.5% this week, with increases in power burn occurring east of the Rockies. Industrial consumption fell 0.9%, residential/commercial consumption fell 3.8%, and exports to Mexico declined by 14.5%.
Storage
Net injections into storage higher than average. The net injection reported for the week ending August 22 was 75 Bcf, 17 Bcf larger than the five-year average net injection of 58 Bcf and 10 Bcf larger than last year's net injection of 65 Bcf. Working gas inventories totaled 2,630 Bcf, 490 Bcf (15.7%) less than last year at this time and 518 Bcf (16.5%) below the five-year (2009-13) average.
Storage build is smaller than market expectations. Market expectations called for a build of 77 Bcf. When the EIA storage report was released at 10:30 a.m., the price for the September natural gas futures contract increased 2 cents to $4.06/MMBtu on the Nymex.
From the week ending on April 4 through the week ending on August 22, net storage injections have totaled 1,808 Bcf versus 1,420 Bcf for the same 21 weeks in 2013, and 1,334 Bcf for these weeks between 2009 and 2013, on average. The average unit value of what storage holders put into storage from April 4 to August 22 was $4.38/MMBtu, 15% higher than the average value for the same 21 weeks last year of $3.82/MMBtu. The highest winter-month Nymex price (for the January 2015 contract) in trading for the week ending on August 22 averaged $4.11/MMBtu. This is 28 cents more than the current front month Nymex contract price for that week. A year ago, the difference was 43 cents/MMBtu, providing a bit more financial incentive to buy and store gas in the summer for sale in the winter.
There are currently 10 more weeks in the injection season, which traditionally occurs April 1 through October 31, although in many years injections continue into November. EIA forecasts that the end-of-October working natural gas inventory level will be 3,463 Bcf, which, as of August 12, would require an average injection of 83 Bcf per week through the end of October. EIA's forecast for the end-of-October inventory levels are below the five-year (2009-13) average peak storage value of 3,851 Bcf. To reach the five-year average peak value, average weekly injections through the end of October would need to be 122 Bcf.
Two of the three regions post larger-than-average builds. The East, West, and Producing regions had net injections of 61 Bcf (12 Bcf larger than its five-year average), 9 Bcf (6 Bcf larger than its five-year average), and 5 Bcf (2 Bcf smaller than its five-year average), respectively. Storage levels for all three regions remain below their year-ago and 5-year average levels.
Temperatures during the storage report week were close to the 30-year average. Temperatures in the Lower 48 states averaged 73.7 degrees for the week, 0.1 degree cooler than the 30-year normal temperature and 1.3 degrees warmer than during the same period last year. There were 64 population-weighted cooling degree days during the storage report week, two lower than the 30-year normal and eight higher than the same period last year.
See also: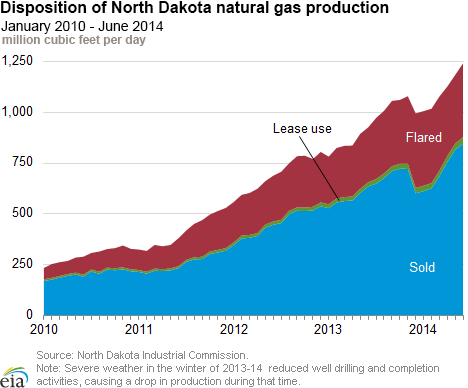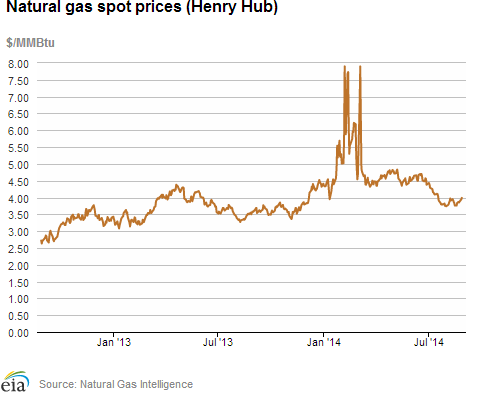 Spot Prices ($/MMBtu)

Thu,
21-Aug

Fri,
22-Aug

Mon,
25-Aug

Tue,
26-Aug

Wed,
27-Aug

Henry Hub

3.87

3.85

3.92

3.94

3.99

New York

2.37

1.86

2.69

2.92

2.79

Chicago

3.96

3.94

3.96

4.00

4.01

Cal. Comp. Avg,*

4.15

4.11

4.19

4.20

4.23

Futures ($/MMBtu)
September Contract

3.889

3.840

3.937

3.911

3.957

October Contract

3.930

3.883

3.979

3.949

3.930

*Avg. of NGI's reported prices for: Malin, PG&E citygate, and Southern California Border Avg.
Source: NGI's Daily Gas Price Index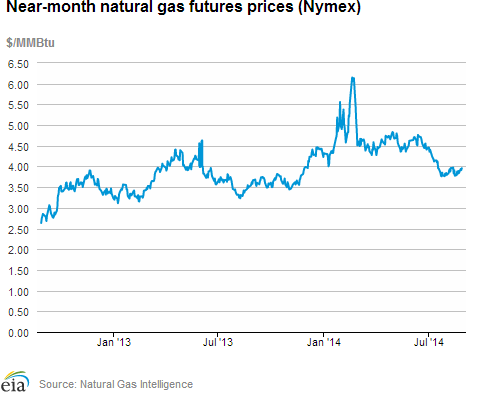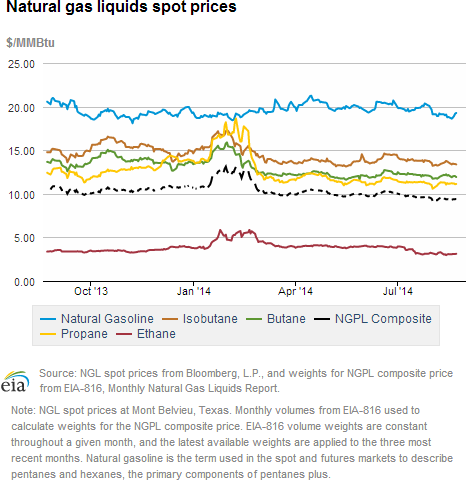 U.S. Natural Gas Supply - Gas Week: (8/20/14 - 8/27/14)

Percent change for week compared with:

last year

last week

Gross Production

6.49%

0.68%

Dry Production

6.43%

0.68%

Canadian Imports

-1.97%

-0.95%

West (Net)

-24.26%

-4.33%

MidWest (Net)

46.86%

1.40%

Northeast (Net)

-990.77%

-7.06%

LNG Imports

-70.62%

6.09%

Total Supply

5.45%

0.57%

Source: BENTEK Energy LLC
U.S. Consumption - Gas Week: (8/20/14 - 8/27/14)

Percent change for week compared with:

last year

last week

U.S. Consumption

2.7%

2.6%

Power

1.7%

7.5%

Industrial

1.1%

-0.9%

Residential/Commercial

8.9%

-3.8%

Total Demand

2.2%

2.0%

Source: BENTEK Energy LLC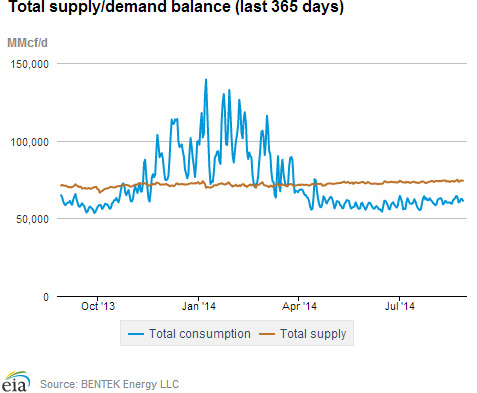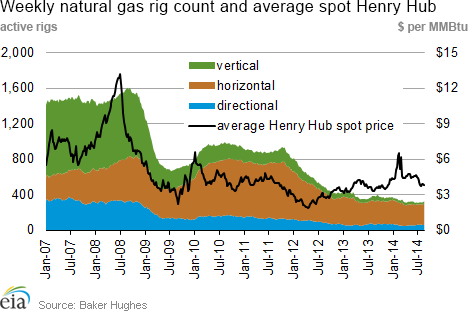 Rigs

Fri, August 22, 2014

Change from

last week

last year

Oil Rigs

1,564

-1.57%

13.17%

Natural Gas Rigs

330

2.80%

-14.73%

Miscellaneous

2

-33.33%

-71.43%
Rig Numbers by Type

Fri, August 22, 2014

Change from

last week

last year

Vertical

366

-0.54%

-17.75%

Horizontal

1,321

-0.60%

22.88%

Directional

209

-3.24%

-18.36%

Source: Baker Hughes Inc.
Working Gas in Underground Storage

Stocks
billion cubic feet (bcf)

Region

2014-08-22

2014-08-15

change

East

1,403

1,342

61

West

416

407

9

Producing

811

806

5

Total

2,630

2,555

75

Source: U.S. Energy Information Administration
Working Gas in Underground Storage

Historical Comparisons

Year ago
(8/22/13)

5-year average
(2009-2013)

Region

Stocks (Bcf)

% change

Stocks (Bcf)

% change

East

1,548

-9.4

1,642

-14.6

West

502

-17.1

470

-11.5

Producing

1,071

-24.3

1,036

-21.7

Total

3,120

-15.7

3,148

-16.5

Source: U.S. Energy Information Administration
Temperature -- Heating & Cooling Degree Days (week ending Aug 21)

HDD deviation from:

CDD deviation from:

Region

HDD Current

normal

last year

CDD Current

normal

last year

New England

12

7

6

6

-25

-15

Middle Atlantic

5

2

0

24

-21

-4

E N Central

8

2

-3

35

-8

9

W N Central

1

-6

-7

66

9

23

South Atlantic

0

0

-3

92

4

22

E S Central

0

0

-2

87

3

28

W S Central

0

0

0

133

14

31

Mountain

0

-8

0

70

1

-26

Pacific

0

-4

0

55

12

-12

United States

3

-1

-1

64

-2

8

Note: HDD = heating degree-day; CDD = cooling degree-day

Source: National Oceanic and Atmospheric Administration
Average temperature (°F)
7-Day Mean ending Aug 21, 2014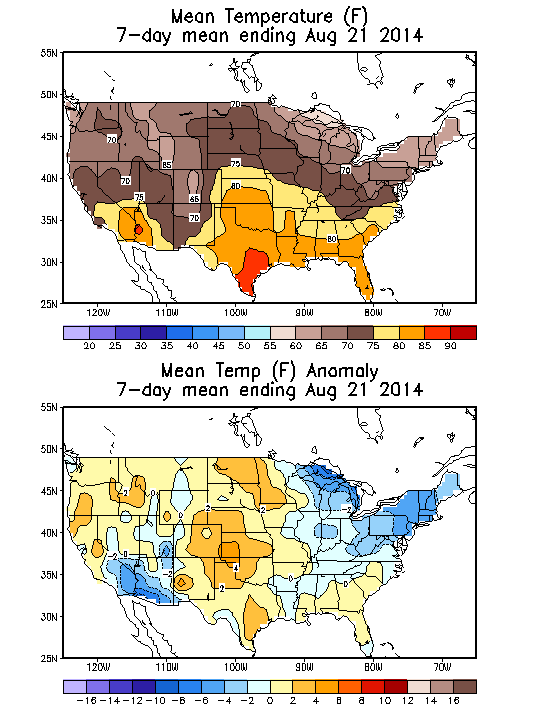 Source: NOAA/National Weather Service
Deviation between average and normal (°F)
7-Day Mean ending Aug 21, 2014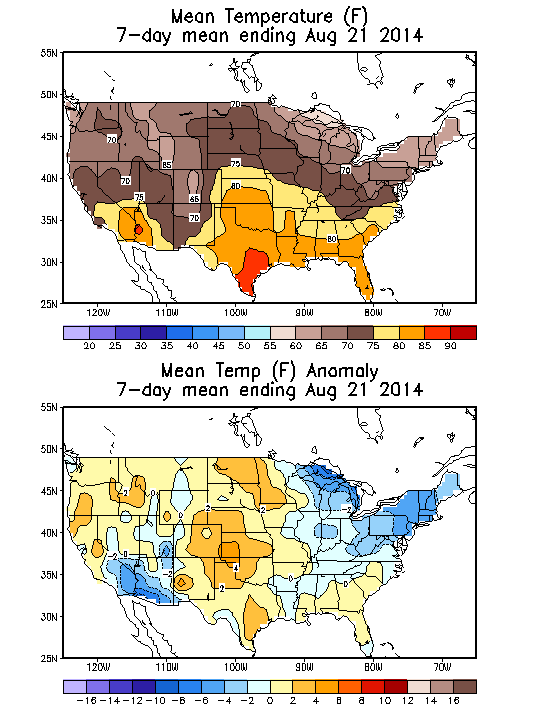 Source: NOAA/National Weather Service