---
In the News:
Natural gas production grew modestly in 2013
Average dry natural gas production grew by 0.8 billion cubic feet per day (Bcf/d) (1%) in 2013 compared with 2012, the smallest growth since 2005. In contrast, production grew by 3% in 2010, 7% in 2011, and 5% in 2012. The main driver behind natural gas production growth in the United States over the past several years has been growing production from shale basins, with some of the largest year-over-year changes occurring in the Marcellus, Eagle Ford, and Haynesville basins.
High crude oil prices have encouraged operators to target the more liquids-rich shale basins, including the Eagle Ford and portions of the Marcellus and, correspondingly, to decrease drilling in basins where a relatively greater share of production is dry natural gas. Natural gas production growth in the Eagle Ford has been steady over the past two years. From 2012 to 2013, production grew by 1.2 Bcf/d, just slightly higher than the previous year's 1.1 Bcf/d growth. Rig counts in the Eagle Ford peaked in 2012, remaining relatively stable in 2013, while production growth in 2013 was due mainly to increased productivity per rig versus 2012.
Marcellus production growth has increased each year since 2009. This is due to a number of factors, including increased drilling in liquids-rich portions of the basin (mainly southwestern Pennsylvania). Additionally, the new-well gas production per rig in the Marcellus has been consistently increasing over time, and infrastructure improvements have increased the capacity to deliver natural gas to markets.
Production growth in the Haynesville was a significant contributor to overall U.S. production growth in 2010 and 2011. However, the Haynesville is a more mature, relatively dry gas basin. Natural decline from existing wells and lower rig counts mean that production grew only slightly in 2012 and that production declined significantly in 2013. The production decline in the Haynesville was a major contributor to slower total U.S. natural gas production growth in 2013. For a more detailed look at natural gas production and drilling trends in 2013 see EIA's recently released report 2013 Natural Gas Production Lookback.
Overview:
(For the Week Ending Wednesday, January 8, 2014)
Natural gas spot prices increased in most of the country, with the exception of the Northeast, where prices decreased sharply from last week's weather-driven highs. The Henry Hub spot price increased from $4.35 per million British thermal units (MMBtu) last Wednesday, January 8, to $4.44/MMBtu yesterday.
At the New York Mercantile Exchange, the February 2014 contract rose from $4.216/MMBtu last Wednesday to $4.325/MMBtu yesterday.
Working natural gas in storage recorded a record withdrawal, decreasing to 2,530 Bcf as of Friday, January 10, according to the U.S. Energy Information Administration (EIA) Weekly Natural Gas Storage Report (WNGSR). A net storage withdrawal of 287 Bcf for the week resulted in storage levels 20.7% below year-ago levels and 14.9% below the 5-year average.
The natural gas rotary rig count totaled 357 as of January 10, a decrease of 15 from the previous week and down 77 from the same week last year, according to data released by Baker Hughes Inc. The oil rig count rose by 15 to 1,393 active units, up 70 from one year ago. The total rig count is 1,754, up 3 rigs from the previous week, but down 7 from a year ago.
The weekly average natural gas plant liquids composite price rose 1.1% this week (covering January 6 through January 10) compared to the previous week, and is now at $10.83/MMBtu. Propane, ethane, butane, and isobutane drove the increase in the composite price. Prices for propane rose by 1.8% over last week, while ethane rose by 1.9%, butane rose by 0.7%, and isobutane rose by 2.2%. Only natural gasoline prices registered a week-on-week decrease, falling 0.8%.
Prices/Demand/Supply:
Prices increased in most of the country. The Henry Hub spot price in Erath, Louisiana, rose by 9 cents/MMBtu, from $4.35/MMBtu last Wednesday, to $4.44/MMBtu yesterday. By last Wednesday, prices had already largely returned to levels prior to the onset of last week's frigid weather in most of the United States.
However, this was not the case in the Northeast, where prices as of last Wednesday were still relatively high because of lingering cold temperatures that, together with existing pipeline constraints, pushed last week's spot prices to record highs. As temperatures warmed this week, the spot price at the Algonquin Citygate hub serving Boston area markets fell from $18.35/MMBtu last Wednesday to $6.63/MMBtu yesterday. At the Transco Zone 6-NY hub serving New York area markets, the spot price declined from $9.46/MMBtu last Wednesday to $4.92/MMBtu yesterday. Decreases also occurred in the Pacific Northwest and Rockies.
Natural gas futures prices rose 11 cents/MMBtu over the week. The near-month (February 2014) futures price began the report week at $4.216/MMBtu and ended at $4.325/MMBtu. The 12-month strip (the average of the 12 contracts between February 2014 and January 2015) rose by 3 cents to $4.157/MMBtu yesterday.
Gas consumption declined significantly as temperatures warm. Total natural gas consumption for the report week declined by 30.6% below last week, to the lowest level in four weeks, as temperatures warmed following last week's cold snap. Residential/commercial sector and electric sector consumption decreased by 38.1% and 31.0%, respectively, as Lower 48 average daily temperatures reached 44 degrees Fahrenheit, compared to last week's average of 29 degrees Fahrenheit. Industrial sector consumption also declined by 8.7%, while exports to Mexico rose by 8.4%.
The largest percentage decreases in electric sector consumption of natural gas this report week came from the Midwest and the Midcontinent, down 59.9% and 50.7%, respectively. These two regions also registered the largest increases in electric sector consumption for the previous report week. Large decreases also took place in Texas (36.7%), the Southeast (32.2%), and the Pacific Northwest (24.2%), with significant decreases also occurring in the Northeast, Southwest, and Rockies.
Decreased pipeline imports and LNG sendout push supply down for the week.
A sharp decline in net natural gas pipeline imports from Canada and LNG sendout into the United States pushed down total supply by 2.5%. Net pipeline imports from Canada – particularly in the Midwest and Northeast regions – fell by 1.8 Bcf/d, or 24.2% below last week, while LNG sendout fell by 0.4 Bcf/d, or 59.7%. A 0.3 Bcf/d, or 0.5%, increase in dry natural gas production partially offset the decrease in imports, recovering from wellhead freeze-offs that happened during last week's cold snap.
Net pipeline natural gas imports from Canada into the Midwest fell by 1.2 Bcf/d, or 39.9%. Net pipeline imports into the Northeast also declined by 0.6 Bcf/d, or 37.5%, and remained unchanged in the West. Net pipeline imports from Canada into the Midwest and Northeast had risen the previous week to satisfy cold weather-driven demand. However, as temperatures warmed this week and domestic production increased, net imports of pipeline gas from Canada fell to their lowest level since the beginning of December 2013.
Storage
Gas storage withdrawals break record for second time this winter. The net withdrawal reported for the week ending January 10 was 287 Bcf, 128 Bcf larger than the 5-year average and 131 Bcf larger than last year's net withdrawal of 156 Bcf. Current inventories totaling 2,530 Bcf are 659 Bcf (20.7%) less than last year at this time and 443 Bcf (14.9%) below the 5-year (2009-13) average.
Working gas inventories are below their 5-year minimum. Working gas stocks have never dipped below the 5-year lower bound since EIA instituted its current method of computing 5-year summary statistics in 2004. Lower 48 inventories for the week ending January 10 were 181 Bcf lower than their 5-year minimum. The closest that working gas stocks have come to falling beneath the 5-year range occurred for the week ending February 11, 2011, when working gas stocks came within 43 Bcf of the 5-year minimum (2006-10) for the week.
Net withdrawals since October 31 are at record levels. So far into the 2013-14 winter heating season, net withdrawals have equaled 1,279 Bcf. This is the highest level of net withdrawals over that period since EIA started collecting weekly inventory levels. The second highest net withdrawals over the October 31 through January 10 period occurred in the winter of 2000-2001, when the net withdrawals totaled 1,183 Bcf.
Storage draw is lower than market expectations of 301 Bcf. When the EIA storage report was released, there was an 8-cent decrease in prices for natural gas futures on the New York Mercantile Exchange. At 10:30 a.m., the price of the near-month (February 2014) contract decreased to $4.38/MMBtu. Prices continued trading around that level in the hour following the release.
Net withdrawals in all three regions are larger than average.
The East, West, and Producing regions had net withdrawals of 149 Bcf, 31 Bcf, and 107 Bcf, respectively. All three gas storage regions remain below their year-ago and 5-year average levels.
Temperatures during the storage report week were significantly cooler than normal. Temperatures in the Lower 48 states averaged 25.9 degrees for the week, 7.4 degrees cooler than the 30-year normal temperature and 9.6 degrees cooler than the same period last year.
See also: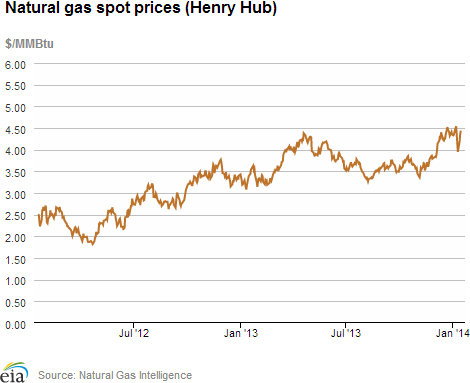 Spot Prices ($/MMBtu)

Thu,
9-Jan

Fri,
10-Jan

Mon,
13-Jan

Tue,
14-Jan

Wed,
15-Jan

Henry Hub

4.14

3.95

4.19

4.36

4.44

New York

4.26

3.93

4.36

4.64

4.92

Chicago

4.41

4.24

4.55

4.76

4.80

Cal. Comp. Avg,*

4.29

4.13

4.36

4.47

4.52

Futures ($/MMBtu)
February Contract

4.005

4.053

4.274

4.369

4.325

March Contract

3.982

4.021

4.224

4.315

4.278

*Avg. of NGI's reported prices for: Malin, PG&E citygate, and Southern California Border Avg.
Source: NGI's Daily Gas Price Index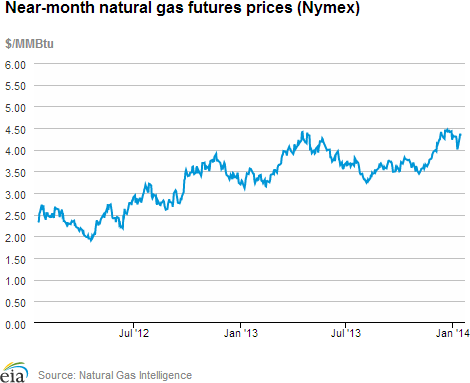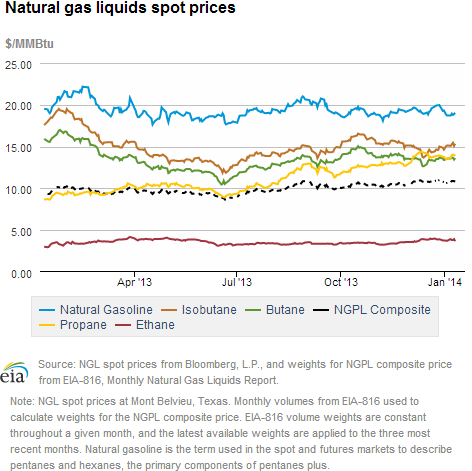 U.S. Natural Gas Supply - Gas Week: (1/8/14 - 1/15/14)

Percent change for week compared with:

last year

last week

Gross Production

1.96%

0.54%

Dry Production

1.94%

0.54%

Canadian Imports

23.73%

-24.18%

West (Net)

16.53%

-0.16%

MidWest (Net)

23.92%

-39.88%

Northeast (Net)

49.94%

-37.53%

LNG Imports

-25.32%

-59.65%

Total Supply

3.28%

-2.53%

Source: BENTEK Energy LLC
U.S. Consumption - Gas Week: (1/8/14 - 1/15/14)

Percent change for week compared with:

last year

last week

U.S. Consumption

-5.8%

-30.6%

Power

-17.1%

-31.0%

Industrial

-0.2%

-8.7%

Residential/Commercial

-3.0%

-38.1%

Total Demand

-5.6%

-30.1%

Source: BENTEK Energy LLC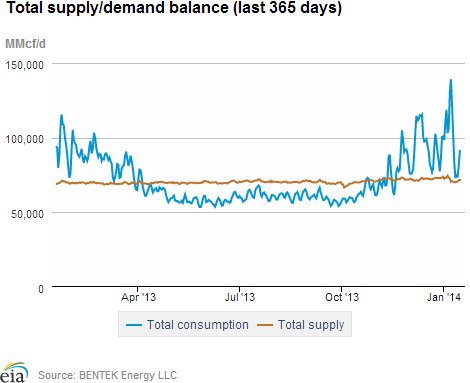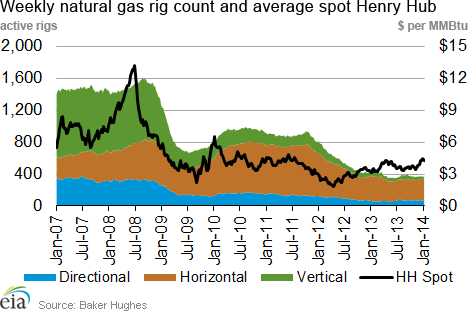 Rigs

Fri, January 10, 2014

Change from

last week

last year

Oil Rigs

1,393

1.09%

5.29%

Natural Gas Rigs

357

-4.03%

-17.74%

Miscellaneous

4

300.00%

0.00%
Rig Numbers by Type

Fri, January 10, 2014

Change from

last week

last year

Vertical

372

-1.33%

-19.13%

Horizontal

1,158

0.87%

3.49%

Directional

224

-0.88%

23.08%

Source: Baker Hughes Inc.
Working Gas in Underground Storage

Stocks
billion cubic feet (bcf)

Region

1/10/14

1/3/14

change

East

1,254

1,403

-149

West

364

395

-31

Producing

912

1,019

-107

Total

2,530

2,817

-287

Source: U.S. Energy Information Administration
Working Gas in Underground Storage

Historical Comparisons

Year ago
(1/10/13)

5-year average
(2009-2013)

Region

Stocks (Bcf)

% change

Stocks (Bcf)

% change

East

1,612

-22.2

1,546

-18.9

West

458

-20.5

410

-11.2

Producing

1,119

-18.5

1,016

-10.2

Total

3,189

-20.7

2,973

-14.9

Source: U.S. Energy Information Administration
Temperature -- Heating & Cooling Degree Days (week ending Jan 09)

HDD deviation from:

CDD deviation from:

Region

HDD Current

normal

last year

CDD Current

normal

last year

New England

326

56

68

0

0

0

Middle Atlantic

327

69

98

0

0

0

E N Central

389

96

129

0

0

0

W N Central

394

77

123

0

0

0

South Atlantic

245

63

81

3

-4

-6

E S Central

268

80

87

0

-2

0

W S Central

186

45

38

0

-3

0

Mountain

238

1

-17

0

0

0

Pacific

92

-32

-38

0

0

0

United States

275

51

66

1

-1

-1

Note: HDD = heating degree-day; CDD = cooling degree-day

Source: National Oceanic and Atmospheric Administration
Average temperature (°F)
7-Day Mean ending Jan 09, 2014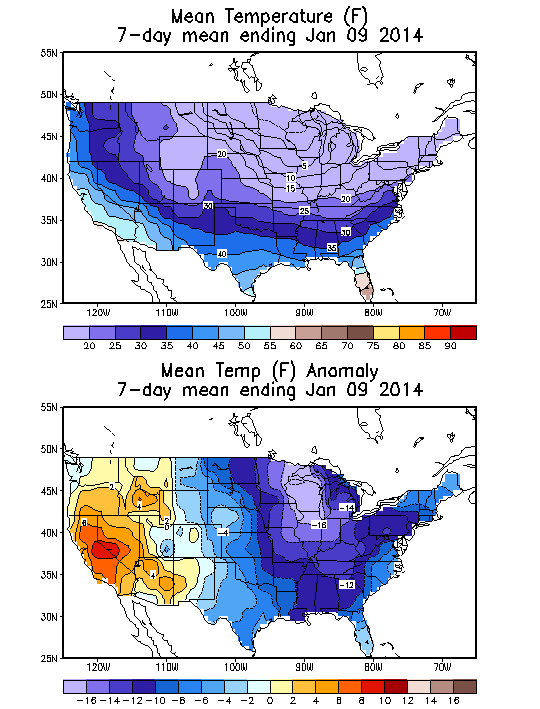 Source: NOAA/National Weather Service
Deviation between average and normal (°F)
7-Day Mean ending Jan 09, 2014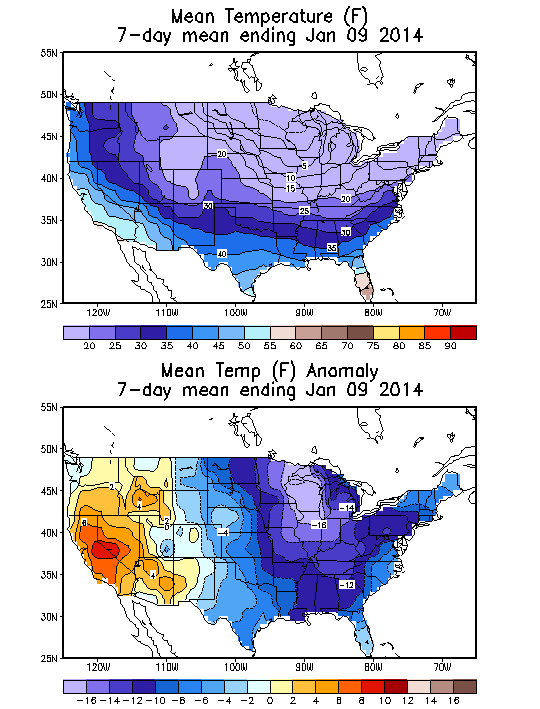 Source: NOAA/National Weather Service