---
In the News:
REX gas deliveries to the Northeast fall as Appalachian production grows
Data for this week show that deliveries of natural gas to northeastern consumers via the Rockies Express Pipeline (REX) continue to decline markedly from last year as Northeast customers procure more natural gas from the Appalachian Basin. This increased gas supply comes predominantly from the basin's Marcellus Shale play, where dry gas production through the first half of 2013 rose by 50% over year-ago levels, according to U.S. Energy Information Administration (EIA) calculations based on LCI Energy Insight estimates. This increase means that there is less demand from northeastern consumers for Rocky Mountain natural gas delivered via REX.
Bentek Energy data show that through September 11, average deliveries to northeastern consumers from REX have declined by 0.4 billion cubic feet per day (Bcf/d) compared with a year ago, to 0.6 Bcf/d. Meanwhile, northeastern natural gas consumption from the Appalachian Basin, which also includes the Devonian and Utica shale formations, rose by 3.3 Bcf/d over year-ago levels, to 10.7 Bcf/d in 2013 from 7.4 Bcf/d in 2012. On average, REX inflows fell to 3.9% of daily northeastern consumption from January 1 through September 11, compared with 7.0% for the same period in 2012, while the portion of northeastern consumption met by Appalachian production rose to 68% through September 11 versus 50% for the same period in 2012.
Producers in the southern and western portions of Marcellus have increasingly expanded their production and takeaway capacity with new infrastructure. While this new infrastructure has largely focused on satisfying natural gas demand from consumers to the north and east, the REX pipeline offers these producers the possibility of sending gas westward to meet altogether new areas of demand. REX announced in mid-July plans to build a new tailgate from MarkWest's Seneca Processing Complex in southeastern Ohio, to enable the delivery of up to 0.2 Bcf/d of Utica gas west to Midcontinent consumers via REX. Completion of the 14-mile pipeline is expected later this year.
Overview:
(For the Week Ending Wednesday, September 11, 2013)
Natural gas hub prices decreased in most areas except the Northeast during the report week (Wednesday, September 4, to Wednesday, September 11). The Henry Hub spot price closed yesterday at $3.60 per million British thermal units (MMBtu), down 8 cents from $3.68 the previous week.
At the Nymex, futures prices also decreased over the week. The near-month contract (October 2013) fell from $3.683 per MMBtu on September 4 to $3.567 per MMBtu yesterday.
Working natural gas in storage increased to 3,253 Bcf as of Friday, September 6, 2013, according to the EIA's Weekly Natural Gas Storage Report (WNGSR). A net storage injection of 65 Bcf for the week resulted in storage levels of 172 Bcf below year-ago levels, and 46 Bcf above the 5-year average.
The Baker Hughes natural gas rotary rig count totaled 394 active units as of Friday, September 6, an increase of 14 rigs from the previous week. The oil rig count decreased by 23 to 1,365.
The weekly average natural gas plant liquids composite price fell this week (covering August 26 through September 6) compared to last week by 0.8%, and is now at $10.81 per MMBtu. Natural gasoline, butane, and isobutane decreased by 2.3%, while ethane and propane rose by 1% and 0.8%, respectively.
Prices/Demand/Supply:
Natural gas prices fell over the report week at most locations, with the exception of the Northeast. Average temperatures in the United States were moderate between 65 and 85 degrees Fahrenheit, lower than last week's average temperatures of 65-90 degrees. The temperatures decreased most noticeably in the southern United States as warmer temperatures moved north to the Midwest. As a result, the prices decreased between 8 cents and 23 cents per MMBtu at most locations with the exception of the the Northeast. The prices in the Northeast increased during the report week, particularly on Tuesday when Boston's average temperature was forecast to be in the mid-90s on Wednesday. While temperatures on Tuesday were only slightly above normal, the average temperature on Wednesday was 16 degrees higher than normal. The price at the Algonquin Citygate, which serves Boston, rose $1.14 per MMBtu to settle at $5.18 on Tuesday; Algonquin settled at $4.58 per MMBtu yesterday.
At the Nymex, the price of the October 2013 contract decreased over the report week. The price of the October 2013 contract fell from $3.683 per MMBtu last Wednesday to $3.567 yesterday. The 12-month strip (the average of the 12 contracts between September 2013 and August 2014) decreased from $3.908 per MMBtu last Wednesday to $3.805 yesterday.
Consumption increased moderately during the report week, according to Bentek Energy estimates. Total natural gas consumption increased by 1.1% from the previous week. Residential and commercial consumption rose most noticeably by 6.6%. Total power burn for the week decreased by 0.9%, driven by the decreases in the Northeast, Texas, Rockies, and Southwest. Power burn increased in other regions of the country, particularly in the Midwest where power burn rose by 26.9% from the previous week because of warmer temperatures.
Supply decreased slightly during the report week. Total supply decreased by 0.7% as domestic production fell. Dry gas production and LNG imports, already at low volumes, decreased by 0.8% and 30.2%, respectively, while imports via pipeline from Canada increased by 2.3%.
The Mont Belvieu propane price has increased markedly over recent weeks. This week's propane price (covering September 3-6) averaged $12.75 per MMBtu, which is 26% above its 2013 year-to-date average spot price, and 16% above the 2012 average propane spot price. The recent price increase may be due to the nearing phase 1 completion of the Targa Galena Park Terminal on the Houston Ship Channel near Mont Belvieu. The terminal's nameplate export capacity will reach approximately 100,000 barrels per day, allowing for an increase in U.S. liquid petroleum gas exports and thus placing upward pressure on prices.
Storage
Working natural gas in storage increased to 3,188 Bcf as of Friday, August 30, according to EIA's WNGSR. The 58-Bcf gain in storage levels was significantly higher than the 33-Bcf injection that occurred during the same week in 2012, but was in line with the 5-year average increase of 60 Bcf. Current inventories are 210 Bcf (6.2%) less than last year at this time and 43 Bcf (1.4%) above the 5-year average of 3,145 Bcf.
The net injection was larger than market expectations, which on average were reported to be around 54 Bcf. The larger-than-expected build contributed to natural gas prompt-month Nymex futures prices decreasing by about 8 cents per MMBtu to just around $3.61 per MMBtu immediately following WNGSR's release. In the hour following the release, prices remained around that level.
With a lower than average build, the East region remains the only region below its 5-year average storage level. The East region was also the only region that had a stock build lower than the 5-year average with net injections in the East region growing by 43 Bcf, 8 Bcf lower than its 5-year average injections of 51 Bcf.
This week's close-to-average net injection occurred despite modestly higher-than-normal temperatures during the storage report week. Temperatures in the Lower 48 states averaged 3.1 degrees warmer than the 30-year normal temperature and 1.0 degree warmer than the same period last year, and averaged 75.4 degrees for the week, compared to the 30-year normal of 72.3 degrees and 74.4 degrees last year.
See also: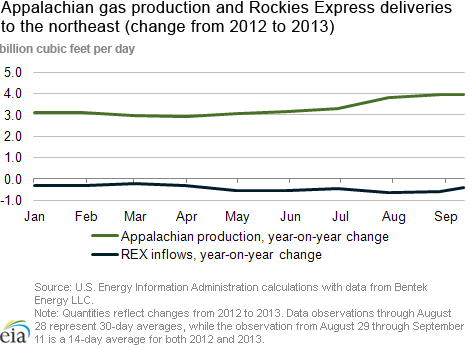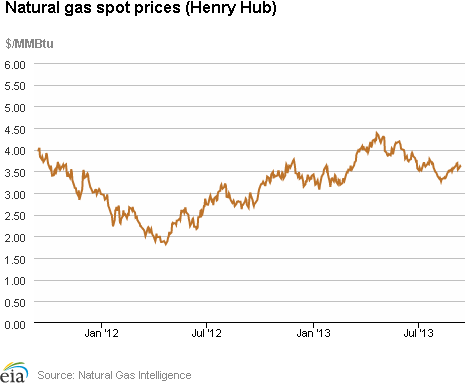 Spot Prices ($/MMBtu)

Thu,
05-Sep

Fri,
06-Sep

Mon,
09-Sep

Tue,
10-Sep

Wed,
11-Sep

Henry Hub

3.69

3.54

3.59

3.62

3.60

New York

3.73

3.60

3.85

3.96

3.88

Chicago

3.85

3.67

3.79

3.81

3.73

Cal. Comp. Avg,*

3.94

3.78

3.81

3.82

3.76

Futures ($/MMBtu)
October Contract

3.575

3.530

3.605

3.584

3.567

November Contract

3.666

3.617

3.681

3.662

3.643

*Avg. of NGI's reported prices for: Malin, PG&E citygate, and Southern California Border Avg.
Source: NGI's Daily Gas Price Index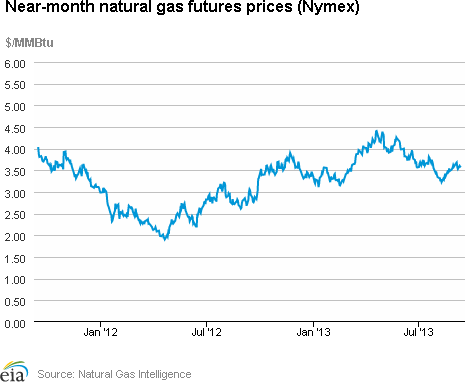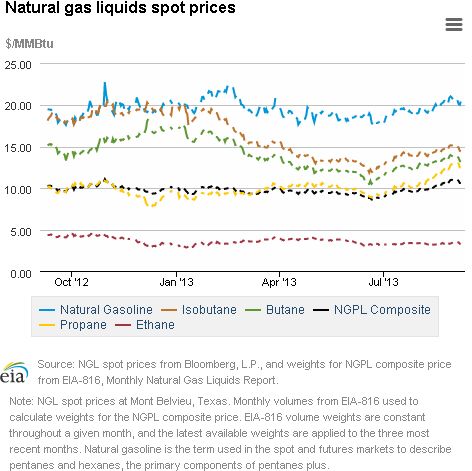 U.S. Natural Gas Supply - Gas Week: (9/4/13 - 9/11/13)

Percent change for week compared with:

last year

last week

Gross Production

2.81%

-0.77%

Dry Production

2.78%

-0.76%

Canadian Imports

-1.48%

2.33%

West (Net)

11.22%

-0.62%

MidWest (Net)

12.61%

7.14%

Northeast (Net)

-93.02%

-9.12%

LNG Imports

-33.94%

-30.18%

Total Supply

2.21%

-0.70%

Source: BENTEK Energy LLC
U.S. Consumption - Gas Week: (9/4/13 - 9/11/13)

Percent change for week compared with:

last year

last week

U.S. Consumption

-1.00%

1.10%

Power

-1.24%

-0.90%

Industrial

-0.09%

1.14%

Residential/Commercial

-1.83%

6.58%

Total Demand

-0.90%

0.91%

Source: BENTEK Energy LLC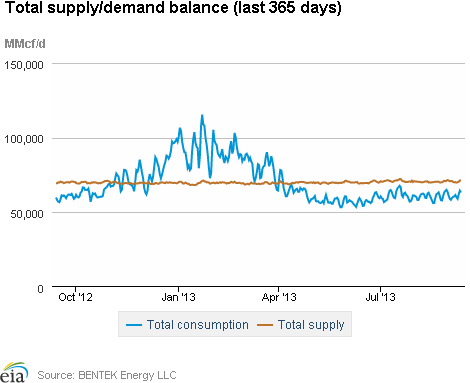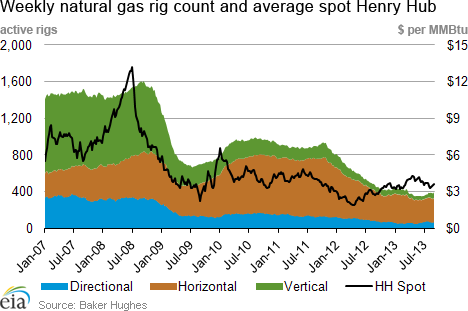 Rigs

Fri, September 06, 2013

Change from

last week

last year

Oil Rigs

1,365

-1.66%

-3.12%

Natural Gas Rigs

394

3.68%

-12.83%

Miscellaneous

8

0.00%

166.67%
Rig Numbers by Type

Fri, September 06, 2013

Change from

last week

last year

Vertical

442

-1.78%

-14.17%

Horizontal

1,075

-0.28%

-5.29%

Directional

250

0.81%

16.82%

Source: Baker Hughes Inc.
Working Gas in Underground Storage

Stocks
billion cubic feet (bcf)

Region

9/6/13

8/30/13

change

East

1,647

1,598

49

West

507

505

2

Producing

1,099

1,085

14

Total

3,253

3,188

65

Source: U.S. Energy Information Administration
Working Gas in Underground Storage

Historical Comparisons

Year ago
(9/6/12)

5-year average
(2008-2012)

Region

Stocks (Bcf)

% change

Stocks (Bcf)

% change

East

1,826

-9.8

1,761

-6.5

West

494

2.6

453

11.9

Producing

1,106

-0.6

993

10.7

Total

3,425

-5.0

3,207

1.4

Source: U.S. Energy Information Administration
Temperature -- Heating & Cooling Degree Days (week ending Sep 05)

HDD deviation from:

CDD deviation from:

Region

HDD Current

normal

last year

CDD Current

normal

last year

New England

3

-8

-2

40

25

21

Middle Atlantic

1

-5

0

53

26

3

E N Central

8

-3

7

41

14

-24

W N Central

5

-11

5

61

24

-17

South Atlantic

0

-1

0

96

20

-3

E S Central

0

-1

0

89

20

-10

W S Central

0

-1

0

134

30

-2

Mountain

0

-20

-1

82

28

9

Pacific

0

-6

-3

72

35

21

United States

3

-5

1

75

24

-1

Note: HDD = heating degree-day; CDD = cooling degree-day

Source: National Oceanic and Atmospheric Administration
Average temperature (°F)
7-Day Mean ending Sep 05, 2013
Source: NOAA/National Weather Service
Deviation between average and normal (°F)
7-Day Mean ending Sep 05, 2013
Source: NOAA/National Weather Service