---
In the News:
Southern California Post-SONGS Relies Even More on Natural Gas
No energy planners counted on 2,150 megawatts (MW) of power this summer from the shuttered San Onofre Nuclear Generating Station (SONGS), but with the June 7 announcement by owner Southern California Edison that it is permanently retiring the troubled SONGS, planners and electricity consumers will rely even more on natural gas for power generation.
Since June 2012, 2,214 MW of new power generating capacity has come on line in Southern California, representing more than 9% of expected available generation this summer. About three-fourths of this capacity is fueled by natural gas. For the state as a whole, natural gas accounts for most of the expected available generation this summer. In its Summer Loads and Resources Assessment published in May, California's grid operator reported that natural gas accounts for 71.5% of the 51,068 MW of expected available generation this summer, followed by 15.3% hydro, and 7.7% nonhydro renewables. Nuclear (excluding SONGS) accounts for 4.3% and coal and oil together make up a combined 1.2%.
The two SONGS units were taken out of service in January 2012 because of operations problems, which Edison now feels cannot be resolved. Between 2002 and 2011, generation from SONGS made up about 18% of total generation in the SoCal Edison and San Diego Gas and Electric California service territories, and the absence of the units created major challenges for the Southern California electric grid. According to Bentek Energy Services estimates, replacement natural gas-fired generation consumed on average 400 million cubic feet per day (MMcf/d) to 500 MMcf/d of gas since SONGS shut down 18 months ago.
The combination of recent capacity additions and electric system upgrades since June 2012 will help meet peak electricity demand this summer.
In addition to generation needs, the current transmission system limits the amount of electricity that can flow into the service territory formerly served by SONGS. Thus, new transmission infrastructure is needed to address reliability problems. SoCal Edison plans to bolster the local grid at strategic points in the Los Angeles and San Diego areas to allow the system to handle more power being brought into the system, as well as to implement other system upgrades to bring in more power from outside the area.
Overview:
(For the Week Ending Wednesday, June 12, 2013)
Natural gas hub prices declined in most regions this week (Wednesday to Wednesday). The Henry Hub closed at $3.74 per million British thermal units (MMBtu) yesterday, down 25 cents, or 6.3%, for the week.
At the Nymex, the near-month (July) Nymex contract finished trading yesterday at $3.777 per MMBtu, 22.4 cents, or 5.6%, below its previous Wednesday close.
Working natural gas in storage increased to 2,347 billion cubic feet (Bcf) as of Friday, June 7, according to the U.S. Energy Information Administration's (EIA) Weekly Natural Gas Storage Report (WNGSR). A net storage injection of 95 Bcf for the week resulted in storage levels of 587 Bcf below year-ago levels, and 58 Bcf below the 5-year average.
The Baker Hughes natural gas rotary rig count totaled 354 units as of Friday, June 7, the same total as the preceding three weeks. The average oil rig count declined by 4 units to 1,406.
The weekly average natural gas plant liquid composite price for last week (Monday, June 3 – Friday, June 7) fell only $0.03 per MMBtu over the previous week to $9.08 per MMBtu. The natural gasoline spot price increased by 2% and the ethane spot price fell by 4%. The ethane price has been declining consistently each week since the week of April 29 when it averaged $4.02 per MMBtu. Last week the ethane spot price averaged $3.59 per MMBtu.
Prices/Demand/Supply:
Natural gas spot prices declined this week. The Henry Hub spot price began the report week on Wednesday, June 5, at $3.99 per MMBtu, and declined to $3.74 per MMBtu on Wednesday, June 12, amid moderate temperatures for most of the country. Most other major trading hubs also saw prices decline by $0.15-$0.25 per MMBtu for the report week.
Planned maintenance work by Millennium Pipeline on a compressor station resulted in no nonfirm capacity available at one delivery point and several receipt points for June 11 through June 14, according to a company notice. Millennium, which runs west to east in southern New York state, is supplied by local production, including Marcellus Shale gas, storage fields, and interconnecting upstream pipelines, and serves customers along its route, terminating at Rockland County, New York. Prices at the Millennium East Pool in New York for Tuesday delivery declined $1.81 versus prices for Monday delivery, but recovered somewhat later in the week to end the report week down $1.21 versus the previous Wednesday.
The Nymex futures price decreased week-on-week. The near-month Nymex price declined by $0.224 per MMBtu over the report period, from $4.001 per MMBtu last Wednesday to $3.777 per MMBtu yesterday. More than $0.17 per MMBtu of that drop occurred in trading on last Thursday, spurred on by a report of a larger natural gas storage injection than market expectation. The 12-month strip (the average of July 2013 to June 2014 contracts) closed the report week at $3.949 per MMBtu, down 18.6 cents, or 4.5%, from its closing price on Wednesday, June 5.
Total demand decreased week-on-week, as power demand declined. According to Bentek estimates, overall natural gas consumption in the United States decreased by 3.3%, driven by a 4.5% decline in the power sector. Although power sector natural gas consumption increased across most of the country, this was offset by small declines in the Southeast and Midwest, and by a large decline in the Northeast. Natural gas consumed for electric generation in the Northeast decreased by 24.5% week-over-week because of cooler, more seasonal current week temperatures than the previous week.
Total supply for the report week was down slightly. Bentek estimated that supply was down slightly for the report period. U.S. gross and dry natural gas production both declined by 0.7% week-on-week. Net pipeline imports from Canada were down 6.8%. Net imports in the West and Midwest increased slightly, but were offset by declines in the Northeast. The Northeast was a net exporter of natural gas to Canada over the current report week, while it had been a net importer the period before. LNG imports continued to account for less than 1% of total U.S. supply.
Storage
Working natural gas in storage increased to 2,347 Bcf as of Friday, June 7, according to EIA's WNGSR. The 95 Bcf gain in storage levels was higher than both the 5-year average and year-ago stock changes for the week, which had net injections of 84 Bcf and 66 Bcf, respectively. Despite the large build, current inventories remain 587 Bcf (20.0%) less than last year at this time and 58 Bcf (2.4%) below the 5-year average of 2,405 Bcf.
The net injection was in line with the market expectations, which, on average, were reported to be 94 Bcf. Prior to the report's release, at the start of the trading day, the near-month Nymex contract price dropped from yesterday's close of $3.777 to $3.715 per MMBtu. After increasing throughout the morning, by the time of the report's release at 10:30 a.m., prices were trading higher, at similar levels as the prior day's close. The report's release had minimal effect on the prices.
All three storage regions posted increases this week. Inventories in the East, West, and Producing regions increased by 57 Bcf (the 5-year average net injection is 53 Bcf), 13 Bcf (the 5-year average net injection is 14 Bcf), and 25 Bcf (the 5-year average net injection is 17 Bcf), respectively. In the Producing region, working natural gas inventories increased 5 Bcf (2.0%) in salt cavern facilities and increased 20 Bcf (3.2%) in nonsalt cavern facilities.
Seasonal spring temperatures during the storage report week supported this week's net injection. Temperatures in the Lower 48 states were 1.7 degrees warmer than the 30-year normal temperature and 2.0 degrees warmer than the same period last year, and averaged 69.3 degrees for the week, compared to 67.3 degrees last year and the 30-year normal of 67.6 degrees.
See also: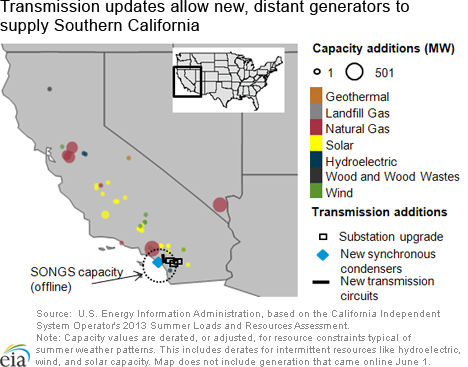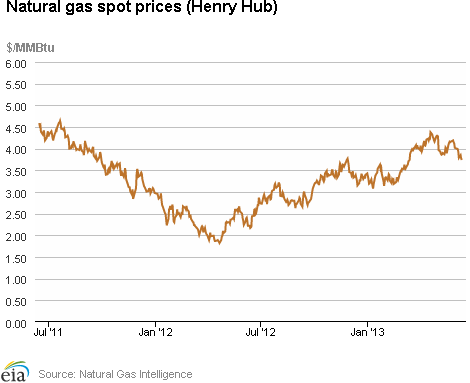 Spot Prices ($/MMBtu)

Thu,
06-Jun

Fri,
07-Jun

Mon,
10-Jun

Tue,
11-Jun

Wed,
12-Jun

Henry Hub

3.93

3.79

3.85

3.77

3.74

New York

3.82

3.68

3.94

3.94

3.86

Chicago

3.94

3.75

3.87

3.81

3.81

Cal. Comp. Avg,*

3.90

3.76

3.81

3.74

3.73

Futures ($/MMBtu)
July Contract

3.827

3.828

3.800

3.724

3.777

August Contract

3.843

3.848

3.821

3.743

3.797

*Avg. of NGI's reported prices for: Malin, PG&E citygate, and Southern California Border Avg.
Source: NGI's Daily Gas Price Index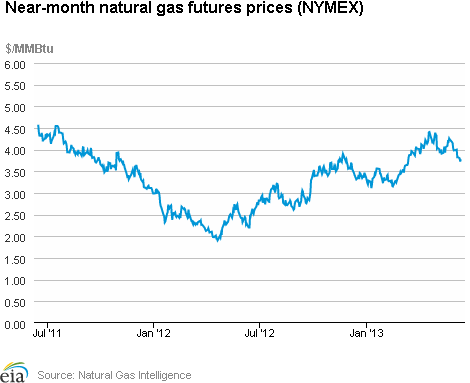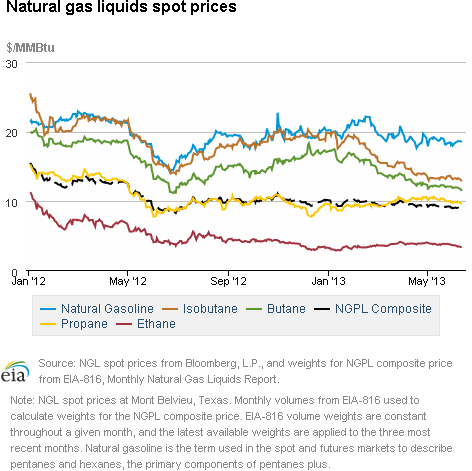 U.S. Natural Gas Supply - Gas Week: (6/5/13 - 6/12/13)

Percent change for week compared with:

last year

last week

Gross Production

2.98%

-0.67%

Dry Production

2.95%

-0.66%

Canadian Imports

-18.13%

-6.77%

West (Net)

-10.88%

0.74%

MidWest (Net)

0.15%

3.85%

Northeast (Net)

-119.98%

-138.75%

LNG Imports

-45.26%

-32.82%

Total Supply

0.87%

-1.26%

Source: BENTEK Energy LLC
U.S. Consumption - Gas Week: (6/5/13 - 6/12/13)

Percent change for week compared with:

last year

last week

U.S. Consumption

-7.24%

-3.28%

Power

-16.42%

-4.49%

Industrial

-0.18%

-1.12%

Residential/Commercial

3.38%

-4.20%

Total Demand

-7.17%

-3.48%

Source: BENTEK Energy LLC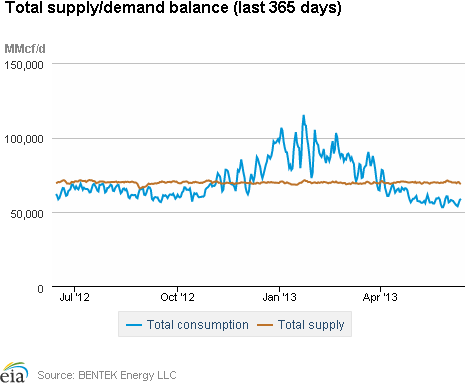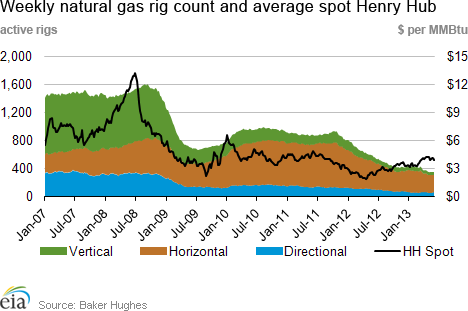 Rigs

Fri, June 07, 2013

Change from

last week

last year

Oil Rigs

1,406

-0.28%

-0.57%

Natural Gas Rigs

354

0.00%

-37.35%

Miscellaneous

5

-28.57%

0.00%
Rig Numbers by Type

Fri, June 07, 2013

Change from

last week

last year

Vertical

439

-2.44%

-23.25%

Horizontal

1,088

-0.09%

-7.56%

Directional

238

2.59%

1.28%

Source: Baker Hughes Inc.
Working Gas in Underground Storage

Stocks
billion cubic feet (bcf)

Region

6/7/13

5/31/13

change

East

1,025

968

57

West

409

396

13

Producing

913

888

25

Total

2,347

2,252

95

Source: U.S. Energy Information Administration
Working Gas in Underground Storage

Historical Comparisons

Year ago
(6/7/12)

5-year average
(2008-2012)

Region

Stocks (Bcf)

% change

Stocks (Bcf)

% change

East

1,400

-26.8

1,127

-9.1

West

434

-5.8

363

12.7

Producing

1,100

-17.0

915

-0.2

Total

2,934

-20.0

2,405

-2.4

Source: U.S. Energy Information Administration
Temperature -- Heating & Cooling Degree Days (week ending Jun 06)

HDD deviation from:

CDD deviation from:

Region

HDD Current

normal

last year

CDD Current

normal

last year

New England

15

-13

-23

35

30

27

Middle Atlantic

11

-9

-12

37

22

29

E N Central

30

5

-9

15

-9

12

W N Central

38

17

7

8

-22

-12

South Atlantic

0

-6

-5

72

12

10

E S Central

1

-5

-6

64

11

14

W S Central

1

1

0

94

10

-6

Mountain

27

-7

15

52

14

-3

Pacific

4

-19

-9

26

10

7

United States

15

-4

-5

45

8

9

Note: HDD = heating degree-day; CDD = cooling degree-day

Source: National Oceanic and Atmospheric Administration
Average temperature (°F)
7-Day Mean ending Jun 06, 2013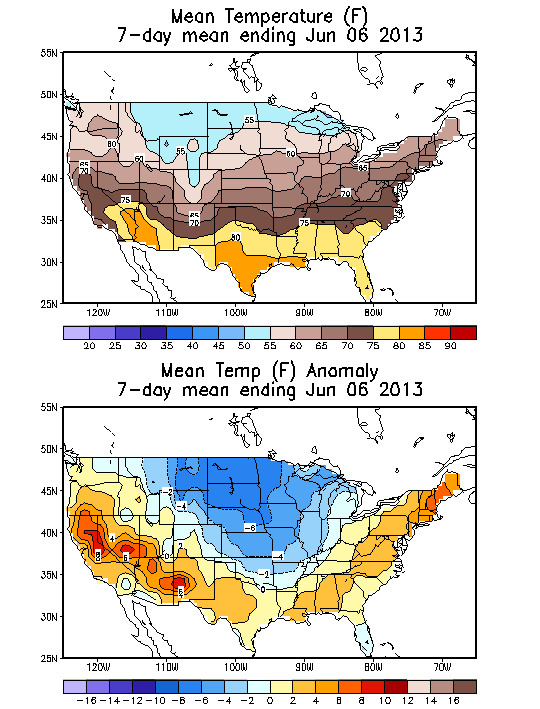 Source: NOAA/National Weather Service
Deviation between average and normal (°F)
7-Day Mean ending Jun 06, 2013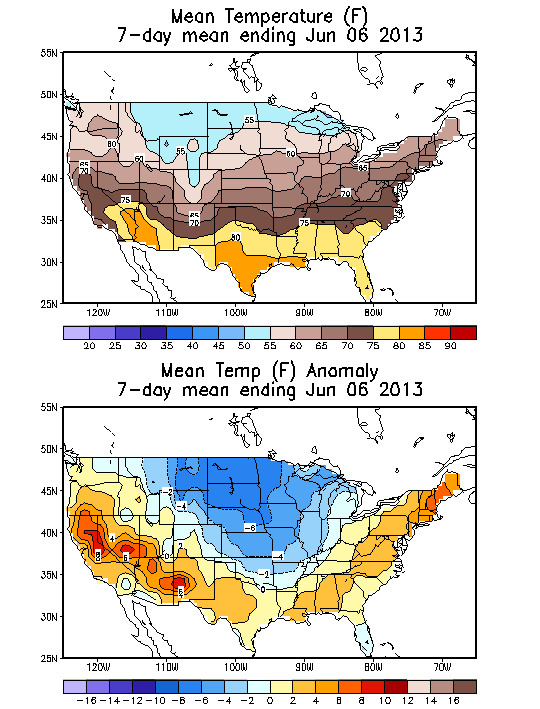 Source: NOAA/National Weather Service