---
In the News:
Natural Gas Power Burn Up, Even in a Warmer Winter
December retail sales of electricity showed the second greatest year-over-year decrease for the month since the U.S. Energy Information Administration (EIA) started collecting data in 1973, due in part to a relatively warm winter this season. Despite this 6.1 percent drop in retail sales, natural gas consumed for power generation in December increased 8.2 percent over December 2010 levels. More recent BENTEK Energy LLC (Bentek) estimates show that natural gas consumed in the power sector this February was almost 27 percent greater than the natural gas power burn in February 2011, and 17 percent greater in January 2012 than in the same month in the previous year. In contrast, EIA's estimates of coal consumed for power generation for December of 2011 were 17.4 percent lower than the previous December.
While much of the increase in natural gas-fired generation has been seen in the Southeast United States, Ohio has also experienced large increases over the last several years, as highlighted in EIA's recently released Electric Monthly Update. Traditionally, natural gas-fired power plants in Ohio have been used for peaking purposes (run for a few hours on certain summer days when demand for electricity is high). Recently, these plants are being dispatched more throughout the year and not just a few hours of the day in the summer, at the expense of less efficient coal plants.
In Ohio, the Hanging Rock, Waterford, and Washington power plants are three highly efficient natural gas combined cycle plants with a combined capacity of 2,698 megawatts. These plants have increased their generation significantly since 2008, from 1 percent of the electricity generation in Ohio in 2008 to 13 percent last December. At the same time, seven less efficient coal plants in Ohio, with a combined capacity of 7,113 megawatts, have experienced a significant drop in generation. As seen in the chart, the generation share of these seven sample coal plants, expressed as the share of total generation from both sample coal and natural gas plants, is compared to the corresponding share of the three combined cycle plants. As illustrated in the chart, natural gas generation went from 3 percent of total sample plant generation in January 2008 to 47 percent in December 2011.
Overview:
(For the Week Ending Wednesday, February 29, 2012)
The return of warmer-than normal temperatures was likely the catalyst that caused natural gas prices to resume their multi-week downtrend. The Henry Hub price closed at $2.44 per million British thermal units (MMBtu) on February 29, down 16 cents for the week.
At the New York Mercantile Exchange (NYMEX), the April 2012 natural gas contract fell 15.9 cents per MMBtu for the week to close at $2.616 per MMBtu.
Working natural gas in storage eased slightly last week to 2,513 billion cubic feet (Bcf) as of Friday, February 24, according to the U.S. Energy Information Administration's (EIA) Weekly Natural Gas Storage Report (WNGSR). The implied net withdrawal for the week was 82 Bcf, positioning storage volumes 756 Bcf above year-ago levels.
The natural gas rotary rig count, as reported February 24 by Baker Hughes Incorporated, decreased by 6 to 710 active units. Meanwhile, oil-directed rigs dropped by 7 to 1,265 units.

Prices:

Movement in the Henry Hub day-ahead price reflected the widespread decrease of market prices in this week's cash market by falling 6.2 percent, from $2.60 per MMBtu the previous Wednesday to $2.44 per MMBtu yesterday. As the Spot Prices tab on the left shows, the Henry Hub cash price peaked last Thursday and then fell every day of the week except yesterday as all end-use natural gas market segments decreased their consumption.

At the NYMEX, the April 2012 contract fell from $2.775 per MMBtu last Wednesday to $2.616 per MMBtu yesterday, a decrease of 15.9 cents (5.7 percent). The April 2012 contract fell 4 of the past 5 trading days on forecasts for milder temperatures in early March against a continuing backdrop of ample storage lingering into spring. The March 2012 contract expired on Monday at $2.446 per MMBtu and generally paralleled the April contract down.

All downstream trading locations responded with lower prices from decreased weather load this week. Spot prices at Transcontinental Pipeline's Zone 6 trading point for delivery into New York City, which started the week at $2.88 per MMBtu , showed a $0.22 per MMBtu price loss over the week (Wednesday to Wednesday) to close at $2.66 per MMBtu (down 7.6 percent). Over the same period, and experiencing similar weather patterns, the Chicago citygate spot price registered a 19 cent per MMBtu price loss (from $2.69 per MMBtu last Wednesday), ending the week at $2.50 per MMBtu (down 7.1 percent).

In the midst of warmer seasonal temperatures, consumption posted an expected decrease for the week. According to estimates from Bentek, domestic natural gas consumption fell by 1.6 percent from last week. The residential/commercial sector led the decrease with a 2.6 percent loss, while the industrial sector tallied a 0.7 percent loss. The power sector posted a 0.5 percent decrease, as weather load diminished.

Total supply was up moderately for the week with an increase in dry gas production. According to Bentek estimates, the week's average total natural gas supply posted a 1.0 percent increase from last week's level led by a small increase in dry gas production. Domestic weekly dry gas production averaged 63.7 Bcf per day, 0.6 percent higher than the previous week and 8.6 percent above this time last year. The slight increase in this week's dry gas production was augmented by a 5.5 percent increase in imports from Canada, which averaged 5.4 Bcf per day over the period. Imports from Canada stand 1.8 percent below year-ago volumes for the same week. There were partially offsetting downward supply losses of 1.2 percent registered in the liquefied natural gas (LNG) arena during the week, where sendout averaged 598 million cubic feet (MMcf) per day, and remains 37.4 percent below year-ago levels.

Storage

Working natural gas in storage fell to 2,513 Bcf as of Friday, March 1, according to EIA's WNGSR. This represents an implied net withdrawal of 82 Bcf from the previous week, which is less than both the 5-year average implied net withdrawal of 118 Bcf and the year-ago implied net withdrawal of 85 Bcf. Inventories in all three regions posted declines, with the East Region contributing the most to this week's implied net withdrawal, with a decrease of 58 Bcf (a 4.7 percent decline from the previous week's level).

Stocks were 780 Bcf higher than the 5-year average level of 1,733 Bcf and 756 Bcf higher than last year at this time. Inventories in the Producing Region remain 344 Bcf (54.6 percent) above the region's 5-year average of 630 Bcf . Stocks in the East and West Regions are also above their 5-year averages by 326 Bcf (38.4 percent) and 111 Bcf (43.7 percent), respectively.

Temperatures during the week ending February 23 were 4.4 degrees warmer than the 30-year normal temperature and 1.1 degrees warmer than the same period last year. During the week all regions with the exception of the Pacific Region were warmer than normal. The Northeast was particularly warm, with the New England and Middle Atlantic Regions averaging 8.3 and 7.4 degrees warmer than normal, respectively. The average temperature in the Pacific Region in the West was 0.3 degrees cooler than normal. Heating degree-days nationwide were down 16.3 percent from normal and 5.4 percent from last year.





See also:
Coal and Gas Generation and Prices in Ohio, 2008 - 2012
% of generation from sample plants$/MWh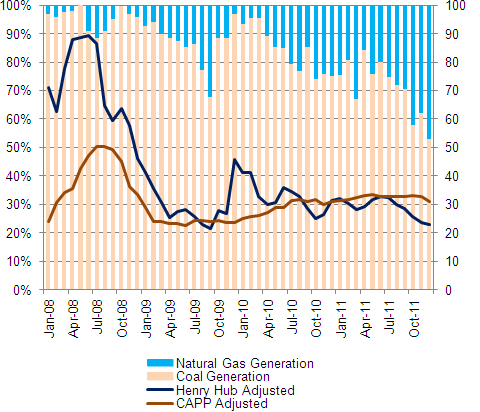 Source: Energy Information Administration, SNL Financial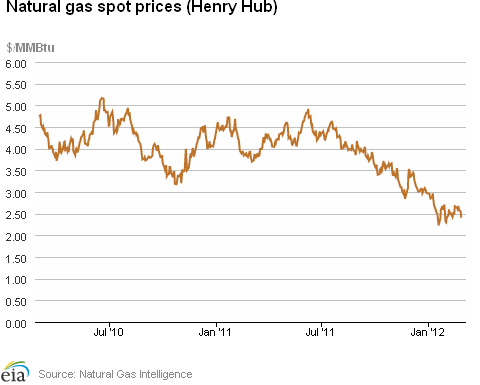 Spot Prices ($/MMBtu)

Thu,
23-Feb

Fri,
24-Feb

Mon,
27-Feb

Tue,
28-Feb

Wed,
29-Feb

Henry Hub

2.68

2.60

2.55

2.43

2.44

New York

2.91

2.85

2.83

2.70

2.66

Chicago

2.76

2.67

2.64

2.50

2.50

Cal. Comp. Avg,*

2.84

2.72

2.74

2.61

2.60

Futures ($/MMBtu)
March delivery

2.621

2.550

2.446

expired

expired

April delivery

2.761

2.695

2.603

2.519

2.616

May delivery

2.627

2.710

*Avg. of NGI's reported prices for: Malin, PG&E citygate, and Southern California Border Avg.
Source: Natural Gas Intelligence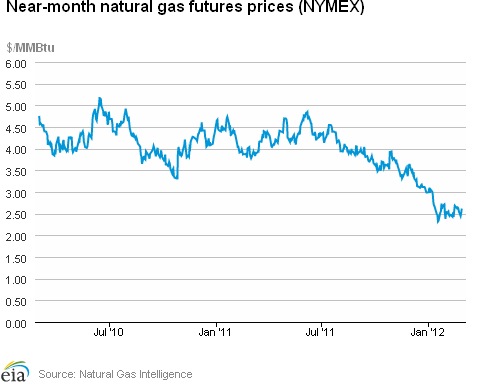 U.S. Natural Gas Supply - Gas Week: (2/22/12 - 2/29/12)

Percent change for week compared with:

last year

last week

Gross Production

7.67%

0.57%

Dry Production

8.57%

0.63%

Canadian Imports

-1.75%

5.50%

West (Net)

8.10%

-0.76%

MidWest (Net)

9.39%

16.29%

Northeast (Net)

-22.47%

8.45%

LNG Imports

-37.40%

-1.16%

Total Supply

7.02%

0.98%

Source: BENTEK Energy LLC
U.S. Consumption - Gas Week: (2/22/12 - 2/29/12)

Percent change for week compared with:

last year

last week

U.S. Consumption

0.20%

-1.55%

Power

33.49%

-0.51%

Industrial

1.07%

-0.73%

Residential/Commercial

-13.48%

-2.61%

Total Demand

0.20%

-1.61%

Source: BENTEK Energy LLC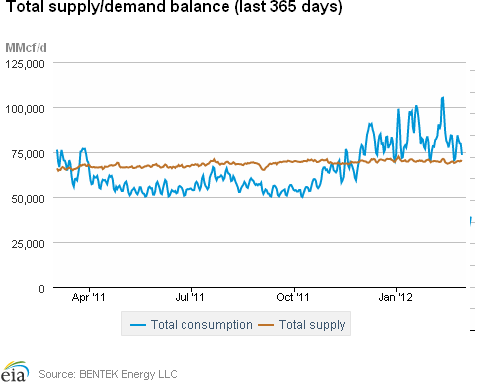 Weekly natural gas rig count and spot Henry Hub
active rigs$ per MMBtu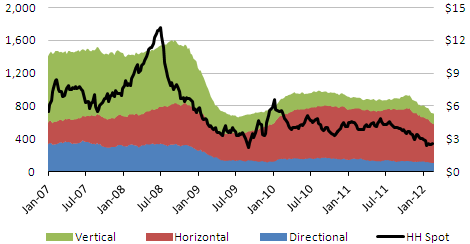 Source: Baker Hughes
Rigs

Fri, February 24, 2012

Change from

last week

last year

Oil Rigs

1,265

-0.55%

62.45%

Natural Gas Rigs

710

-0.84%

-20.97%

Miscellaneous

6

0.00%

-40.00%
Rig Numbers by Type

Fri, February 24, 2012

Change from

last week

last year

Vertical

606

-1.78%

23.90%

Horizontal

1,165

0.17%

18.55%

Directional

210

-1.87%

-2.73%

Source: Baker Hughes Inc.
Working Gas in Underground Storage

Stocks
billion cubic feet (bcf)

Region

2/24/12

2/17/12

change

East

1,174

1,232

-58

West

365

370

-5

Producing

974

993

-19

Total

2,513

2,595

-82

Source: U.S. Energy Information Administration
Working Gas in Underground Storage

Historical Comparisons

Year ago
(2/24/11)

5-year average
(2007-2011)

Region

Stocks (Bcf)

% change

Stocks (Bcf)

% change

East

819

43.3

848

38.4

West

243

50.2

254

43.7

Producing

695

40.1

630

54.6

Total

1,757

43.0

1,733

45.0

Source: U.S. Energy Information Administration
Temperature -- Heating & Cooling Degree Days (week ending Feb 23)

HDD deviation from:

CDD deviation from:

Region

HDD Current

normal

last year

CDD Current

normal

last year

New England

193

-58

-46

0

0

0

Middle Atlantic

186

-52

-32

0

0

0

E N Central

216

-39

1

0

0

0

W N Central

208

-49

-9

0

0

0

South Atlantic

116

-36

15

11

3

1

E S Central

116

-33

39

1

-1

1

W S Central

68

-30

35

6

2

-15

Mountain

191

-1

-4

0

-1

0

Pacific

100

1

-50

0

-1

0

United States

159

-31

-9

3

0

-1

Note: HDD = heating degree-day; CDD = cooling degree-day

Source: National Oceanic and Atmospheric Administration
Average temperature (°F)
7-Day Mean ending Feb 23, 2012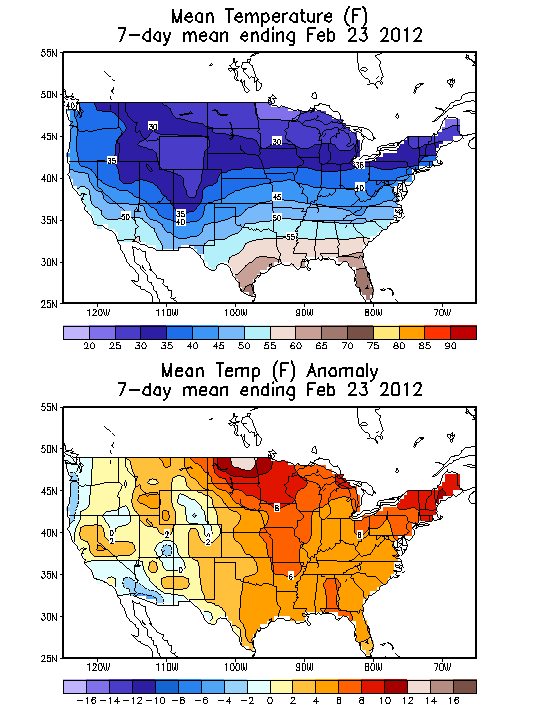 Source: NOAA/National Weather Service
Deviation between average and normal (°F)
7-Day Mean ending Feb 23, 2012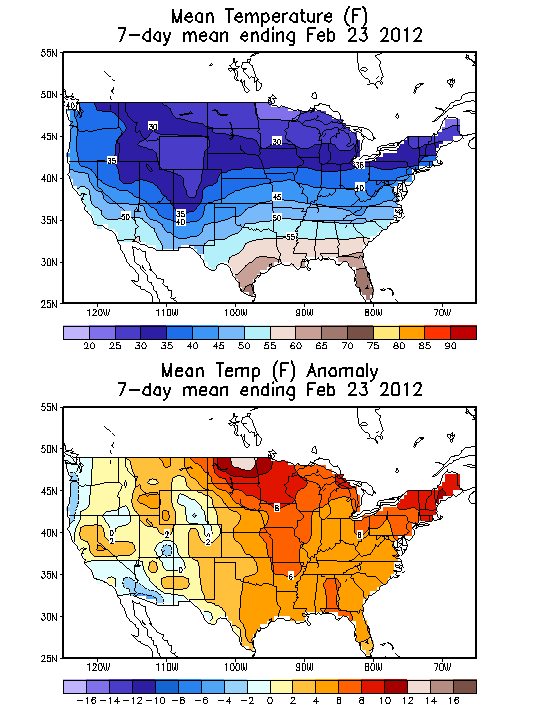 Source: NOAA/National Weather Service
Monthly dry shale gas production
trillion cubic feet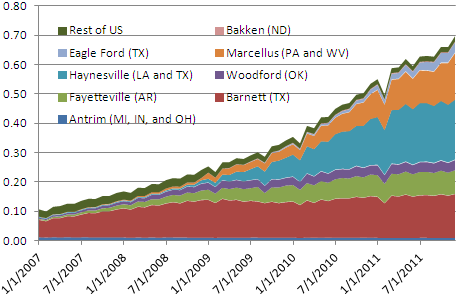 Source: Lippmann Consulting, Inc. Gross withdrawal estimates as of December 2011 and converted to dry production estimates with EIA-calculated average.