Released: October 27, 2011 at 2:00 P.M.
Next Release: Thursday, November 3, 2011
Overview (For the Week Ending Wednesday, October 26, 2011)
The weatherman's promise for chillier temperatures later this week and mention of the word "snow" in some forecasts was the likely catalyst propelling prices upwards this week. In an environment of generally supportive market fundamentals, the Henry Hub price closed up 7 cents for the week to $3.65 per million British thermal units (MMBtu) on October 26.



At the New York Mercantile Exchange (NYMEX), the November 2011 natural gas contract rose just under half a cent per MMBtu for the week to close at $3.590 per MMBtu.



Working natural gas in storage rose last week to 3,716 billion cubic feet (Bcf) as of Friday, October 21, according to the U.S. Energy Information Administration's (EIA) Weekly Natural Gas Storage Report (WNGSR). The implied increase for the week was 92 Bcf, leaving storage volumes positioned 28 Bcf under year-ago levels..



The natural gas rotary rig count, as reported October 21 by Baker Hughes Incorporated, fell by 9 to 927 active units. Meanwhile, oil-directed rigs fell by 1 to 1,079 units.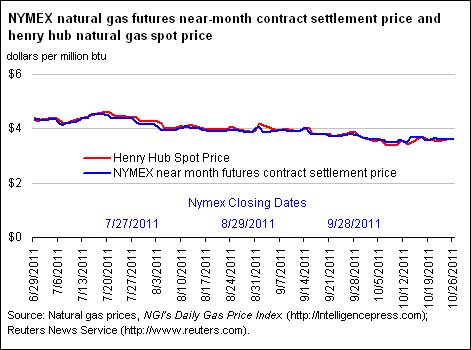 More Summary Data
Prices
Movement in the Henry Hub day-ahead price reflected the increase of most other trading locations in this week's cash market by rising just under 2 percent from $3.58 per MMBtu the previous Wednesday to $3.65 per MMBtu yesterday. As the accompanying table shows, the Henry Hub cash price progressed steadily upwards starting last Friday as end-use markets responded to prospects of approaching chillier weather late this week.

At the NYMEX, the November 2011 contract rose 0.4 cents (0.1 percent) from $3.586 per MMBtu last Wednesday to $3.590 per MMBtu yesterday. Despite the weekly rise, the November 2011 contract, which expires today, dropped 6.8 cents yesterday as the December 2011 contract dropped 7.7 cents, likely reflecting uncertainty over anticipated storage builds today rather than immediate weather concerns.

Most trading locations responded with higher prices to prospects of chillier temperatures later this week. Spot prices at Transcontinental Pipeline's Zone 6 trading point for delivery into New York City, which started the week at $3.83 per MMBtu, showed a 17 cent price gain per MMBtu over the period (Wednesday to Wednesday) to close at $4.00 per MMBtu (up 4.4 percent). Ironically, over the same period, the Chicago citygate spot price increased an identical $0.17 per MMBtu and also ended the week at $4.00 per MMBtu (up 4.4 percent).

In spite of generally mild fall temperatures prior to the arrival of the expected chillier weather, consumption posted a modest increase for the week. According to estimates from BENTEK Energy Services, LLC (BENTEK), domestic gas consumption increased by 3.0 percent over last week. The residential/commercial sector registered a double-digit percent increase while the industrial sector tallied a 1.8 percent increase. However, the power sector posted a generally offsetting 9.0 percent drop reflecting the light weather load at the end of last week.

In the midst of the week's recovering consumption pattern and price turnaround, overall supply was off slightly. According to BENTEK estimates, the week's overall average total nominal gas supply posted a 0.6 percent decrease from last week's level. Domestic weekly dry gas production averaged 62.6 Bcf per day, 0.3 percent lower than the previous week. Domestic dry gas production now stands 7.3 percent above this time last year. The slight fall in this week's dry gas production was amplified by a 6.0 percent decrease in Canadian imports which averaged 5.4 Bcf per day over the period. Canadian imports stand level with year-ago volumes for the same week. There were modest supply gains registered in the liquefied natural gas (LNG) arena during the week where imports came in at 767 million cubic feet (MMcf) per day but remain 10.0 percent below year-ago levels.

More Price Data
Storage
Working natural gas in storage rose to 3,716 Bcf as of Friday, October 21, according to EIA's WNGSR (see Storage Figure). Following a net injection of 92 Bcf from the previous week, stocks are now 28 Bcf below last year and 158 Bcf above the 5-year average. The injection was much larger than the 5-year average injection of 47 Bcf and last year's injection of 74 Bcf.

Another large build means that storage levels have nearly matched those of last year. Typically, the storage season is assumed to end at the close of October or early November. The East region tends to begin drawing on inventories before the other regions due to heating demand. If the relatively mild weather and high production levels continue, however, it would not be surprising to see injections continue well into November.

Temperatures during the week ending Thursday, October 20 averaged 58.0 degrees, 1.7 degrees warmer than normal and 1.1 degrees warmer than last year (see Temperature Maps and Data). Temperatures were above average in the Northeast and West but cooler than normal in the Midwest and much of the South. Weather was generally mild with the heating degree-days 17 percent below average for the week.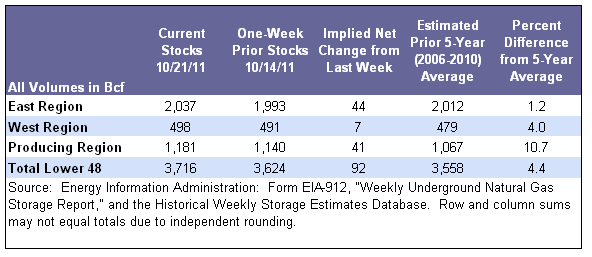 More Storage Data
Other Market Trends
Kitimat LNG Receives Export License. Earlier this month, Canada's National Energy Board (NEB) approved an application for KM LNG Operating General Partnership to export LNG from its proposed facility in Kitimat, British Columbia. The export license allows for export of up to 468 Bcf of natural gas per year over 20 years to Asian countries. Natural gas to supply the facility will be sourced from the Western Canada Sedimentary Basin. According to the NEB, this is the first LNG export license the board has considered since deregulation of the natural gas market in 1985. The terminal is a partnership between Apache Canada (the operator), EOG Resources Canada, and Encana. Construction on the facility is expected to begin in early 2012, with operations beginning in 2015. According to a recent BENTEK Energy analysis, the location of the Kitimat facility is optimally located for access to premium markets in Asia and could compete with new LNG projects in Australia.
See Weekly Natural Gas Storage Report for additional Natural Gas Storage Data.
See Natural Gas Analysis for additional Natural Gas Reports and Articles.
See Short-Term Energy Outlook for additional Natural Gas Prices, Supply, and Demand.