Released: September 22, 2011 at 2:00 P.M.
Next Release: Thursday, September 29, 2011
Overview (For the Week Ending Wednesday, September 21, 2011)
Natural gas spot prices declined at most market locations across the United States, as moderate temperatures led to declines in demand. Prices at the Henry Hub fell from $4.01 per MMBtu last Wednesday, September 14, to $3.78 per MMBtu yesterday.



At the New York Mercantile Exchange, the price of the near-month futures contract (October 2011) dropped from $4.039 per MMBtu last Wednesday to $3.73 per MMBtu yesterday.



Working natural gas in storage rose to 3,201 billion cubic feet (Bcf) as of Friday, September 16, according to EIA's Weekly Natural Gas Storage Report (WNGSR).



The natural gas rotary rig count, as reported by Baker Hughes Incorporated, rose by 20 this week to 912, reversing three weeks of declines.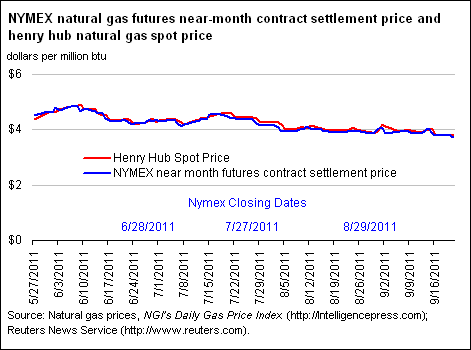 More Summary Data
Prices
Natural gas spot prices declined across the board this week, as mild fall temperatures reduced air conditioning demand. Most declines were in the double digits, and prices at many trading points fell more than 20 cents over the report week. Total consumption fell this week by 0.7 percent, according to data from BENTEK Energy Services LLC. While power burn dropped in response to cooler temperatures, these declines were partially offset by increases in demand by the other sectors.

The Northeast United States saw some of the first heating degree-days of the fall, particularly over the weekend. In New England, average temperatures over the weekend were in the upper 40s, reminding residents of the North that winter is coming. Despite the cooler temperatures, however, Northeast prices did not rise. In fact, they fell. At the Algonquin Citygate, a metric for Boston prices, the spot price fell from $4.33 per MMBtu last week to $4.05 per MMBtu yesterday. Lack of support for prices likely resulted from an overall decline in demand in the region as consumption of natural gas for power generation receded.

In Texas, consumption of natural gas for power generation has dropped precipitously, as extremely hot temperatures have receded. Yesterday, according to BENTEK estimates, power burn in Texas was about 3.7 Bcf, a 0.9 Bcf decline from the 4.6 Bcf of power burn last Wednesday. During two days in August, power burn rose above 7 Bcf per day.

Production of natural gas this week was robust, as dry production rose by 1.1 percent, according to BENTEK. Production remains substantially greater than year-ago levels. Canadian imports rose by 0.3 percent, with imports to the Midwest increasing by almost 10 percent. LNG sendout continued to languish, averaging 385 million cubic feet (MMcf) during the report week, which is more than 54 percent less than sendout during the same week last year. Though imports from Canada increased this week, they too remain below last year's levels. Robust domestic production has reduced the need for imports of natural gas.

At the NYMEX, the price of the near-month (October) futures contract dropped from $4.039 per MMBtu last Wednesday to $3.73 per MMBtu yesterday. The 12-month strip (the average of the 12 futures contracts from October 2011 to September 2012) fell from $4.38 per MMBtu to $4.19 per MMBtu. The average of winter month contracts (November 2011 to March 2012) was $4.14 per MMBtu yesterday.

More Price Data
Storage
Working natural gas in storage rose to 3,201 Bcf as of Friday, September 16, according to EIA's WNGSR (see Storage Figure). Following a net injection of 89 Bcf from the previous week, stocks are now 129 Bcf below last year and 35 Bcf less than the 5-year average. The injection was greater than the 5-year average injection of 72 Bcf and last year's injection of 78 Bcf.

The East Region registered its sixth consecutive week of above average builds. The region's deficit to the 5-year average continues to shrink after a build that was 13 Bcf above average. The East Region stocks remain a significant 76 Bcf below the 5-year average. The other two regions also had larger than normal builds. The Producing Region stocks are now 41 Bcf above the 5-year average while the West Region is 1 Bcf above average.

Temperatures during the week ending Thursday, September 15, averaged 68.6 degrees, 1.7 degrees cooler than last week (see Temperature Maps and Data). Temperatures were typical of this time of year, averaging 1.0 degrees warmer than normal and 1.1 degrees warmer than last year. Regionally, temperatures were higher than normal in the West and Northeast for the second week in a row, but they were partially offset by some cooler than normal regions in the South and Midwest. Cooling degree-days were about 13 percent above average for the country as a whole.
More Storage Data
Other Market Trends
National Petroleum Council Study Calls for "Prudent Development" of Energy Resources. The National Petroleum Council on September 15 released the results of an 18-month long study of North American natural gas and oil resources, involving more than 400 experts from various backgrounds, and completed at the request of U.S. Energy Secretary Steven Chu. The study, available on NPC's website, reached four major conclusions:
The natural gas resource base is much larger than thought even a few years ago. The NPC noted that domestic resources have the potential to meet the highest projections of demand included in the study.
The oil resource base is also larger than previously thought. The NPC noted that while domestic oil would not displace foreign oil use entirely, it could reduce the dependence on imported petroleum.


Domestic oil and gas resources will be necessary even as efficiency improvements reduce demand and renewable sources become more available.


In order to retain public trust environmentally responsible development is necessary to realize the benefits of domestic oil and natural gas resources.

Among other recommendations, the NPC noted that policies should support prudent development of energy resources and improvements in efficiency. Additionally, the study noted that reducing carbon emissions further would prove difficult without a well designed mechanism imposing a price on greenhouse gas emissions. The study group was led by Anadarko Petroleum CEO James Hackett and included officials from energy companies, the U.S. government, and energy research groups.

International Energy Outlook Shows China and India Leading the World in Energy Demand. EIA on September 19 released the International Energy Outlook 2011 (IEO2011), which includes projections for world energy markets through 2035. The IEO2011 projects worldwide energy consumption will grow by 53 percent between 2008 and 2035 in the baseline scenario, as developing nations, specifically India and China, drive growth. In 2035, the IEO2011 projects that China and India alone will account for about 31 percent of world energy use. Use of renewable energy is expected to grow quickly, increasing to 15 percent of total energy use at the end of the forecast period, but fossil fuels still remain dominant. The IEO2011 Reference case projects that the price of light sweet crude oil will reach $125 per barrel (in real 2009 dollars) by 2035, and oil consumption will continue to grow, with conventional and unconventional supplies increasing to meet demand. The increase in natural gas use is the most rapid of the fossil fuels, from 111 trillion cubic feet (Tcf) in 2008 to 169 Tcf in 2035. Unconventional natural gas supplies, including tight gas, shale gas, and coalbed methane, will increase substantially in the United States, Canada, and China.





See Weekly Natural Gas Storage Report for additional Natural Gas Storage Data.
See Natural Gas Analysis for additional Natural Gas Reports and Articles.
See Short-Term Energy Outlook for additional Natural Gas Prices, Supply, and Demand.