Released: September 1, 2011 at 2:00 P.M.
Next Release: Thursday, September 8, 2011
Overview (For the Week Ending Wednesday, August 31, 2011)
Coming only a few days after last week's earthquake, Hurricane Irene (later downgraded to Tropical Storm Irene) brought with it cooler weather and reduced electric power demand. Irene put downward pressure on prices, but most prices rallied on the last day of the report week. The Henry Hub spot price registered a net decline of 13 cents, falling from $4.10 per million Btu (MMBtu) last Wednesday to $3.97 per MMBtu yesterday.



At the New York Mercantile Exchange, the October 2011 contract moved into the near-month position, and rose from $3.889 per MMBtu last Wednesday to $4.054 yesterday.



Working natural gas in storage rose to 2,961 billion cubic feet (Bcf) as of Friday, August 26, according to EIA's Weekly Natural Gas Storage Report (WNGSR).



The natural gas rotary rig count fell by 2 to 898 as of August 26, ending a 3-week streak of increases, according to data reported by Baker Hughes Incorporated. The oil rig count, on the other hand, rose by 3 to 1,069, in its 19th consecutive week of increases.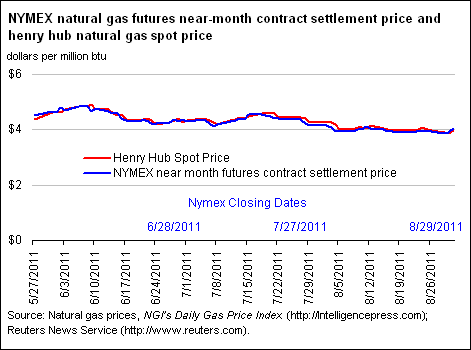 More Summary Data
Prices
Prices at most trading locations fell through most of the report week, then jumped on Wednesday. The Henry Hub price dropped from $4.10 per MMBtu last Wednesday to a low for the report week of $3.85 per MMBtu on Tuesday, and back up to $3.97 per MMBtu yesterday. The mid-week price declines resulted from forecasts for cooler weather and continued power outages from Hurricane Irene, which later was downgraded to Tropical Storm Irene. Decreasing every day of the report week but the last day, prices at Transcontinental Pipeline's Zone 6 trading point for delivery into New York City dropped from $4.35 per MMBtu last Wednesday to $4.08 per MMBtu on Tuesday. This pattern was similar across the country.

Hurricane Irene dampened natural gas demand for power burn during the report week, and demand loss continues as power infrastructure is repaired. According to data from BENTEK Energy Services, LLC, gas burn for power fell about 3 percent during the report week. Total demand was down 0.8 percent, and supply remained flat, as slight production increases were offset by declines in Canadian imports. BENTEK expects demand loss from the storm will total about 2.8 Bcf total.

Two newly formed weather disturbances likely played a role in Wednesday's price rally. Hurricane Katia, currently a Category 1 storm, might impact the U.S. east coast next week, but any projected path is still highly uncertain. The National Hurricane Center noted that Katia could become a major hurricane by the weekend. Meanwhile, a tropical system in the central Gulf of Mexico could become a tropical depression during the next 24 hours. Energy producers active in the area have been monitoring the storm and according to recent news reports have begun evacuating non-essential personnel from offshore platforms and have shut in small amounts of production.

The October 2011 contract moved into the near-month spot, and rose from $3.889 per MMBtu last Wednesday to $4.054 per MMBtu yesterday. The September contract closed at $3.857 per MMBtu on August 29, having lost 38.7 cents, or about 9 percent, during its tenure as the near-month contract. When the October contract settled yesterday at $4.054 per MMBtu, this was the first time in over two weeks that the near-month contract closed above $4 per MMBtu. The 12-month strip (the average of the 12 contracts between October 2011 and September 2012) rose from $4.421 on August 24 to $4.431 yesterday.

More Price Data
Storage
Working natural gas in storage rose to 2,961 Bcf as of Friday, August 26, according to EIA's WNGSR (see Storage Figure). Following a net injection of 55 Bcf from the previous week, stocks are now 137 Bcf below last year and 60 Bcf less than the 5-year average. The injection was between last year's build of 52 Bcf and the 5-year average injection of 60 Bcf.

The East Region registered its third consecutive week of above average builds. The August 26 deficit of 107 Bcf is still significant, but continued high production could quickly close this gap in the coming weeks if mild weather prevails. Hurricane Irene, while not as devastating as some feared, has knocked out power to thousands in the East Region and will likely increase the next week's stock build by dampening power demand and lowering temperatures.

Temperatures during the week ending Thursday, August 25, averaged 75.7 degrees, 2.4 degrees warmer than normal, but 0.1 degrees below last year (see Temperature Maps and Data). Temperatures were equal to or above normal in every region of the country. The West South Central Region, including Texas, at 87.6 degrees was both the absolute hottest region and the hottest relative to its normal temperature for the fourth consecutive week. Cooling degree-days were about 23 percent above average for the country as a whole.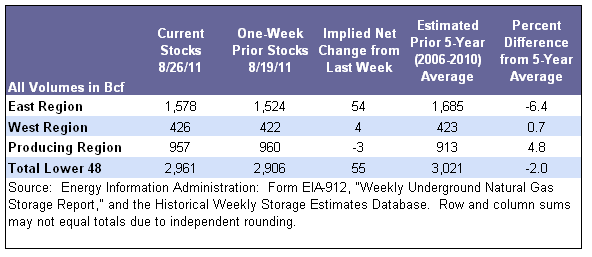 More Storage Data
Other Market Trends
Demonstrated peak working gas capacity rises to 4,103 Bcf. On August 31, EIA released its most recent estimates of natural gas storage capacity and historical maximum storage volumes. As of April 2011, demonstrated peak working gas capacity (the sum of the highest monthly storage inventory level of working gas observed in each facility over the prior 5-year period) was 4,103 Bcf, a 1 percent increase from the same level the previous year. Design capacity (which represents the sum of a field's working gas capacity, and is based on physical characteristics of the reservoir) rose to 4,388 Bcf, also an increase of 1 percent from the previous year's level of 4,353 Bcf. The Producing Region was a major source of capacity increases, adding 43 Bcf (or 80 percent) of peak working gas capacity and 23 Bcf (or 66 percent) of working gas design capacity.
See Weekly Natural Gas Storage Report for additional Natural Gas Storage Data.
See Natural Gas Analysis for additional Natural Gas Reports and Articles.
See Short-Term Energy Outlook for additional Natural Gas Prices, Supply, and Demand.