Released: August 25, 2011 at 2:00 P.M.
Next Release: Thursday, September 1, 2011
Overview (For the Week Ending Wednesday, August 24, 2011)
Even an earthquake on Tuesday could not shake up most gas prices significantly for the week. However, the prospects of some near-term returning cooling load was likely the catalyst boosting overall cash market prices this week. The Henry Hub price increased 13 cents per million Btu (MMBtu) over the week (up 3.2 percent) to close at $4.10 per MMBtu on August 24.

At the New York Mercantile Exchange (NYMEX), there was a 10.4 cent per MMBtu price spike on Tuesday following the East Coast earthquake but the September 2011 natural gas contract eventually gave most of the gain back and closed at $3.922 per MMBtu on Wednesday.

Working natural gas in storage rose last week to 2,906 billion cubic feet (Bcf) as of Friday, August 19, according to the U.S. Energy Information Administration's (EIA) Weekly Natural Gas Storage Report (WNGSR). The implied increase for the week was 73 Bcf, leaving storage volumes positioned 140 Bcf under year-ago levels.
The natural gas rotary rig count, as reported August 19 by Baker Hughes Incorporated, rose by 4 to 900 active units. Meanwhile, oil-directed rigs were up 11 to 1,066 units, increasing the disparity between the two drilling targets.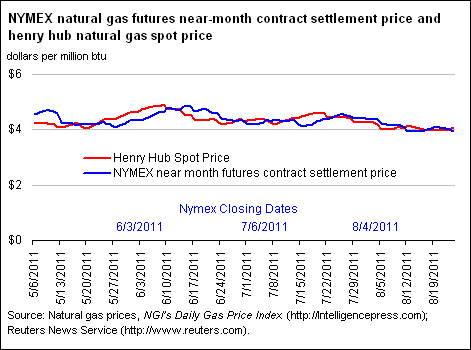 More Summary Data
Prices
At the NYMEX, the price response of the September 2011 contract diverged from the cash market over the week and decreased 1.1 cents (0.2 percent) from $3.933 per MMBtu last Wednesday to $3.922 per MMBtu yesterday. The contract surged 10.4 cents late in the day on Tuesday, likely over speculation as to the number of nuclear generating plants the East Coast earthquake may have removed from service along with pipeline outages. When news became clear on Wednesday about minimal infrastructure impacts, and with the looming threat of approaching Hurricane Irene possibly bring cooling rains and power outages to the East Coast thwarting natural gas consumption, this expiring contract (expires Monday, 8/29/2011) quickly gave back most of the prior day gain. To provide a longer-term perspective, this futures contract began life at $6.333 per MMBtu (11/29/2005) and posted a life-of-contract high price of $10.510 per MMBtu (7/1/2008) before closing yesterday below $4 per MMBtu.

The Henry Hub price echoed the week's general cash market price increase by rising 3.2 percent from $3.97 per MMBtu the previous Wednesday to $4.10 per MMBtu yesterday on forecasts of returning cooling load to some areas. As the accompanying table shows, the Henry Hub cash price meandered in a narrow range most of the week before surging 13 cents the last two days following the earthquake and prospects for returning near-term cooling load.

End-market natural gas prices generally followed the lead of their wholesale counterparts and responded to moderating temperatures along the East Coast early in the week with a lack of direction until prospects of some returning cooling load reemerged. The New York citygate, which started the week at $4.20 per MMBtu showed a 3 cent price range until starting upward on Monday. The New York citygate increased by $0.15 per MMBtu over the period (Wednesday to Wednesday) to close at $4.35 per MMBtu (up 3.6 percent). During the same period, the Chicago citygate rose $0.14 per MMBtu and ended the week at $4.17 per MMBtu (up 3.5 percent).

Despite a respite to more normal seasonal temperatures over the weekend, consumption registered a modest increase for the week. According to estimates from BENTEK Energy Services, LLC, domestic gas consumption increased this week by 4.3 percent over last week. The power sector led the increase with a gain of 10.0 percent, mostly reflective of regions in Texas which remain in the grip of a summer heat wave. However, the weather factor was partially offset by the residential/commercial sector which posted a decrease in consumption. Likewise, the industrial sector also posted a small 0.2 percent consumption decline.

In the midst of this increasing consumption yet soft price environment, overall supply was up slightly. According to BENTEK Energy estimates, the week's average total nominal gas supply posted a 0.7 percent increase from last week's level. Domestic weekly dry gas production hovered around 62 Bcf per day (up 0.3 percent) from the previous week. Domestic dry gas production now stands 6.8 percent above this time last year. The week's slight production gain was further bolstered by a 3.8 percent increase in Canadian imports averaging 5.7 Bcf per day. However, Canadian imports remain 16.6 percent below year-ago volumes. Supply gain remained anemic in the liquefied natural gas (LNG) arena during the week where imports came in just under 0.4 Bcf per day and remain 56.9 percent below year-ago levels.

More Price Data
Storage
Working natural gas in storage rose to 2,906 Bcf as of Friday, August 19, according to EIA's WNGSR (see Storage Figure). Following a net injection of 73 Bcf from the previous week, stocks are now 140 Bcf below last year and 55 Bcf less than the 5-year average. This represents a very large build for this time of year and is almost twice the size of last year's build of 38 Bcf. The injection is the second consecutive week of above-average builds.

The Producing Region registered a net build for the first time in six weeks. Consistently warm weather in the region has prevented the relatively large builds earlier in the year from continuing. Stocks in the Producing Region are now 55 Bcf above the 5-year average. For the first time since January, stocks in the West are now above the 5-year average level. The East Region remains 112 Bcf below the 5-year average, but this gap has been narrowing.

Temperatures during the week ending Thursday, August 18, averaged 74.6 degrees, 0.4 degrees warmer than normal, but 2.4 degrees below last week and 2.6 degrees below last year (see Temperature Maps and Data). Temperatures were close to normal in most regions with the West South Central showing the most deviation at 4.0 degrees above normal. In the Lower-48 as a whole, cooling degree-days were just 1 percent above normal but nearly 20 percent below last year.
More Storage Data
Other Market Trends
FERC, NERC Release Task Force Report on February 2011 Southwest Power Curtailments. The Federal Energy Regulatory Commission (FERC) and the North American Electric Reliability Corporation (NERC) released a report on August 16 investigating the causes of rolling blackouts and natural gas shortages experienced by Southwest customers in February. According to the report, the majority of outages and shortages were weather-related, due to the extreme cold faced by much of the country during the beginning of February. The report includes recommendations for regulators, generators, and natural gas suppliers to ensure reliability during similar weather conditions in the future. According to the report, extreme cold reduced natural gas supply and caused unprecedented demand levels. The report recommended:



Southwest States examine whether to require winterization plans for power plants.
Generation owners and operators should ensure freeze protection elements, such as insulation, are properly maintained and inspected.
Reliability coordinators should require information from generators about temperature limits for power units.
State authorities in Texas and New Mexico should work with industry to determine if mitigation strategies exist for weather-related production shortages.


More information is available at: http://www.ferc.gov/media/news-releases/2011/2011-3/08-16-11.asp

August 23 Earthquake Causes Shutdown of Nuclear Reactors. The two nuclear reactors at Dominion Virginia Power's North Anna Power Station shut down automatically on August 23, following the 5.8 earthquake centered about five miles from nearby Mineral, Virginia. No damage has been reported and reactor cool-down and safety inspections are ongoing. Dominion also has another nuclear reactor station in Surry, Virginia, located in the Southeast region of the Commonwealth, where shocks were felt, but not as strongly, and both units are operating. According to BENTEK Energy, the North Anna facility had been operating at 100% utilization, and replacement from gas-fired generation could total 350 million cubic feet (MMcf) per day until the units are restored. BENTEK noted that the units will likely be in service by the end of the weekend.

USGS Releases New Marcellus Shale Assessment. The Marcellus Shale, located in the Northeast U.S., contains about 84 trillion cubic feet (Tcf) of undiscovered, technically recoverable natural gas resources, according to a new United States Geological Survey (USGS) report released on August 23. According to the report, the Marcellus Shale also contains 3.4 billion barrels of undiscovered, technically recoverable natural gas liquids (NGLs). Technically recoverable oil and gas resources are defined as those which are producible using currently available technology and industry practices, regardless of economic or accessibility considerations. These resource levels represent mean estimates with reported uncertainty ranges and are an update to a previous 2002 study, which estimated only about 2 Tcf of natural gas and 0.01 billion barrels of NGLs. The increase is the result of new technologies that have led to significant production gains in the shale play over the last several years. The Marcellus Shale assessment covered areas in Kentucky, Maryland, New York, Ohio, Pennsylvania, Tennessee, Virginia, and West Virginia.

Hurricane Irene Expected to Reduce Natural Gas Demand.Hurricane Irene, currently on a path to hit North Carolina on Saturday, is likely to reduce consumption of natural gas from South Carolina up to Massachusetts, according to a recent update from BENTEK Energy. Wind and rain will reduce demand for cooling for households, and some businesses and industrial natural gas users are also likely to close due to weather conditions. Additionally, according to BENTEK, widespread power outages are expected. With a relatively wide diameter of 460 miles, Irene could bring widespread rain to areas far outside the center of the storm as it moves up the East Coast through the weekend. The last hurricane to make landfall was Hurricane Ike in 2008, which came on the heels of Hurricane Gustav. These two hurricanes hit the Gulf of Mexico and led to significant production shut-ins. The National Hurricane Center provides frequent updates on the status of hurricanes and tropical storms, as well as projected path information, and is available here: http://www.nhc.noaa.gov/

Natural Gas Rigs at 6-Month High. Following three consecutive weeks of increases, natural gas rigs rose from 877 at the end of July to 900 on Friday, August 19, according to data released by Baker Hughes Incorporated. This is the highest level reported since February 2011, and since then, rigs have remained in the upper 800s. The recent increase in natural gas rigs, however, is dwarfed by the rise in oil rigs over the past several months. Oil-directed rigs increased by 11 on the week to 1,066, and have risen for 18 consecutive weeks, resulting from relatively high oil prices. Additional oil rigs are likely to bring additional associated natural gas production.
See Weekly Natural Gas Storage Report for additional Natural Gas Storage Data.
See Natural Gas Analysis for additional Natural Gas Reports and Articles.
See Short-Term Energy Outlook for additional Natural Gas Prices, Supply, and Demand.