Released: July 28, 2011 at 2:00 P.M.
Next Release: Thursday, August 4, 2011
Overview (For the Week Ending Wednesday, July 27, 2011)
As last week's Eastern heat wave subsided, natural gas prices declined at market locations across the lower 48 States. The spot price at the Henry Hub decreased 18 cents from $4.64 per million Btu (MMBtu) last Wednesday, July 20, to $4.46 per MMBtu yesterday, July 27.

At the New York Mercantile Exchange, the price of the near-month futures contract (August 2011) decreased from $4.500 per MMBtu to $4.370 per MMBtu.

Working natural gas in storage rose to 2,714 billion cubic feet (Bcf) as of Friday, July 22, according to EIA's Weekly Natural Gas Storage Report (WNGSR).
The natural gas rotary rig count, as reported by Baker Hughes Incorporated on July 22, increased by 4 for the week to 889.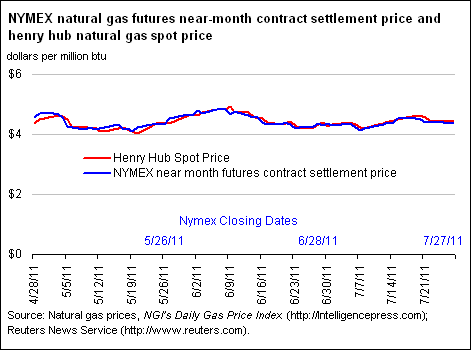 More Summary Data
Prices
Although natural gas prices fell at most points across the country, likely as a result of a general lessening of the previous week's heat dome, the Northeast saw significant price spikes during the week. The prime example is Transcontinental Pipeline's Zone 6 point for delivery into New York City, where temperatures near 100 caused prices to spike to $14.50 on Thursday, July 21. By Monday, July 25, they had retreated to $5.00 per MMBTU and closed the week out yesterday at $4.93 per MMBTU, down for the week.

Pipeline imports from Canada continued their increase of the previous week to help meet increased demand for natural gas during the week, primarily for power generation. Canadian imports to the United States increased by 7.0 percent, according to data from Bentek Energy Services, LLC. The Northeast and the Midwest saw the largest increase of Canada imports of the three regions tracked by Bentek, increasing by 12.1 and 10.7 percent, respectively. Canadian imports into the West increased a modest 0.4%.

Overall consumption of natural gas for electric power increased by 12.3 percent from the previous week. According to Bentek, natural gas consumption across the United States increased by 7.0 percent on the week, with most of the increase being for power generation, especially in the early part of the week. Natural gas consumed for power generation was close to 35 Bcf for Thursday and Friday, and then fell to levels closer to the 30 Bcf range for the remainder of the report week. Supply rose about 0.3 percent on the week, according to Bentek data. Domestic dry gas production fell slightly by 0.7 percent, and remained in the 59 to 61 Bcf range over the week. (Note that Bentek is now reporting dry gas rather than marketed production.)

At the New York Mercantile Exchange, the price of the near-month futures contract (August 2011) decreased from $4.500 per MMBtu to $4.370 per MMBtu. Similarly, the price of the 12-month strip (the average of all contracts between August 2011 and July 2012) declined to $4.558 per MMBTU, from $4.694 per MMBtu the previous Wednesday.

More Price Data
Storage
Working natural gas in storage rose to 2,714 Bcf as of Friday, July 22, according to EIA's WNGSR (see Storage Figure). After a 43 Bcf net build, stocks are now 65 Bcf below the 5-year average and 201 Bcf below last year. The build was less than the 5-year average build of 49 Bcf, making this the third consecutive week of below average builds. Last year saw a stock build of just 31 Bcf during the same week.

The Producing Region registered its second week in a row with a net draw. While draws during hot summer weather occur, they are not typical. With this draw, the Producing Region has now fallen below last year's levels for the first time this year. The region remains 75 Bcf above the 5-year average.

Temperatures in the lower 48 States during the week ending July 21 were warmer than normal for the third week in a row but slightly colder than last year. The National Weather Service's degree-day data show that the temperature in the lower 48 States last week averaged 78.9 degrees, 3.1 degrees warmer than normal, but 0.4 degrees cooler than last year (see Temperature Maps and Data). All regional temperatures were above normal levels with the exception of the Pacific region for the second week in a row. Cooling degree-days were about 28 percent above normal.
More Storage Data
Other Market Trends
Ruby Pipeline Set to Open this Week. Following approval to begin service from the Federal Energy Regulatory Commission (FERC) on Wednesday, El Paso Corporation's Ruby Pipeline has accepted nominations and is expected to deliver gas to the Malin Hub in Oregon today. The 680-mile, 1.5 Bcf per day capacity pipeline will run from Opal, Wyoming, to Malin, Oregon. The pipeline encountered cost overruns and permitting delays, totaling about $590 million, bringing the total cost of the pipeline up to about $3.6 billion. Last week, FERC approved tariff changes to account for these costs, as well as lower expected initial throughput, according to trade press reports. Though the pipeline will send additional Rockies gas to the West coast, recent analysis by Bentek suggests that the pipeline will compete with Western Canadian gas coming into the United States via the Gas Transmission Northwest Pipeline, which begins at the British Columbia-Idaho border and terminates at the Oregon-California border. Both Rockies gas and Canada gas will compete for space on the Redwood Path pipeline, which moves gas into Northern California and will be operating about 400 million cubic feet (MMcf) per day below its capacity through December due to pressure testing.

Bentek Energy Implements Changes to Daily Supply/Demand Data. Bentek Energy, a data and analysis source used by EIA for input into the Natural Gas Weekly Update, as well as other products, has recently implemented several changes to its daily data. Some of

Bentek's changes, which affect data reported in the Natural Gas Weekly Update, include:
Production data in the NGWU refer to dry production, rather than marketed.
Residential and commercial consumption no longer includes a balancing item, which has been pulled out into a separate category.
Bentek's industrial consumption model has been improved to reduce high daily volatility not reflective of actual consumption patterns.
See Weekly Natural Gas Storage Report for additional Natural Gas Storage Data.
See Natural Gas Analysis for additional Natural Gas Reports and Articles.
See Short-Term Energy Outlook for additional Natural Gas Prices, Supply, and Demand.