Released: July 14, 2011 at 2:00 P.M.
Next Release: Thursday, July 21, 2011
Overview (For the Week Ending Wednesday, July 13, 2011)
Nearly all pricing points were up somewhat for the week on a heat wave that affected nearly half the country's population according to national news reports. Despite the record heat, the Henry Hub price increased a modest 9 cents per million Btu (MMBtu) over the week (2.0 percent) to close at $4.43 per MMBtu on July 13.

At the New York Mercantile Exchange (NYMEX), the price response was more robust (up 4.4 percent) with the August 2011 natural gas contract price gaining ground over the week, closing at $4.403 per MMBtu on Wednesday.

Working natural gas in storage rose last week to 2,611 billion cubic feet (Bcf) as of Friday, July 8, according to the U.S. Energy Information Administration's (EIA) Weekly Natural Gas Storage Report (WNGSR). The implied increase for the week was 84 Bcf, leaving storage volumes positioned 218 Bcf under year-ago levels.

The natural gas rotary rig count, as reported July 8 by Baker Hughes Incorporated, fell by 1 to 873 active units. Meanwhile, oil-directed rigs were up 1 to 1,007 units, essentially maintaining and slightly expanding the diversion between the two drilling objectives.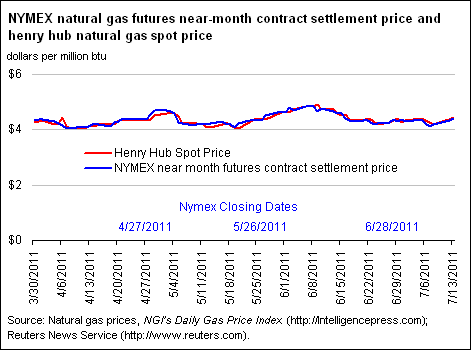 More Summary Data
Prices
At the NYMEX, the price of the August 2011 contract reflected one of the strongest price responses relative to gas pricing points and increased 18.6 cents (4.4 percent) over the week from $4.217 per MMBtu last Wednesday to $4.403 per MMBtu yesterday. Since last Thursday, expectations of higher temperatures with rising cooling load has likely been the chief catalyst propelling futures to a string of four consecutive days of price gains accounting for the bulk of the week's price increase.

The Henry Hub price echoed the week's general price rise by increasing 2.0 percent from $4.34 per MMBtu during the week to close at $4.43 per MMBtu yesterday. As the accompanying table shows, the Henry Hub cash price began its ascent on Friday with four straight days of price gains totaling 24 cents during the midst of the heat build.

End-market natural gas prices generally followed the lead of their wholesale counterparts and responded to the heat, but with more muted gains. The New York citygate temporarily spiked up 83 cents (18.4 percent) between Friday and Monday when the heat wave first materialized. However, the Northeast heat spike proved to be short-lived and prices started retreating beginning on Tuesday. Despite the temporary price spike, the New York citygate actually decreased by $0.04 per MMBtu over the week (Wednesday to Wednesday) to close at $4.76 per MMBtu. Correspondingly, during the same time period, the Chicago citygate increased a more mundane $0.12 per MMBtu and ended the week at $4.49 per MMBtu (up 2.2 percent).

Spurred by the heat wave, consumption registered a sound increase. According to estimates from BENTEK Energy Services, LLC, domestic gas consumption increased this week by 5.1 percent over last week. The power sector led the increase on an absolute and percentage basis for a gain of 8.5 percent. Likewise, the residential/commercial sector also registered a gain. However, running counter to the consumption uptrend, the industrial sector fell 1.1 percent.

Amid the generally ascending price environment, overall supply was mixed and down slightly. According to BENTEK Energy estimates, the week's average total nominal gas supply posted a 0.3 percent decrease from last week's level. Domestic weekly gas production averaged slightly over 64 Bcf per day, down 0.4 percent from the previous week. Production held above 64 Bcf per day on all but two days of the week. Domestic production now stands 5.3 percent above this time last year. The week's slight production drop was offset somewhat by a 1.1 percent increase in Canadian imports averaging 6.5 Bcf per day. Canadian imports remain 11.1 percent below year-ago volumes. Supply again abated for liquefied natural gas (LNG) where imports slid to just under 0.4 Bcf per day during the week, and remain 62.8 percent below year-ago levels.

More Price Data
Storage
Working natural gas in storage rose to 2,611 Bcf as of Friday, July 8, according to EIA's WNGSR (see Storage Figure). After an 84 Bcf net build, stocks are now 52 Bcf below the 5-year average and 218 Bcf below last year. The build was less than the 5-year average build of 88 Bcf ending three consecutive weeks of above average builds. Last year saw a stock build of just 78 Bcf during the same week.

Stocks last week grew at an above average pace in the East and West Regions while the Producing Region lagged behind. While stocks in the East and West regions remain well below the 5-year average levels, the gap has been narrowing for the past four weeks in the East and the past five weeks in the West. The Producing Region, which has seen mostly larger than average builds in 2011, has recently had relatively small builds. It remains well above average stock levels for this time of year.

Temperatures in the lower 48 States during the week ending July 7 were warmer than normal and warmer than last year. The National Weather Service's degree-day data show that the temperature in the lower 48 States last week averaged 77.1 degrees, 2.9 degrees warmer than normal, and 2.3 degrees warmer than last year (see Temperature Maps and Data) Temperature Maps and Data). This marks the highest average temperature so far this year. All regional temperatures were above normal levels, and all regions outside the Northeast were warmer than last year. Cooling degree-days were about 26 percent above normal.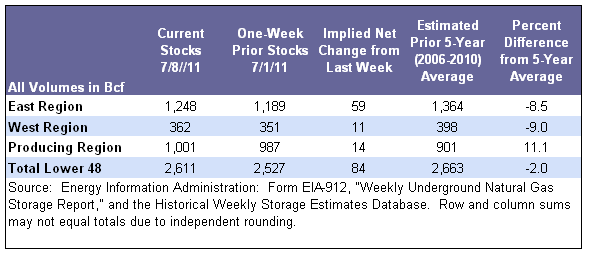 More Storage Data
Other Market Trends
LNG Sendout at Lowest Levels in Years. According to data from BENTEK Energy, LNG sendout from U.S. import terminals is at its lowest level in the more than 6 years for which BENTEK has data. Month to date, LNG sendout has averaged 380 million cubic feet (MMcf) per day, more than 50 percent lower than the level for June 2011. Between 2005 and 2010, July sendout has averaged 1.6 Bcf per day, partially driven upward by a very high sendout of almost 3 Bcf per day in July 2007. Year-to-date, sendout has averaged 867.2 MMcf per day. Currently, most imports to the United States arrive at the Suez Energy North America's Everett LNG terminal in Everett, Massachusetts and at El Paso Corp.'s Elba Island LNG terminal in Elba Island, Georgia. Both of these facilities have long-term contracts. LNG imports in the United States have been at historically low levels as a result of much higher prices for spot LNG elsewhere in the world, specifically in Asian and European markets. In recent months, nuclear power outages resulting from the March earthquake and tsunami in Japan have led the country to rely more on LNG, which has contributed to higher global LNG prices. Additionally, recent growth in production in the United States also has reduced domestic natural gas prices and the need for imports.

Short-Term Energy Outlook calls for strong production in 2011. EIA released its Short-Term Energy Outlook (STEO) on July 12, with forecasts through 2012. In this month's STEO EIA expects marketed production of natural gas will average 65.4 Bcf per day in 2011, an increase of almost 6 percent over the previous year. Growth continues in 2012, but at a much slower pace, with forecast marketed production of 66.0 Bcf per day. Consumption in 2011 is expected to grow 2 percent to 67.4 Bcf per day, with industrial and electric power consumption increasing to 18.7 Bcf per day and 20.6 Bcf per day, respectively. This month EIA expects that inventories of working natural gas in storage, which are currently below last year's levels and the five-year average, will come close to last year's levels at the end of the injection season. Henry Hub prices average an estimated $4.27 per MMBtu in 2011, and are expected to rise to an average of $4.54 per MMBtu in 2012, as slowing growth in production contributes to tighter domestic natural gas markets.
See Weekly Natural Gas Storage Report for additional Natural Gas Storage Data.
See Natural Gas Analysis for additional Natural Gas Reports and Articles.
See Short-Term Energy Outlook for additional Natural Gas Prices, Supply, and Demand.