Released: January 20, 2011 at 2:00 P.M.
Next Release: Thursday, January 27, 2011
Overview (For the Week Ending Wednesday, January 19, 2011)
Natural gas prices fell at most market locations across the country, as bitterly cold weather subsided. At the Henry Hub, the natural gas price fell 7 cents from $4.55 per million Btu (MMBtu) on Wednesday, January 12, to $4.48 per MMBtu on Wednesday, January 19.



At the New York Mercantile Exchange (NYMEX), the price of the near-month natural gas contract (February 2011) rose slightly, from $4.531 per MMBtu on January 12 to $4.561 yesterday.



The spot price of the West Texas Intermediate crude oil fell by $1 over the week, from $91.85 per barrel on January 12 ($15.84 per MMBtu) to $90.85 per barrel ($15.66 per MMBtu).



Working natural gas in storage fell to 2,716 billion cubic feet (Bcf) as of Friday, January 14, according to the Energy Information Administration's (EIA) Weekly Natural Gas Storage Report (WNGSR).



The number of natural gas rotary rigs dropped by 12 to 902 as of Friday, January 14, according to data released by Baker Hughes Incorporated. Natural gas rigs are at their lowest level since February 19, 2010.
More Summary Data
Prices
Natural gas prices fell at most market locations, likely the result of weather moderating from cold temperatures last week and at the beginning of this report week. During the beginning of the report week, temperatures were very cold across most of the lower 48 States. For example, temperatures dropped to the 20s and 30s in some areas of the Deep South; across much of the Midwest, temperatures were in the teens. At the Henry Hub, prices fell 7 cents, from $4.55 per MMBtu on January 12 to $4.48 per MMBtu on January 19. Price decreases were mostly moderate in trading regions in the South, Midcontinent, and Western areas; however, they were much more pronounced in trading points in the Northeast and in Florida, regions where prices had spiked as a result of the cold.

As the Northeast recovered from what many referred to as a Snowpocalypse last week, natural gas prices dropped by several dollars in some locations, but the relatively low prices were short-lived. At Transcontinental Pipeline's Zone 6 trading point for delivery into New York City, the spot price fell from $13.58 per MMBtu to $6.84 per MMBtu on Tuesday, but jumped up more than $3 to end Wednesday trading at $9.88 per MMBtu. Many Northeast trading locations followed a similar pattern, dropping to a low on Tuesday and spiking on Wednesday. On Wednesday, prices increased, likely due to the forecast of more winter storms for the Northeast. Despite increases of several dollars on Wednesday, however, most Northeast prices posted net declines for the week.

Natural gas prices in Florida dropped dramatically during the week as weather moderated. Though it didn't receive snow, Florida was not immune to the cold weather early in the week either, and the prices reflected as much. The price at the Florida Gas Transmission Citygate fell from $17.04 per MMBtu at the beginning of the report week to $4.85 at the end of the report week, a drop of $12.19 per MMBtu or 72 percent.

Consistent with price declines, natural gas consumption fell during the report week. On Thursday, January 13, consumption totaled 107.4 Bcf, the result of a spike in demand for natural gas for power generation as well as for heating residential and commercial buildings, then fell as the week went on. Consumption remained below 90 Bcf per day for most of the week as the temperatures moderated. Demand for natural gas in the electric power sector and in the residential and commercial sectors fell the most in response to the weather. Supply during the week fell slightly, as production remained flat week over week, and Canadian imports declined 4 percent from the previous week.

At the NYMEX, the price of the near-month natural gas contract (February 2011) increased slightly. The price of the contract rose from $4.531 per MMBtu to $4.561 per MMBtu. Likewise, the price of the 12-month strip (the average of contracts from February 2011 – January 2012) rose slightly from $4.752 per MMBtu to $4.777 per MMBtu. The near-month futures contract is about 18 percent lower than its level of $5.557 per MMBtu on February 19, 2010.

More Price Data
Storage
Working natural gas in storage fell to 2,716 Bcf as of Friday, January 14, according to EIA's WNGSR (see Storage Figure). The net draw of 243 Bcf is far larger than the 5-year average draw of 133 Bcf but comparable to last year's draw of 248 Bcf for the report week. Despite the relatively robust net withdrawals during the report week, working gas in storage in the lower 48 States remained 78 Bcf above last year's levels and 51 Bcf above the 5-year average. These above-normal levels of working gas in storage were driven by the levels reported in the Producing region, which were 144 Bcf above last year's level, compared with the East and West regions, which were 36 Bcf and 35 Bcf, respectively, below last year at this time.

The week's draw was the sixth largest on record since the current survey began in 2002. The large draw can be attributed to very cold weather throughout much of the country. Last year's slightly larger draw was also the result of unseasonably cold weather.

Temperatures were considerably colder than normal in the lower 48 States during the week ending January 13. The National Weather Service's degree-day data show that the temperature in the lower 48 States last week averaged 28.3 degrees, 6.4 degrees colder than last week and 4.7 degrees colder than normal. (See Temperature Maps and Data).Temperatures were slightly warmer, however, than last year. Every region was colder than normal, with the largest deviations in the East South Central and South Atlantic regions, which were 9.3 and 8.6 degrees below normal, respectively. Heating degree-days for the lower 48 States were 13.7 percent higher than normal.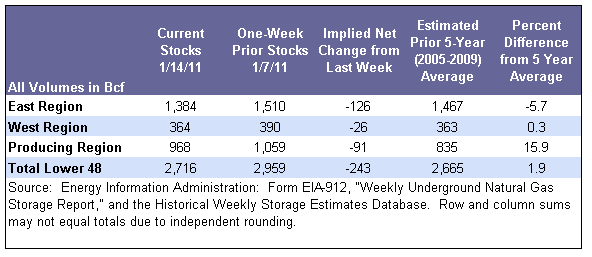 More Storage Data
Other Market Trends
CFTC Proposes Position Limit Rule. The Commodity Futures Trading Commission (CFTC) has issued a series of proposed regulations calling for position limits to be placed on 28 core physical-delivery contracts, including energy contracts, and their derivatives. The CFTC's proposed regulations are meant to implement elements of the Dodd-Frank Wall Street Reform and Consumer Protection Act, which was enacted by Congress and signed by President Obama in July 2010. Citing its statutory responsibility to combat excessive speculation and manipulation in the futures markets, the CFTC also proposed a series of new reporting requirements for market participants. According to the proposed regulations, which were released to the public for comment following approval by commissioners on January 13, spot-month position limit levels would be set at 25 percent of deliverable supply for a given commodity. Additionally, a non-spot-month position limit for each referenced contract would be set using the CFTC's proposed "10, 2.5 percent formula." Positions would be limited to 10 percent of open interest in that contract below the first 25,000 contracts and 2.5 percent thereafter. These non-spot-month position limits will consist of aggregate single-month and all-months-combined limits. The CFTC made clear that exemptions would exist for companies that have entered into futures contracts for hedging purposes, as opposed to speculative purposes. The CFTC commented that new reporting requirements in regard to the position limits will provide a better understanding of trading activity. An estimated 160 companies will have to report under the reporting requirements.

Department of Interior Creates New Agencies. Two new independent agencies will carry out the offshore energy management and enforcement functions once assigned to the former Minerals Management Service (MMS), Secretary of the Interior Ken Salazar announced on January 19. These functions are currently carried out by the Bureau of Ocean Energy Management, Regulation and Enforcement (BOEMRE). As of October 1, 2011, Salazar said that BOEMRE will be separated into two agencies with the new Bureau of Ocean Energy Management (BOEM) responsible for developing offshore resources and the new Bureau of Safety and Environmental Enforcement (BSEE) responsible for enforcement of safety and environmental regulations. BOEM's functions will include leasing, environmental studies, National Environmental Policy Act Analysis, resource evaluation, and economic analysis. BSEE will oversee all field operations including inspections, oil spill response, and newly formed Training and Environmental Compliance functions. The Department had previously announced that all revenue collection functions of the former MMS will be carried out by the separate Office of Natural Resource Revenue.


Natural Gas Transportation Update
A reprieve this week from the cold weather allowed for only a temporary relaxation of pipeline constraints. Beginning yesterday (Wednesday, January 19), pipeline companies began issuing notices of expected reductions in operational flexibility as a blast of Arctic air enters the Midwest and flows through the Northeast. Northern Natural Gas Company has implemented a System Overrun Limitation, which is the pipeline's version of a requirement for shippers to balance supplies and deliveries, in all of its market-area zones (including Chicago, Illinois). In the Northeast, Tennessee Gas Pipeline Company said colder weather (and thus increased demand for its services) in its market areas will require shippers to balance supplies and takes from the system. Tennessee implemented an operational flow order for Friday, with shippers required to maintain an actual daily flow rate not exceeding 2% of scheduled quantities or 500 dekatherms, whichever is greater. Similarly, Texas Eastern Transmission Company has placed restrictions on shippers effective through at least Friday.



Bison Pipeline, the new 303-mile interstate pipeline from the Powder River Basin to North Dakota (and an interconnection with Northern Border Pipeline), has begun delivering supplies. Bison, which is owned by TransCanada Corporation, is receiving volumes from a receiving point in the processing plant near Gillette, Wyoming. The pipeline currently has a capacity of 407 MMcf per day, but TransCanada says that expansions may eventually raise it to about 1 Bcf per day. The pipeline was originally expected to open in November 2010 but weather and other complications caused a delay.
Destin Pipeline Company shut down its interconnection with Midcontinent Express Pipeline (MEP) in Clarke County, Mississippi, on Wednesday until further notice, citing needed pipeline maintenance. Flows at the interconnection recently averaged 74 million cubic feet per day, according to BENTEK Energy, LLC. The decreased ability to deliver gas on the MEP system could put slight downward pressure on prices in the Midcontinent, according to BENTEK.
See Weekly Natural Gas Storage Report for additional Natural Gas Storage Data.
See Natural Gas Analysis for additional Natural Gas Reports and Articles.
See Short-Term Energy Outlook for additional Natural Gas Prices, Supply, and Demand.