Released: November 18, 2010 at 2:00 P.M.
Next Release: Thursday, December 2, 2010
Overview (For the Week Ending Wednesday, November 17, 2010)
Natural gas spot prices fell modestly at nearly all domestic pricing points, likely because expectations for colder weather were slow in materializing and storage levels rose again. The Henry Hub price fell 23 cents (about 6 percent) for the week ending November 17, to $3.77 per million Btu (MMBtu).



The West Texas Intermediate crude oil spot price settled at $80.43 per barrel ($13.87 per MMBtu), on Wednesday, November 17. This represents a decrease of $7.34 per barrel, or $1.27 per MMBtu, from the previous Wednesday.



Working natural gas in storage set another new all-time record increasing to 3,843 billion cubic feet (Bcf) as of Friday, November 12, according to the Energy Information Administration's (EIA) Weekly Natural Gas Storage Report. The implied net injection for the week was 3 Bcf.



At the New York Mercantile Exchange (NYMEX), the December 2010 contract price fell 1.6 cents to $4.030 per MMBtu from the previous Wednesday.



The natural gas rotary rig count, as reported November 12 by Baker Hughes Incorporated, remained flat at 955 units, representing a 4 percent drop from a peak of 992, recorded August 13, 2010. This drop in gas-directed rigs has been more than offset by a 13-percent increase in oil-directed drilling during the same time period as oil prices edged higher.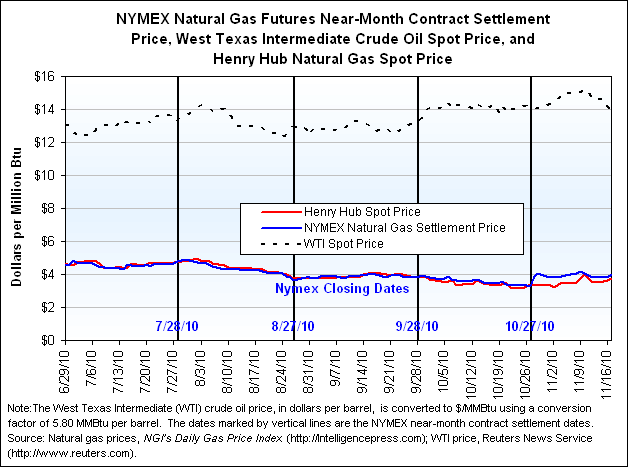 More Summary Data
Prices
Prices generally traced out a u-shaped pattern over the past week, presumably as expectations for colder weather failed to materialize early on but were revived again by fresh forecasts for colder temperatures. However, a backdrop of plump storage and the absence of significantly colder weather continued to place some downward pressure on prices in all regions, resulting in week-on-week declines. On average, spot prices fell across the board from last week, by a nominal 20 cents (5 percent). The largest regional average weekly drop occurred in the Northeast, which averaged a 53-cent decline for the week. The Midcontinent region showed the least decline and was off by only 4 cents for the week. The most spectacular drops occurred in the Northeast on Thursday with Tennessee Zone 6 falling 82 cents, Algonquin off 77 cents, and Dracut down 66 cents. The Rockies also recorded one-day drops of 40 cents at Opal and El Paso Bondad. At Henry Hub, the natural gas spot price dropped by 23 cents from the previous Wednesday to end trading yesterday at $3.77 per MMBtu. While spot prices have fallen from a $4.00 per MMBtu high last week, the Henry Hub price remains about 9 percent above the $3.47 per MMBtu spot price one year ago.

The mid-week turnaround in gas prices corresponded with an overall rebound in natural gas consumption. According to estimates from BENTEK Energy Services, LLC, domestic consumption increased by 3.2 percent from the previous week. An increase in residential and commercial use of 7.6 percent was the primary factor driving the gain. Meanwhile, according to BENTEK, consumption in the power sector fell by 0.1 percent while the industrial sector registered a 0.1 percent increase. Seasonal consumption is finally starting to converge with supply. Despite this week's overall weekly gains, natural gas consumption still remains about 0.5 percent below year-ago levels.

According to BENTEK estimates, total supply of natural gas fell this week by 1.2 percent. Domestic production was off by 0.7 percent, accounting for the bulk of the decline. One contributing factor was the shut-in of the Independence Hub in the Gulf of Mexico over the weekend for planned maintenance. The facility typically flows about 0.5 Bcf per day and resumed operations on Tuesday, November 16. Other contributing supply sources also decreased during the week. Canadian imports were off by 11.1 percent and remain 20.3 percent below year-ago levels. Things were no better in the LNG arena where imports remained 25.7 percent below last year. LNG sendout fell below its 5-year (2005-2009) minimum and last Wednesday reached a new recorded daily low, since BENTEK started tracking the volumes.

At the NYMEX, the price of the December 2010 contract fell a modest 1.6 cents, from $4.046 per MMBtu to $4.030 per MMBtu. During intraweek trading, prices fell even lower, settling at $3.799 per MMBtu on Friday, November 12. The differential between spot and futures prices is much wider than it was around this time last year and has been this way since late October. The spread between NYMEX and Henry Hub expanded to nearly 30 cents per MMBtu on Friday and has generally remained in a 25-30 cent range, as hedge funds are speculated to be in the market rebalancing portfolios and buying commodities of all types regardless of real-world market fundamentals. The December 2010 contract is about 61 cents below the price of the November 2011 contract. However, the 12-month strip (the simple average of the 12 futures contracts between December 2010 and November 2011) contracted slightly this week from $4.310 per MMBtu to $4.259 per MMBtu. An expanding spot/futures differential and growing futures strip creates a new cycle of opportunities for gas producers to hedge their future production at above market prices.

More Price Data
Storage
Working natural gas in storage increased to 3,843 Bcf as of Friday, November 12, a new all-time record according to EIA's Weekly Natural Gas Storage Report (see Storage Figure). The net injection was 3 Bcf, compared with last year's net injection of 21 Bcf and the 5-year average injection of 18 Bcf for the report week. This marks the second week in a row that the weekly net injection fell below the 5-year average. The Producing region storage levels are now 39 Bcf above last year's level, while the East region is 21 Bcf below last year's level. Working gas stocks in the West region lag behind last year's level by 6 Bcf.

The Producing region was the only region to see a stock build for the week ending November 12. The East and West regions saw declines of 8 and 2 Bcf respectively, which were offset by a build of 13 Bcf in the Producing region. These draws are atypical for this week, as the 5-year average injection sees positive builds in all three regions. Last year, storage built in the West and Producing regions for two more weeks while the East saw a small draw beginning next week.

Temperatures were roughly average in the lower 48 States as a whole during the week ending November 11. The National Weather Service's degree-day data show that the average temperature in the lower 48 States last week was slightly higher than normal but 3.7 degrees colder than last year (See Temperature Maps and Data. The greatest deviation from normal was seen in the West North Central region where temperatures averaged 48.1 degrees, 7.6 degrees warmer than normal. The corresponding heating degree-days were down 31 percent. Other regions experienced colder than normal weather. The South Atlantic experienced an average of 49.6 degrees, 4.9 degrees colder than normal. All regions except New England saw colder average temperatures than last year.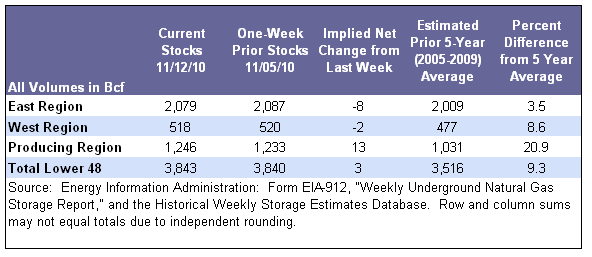 More Storage Data
Other Market Trends
Natural Gas Demand and Production in China Rises. EIA on November 9, 2010, released a Country Analysis Brief detailing energy consumption and production in China, the world's most populous country. While natural gas is not a major energy source in China, its production and demand has risen substantially over the last 20 years. China became a net importer of natural gas for the first time in 2007, importing about 140 Bcf of natural gas that year. In 2009, production in China was 2,929 Bcf, while consumption was 3,075 Bcf. EIA projects natural gas consumption in China to more than triple by 2035. As of January 2010, the country had 107 trillion cubic feet of proved natural gas reserves. The country has potentially large supplies of unconventional natural gas resources, such as coalbed methane and shale gas. The Chinese government has sought foreign investors to develop this gas. China's natural gas sector is dominated by three state-owned companies: CNPC, Sinopec, and CNOOC. CNPC accounts for about 80 percent of the country's natural gas output. While currently the country's pipeline network is somewhat fragmented, the country's government plans to build 14,400 miles of pipelines between 2009 and 2015.
Natural Gas Transportation Update
Enterprise Product Partners, L.P. (EPD), on Tuesday, November 16, ended maintenance at its Independence Hub in the Gulf of Mexico. The company has restarted operations and the platform is now flowing about 500 million cubic feet (MMcf) per day. This is about half of the platform's peak capacity, but approximately the level of flows before the maintenance began last Saturday.



Gulf South Pipeline Company, LP, on Wednesday said it will complete unscheduled meter maintenance early next week at its interconnect with Texas Eastern Transmission, LP, in Hinds County, Mississippi. Flows between Gulf South and Texas Eastern, which were interrupted for the maintenance in mid-October, are expected to resume on Monday, November 22. In a separate notice to shippers, Gulf South on Thursday, November 11, revealed that it had completed maintenance at its compressor station in Jackson, Mississippi. As a result, Gulf South has lifted related transport constraints through the Jackson station.



Maintenance continues along various pipeline segments of ANR Pipeline Company's Southeast Mainline (SEML). The maintenance, which will continue through the end of the year, is resulting in varying levels of reductions in the overall capacity of SEML through Indiana. Capacity will be reduced by as much as 3 percent during the repairs, likely resulting in curtailment of lower priority services, according to the company. ANR Pipeline's normal capacity for the segment is 1,400 MMcf per day. Separately, ANR on Thursday, November 11, reported the completion of repairs at its compressor station in Eunice, Louisiana. The pipeline company lifted associated capacity restrictions.



Maritimes and Northeast Pipeline, L.L.C., on November 17, reported a loss of supplies from the Sable Island Offshore Energy Project (SOEP) and urged shippers to match supply and takes on its system. According to BENTEK, flows across the Canadian border into New England on the pipeline were 89 MMcf yesterday, which is down 69 MMcf from the previous day.



Enogex LLC Pipeline System on Tuesday announced that it has completed maintenance and repairs on its Line 21 in eastern Oklahoma. The intrastate pipeline company said it will schedule flows to the Midcontinent Express Pipeline and the Gulf Crossing Pipeline beginning on November 18. Combined flows on these two pipelines had reached over 500 MMcf per day before a force majeure last summer.
See Weekly Natural Gas Storage Report for additional Natural Gas Storage Data.
See Natural Gas Analysis for additional Natural Gas Reports and Articles.
See Short-Term Energy Outlook for additional Natural Gas Prices, Supply, and Demand.