Released: November 10, 2010 at 2:00 P.M.
Next Release: Thursday, November 18, 2010
Overview (For the Week Ending Tuesday, November 9, 2010)
Since Wednesday, November 3, natural gas spot prices rose across the lower 48 States, increasing between $0.25 and $1.12 per million Btu (MMBtu). Prices at the Henry Hub rose $0.41 per MMBtu since last Wednesday, averaging $3.76 per MMBtu in trading yesterday, November 9.

At the New York Mercantile Exchange (NYMEX), the futures contract for December delivery at the Henry Hub settled yesterday at $4.21 per MMBtu, climbing by $0.37, or about 10 percent, since the previous Wednesday.

Natural gas in storage totaled 3,840 billion cubic feet (Bcf) as of November 5, about 10 percent above the 5-year (2005-2009) average, and setting a new all-time record. The implied net injection for the week was 19 Bcf.

The spot price for West Texas Intermediate (WTI) crude oil increased by $2.59 per barrel since Wednesday, November 3, ending the report week at $87.04 per barrel, or $15.01 per MMBtu.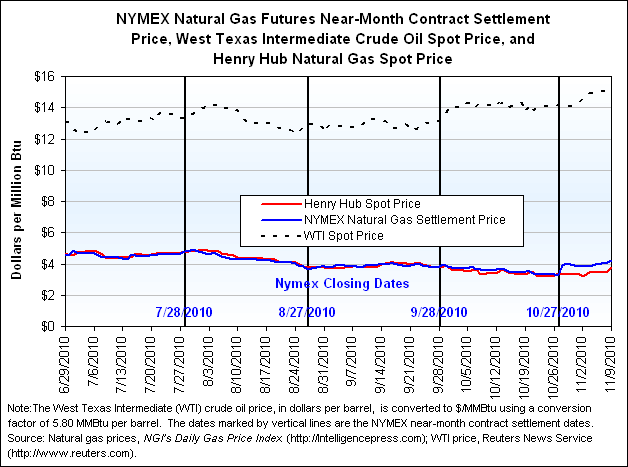 More Summary Data
Prices
Since last Wednesday, November 3, natural gas spot prices rose at market locations across the lower 48 States. Despite continued robust domestic natural gas production and near-record levels of working gas in storage, natural gas prices increased at the majority of market locations since last Wednesday, most likely as a result of cooling temperatures and increased heating demand for natural gas. Increases since last Wednesday generally ranged between 25 and 50 cents per MMBtu at most market locations. However, markets in the Northeast and west of the Rockies, as well as selected market locations in Texas, posted gains exceeding 50 cents per MMBtu. At the Henry Hub, prices rose 41 cents, or about 12 percent, since last Wednesday to $3.76 per MMBtu.

Prices in the Northeast region posted the largest increases in the lower 48 States, since last Wednesday, November 3. Price increases in the Northeast region since last Wednesday averaged about 64 cents per MMBtu. Much of this increase is likely due to increased heating demand for natural gas as a result of the colder temperatures in the region. Price increases at several locations in the New England markets ranged between $0.77 and $1.12 per MMBtu, while elsewhere in the Northeast region, specifically in New York, prices generally rose between $0.40 and $0.51 per MMBtu. These kinds of disparities between New England markets and the New York citygate are somewhat unusual, because these markets are generally more highly correlated. The surge in New England prices may be due in part to pipeline congestion, as well as a nuclear outage in the region.

Natural gas spot prices at the Henry Hub are trading slightly below year-ago levels. At $3.76 per MMBtu in trading on November 9, prices at the Henry Hub were about 1 percent, or $0.02 per MMBtu, below year-ago levels. However, most market locations in the lower 48 States continue to trade less than 12 percent above year-ago levels. Prices at selected markets in the Northeast, Louisiana, Rocky Mountains, and Texas regions are between $0.40 and $1.11 per MMBtu above last year's levels. These elevated price levels likely can be attributed to the earlier arrival of heating demand for natural gas in 2010 than in 2009.

Total weekly natural gas consumption in the lower 48 States increased since last week, with the residential/commercial sector assuming a larger role in the overall consumption profile since November 3. Natural gas consumption during the report week rose from week-ago levels, with increases in the residential/commercial sector more than offsetting declines in the industrial and electric power sectors, according to estimates by BENTEK Energy Services, LLC. This result likely reflects the effects of emerging heating demand for natural gas as the heating season gets underway. Total natural gas consumption rose about 1.5 percent since last week, driven by an increase of 6.4 percent in the residential/commercial sector. Natural gas consumption remains above year-ago levels, with consumption in the electric power and residential/commercial sectors exceeding year-ago levels by 5 percent and 10 percent, respectively.

Natural gas supplies posted a narrow decrease since last week despite increased domestic natural gas production and increased imports in the Northeast. On the week, natural gas supplies fell by 0.8 percent, according to BENTEK estimates, while domestic production grew 0.4 percent on the week. Canadian imports and LNG sendout fell 11 percent and 22 percent, respectively. Despite the overall decline in Canadian imports on the week, Canadian imports into the Northeast region increased about 24 percent during the period. Total domestic natural gas production and total natural gas supply remains about 9 percent and 6 percent, respectively, above the level reported last year at this time.

At the NYMEX, the 12-month strip (or the average price of futures contracts from December 2010 through November 2011) averaged $4.41 per MMBtu in trading on Tuesday, November 9, rising by about $0.23 on the week. Most of the weekly increases in the 12-month strip occurred for the near months, with the contracts for delivery further into the future posting progressively smaller increases on the week. The December 2010 contract rose $0.37 per MMBtu, posting the largest increase on the week. Relatively colder temperatures, rising spot prices, and expectations of increased heating demand in the coming weeks likely contributed to the net increases on the week. Futures prices on the 12-month strip increased in trading each day since last Wednesday.
More Price Data
Storage
Working natural gas in storage increased to 3,840 Bcf as of Friday, November 5, according to the Energy Information Administration's (EIA) Weekly Natural Gas Storage Report (see Storage Figure). The net injection was 19 Bcf, compared with last year's net injection of 25 Bcf and the 5-year average injection of 30 Bcf for the report week. This is the first time in nine weeks that the weekly net injection failed to exceed the 5-year average for the week. The Producing region storage levels are now 35 Bcf above last year's level, while the East region is 5 Bcf below last year's level. Working gas stocks in the West region matched last year's level at 520 Bcf.

Working gas in storage sets a new all-time record. Despite smaller injections than last year through much of the summer, high production combined with relatively mild fall weather has enabled storage levels to meet and surpass last year's record level of 3,837 Bcf. Exceeding last year's record level is particularly notable, because the new record resulted in large part from robust domestic production throughout the refill season, and was set despite increased total U.S. natural gas consumption in 2010, driven largely by gains in gas-fired electric power generation.

Temperatures turned colder in the lower 48 States during the week ending November 4. Reversing a three-week run of relatively warm weather, the National Weather Service's degree-day data show that temperatures in the lower 48 States last week were slightly below normal. Temperatures averaged 0.4 degrees and 2.3 degrees colder than normal and last year, respectively. (See Temperature Maps and Data). Temperatures were warmest in the Pacific, averaging about 61 degrees, and lowest in the East North Central, averaging about 42 degrees.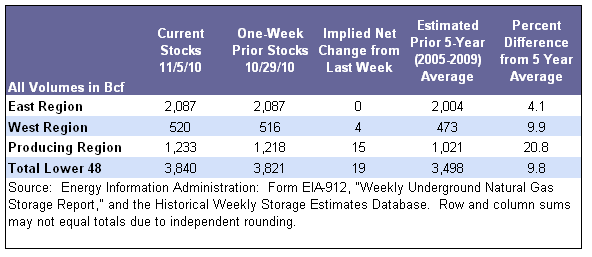 More Storage Data
Other Market Trends
EIA Forecasts a Slight Increase in Consumption in 2011. EIA released its Short-Term Energy Outlook (STEO) on November 9, which includes projections through the end of 2011. According to the STEO, total natural gas consumption will grow by 4.3 percent to 65.0 billion cubic feet per day (Bcf/d) in 2010, and then rise slightly in 2011 to 65.4 Bcf. The growth in 2010 is largely due to increases in industrial and electric power sector consumption, as hot summer weather and low natural gas prices drove the increased use of natural gas for electric power generation. EIA expects the 2011 Henry Hub spot price will average $4.31 per MMBtu, compared to $4.35 per MMBtu in 2010. Marketed production in 2010 will rise to 61.5 Bcf/d, then drop slightly to 60.8 Bcf/d in 2011. EIA expects inventories of working natural gas in storage to fall to 1,776 Bcf at the end of the winter, a withdrawal of 1,711 Bcf during the heating season.

Natural Gas Rig Count Drops to 955, While the Number of Horizontal Rigs Increases. . The natural gas rotary rig count, as reported November 5 by Baker Hughes, Incorporated, fell by 12 to 955. Since the beginning of the year, however, the natural gas rig count has risen by about 22 percent. The number of horizontal rigs, which includes both oil and natural gas rigs, rose this week from 919 to 943, are currently at their highest level in almost 20 years. Currently, horizontal rigs make up 56 percent of all rigs, while vertical and directional rigs make up 31 percent and 13 percent, respectively. The horizontal rig count has increased almost 62 percent from the beginning of 2010, reflecting an increasing emphasis on drilling in the shales for natural gas and in the emerging "oily shales" for high-valued liquids, while the number of directional rigs and vertical rigs has risen 10 percent and 19 percent, respectively.
Natural Gas Transportation Update
Transcontinental Gas Pipeline Corporation (Transco) on Monday, November 8, said it will begin up to 5 days of unplanned repairs at a compressor station near Billingsley, Alabama. As a result, the pipeline company said that interruptible transportation will not be available through the compressor station closest upstream to the maintenance, which is Station 90 in Sweetwater, Alabama. Meanwhile, maintenance continues at Transco's onshore Station 62 near Bayou Black, Louisiana, which is affecting approximately 250 million cubic feet (MMcf) per day of flowing gas upstream from the compressor station. Transco expects this repair work to be done by November 12.

Natural Gas Pipeline Company of America (NGPL) on Monday said that it had unexpectedly discovered several pipeline anomalies on its mainline along the Gulf Coast. Repair work has required isolation of a section of the pipeline in Randolph County, Arkansas. The resulting outage has limited northbound transportation to 71 percent of contract quantities through November 12, according to the company.

Gulf South Pipeline Company, LP, on Tuesday said planned maintenance at its compressor station in Olla, Louisiana, will run through November 24. Capacity through the Olla station is reduced by as much 200 MMcf per day during the maintenance.

Southeast Supply Header, LLC (SESH), this week said that maintenance on its pipeline during two periods in November will result in changes in available capacity. From November 13-15 and again from November 20-23, there will be no available capacity at the SESH interconnection with Southern Natural Gas Company in central Mississippi.
See Weekly Natural Gas Storage Report for additional Natural Gas Storage Data.
See Natural Gas Analysis for additional Natural Gas Reports and Articles.
See Short-Term Energy Outlook for additional Natural Gas Prices, Supply, and Demand.