Released: October 21, 2010 at 2:00 P.M.
Next Release: Thursday, October 28, 2010
Overview (For the Week Ending Wednesday, October 20, 2010)
Natural gas spot prices fell at most market locations, reversing gains from the previous week. The Henry Hub spot price dropped from $3.58 per million Btu (MMBtu) on Wednesday, October 13, to $3.46 per MMBtu yesterday.



At the New York Mercantile Exchange (NYMEX), the price of the November 2010 futures contract also fell, dropping from $3.696 per MMBtu last Wednesday to end trading at $3.539 per MMBtu yesterday.



Working natural gas in storage increased to 3,683 billion cubic feet (Bcf) as of Friday, October 15, according to the Energy Information Administration's (EIA) Weekly Natural Gas Storage Report.



The West Texas Intermediate crude oil spot price mirrored the pattern of natural gas on the week, falling from $83.03 per barrel, or $14.32 per MMBtu, to $81.93, or $14.13 per MMBtu, over the course of the report week.



The natural gas rotary rig count, as reported by Baker Hughes Incorporated, fell by 5 to 966 from the previous week's level of 971, according to data released on Friday, October 15 (see Other Market Trends).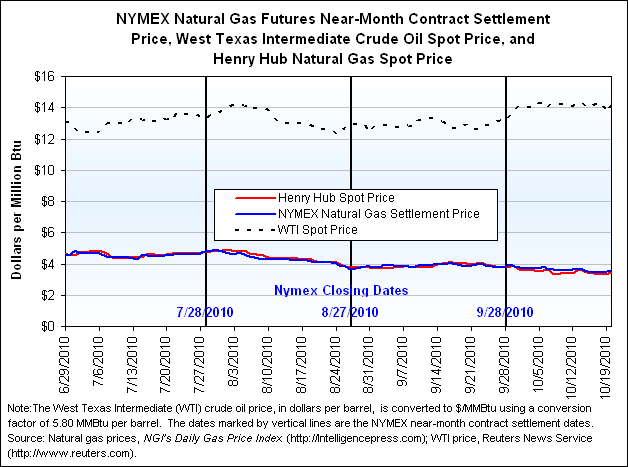 More Summary Data
Prices
Natural gas spot prices fell across the board at most market locations, with declines as high as 25 cents per MMBtu. The largest declines occurred in areas in the Northeast United States, where prices fell between 10 cents and 25 cents. At Transcontinental Pipeline's Zone 6 delivery point into New York City, a location of high trading volumes, prices fell 14 cents on the week from $3.91 to $3.77 per MMBtu. The Henry Hub spot price declined 12 cents on the week from $3.58 to $3.46 per MMBtu. The Henry Hub price is below its year-ago level of $4.80 per MMBtu on Wednesday, October 21, 2009.

While most prices declined, a few pricing locations in the Rocky Mountains increased slightly on the week. Prices at the Northwest Sumas trading point rose 8 cents per MMBtu, while a few other Rockies trading areas also rose by a few cents. Of the areas in the Rockies that declined, price decreases ranged from 6 cents to 10 cents, somewhat more tempered than other areas in the lower 48 States. In the Rockies, average temperatures dropped below 50 degrees, possibly leading to price increases; however, similar temperatures in the Northeast did not correspond with increases in price. Prices at the CenterPoint South trading point, located in the North Louisiana area, rose 14 cents, ending the week at $3.54 per MMBtu, somewhat of an anomaly given other price changes in the area and across the country.

This week's price declines occurred despite increases in consumption from the previous week. Natural gas consumption is estimated by BENTEK Energy Services, LLC, to have increased 4.7 percent during the week, as increases in residential and commercial natural gas use more than offset declines in the use of natural gas for power generation. However, residential and commercial demand this week was 28 percent below their level during the same week one year ago. Consumption of gas for power generation fell 8.3 percent from the previous week, according to estimates from BENTEK, while residential and commercial gas consumption rose almost 25 percent, undoubtedly the result of cooler temperatures, specifically in the Rockies area, Northeast, and Upper Midwest. Industrial demand rose about 5 percent, but remains 7 percent below year-ago levels, according to BENTEK estimates.

Liquefied natural gas (LNG) sendout jumped this week, the result of cargoes arriving to the Gulf of Mexico. Sendout rose 17 percent on the week, according to BENTEK data, though it still remains 29 percent below last year's LNG sendout levels. Cargoes arriving at Gulf of Mexico's Sabine Pass and Lake Charles terminals, helped boost LNG sendout to 1.5 Bcf on Wednesday, October 20, compared with 681 million cubic feet at the beginning of the week. Canadian pipeline imports, on the other hand, were down 2 percent from the previous week and 1 percent from the same week last year. Slight increases in Canadian imports to the West and Northeast were offset by a 4 percent drop in imports to the Midwest. Overall supply of natural gas rose less than one percent this week, as production increased slightly from last week.

At the NYMEX, the price of the November 2010 futures contract declined $0.157, to end trading at $3.539 per MMBtu yesterday. During the same report week last year, settlement prices of the near-month (November 2009) contract ranged between $4.436 per MMBtu and $5.161 per MMBtu. Compared with last year, the difference between the spot and future price has narrowed substantially. This week, the differential between the Henry Hub spot price and the near-month contract averaged about 10 cents; for the corresponding week last year the differential averaged 59 cents. This week, the 12-month strip (the average of all futures contracts between November 2010 and October 2011) fell almost 13 cents, from $4.269 per MMBtu last week to $4.140 per MMBtu. Declines in the 12 contracts ranged from between 12 cents and close to 16 cents, with the larger declines occurring at the front end of the strip.

More Price Data
Storage
Working natural gas in storage increased to 3,683 Bcf as of Friday, October 15, according to EIA's Weekly Natural Gas Storage Report (see Storage Figure). The implied net injection was 93 Bcf, compared with last year's net injection of 23 Bcf and the 5-year (2005-2009) average injection of 54 Bcf for the report week. Robust domestic production and low heating demand for this time of year likely contributed to the larger-than-normal rate of injections into storage.

Although the year-on-year storage deficit decreased for the sixth week in a row from 118 Bcf to 48 Bcf below last year's level, stocks remain well above average. Working gas inventories were 286 Bcf above the 5-year average level. Working gas in storage exceeds the 5-year average for this time of year in each of the three storage regions, with the Producing region recording the largest surplus relative to the 5-year average of 176 Bcf. Inventories in the East and West regions exceeded the 5-year average by 60 Bcf and 51 Bcf, respectively.

Temperatures were generally mild in the lower 48 States during the week ending October 14. Based on the National Weather Service's degree-day data, temperatures in the lower 48 States during the week ending October 14 were 3.6 degrees warmer than normal and 8.6 degrees warmer than last year at this time, leading to a decline in heating degree days of 41 percent and 63 percent respectively (see Temperature Maps and Data). Heating degree days were lower than normal for each region. Temperatures were warmest in the West South Central, averaging about 69 degrees. The West North Central Census Division, with an average temperature of 60 degrees, was warmest relative to previous years, with average temperature 6 degrees above normal and 21 degrees above last year's average for the week.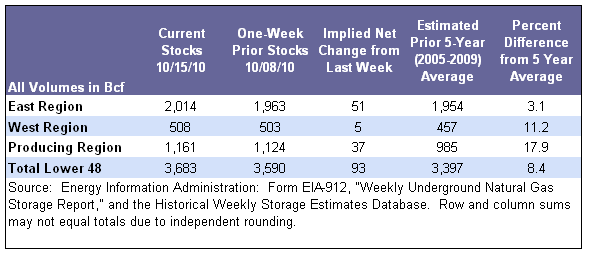 More Storage Data
Other Market Trends
EIA Releases Analysis of Domestic Manufacturing and Energy Jobs Act. EIA released a report on October 18 responding to a Congressional request for analysis of the Domestic Manufacturing and Energy Jobs Act of 2010. EIA was asked to analyze five specific provisions of the discussion draft: an extension of the tax credit for manufacturers of energy efficient appliances; the establishment of Home Energy Conservation Bonds; an extension of the placed-in-service deadline for the 30 percent investment tax credit for offshore wind and geothermal properties; an extension of the Clean Renewable Energy Bonds program; and an investment tax credit for heavy vehicles using natural gas, hybrid electric, or all-electric drive. Some of the results of the analysis include:


EIA estimates that the initiatives for residential sector energy efficiency would reduce projected residential delivered energy consumption in 2013 by 14 trillion Btu (0.1 percent) relative to the reference case projection in EIA's Annual Energy Outlook 2010 (AEO2010).


The extension of the investment tax credit for offshore wind and geothermal properties would result in more than 500 megawatts of additional geothermal capacity installations and no additional offshore wind capacity, according to EIA's analysis.


As a result of investment tax credit incentives for heavy vehicles using more efficient fuels, EIA estimates an additional 2,800 heavy natural gas vehicles are projected to be sold between 2012 and 2016 above the 9,700 projected sales of eligible vehicles in the AEO2010 reference case.




Natural Gas Rig Count Falls to 966. Over the last week the natural gas rotary rig count fell by 5 to 966 for the week ending October 15, 2010, according to data reported by Baker Hughes Incorporated. Since February, natural gas rig counts have oscillated, staying between 900 and 1000. Gulf of Mexico natural gas-directed rigs totaled 13 as of October 15, 12 below their level of 25 one year ago. Horizontal rig counts (including both oil and natural gas) fell this week by 3, to 926, but still remain at historically high levels, having nearly doubled since their level one year ago. Vertical rigs, on the other hand, have risen about 37 percent from year-ago levels, totaling 538 on October 15, 2010. Horizontal rigs as a share of total rigs have consistently risen over the past several years, while vertical rigs as a share of the total have consistently fallen. This trend is likely due to the emergence of better and more efficient horizontal drilling technology.
Natural Gas Transportation Update
With the start of the heating season very near (November 1), storage fields are nearing their capacity levels. This has resulted in several pipeline and storage companies across the lower 48 States restricting flexibility to continue injections. For example, Texas Gas Transmission Company on Monday, October 18, said it would be unable to accept short-term storage injections by customers with lower-priority, interruptible service contracts until further notice. The company, which has storage fields in Indiana and Kentucky, said that high levels of storage were restricting available injection capacity. Citing similar conditions at its Clay Basin facility in Daggett County, Utah, Questar Pipeline, Inc., said on October 15 that it has limited flexibility to operate its system in the Rocky Mountains. As a result, the pipeline company is requiring shippers to have production volumes aligned with scheduled nominations.



ANR Pipeline Company on Monday said it will reduce available capacity for the Muttonville Lateral in St. Clair County, Michigan. Effective from the publication of the notice, capacity is limited to 40,000 decatherms (Dth) per day from its usual operating capacity of 100,000 Dth per day. The pipeline company said that the restriction would be in place until further notice, but did not provide details on the nature of the outage.



Gulf South Pipeline Company, LP, has delayed a planned verification of its storage inventory at the Bistineau Storage Facility in Bienville Parish, Louisiana. The verification, which was originally scheduled for this week, will now occur from December 1-11, according to the storage operator. During this time, there will be no injection or withdrawal capacity available to shippers.



Colorado Interstate Gas Company on October 14 said the Lakin Compressor Station in Kearny Country, Kansas, would require immediate maintenance. The compressor station has experienced water leaks in the cooling system and is expected to be out of service through November 30, according to the pipeline company.
See Weekly Natural Gas Storage Report for additional Natural Gas Storage Data.
See Natural Gas Analysis for additional Natural Gas Reports and Articles.
See Short-Term Energy Outlook for additional Natural Gas Prices, Supply, and Demand.