Released: September 16, 2010 at 2:00 P.M.
Next Release: Thursday, September 23, 2010
Overview (For the Week Ending Wednesday, September 15, 2010)
Natural gas spot prices increased this report week (Wednesday to Wednesday, September 8—15), likely supported by demand in the electric power sector from late-season heat and associated air-conditioning demand in much of the country. During the report week, the Henry Hub spot price increased by $0.25 per million Btu (MMBtu) to $4.06 per MMBtu.

At the New York Mercantile Exchange (NYMEX), the price of the October futures contract increased in 4 out of 5 trading days for a total gain during the report week of about $0.18 per MMBtu. The price of the near-term contract remained just below $4 per MMBtu, closing yesterday at $3.995 per MMBtu.

During the week ending Friday, September 10, estimated net injections of natural gas into underground storage totaled 103 billion cubic feet (Bcf). Working natural gas in underground storage was 3,267 Bcf, which is 6.2 percent above the 5-year (2005-2009) average.

The West Texas Intermediate (WTI) crude oil spot price increased $1.27 per barrel during the report week. The WTI crude oil spot price averaged $75.92 per barrel yesterday, or $13.09 per MMBtu.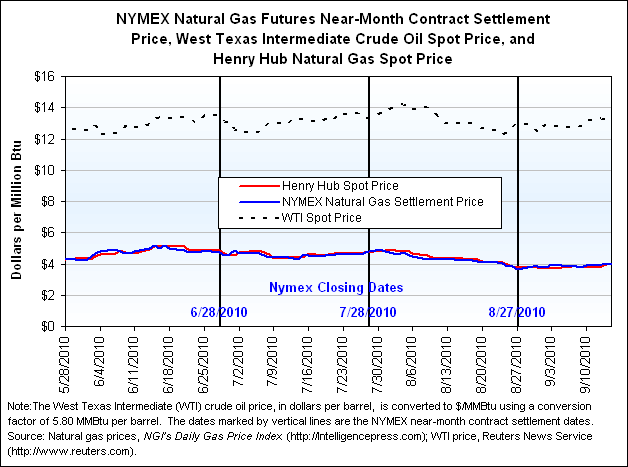 More Summary Data
Prices
Although the hottest temperatures of the year are clearly over, consumption in the electric power sector remained strong this week as much of the country continued to experience warm weather and air-conditioning demand likely increased. Consumption in the electric power sector increased an estimated 2.3 percent in comparison with the previous week, while overall U.S. consumption was an estimated 2.0 percent higher, according to BENTEK Energy, LLC. Consumption in the industrial sector also increased an estimated 2.8 percent, chiefly as a result of the typical drop in demand the previous week because of the Labor Day holiday (which also likely affected week-to-week comparisons in electric power consumption). At the same time, U.S. production dipped this week by an estimated 1.5 percent, averaging 61.4 Bcf per day. Although domestic production clearly remains strong, this factor along with increased demand provided enough support to at least temporarily reverse a fairly steady decline in natural gas prices since mid-summer. The Henry Hub natural gas spot price increased in 4 out of the 5 trading days this report week for a net gain of $0.25 per MMBtu. The Henry Hub price averaged $4.06 per MMBtu on Wednesday, September 15, which was the first time this price has exceeded $4 per MMBtu since August 24.

At just over $4 per MMBtu, the price at the Henry Hub was 26 percent higher than this time last year, when cash prices eventually fell below $3 per MMBtu amid a perception of a possible oversupply situation, with storage levels at record-high levels. Although natural gas held in storage is once again higher than the 5-year average level, high consumption this year may provide some explanation for this year's higher prices. According to BENTEK, total U.S. demand is up 648 Bcf to date this year in comparison with 2009, with the electric power and industrial sectors accounting for the entire increase (residential and commercial consumption is down year-to-year). Additionally, demonstrated peak working gas capacity for U.S. underground working natural gas storage for the lower 48 States continues to expand, making a scenario of no available storage capacity less likely. On September 3, EIA estimated demonstrated peak working gas capacity as of April 2010 at 4,049 Bcf, a 4.1 percent increase over last year's estimate (See Other Market Trends below).

Price increases were strongest throughout the Midcontinent and Rockies regions, with some gains exceeding $0.50 per MMBtu, or 15 percent. For example, the price at the Opal Hub in Wyoming increased by $0.55 on the week to $3.77 per MMBtu, while the price on Natural Gas Pipeline of America in the Midcontinent increased by $0.48 to $3.89 per MMBtu. Although increased demand likely supported the price increases, there was also relief in the form of completed pipeline maintenance in the region that likely provided more opportunities to move gas to higher premium markets. In the Northeast, market prices posted increases of as much as 9 percent on the week. For delivery in Zone 6 into New York off Transcontinental Gas Pipeline, the price on Wednesday, September 15, reached $4.39 per MMBtu, the highest price at this trading location since August 20. Trading at the Intercontinental Exchange, Inc. (ICE) continues to suggest a much lower price spread between the Northeast and the Henry Hub is developing. The price for deliveries to Transco Zone 6 in January 2011, for example, is currently priced about $2.02 per MMBtu over the Henry Hub price in ICE trading, while last year at this time the premium was about $3.52 per MMBtu. This lower differential is likely because of more supply options for the region, including growing supplies in the Marcellus Shale, access to Rockies supplies, and regasified liquefied natural gas (LNG) from the Canaport LNG terminal in Canada.

A sharp reduction in imports of natural gas to the United States is also likely easing downward pressure on prices. During the report week, net Canadian imports hovered around 6.7 Bcf per day, about 13.0 percent lower than the comparable week last year, according to BENTEK. Additionally, the pace of deliveries of U.S. LNG imports in recent weeks has decreased considerably in comparison with year-to-date levels and from earlier this year. Sendout from U.S. LNG import terminals averaged 2.0 Bcf per day during the first 2 months of 2010, but during this report week averaged just 0.8 Bcf per day. This reduction in LNG imports is occurring at a time when many analysts had expected a greater number of LNG cargos to be directed to the United States, following production increases in countries such as Russia and Qatar. To the extent LNG cargos have flexibility in delivery locations, supplies are instead heading to Europe and Asia, where LNG prices remain higher than those that have prevailed in U.S. markets.

At the NYMEX, the price of the October 2010 contract increased $0.18 per MMBtu during the report week to $3.995. After steadily increasing over the last 2 weeks, the October contract is now priced about 9.4 percent higher than the expiration price of $3.651 per MMBtu for the September 2010 contract. The 12-month strip, which is the average price of natural gas futures contracts over the next year, ended trading yesterday at $4.48 per MMBtu, which was $0.07 per MMBtu higher than the price of the strip last week. The current price of the October 2010 contract is about $0.27 per MMBtu higher than the final price of the October 2009 contract.

More Price Data
Storage
Working natural gas in storage increased to 3,267 Bcf as of Friday, September 10, according to EIA's Weekly Natural Gas Storage Report (see Storage Figure). The implied net injection was 103 Bcf, compared with last year's net injection of 67 Bcf and the 5-year average of 77 Bcf for the report week. Working gas inventories are currently 182 Bcf below year-ago levels and 192 Bcf above the 5-year average level. Working gas in storage has exceeded the 5-year average for this time of year in each of the three storage regions since March 26, 2010, or the last 25 weeks.

The surplus of working gas stocks relative to the 5-year average increased for the first time in 13 weeks, and the year-over-year storage deficit fell for the first time in 10 weeks. Throughout the summer, significantly warmer-than-normal temperatures had driven declines in the surplus of working gas stocks relative to the 5-year average. This pattern came to an end as the lower 48 States posted cooler than normal temperatures for the first time since May 13. Generally mild temperatures during the report week (the week ending September 10) throughout most of the lower 48 States resulted in reduced electric generation demand for natural gas, and likely contributed to gains in the surplus relative to the 5-year average.

Temperatures were cooler than normal in the lower 48 States during the week ending September 9. Based on the National Weather Service's degree-day data, temperatures in the lower 48 States during the week ending September 9 were, on average, about 69.6 degrees, which is slightly below normal for the report week (see Temperature Maps and Data). This marks the first week that average temperatures were cooler than normal on average in the lower 48 States since May 13, 2010, breaking the streak of 17 weeks in a row of warmer than normal temperatures. In contrast to the lower-than-normal temperatures reported elsewhere in the lower 48 States, the New England, Middle Atlantic, South Atlantic, and Mountain Census Divisions reported warmer-than-normal temperatures in the lower 48 States. Nevertheless, temperatures in these areas were generally mild, ranging between 67 and 76 degrees.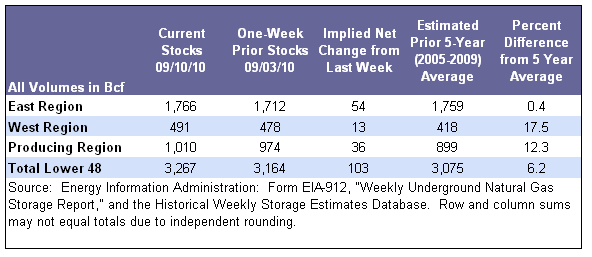 More Storage Data
Other Market Trends
Demonstrated Peak Storage Capacity Increases 4.1 Percent. According to a September 3 EIA report, Peak Underground Working Natural Gas Storage Capacity, demonstrated peak working gas capacity as of April 2010 was 4,049 Bcf, an increase of 4.1 percent from the previous year. Demonstrated peak working gas capacity sums the highest storage inventory level of working gas observed in each facility over the 5-year range from May 2005 to April 2010, as reported by the operator on EIA's "Monthly Underground Gas Storage Report." A less conservative indicator, working gas design capacity, which estimates a natural gas facility's working gas capacity based on the physical characteristics of the reservoir, installed equipment, and operating procedures in particular, also increased 1.2 percent over the past year, to 4,364 Bcf from 4,313 Bcf the previous year. The report noted that storage inventories reached an all-time high in November 2009, likely because of increased design capacity, robust production combined with relatively weak demand, high inventories at the beginning of the injection season, and a pricing environment conducive to injecting gas into storage.

Pennsylvania Releases Preliminary Marcellus Production Data. The Pennsylvania Department of Environmental Protection (DEP) on September 9 released preliminary production data covering July 1, 2009, through June 30, 2010. According to the DEP, Marcellus operators in Pennsylvania produced 184 Bcf of natural gas over the time period, or about 0.5 Bcf per day. Marcellus operators were required to report their production as part of legislation passed in March. The most active producing counties, according to the data, were Susquehanna, Bradford, and Tioga. The DEP noted that the data are not yet complete: 18 of the state's 74 operators in the Marcellus had not submitted information as of September 7. Beginning November 1, the public will be able to access an online database to search oil and natural gas production data statewide, as well as access historical data and track how much wastewater and drilling waste is being generated at drilling sites. More information is available here: http://www.portal.state.pa.us/portal/server.pt/community/news_releases/14288

PG&E Pipeline Explodes in California. On September 9, a Pacific Gas and Electric Company (PG&E) pipeline segment exploded in San Bruno, California, resulting in a fire and the deaths of four people. Some recent developments include:

The California Public Utilities Commission (CPUC) has directed PG&E to inspect its natural gas system. The CPUC has also launched an investigation into the incident.
The CPUC has directed PG&E to take a number of additional steps, as well. Among these are reducing operating pressure on the pipeline; conducting an integrity assessment of all gas facilities in the affected area; conducting an accelerated leak survey; preserving records; and making employees available for interviews with investigators.
PG&E has established a fund that will make available up to $100 million for the residents and city of San Bruno to mitigate the damage from the explosion.
In the wake of the PG&E incident, Secretary of U.S. Department of Transportation Ray LaHood has proposed legislation that would give Federal officials greater authority over natural gas pipelines. Secretary LaHood also cited recent oil pipeline leaks on lines near Marshall, Michigan, and Romeoville, Illinois, as further justification for this proposal.
The proposed DOT legislation would increase the maximum fine from $1 million to $2.5 million for the most serious violations, particularly those involving deaths, injuries, or major harm to the environment. The proposed legislation also would review safety regulations and eliminate some exemptions from safety regulations.




More information about the proposed legislation is available here: http://www.dot.gov/affairs/2010/dot17210.html and more information about the CPUC's ongoing response is available here: www.cpuc.ca.gov/puc.

Natural Gas Transportation Update

El Paso Corporation's Keystone Compressor Station in Winkler County, Texas, will shut down for Department of Transportation inspections and other annual maintenance September 21 through 24. Capacity through the station is normally approximately 830 MMcf per day, and will be limited to 150 MMcf per day during the period the compressor is shut down. In its notice regarding this shutdown, El Paso noted that the shutdown will limit volumes that can move from Plains through Eunice to approximately 400 MMcf per day, which may affect San Juan, Anadarko, Eunice, and Monument supplies.
Spectra Energy's McMahon Gas Processing Plant on the WestCoast Energy, Inc., system in British Columbia had a total plant outage for September 15, which was expected to last 24 to 26 hours. Limited production was expected to resume in the morning of September 16, with full production resuming later that afternoon. The outage was due to maintenance, which includes both the replacement of 24-inch and 42-inch sulfur plant valves and the completion of piping replacements at the inlet booster station. Flows from the processing plant to WestCoast Station 2, which according to BENTEK Energy LLC have been averaging 560 MMcf per day over the past month, will be restricted during the outage.

Columbia Gas Transmission LLC announced on September 15 that it was issuing a force majeure on its Line P segment in southern Kentucky. This force majeure is effective until further notice and is associated with an interruption of service caused by a rupture of a short segment (located between Chestnut Junction and Peach Orchard in the southern portion of Lawrence County, Kentucky) that occurred on September 9. Columbia had expected the completion of repairs to this segment to occur by September 11. As of September 15, Columbia has reduced line capacity to zero until further notice. Shippers utilizing capacity on Line P are expected to begin experiencing reductions based on priority of service.

Great Lakes Gas Transmission Company started mainline valve maintenance upstream of Compressor Station Number 8 on September 14. Maintenance is expected to last through September 19, reducing throughput by 130 MMcf per day from September 14 through 16, and September 18 through 19. On September 17, capacity will be reduced by as much as 250 MMcf per day. An additional maintenance project is anticipated to commence on September 21 and to end on September 23. This maintenance effort limits Canadian inflows by 135 MMcf per day downstream of Compressor Station Number 8.

See Weekly Natural Gas Storage Report for additional Natural Gas Storage Data.
See Natural Gas Analysis for additional Natural Gas Reports and Articles.
See Short-Term Energy Outlook for additional Natural Gas Prices, Supply, and Demand.