Released: August 19, 2010 at 2:00 P.M.
Next Release: Thursday, August 26, 2010
Overview (For the Week Ending Wednesday, August 18, 2010)
Natural gas spot prices decreased this report week, as temperatures moderated for much of the country. A robust supply level in the Rocky Mountains, in the face of dwindling storage opportunities, was a likely factor leading to steep price declines in many markets west of the Mississippi. During the report week, the Henry Hub spot price decreased by $0.03 to $4.35 per million Btu (MMBtu).



At the New York Mercantile Exchange (NYMEX), the price of the futures contract for September delivery at the Henry Hub at the close of trading yesterday, August 18, was $4.24 per MMBtu, which is $0.09 lower than the previous Wednesday.



During the week ending Friday, August 13, estimated net injections of natural gas into underground storage totaled 27 billion cubic feet (Bcf). Working gas in underground storage as of August 13 totaled 3,012 Bcf, which is 7.0 percent above the 5-year (2005-2009) average.



On Wednesday, August 18, the West Texas Intermediate (WTI) crude oil spot price averaged $75.39 per barrel, or $13.00 per MMBtu. The spot price decreased $2.70 per barrel during the report week.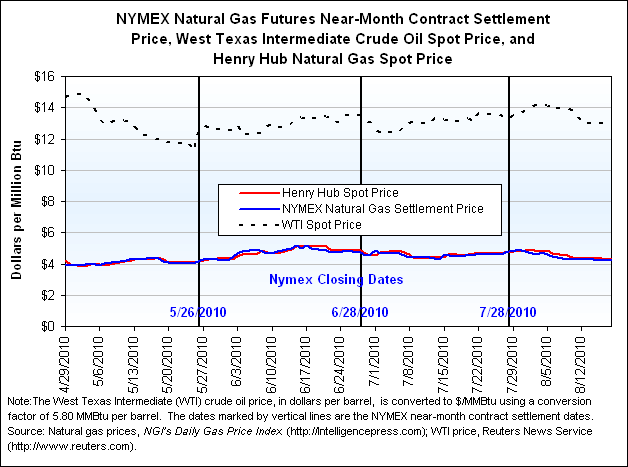 More Summary Data
Prices
Price declines in the East were mostly moderate during the report week, while changes in the West were more significant. On Wednesday, August 18, the Henry Hub natural gas spot price averaged $4.35 per MMBtu, which was $0.03 less than the average price the previous Wednesday. With the exception of just two trading locations, all markets experienced price declines as temperatures moderated on both coasts and domestic production remained strong. The price decreases across the country ranged between $0.01 and $0.53 per MMBtu, which on average represented percentage decreases of about 4.1 percent. The largest percentage declines occurred in the Rocky Mountains and Midcontinent producing regions. In these regions, prices decreased as much as 14.5 percent, in part owing to reports of high linepack (inventory on pipelines) at the Pacific Gas and Electric Citygate in Northern California, as well as limited opportunities to store gas in the region as inventories near capacity in the West. The price at the Opal, Wyoming, trading point decreased $0.37 on the week to $3.17 per MMBtu. Trading locations in the Northeast posted much more moderate declines on the week, likely resulting from a break from this summer's record heat. For delivery in Zone 6 into New York off the Transcontinental Gas Pipeline, the price yesterday was $4.69 per MMBtu, a decline of just $0.09 on the week.

High levels of domestic production this week continued putting downward pressure on prices, contributing to lower imports of natural gas. Domestic marketed production remained strong at an average of about 62 Bcf per day during the report week, according to estimates from BENTEK Energy Services, LLC. Overall supply levels during the report week were about 3.6 percent higher than last year, according to BENTEK estimates. As a result of this strong domestic production and lower prices, a trend of lower imports of natural gas is developing. During the report week, U.S. imports from Canada were 9.1 percent lower than the level last year for the same week, with the vast majority of this decrease occurring in the U.S. Northeast. Sendout from U.S. LNG import terminals averaged less than 0.9 Bcf per day, which was about 1 percent higher than the comparable week last year. However, this level of LNG sendout from U.S. terminals is significantly lower than the average of 1.6 Bcf per day during the first quarter of the year.

During the report week, moderately high demand for this time of year likely contributed to limiting price declines at market locations across the lower 48 States. Total U.S. demand ended the report week at about 61 Bcf per day, which was about 12 percent lower than at the beginning of the report week, according to estimates from BENTEK. At these levels, demand was well below the average available supply, which suggests opportunities for injections into storage (see Storage below). Nonetheless, this level of demand was 10 percent higher than demand during the comparable week last year. With temperatures close to 100 degrees reported in parts of the South, particularly Texas, natural gas demand rose in the electric power sector, which experiences its highest load factor during heat waves as air-conditioning demand increases. According to BENTEK estimates, natural gas demand in the power sector averaged about 32 Bcf per day during the report week, which was 13 percent higher than the comparable week in 2009, but 2.5 percent lower than the preceding report week this year.



At the NYMEX, the price of the near-month contract (for September delivery) decreased about $0.09 during the report week, finishing trading yesterday at $4.24 per MMBtu. The price decrease appeared mostly related to strong domestic production levels. It also likely reflected the lack of tropical storm activity in the Gulf of Mexico, although the threat of production disruptions from hurricanes will still remain a reality through October (the hurricane season officially ends November 30). Yet another factor contributing to the decline was likely concerns over economic growth, which appeared chiefly responsible for declines in forward prices for many energy commodities during the report week. Despite the decrease, the September 2010 contract is currently priced about 49 percent higher than the expiration price of $2.84 per MMBtu for the September 2009 contract. At the end of trading yesterday, the 12-month strip, which is the average for natural gas futures contracts over the next year, was priced at $4.66 per MMBtu, a decrease of about $0.04, or 0.9 percent, since last Wednesday.

More Price Data
Storage
Working natural gas in storage increased to 3,012 Bcf as of Friday, August 13, according to EIA's Weekly Natural Gas Storage Report (see Storage Figure). The implied net injection was 27 Bcf, compared with last year's net injection of 54 Bcf and the 5-year average of 50 Bcf for the report week. Working gas inventories are currently 185 Bcf below year-ago levels and 196 Bcf above the 5-year average level. Working gas in storage has exceeded the 5-year average for this time of year in each of the three storage regions since March 26, 2010, or the last 21 weeks. At 3,012 Bcf, working gas stocks ended the report week above the 3,000-Bcf mark for the first time since January 1, 2010.

Significantly warmer-than-normal temperatures throughout the summer have continued to drive declines in the surplus of working gas stocks relative to the 5-year average. Since May 6, cumulative cooling degree-days have exceeded normal levels by about 25 percent, outstripping normal levels during each week. These warmer-than-normal temperatures resulted in increased electric generation demand for natural gas, contributing to declines in the surplus relative to the 5-year average. This week marked the ninth week in a row that the surplus relative to the 5-year average has declined as weekly net injections into storage continue to fall short of historical levels. Nevertheless, natural gas stocks remain significantly above historical levels, despite the decline relative to the 5-year average, since the surplus last peaked at 325 Bcf on May 7, 2010.

Temperatures were warmer than normal in most of the Census Divisions in the lower 48 States during the week ending August 12. Based on the National Weather Service's degree-day data, temperatures in the lower 48 States were, on average, about 74.9 degrees, or about 2.7 degrees warmer than normal and 2.3 degrees warmer than last year at this time (see Temperature Maps and Data). The Pacific Census Division posted the coolest temperatures in the lower 48 States during the week ending August 12, averaging 68.6 degrees. In addition, the Pacific was the only Census Division reporting cooler-than-normal temperatures in the lower 48 States, as temperatures averaged nearly 4 percent below normal levels. Temperatures were warmest in the South Atlantic, East South Central, and West South Central Census divisions, ranging between 3 and 5 degrees warmer than normal levels.
More Storage Data
Other Market Trends
U.S. Court of Appeals Supports FERC's Order on Pipeline Price Cap in Gas Transportation Market. The U.S. Court of Appeals has rejected a claim by the Interstate National Gas Association of America (INGAA) that took issue with a 2008 order by the Federal Energy Regulatory Commission (FERC) that eased restrictions on "capacity release" transactions on shippers in the secondary market. The FERC order benefits the shippers who buy and resell the contracts, allowing them to respond freely to the regional shifts in demand. Pipeline companies in the primary market are required to keep their rates below the regulated price caps. Last April, while in discussion with the U.S. Appeals Court for the District of Columbia Circuit, INGAA argued that FERC unfairly maintained price caps for pipelines. On August 13, the court rejected the claim, which was based on the premise that because a price cap was lifted on shippers reselling transportation capacity, it should therefore be lifted for the rest of the market. The court stated that the Natural Gas Act permits FERC to treat pipelines and shippers differently.

Natural Gas Rotary Rig Count Rises to Highest Level since February 2009. The natural gas rotary rig count was 992 as of Friday, August 13, according to data released by Baker Hughes Incorporated. The number of natural gas rigs rose by 9 from the previous week and are at their highest level since February 20, 2009. Rigs have increased even as wellhead prices have fallen. This pattern may represent more efficient technology that allows drillers to recover natural gas at a lower cost than was possible in previous years. This week's increase was entirely attributable to onshore rigs; natural gas rigs in the Gulf of Mexico remained constant at 13. Natural gas rigs have shown a generally upward trend over the last year or so. The natural gas rigs count is 44 percent higher than its level 1 year ago, and 31 percent higher than their level at the beginning of 2009. Horizontal rigs (including both oil and natural gas) are at their highest recorded level of 885. Vertical rigs (also including both oil and natural gas) increased by 27, or about 5 percent, from 506 to 533, their highest level since February 27, 2009.
Natural Gas Transportation Update
Northwest Pipeline Company announced Tuesday, August 17, that it would limit available capacity at Cisco Compressor Station in Utah to 335 million cubic feet (MMcf) per day, effective for that gas day. The pipeline noted that recent increases in nominations may require it to allocate nominations accordingly. These limitations will remain in effect until the anomaly investigations are complete on October 1 or operating conditions allow scheduling of all primary nominations, the pipeline company said.



Tennessee Gas Pipeline Company on Wednesday said that maintenance remained on schedule for completion by the start of Thursday's gas day at its receipt point with Rockies Express Pipeline at Big Muskie in eastern Ohio. Service through the interconnection is expected to be effective for flows on Friday, August 20. About 540 MMcf per day were flowing at the interconnection before the maintenance began, according to BENTEK.



Southern Star Central Gas Pipeline, Inc., on Monday began annual maintenance on Line Segments 490 and 491 in Wyoming and Kansas. The project is causing capacity reductions of 18 percent to 160 MMcf per day at Riner Station in Sweetwater County, Wyoming, and 5 percent to 175 MMcf per day at St. Francis Station in Cheyenne County, Kansas, the pipeline said. This maintenance is scheduled to continue through August 27.



Destin Pipeline Company, LLC, on August 17 announced plans for immediate investigation of anomalies at its receipt point for production in the Viosca Knolls blocks in the Gulf of Mexico. The pipeline company then revealed plans to conduct remedial work until August 25, at which time transportation services from the receipt point will be available again. Deliveries at the receipt point have averaged about 100 MMcf per day this month.
See Weekly Natural Gas Storage Report for additional Natural Gas Storage Data.
See Natural Gas Analysis for additional Natural Gas Reports and Articles.
See Short-Term Energy Outlook for additional Natural Gas Prices, Supply, and Demand.