Released: July 8, 2010 at 2:00 P.M.
Next Release: Thursday, July 15, 2010
Overview (For the Week Ending Wednesday, July 7, 2010)
Natural gas spot prices increased this report week (Wednesday, June 30—Wednesday, July 7), as much of the East Coast experienced the hottest regional temperatures of the year. During the report week, the Henry Hub spot price increased by $0.23 to $4.76 per million Btu (MMBtu).

At the New York Mercantile Exchange (NYMEX), the price of the futures contract for August delivery at the Henry Hub closed yesterday, July 7, at $4.565 per MMBtu, which is $0.05 lower than the previous Wednesday. Although the near-month contract increased $0.24 per MMBtu at the beginning of the report week, on Thursday, July 1, likely in response to slowing injections into underground storage and forecasts of hotter weather, futures prices moderated in the following three trading sessions.

During the week ending Friday, July 2, estimated net injections of natural gas into underground storage totaled 78 billion cubic feet (Bcf). Working gas in underground storage as of July 2 was 2,762 Bcf, which is 11.5 percent above the 5-year (2005-2009) average.

On Wednesday, July 7, the West Texas Intermediate (WTI) crude oil spot price averaged $74.05 per barrel, or $12.77 per MMBtu. The spot price increased $1.54 per barrel during the report week.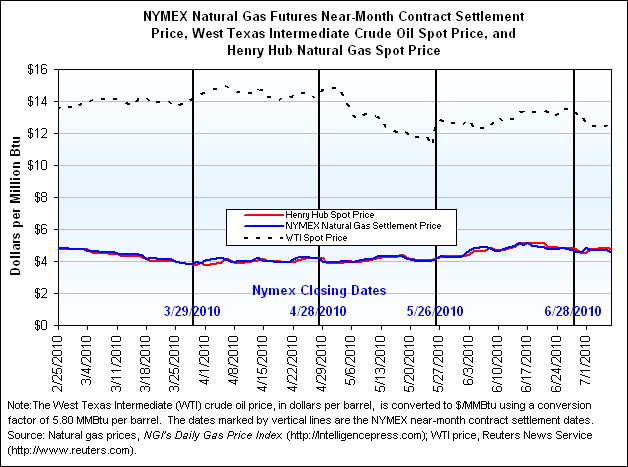 More Summary Data
Prices
Temperatures exceeding 100 degrees along the East Coast provided a spurt of demand in the electric power sector, as power generators ramped up to meet air-conditioning needs. Overall consumption was an estimated 3.5 percent higher than last year during the comparable week, according to BENTEK Energy, LLC. By Wednesday, July 7, consumption in the electric power sector had grown to 29.9 Bcf, which was 52 percent higher than at the beginning of the report week. BENTEK estimates that consumption in the Northeast yesterday reached 8.3 Bcf, the highest level of daily natural gas consumption in the electric power sector in the region since BENTEK began providing this data series in 2005. Other factors potentially contributing to price gains this week include continued concerns about tropical storm activity, as well as lower natural gas pipeline imports from Canada and liquefied natural gas (LNG) from overseas. The Henry Hub natural gas spot price averaged $4.76 per MMBtu yesterday, which is 44 percent higher than the year-ago price of $3.30. However, yesterday's price at the Henry Hub was 22 percent lower than the price of $6.09 per MMBtu at the beginning of 2010.

Price increases occurred throughout the Midcontinent and Southwest producing regions, although most gains were less than $0.30 per MMBtu. For example, the price at the Houston Ship Channel trading location in east Texas increased by $0.23 on the week to $4.66 per MMBtu, while the price at Transcontinental Gas Pipeline Station 65 in Louisiana increased by $0.26 to $4.73 per MMBtu. During the report week, concerns regarding possible production interruptions resulting from Hurricane Alex likely contributed to higher prices. The storm's impact on prices was likely short-lived, as cumulative shut-in production totaled only about 3 Bcf, according to the Bureau of Ocean Energy, Management, Regulation, and Enforcement (BOEMRE). Nonetheless, the Energy Information Administration (EIA) is forecasting a 10-percent decline in production from the Gulf of Mexico in 2010 as a result of continued hurricane-related outages and a decline in the number of rigs operating in the region. In EIA's Short-Term Energy Outlook, released July 7, forecasts that ann increase in onshore production will more than offsets this decline (See Other Market Trends below). Onshore production is expected to increases by about 2 Bcf per day (or about 3.8 percent) in 2010, resulting in a total U.S. production increase of about 1.3 Bcf per day, or about 2.2 percent.

Market prices in the Northeast posted increases of as much as 11 percent on the week, as temperatures exceeded 100 degrees from Virginia to Maine. For delivery in Zone 6 into New York off Transcontinental Gas Pipeline, the price on Tuesday, July 6, reached $5.67 per MMBtu, the highest price at this trading location since mid-February. However, the price declined $0.33 per MMBtu in trading yesterday, likely because of expectations of relatively cooler temperatures. On the week, the average price in New York increased $0.52 per MMtu, a gain of 10.8 percent.

A sharp reduction in imports of natural gas to the United States also likely provided upward pressure on prices. During the report week, net Canadian imports average 7.3 Bcf per day, about 2.8 percent lower than this time last year, according to BENTEK. Additionally, the pace of deliveries of U.S. LNG imports decreased considerably in comparison with year-ago levels. Sendout from U.S. LNG import terminals averaged 0.8 Bcf per day during the report week, which is 36 percent lower than last year at this time. This reduction in LNG imports is occurring at a time when many analysts had expected a greater number of LNG cargoes to be directed to the United States, following production increases in countries such as Russia and Qatar. To the extent LNG cargos have flexibility in delivery locations, supplies are instead heading to Europe and Asia, where LNG prices remain higher than those that have prevailed in U.S. markets. Prevailing prices for LNG deliveries in the month of August are approximately $7.30 per MMBtu in Asia and $6.50 per MMBtu in Europe, according to estimates from Waterborne Energy, Inc.

At the NYMEX, the price of the August contract decreased $0.05 during the report week to $4.565 per MMBtu, as current forecasts suggest that the recent extreme weather in certain parts of the country will moderate over the next week. Despite the decrease, the August 2010 contract is now trading at a substantial premium (35 percent) to the August 2009 contract, likely attributable at least in part to an extraordinarily hot late spring and early summer. Although the September contract decreased by $0.06 per MMBtu during the report week, slightly more than the near-month contract, declines in futures prices were generally limited further into the forward curve. The 12-month strip, which is the average price of natural gas futures contracts over the next year, ended trading yesterday at $5.06 per MMBtu, a decrease of only $0.01 per MMBtu on the week.

More Price Data
Storage
Working natural gas in storage increased to 2,762 Bcf as of Friday, July 2, according to EIA's Weekly Natural Gas Storage Report (see Storage Figure). The implied net injection was 78 Bcf, compared with last year's net injection of 74 Bcf and the 5-year (2005-2009) average of 80 Bcf for the report week. Working gas inventories are currently 23 Bcf below year-ago levels and 285 Bcf above the 5-year average level. Working gas in storage has exceeded the 5-year average for this time of year in each of the three storage regions since March 26, 2010, or the last 15 weeks. While natural gas stocks remain significantly above historical levels, the surplus relative to the 5-year average has diminished in recent weeks. This week marks the third consecutive week that the surplus relative to the 5-year average has declined. The surplus relative to the 5-year average last peaked on May 7, 2010, at 325 Bcf. Since May 7, the surplus in the East region has declined for 9 consecutive weeks, falling from 145 Bcf on May 7 to 64 Bcf as of July 2 at least partially as a result of unusually extreme temperatures in the region. Increases in the surplus relative to the 5-year average in the West and Producing regions during the same period partially offset the declines in the East region.

Warmer-than-normal temperatures—particularly in the East region— likely contributed to the smaller—than-normal rate of injections. The below-normal net injection into storage reported on a national basis during the report week resulted from the slower-than-normal pace of injections in the East region. On a regional basis, net injections into storage for the week ending July 2 exceeded the 5-year average in the West and Producing regions by 2 and 5 Bcf, respectively, while injections in the East region were 8 Bcf below the 5-year average. Significantly warmer-than-normal temperatures in the East storage region, as well as reduced pipeline imports of natural gas from Canada, likely contributed to below-average injections in the region.

Temperatures were generally warmer than normal in most Census Divisions in the lower 48 States during the week ended July 1. Based on the National Weather Service's degree-day data, temperatures in the lower 48 States during the week ending July 1 were, on average, about 74.7 degrees, which was about 1.1 degrees warmer than normal (see Temperature Maps and Data). Temperatures ranged up to 3.6 degrees warmer than normal in the lower 48 States, excluding the East North Central Census Division, which reported temperatures about 1.6 degrees below normal. Relative to historical levels, the South Atlantic Census Division reported the warmest temperatures in the lower 48 States, exceeding the normal level by 3.6 degrees, or nearly 5 percent above normal.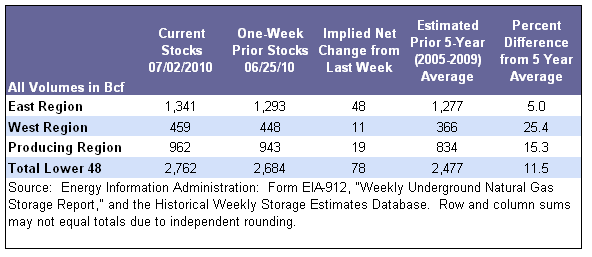 More Storage Data
Other Market Trends
Pennsylvania Budget Includes Provision for New Natural Gas Tax. In the Commonwealth's 2010-2011 budget, Pennsylvania Governor Ed Rendell agreed to enact a new tax on the extraction of natural gas. Although the State legislature has yet to determine the details, the tax will likely be enacted by October 1 and take effect by January 1, 2011. The governor signed the new budget on July 6. More information is available here: http://www.governor.state.pa.us/portal/server.pt/community/governor%27s_web_site/2985

EIA Projects Onshore Natural Gas Production Will Offset Gulf of Mexico Declines. EIA released the Short-Term Energy Outlook (STEO) on July 7, which includes projections through 2011. Total natural gas marketed production is expected to remain robust at 61.3 and 60.9 Bcf per day in 2010 and 2011, respectively. However, gains in onshore production are expected offset an ongoing long-term decline in Gulf of Mexico production, which is expected to fall from 6 Bcf per day in 2010 to 5.5 Bcf per day in 2011. Industrial consumption is expected to average 18.1 Bcf per day in 2011, exceeding 2009 and forecast 2010 levels. Use of natural gas in the electric power sector is also expected to remain significantly higher than in previous years, averaging 19.9 and 19.6 Bcf per day in 2010 and 2011, respectively. According to the STEO, total consumption is expected to increase very slightly, from 64.7 Bcf per day in 2010 to 64.8 Bcf per day in 2011. EIA expects inventories of working natural gas in storage to reach 3,810 Bcf by the end of October, coming close to last year's record-setting levels at the end of the injection season. For much of the rest of 2010, the STEO forecasts prices at the Henry Hub to remain below $5 per MMBtu, rise in December, and remain above $5 for much of 2011. Henry Hub prices are projected to average $5.17 per MMBtu in 2011.

EPA Proposes Rule to Further Reduce Power Plant Emissions. On July 6, 2010, the U.S. Environmental Protection Agency (EPA) proposed a replacement rule for the 2005 Clean Air Interstate Rule (CAIR). Currently, EPA uses the "good neighbor" provision of CAIR to reduce interstate transport, or the emissions produced in upwind States that contribute to air pollution in downwind States. The U.S. Court of Appeals for the District of Columbia Circuit ordered EPA to revise CAIR in December 2008. The proposed replacement rule, referred to as the transport rule, would further reduce power plant emissions of sulfur dioxide (SO2) and nitrogen oxides (NOx) to meet State-specific emission reduction goals. The new rule will target 31 States and the District of Columbia. EPA estimates that the rule revision in conjunction with other State and EPA actions would reduce respective SO2 and NOx emissions by 71 percent and 52 percent compared with 2005 levels. EPA also estimates that in 2014, the annual cost of compliance with the proposed rule would total $2.8 billion and result in $120 billion in annual health benefits. EPA will take public comment on the proposal for 60 days after the rule is published in the Federal Register. More information is available at:
http://yosemite.epa.gov/opa/admpress.nsf/d0cf6618525a9efb85257359003fb69d/c045295ced7dcf6885257758005b74bb!OpenDocument.

EPA Holds First Public Meeting on Proposed Hydraulic Fracturing Study. EPA announced on July 6, 2010, that the agency will host a public listening session providing information about the scope and design of its proposed study on hydraulic fracturing. EPA will solicit public comments at the meeting and use these suggestions to further develop the draft study plan. In March, EPA announced its intention to study the potentially adverse impact of hydraulic fracturing on drinking water. The meeting will be held in Fort Worth, Texas, on July 8 (today), and is the first of four public meetings EPA will host regarding the study. The subsequent meetings will be held in Colorado, Pennsylvania, and New York. More information regarding the study and the meetings is available on EPA's website.
Natural Gas Transportation Update
High demand from the extreme weather along the East Coast has resulted in several notices to shippers from pipeline operators. In the Northeast, Maritimes & Northeast Pipeline, LLC warned shippers yesterday, July 7, to keep actual receipts in line with nominations regardless of cumulative imbalance position. Texas Eastern Transmission Corporation, LP and Algonquin Gas Transmission, LLC yesterday issued similar notices to shippers, noting that the requirements will stay in place until further notice. In the Southeast, Florida Gas Transmission Company, LLC issued an alert to Florida customers stating that customers taking over 20 percent more than nominated volumes will be penalized.

East Tennessee Natural Gas, LLC on July 7 implemented certain restrictions effective through Friday as a result of pipeline integrity investigations (required by the U.S. Department of Transportation) along the Nora Lateral in Virginia. During the investigation, capacity on the lateral will be 115 million cubic feet (MMcf) per day, down from usual capacity of 160 MMcf per day. Capacity through the compressor station in Glade Springs, Virginia, will be 130 MMcf per day, down from usual capacity of 195 MMcf per day, until the investigation is complete.

Rockies Express Pipeline, LLC, notified shippers that it is at capacity for deliveries to Tennessee Gas Pipeline Company at Guernsey, Ohio. Effective Friday, July 2 until further notice, there is a risk that customers with interruptible contracts will not have access to the receipt point, according to the pipeline company.
See Weekly Natural Gas Storage Report for additional Natural Gas Storage Data.
See Natural Gas Analysis for additional Natural Gas Reports and Articles.
See Short-Term Energy Outlook for additional Natural Gas Prices, Supply, and Demand.