Released: April 29, 2010 at 2:00 P.M.
Next Release: Thursday, May 6, 2010
Overview (For the Week Ending Wednesday, April 28, 2010)
Natural gas spot prices increased this report week (Wednesday, April 21 — Wednesday, April, 28), as a late-season chill temporarily increased demand. During the report week, the Henry Hub spot price increased by $0.23 to $4.19 per million Btu (MMBtu).

At the New York Mercantile Exchange (NYMEX), the price of the near-month futures contract bounced above $4 per MMBtu in the final days of trading before its monthly expiration. The May contract expired yesterday at $4.271 per MMBtu, which is $0.429 more than the April contract's expiration price of $3.842 per MMBtu. As a result, the May contract is the first contract in 2010 to be priced higher than the previous month's price at expiration.

During the week ending Friday, April 23, estimated net injections of natural gas into underground storage totaled 83 billion cubic feet (Bcf), continuing a trend of strong injections during the month. Working natural gas in underground storage as of April 23 was 1,912 Bcf, which is 18.8 percent above the 5-year (2005-2009) average and a record high for this time of year.

With the release of positive economic news and reports of strong company earnings this week, the West Texas Intermediate (WTI) crude oil spot price increased $0.44 per barrel during the report week. The WTI crude oil spot price averaged $83.22 per barrel yesterday, or $14.35 per MMBtu.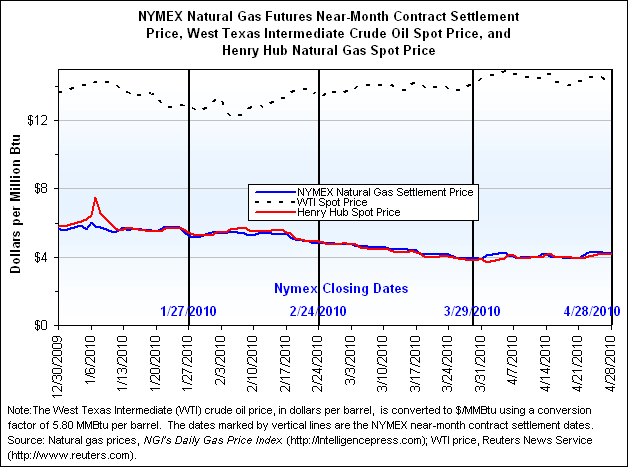 More Summary Data
Prices
Although temperatures remain moderate in most parts of the country, early-morning frosts and highs in the lower 50s in major population centers in the Northeast this week provided a spurt of space-heating demand. Consumption was 6 percent higher than last year during the comparable week, according to BENTEK Energy, LLC. The residential and commercial sectors accounted for the vast majority of the increase, rising from below 15 Bcf per day last weekend to more than 21 Bcf per day on Tuesday, April 27. Other factors potentially contributing to price gains this week include a decline in the reported number of rigs drilling for natural gas and lessened concerns regarding growth in liquefied natural gas (LNG) imports (see Other Market Trends below). These factors provided enough support to at least temporarily reverse a fairly steady decline in natural gas prices since the beginning of the year. The Henry Hub natural gas spot price increased in 3 out of the 5 trading days this report week, closing at $4.19 per MMBtu on Wednesday, April 28. This price was 6 percent higher than the average price on the previous Wednesday. The Henry Hub spot price reached $4.23 per MMBtu on Monday, April 26, its highest level in more than 6 weeks. However, this price is still 31 percent lower than the price of $6.09 per MMBtu at the beginning of the year.

Price increases occurred throughout the Midcontinent and Southwest producing regions, although most gains were less than $0.30 per MMBtu. For example, the price at the Houston Ship Channel in East Texas increased by $0.23 on the week to $4.17 per MMBtu, while the price at Transcontinental Gas Pipeline Station 65 in Louisiana increased by $0.26 to $4.20 per MMBtu. Although a strong outlook for U.S. production may be one factor contributing to relatively low prices, the lower rig count and EIA's revision of production estimates over the past year suggests growth in supplies may be occurring more slowly than previously thought. EIA released the April edition of the Natural Gas Monthly (NGM) today, April 29. According to the NGM, dry production in 2009 totaled 57.4 Bcf per day, or about 0.5 Bcf per day lower than previously-published estimates. Nonetheless, U.S. production was still strong in the first 2 months of 2010, averaging 58.2 Bcf per day.

A sharp reduction in imports of natural gas to the United States is also likely easing downward pressure on prices. During the report week, net Canadian imports hovered around 6.5 Bcf per day, about 3.7 percent lower than the prior week, according to BENTEK. Additionally, the pace of deliveries of U.S. LNG imports in recent weeks has decreased considerably in comparison with year-to-date levels. Sendout from U.S. LNG import terminals averaged 2.0 Bcf per day during the first 2 months of 2010, but during this report week averaged just 0.8 Bcf per day. This reduction in LNG imports is occurring at a time when many analysts had expected a greater number of LNG cargoes to be directed to the United States, following production increases in countries such as Russia and Qatar. To the extent LNG cargos have flexibility in delivery locations, supplies are instead heading to Europe and Asia, where LNG prices remain higher than those that have prevailed in U.S. markets.

Market prices in the Northeast posted increases of as much as 8 percent on the week, as overnight temperatures dipped below freezing in many locations. For delivery in Zone 6 into New York off Transcontinental Gas Pipeline, the price on Wednesday, April 28, reached $4.56 per MMBtu, the highest price at this trading location since March 17. However, the New York price averaged just $0.33 higher than the Henry Hub price, indicative of the lower price spread that may be developing between the Northeast and other markets. For example, the spread last year at this time was $0.53 per MMBtu. This lower differential is likely because of more supply options for the region, including growing supplies in the Marcellus Shale, access to Rockies supplies, and regasified LNG from the Canaport LNG terminal in Canada.

At the NYMEX, the price of the May contract increased $0.316 per MMBtu during the report week to $4.271. With yesterday, April 28, the final day of trading for the May contract, the contract expired at a price that was $0.429 per MMBtu, or almost 11 percent higher than the April contract's expiration price. The June 2010 contract ended trading yesterday at $4.348 per MMBtu, which is about 23 percent higher than the expiration price of $3.538 per MMBtu for the June 2009 contract. The 12-month strip, which is the average price of natural gas futures contracts over the next year, ended trading yesterday at $4.995 per MMBtu.

More Price Data
Storage
Working natural gas in storage increased to 1,912 Bcf as of Friday, April 23, according to EIA's Weekly Natural Gas Storage Report (see Storage Figure). At 1,912 Bcf, working gas stocks reached a record level for this time of year. Additionally, the current status of inventories is only the second time in the 17-year history of the Weekly Natural Gas Storage Report that working gas stocks have exceeded 1,900 Bcf during the month of April. The implied net injection was 83 Bcf, compared with last year's net injection of 77 Bcf and the 5-year (2005-2009) average of 66 Bcf for the report week. Moderating temperatures in most regions of the lower 48 States likely contributed to the larger-than-normal net injections into storage. Working gas inventories were 101 Bcf above year-ago levels and 303 Bcf above the 5-year average level. Working gas in storage exceeded the 5-year average for this time of year in each of the three storage regions. However, working gas stocks in the Producing region are 74 Bcf, or about 9 percent, below last year's level. The year-on-year storage deficit in this region has declined for 4 consecutive weeks.

Temperatures were generally warmer than normal in most Census Divisions in the lower 48 States during the week ended April 22. Based on the National Weather Service's degree-day data, temperatures in the lower 48 States during the week ending April 22 were, on average, about 0.4 degrees warmer than normal but 0.7 degrees cooler than last year (see Temperature Maps and Data). Temperatures were warmest in the West South Central, South Atlantic, and the East South Central Census Divisions, where the average temperatures were 64.0, 60.0, and 58.9 degrees, respectively. Elsewhere in the lower 48 States, average temperatures ranged between 48 and 55 degrees. In contrast to the rest of the lower 48 States, the West South Central, East South Central, South Atlantic, and Pacific Census Divisions reported slightly cooler-than-normal temperatures.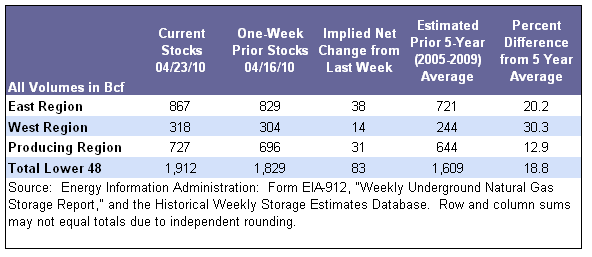 More Storage Data
Other Market Trends
EIA introduces New Methodology for Natural Gas Production Estimates. On April 29, 2010, EIA introduced a new method to estimate monthly natural gas production. EIA used this new methodology to estimate production in February 2010 and to revise previous estimates for 2009 and January 2010. January 2010 estimates for the lower 48 States were revised downward by 0.6 Bcf per day. Nearly all of this revision is attributable to three areas: the Federal Gulf of Mexico, Louisiana, and Texas. Revisions to 2009 estimates for the lower 48 States were generally negative as well, ranging from -0.2 Bcf per day, or -0.3 percent, at the beginning of the year to -0.8 Bcf per day, or -1.3 percent, at year end.

The new estimation methodology relies on the most recently available information, both to refresh the sample of companies surveyed and to estimate the production of companies excluded from the sample. Additional information on the Form EIA-914, Monthly Natural Gas Production Report comprehensive survey methodology review, alternative approaches tested, revisions to 2009 production data resulting from the methodological change, and the independent review of the Form EIA-914 methodologies is available at: http://www.eia.doe.gov/oil_gas/natural_gas/data_publications/eia914/eia914.html. Data collection and estimation for the, "Monthly Natural Gas Gross Production Report," is separate from the data published in the Weekly Natural Gas Storage Report (WNGSR). Thus, these methodological changes and revisions to production data will not affect estimates of working gas stocks published in the WNGSR.

Natural Gas Rig Count Registers First Weekly Decrease in 2010. As of April 23, 2010, the natural gas rotary rig count totaled 956, a decrease of 17 from the previous week, according to Baker Hughes Incorporated. The natural gas rig count has been generally increasing since July 10, 2009. The rig count as of April 23 represents the first weekly decrease since December 23, 2009, and the second-largest week-over-week decline since July 10, 2009 (see figure below). Generally lower natural gas prices in recent weeks may have contributed to the substantial week-over-week decline in the number of natural gas rigs. Notably, the oil rig count as of April 23 totaled 514, an increase of 8 from the week prior, according to Baker Hughes. Furthermore, the combined, oil-and-gas rig vertical rig count decreased by 8 to 497 since the previous week, while the horizontal rig count decreased by 1 to 753. This relatively larger decrease in the vertical rig count suggests the development of unconventional shale gas plays remains stable. On a State level, Texas and Louisiana recorded the largest weekly declines in their combined, oil-and-gas rig counts of 4 and 7, respectively.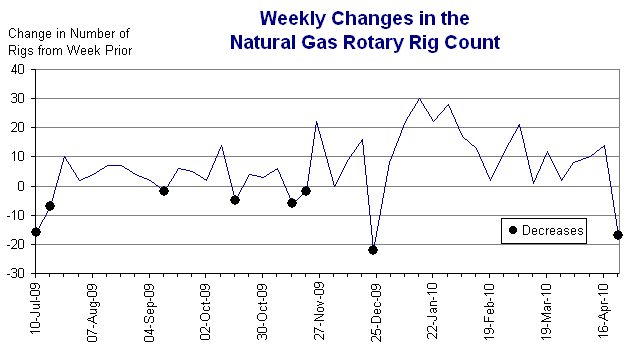 Natural Gas Transportation Update
Rockies Express Pipeline reported that it lifted a force majeure on Thursday, April 22 at its booster facility at the Wamsutter Echo Springs interconnect in Sweetwater County, Wyoming. The force majeure was declared on April 20 after the pipeline discovered that a component of one of its compressor units at the booster station needed to be replaced.

Transcontinental Pipeline Company reported finding a leak on its 24-inch diameter mainline in Kleberg County, Texas on Tuesday, April 27. The pipeline isolated the affected segment to assess damage and develop repair plans. Seven meters in the area were shut in until further notice, some of which included meters at processing plants (such as King Ranch and La Gloria).

ANR Pipeline Company reported on April 26 that it plans to conduct engine maintenance at its Havensville compressor station in Kansas. The maintenance is planned for May 10-14, and is expected to reduce the Southwest Mainline capacity by 90 MMcf per day to 562 MMcf per day.

Natural Gas Pipeline Company of America (NGPL) noted that starting May 1 it may reduce the volume of gas it receives at the Trailblazer interconnect in Gage County, Nebraska. The reduction is a result of higher-than-acceptable carbon dioxide levels present in natural gas delivered on Trailblazer.

Hess Corporation's Sea Robin gas processing plant was shut in on April 26 as a result of unscheduled maintenance. The plant has been not been able to process gas, but continues to dehydrate during the shutdown. Hess expects that the plant will be back online on Friday, April 30.
See Weekly Natural Gas Storage Report for additional Natural Gas Storage Data.
See Natural Gas Analysis for additional Natural Gas Reports and Articles.
See Short-Term Energy Outlook for additional Natural Gas Prices, Supply, and Demand.