Released: April 22, 2010 at 2:00 P.M.
Next Release: Thursday, April 29, 2010
Overview (For the Week Ending Wednesday, April 21, 2010)
Natural gas spot prices fell during the week at locations across the country, with declines ranging from 12 to 62 cents per million Btu (MMBtu). The Henry Hub spot price fell 19 cents, or about 5 percent, averaging $3.96 per MMBtu yesterday, April 21.

At the New York Mercantile Exchange (NYMEX), the value of the futures contract for May 2010 delivery at the Henry Hub fell about 6 percent, from $4.199 per MMBtu on April 14 to $3.955 per MMBtu on April 21.

The West Texas Intermediate crude oil spot price fell 3 percent since last Wednesday to $82.98 per barrel, or $14.31 per MMBtu.

Working natural gas in storage increased to 1,829 billion cubic feet (Bcf) as of Friday, April 16, according to EIA's Weekly Natural Gas Storage Report.

The natural gas rotary rig count rose by 14 to 973 as of April 16, according to data Baker Hughes Incorporated released (see Other Market Trends).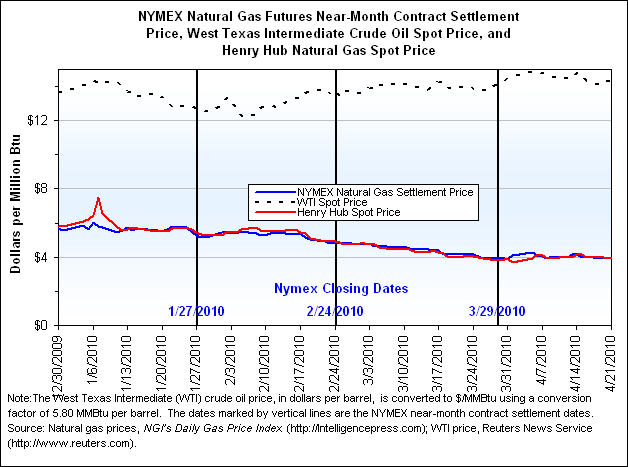 More Summary Data
Prices
Prices fell at all market trading locations in the lower 48 States during the week, with declines averaging around 20 cents per MMBtu, reversing gains that occurred at most market locations last week. The Henry Hub spot price fell 19 cents, or about 5 percent, ending the week at $3.96 per MMBtu. The smallest price decline occurred at the Ozark Gas Transmission trading point in the Midcontinent, where prices declined from $3.91 per MMBtu last Wednesday to $3.79 by the end of the report week. Conversely, the largest price decline occurred in the Rocky Mountains at the El Paso Bondad point, where prices fell 62 cents from $3.95 per MMBtu to $3.33 per MMBtu. Prices at the El Paso Bondad point are the lowest in the country. During intraweek trading, prices at most market locations moved slightly higher on Monday, April 19, before eventually ending the week lower than the previous Wednesday. Temperatures during the week were generally mild, though somewhat warmer than normal, with temperatures across most of the lower 48 States in the 50s and 60s. Prices yesterday ranged between $3.33 per MMBtu and $4.41 per MMBtu.

Demand rose in the residential/commercial and power generation sectors during the week, contributing to a 0.6-percent increase in overall natural gas demand. However, industrial demand fell by 0.5 percent on the week, according to data from BENTEK Energy, LLC. Although natural gas supplies this week also increased 0.3 percent from the previous week, liquefied natural gas (LNG) imports fell 12.2 percent and Canadian imports dropped 0.6 percent. An increase in production since last week more than offset these declines in imports. Compared with year-ago levels, total supplies are 0.2 percent lower, while demand is 2.9 percent higher. Year-over-year, the biggest increase in natural gas demand occurred in the electric power sector, increasing 14.4 percent from the same week last year.

Prices across the lower 48 States have been trading between 9 and 51 percent higher than 1 year ago. The Henry Hub price, at $3.96 per MMBtu yesterday, was about 15 percent higher than its price of $3.43 per MMBtu on April 21, 2009. The biggest year-over-year price increases occurred in the Rocky Mountain region, likely the result of the Rockies Express Pipeline coming online, which alleviated supply constraints in the region. Percentage-wise, the largest year-over-year increase of 51 percent occurred at the Northwest South of Green River trading point in Wyoming. Prices at this point yesterday were $3.54 per MMBtu, compared with $2.34 per MMBtu on April 21, 2009. Similarly, at the Questar trading point, also in the Rockies, prices have increased to $3.53 per MMBtu from $2.38 per MMBtu compared with 1 year ago.

At the NYMEX, prices for the May 2010 natural gas contract fell slightly during the week. The contract fell from $4.199 per MMBtu on April 14 to $3.955 per MMBtu on April 21. Notably, on Wednesday, April 14, the contract settled at $4.199 per MMBtu, but settled at $3.985 per MMBtu the next day, following the release of EIA's Weekly Natural Gas Storage Report. The 12-month strip, or the average of all contracts between May 2010 and April 2011, fell about 3 percent on the week from $4.895 per MMBtu to $4.72 per MMBtu. All of the contracts comprising the 12-month strip fell on the week, with declines ranging between 5 and 25 cents. Contracts for the upcoming spring and summer months posted the largest declines. The average of the winter months (November through March) was $5.259 per MMBtu as of yesterday.

More Price Data
Storage
Working natural gas in storage increased to 1,829 Bcf as of Friday, April 16, according to EIA's Weekly Natural Gas Storage Report (see Storage Figure). The implied net injection was 73 Bcf, compared with last year's net injection of 42 Bcf and the 5-year (2005-2009) average of 33 Bcf for the report week. Relatively mild temperatures in most regions of the lower 48 States likely contributed to the larger-than-normal net injections into storage. At an all-time high for this time of year, working gas inventories are currently 95 Bcf above year-ago levels and 286 Bcf above the 5-year average level. Working gas in storage exceeds the 5-year average for this time of year in each of the three storage regions. However, working gas stocks in the Producing region were 80 Bcf, or about 10 percent, below last year's level, while working gas stocks in the East region were 163 Bcf above last year's level. In the West region, working gas inventories are 11 Bcf, or about 4 percent, higher than the previous year's inventories.

Temperatures were generally warmer than normal in most Census Divisions in the lower 48 States during the week ended April 15. Based on the National Weather Service's degree-day data, temperatures in the lower 48 States during the week ending April 15 were, on average, about 3.4 degrees warmer than normal and 6.3 degrees warmer than last year (see Temperature Maps and Data). Temperatures were warmest in the West South Central, South Atlantic, and East South Central Census Divisions, where the average temperatures were between 59 and 65 degrees. Elsewhere in the lower 48 States, average temperatures ranged between 48 and 56 degrees. In contrast to the rest of the lower 48 States, the only region that reported cooler-than-normal temperatures was the Pacific Census Division, where temperatures averaged 53 degrees, about 3 degrees cooler than normal.

Since March 5, net injections into working gas stocks have exceeded the 5-year average in each report week. For the report week ending March 5, working gas stocks exceeded the 5-year average by 19 Bcf for the lower 48 States. With each successive report since March 5, this surplus relative to the 5-year average has grown between 20 and 66 Bcf each week, averaging 45 Bcf. This pattern of growth has prevailed predominantly in the East and Producing regions, where the surplus relative to the 5-year average has increased to 146 Bcf and 72 Bcf, respectively, as of April 16, 2010.
More Storage Data
Other Market Trends
Natural Gas Rig Count Continues to Increase. As of April 16, 2010, natural gas rotary rigs totaled 973, the highest level in close to 14 months, according to Baker Hughes Incorporated. Horizontal rig growth has contributed to the general increase in the natural gas rig count since July 2009, according to basin-level rig data released by Baker Hughes on March 30. Growth has been particularly evident in the Louisiana-Mississippi Salt Basin (Haynesville Shale) and the Appalachian (Marcellus Shale) areas, where rigs totaled 145 and 116, respectively, as of March 30. Both areas' rig counts exceeded the record-high levels reached in the fall of 2008. Since January 2008, the rig count in the Haynesville area has more than doubled. Similarly, in the Appalachian area, the number of rigs has increased more than 36 percent over the same time period. Other major natural gas basins over the last 2 years for which data are available have not shown the same growth in rigs. For example, natural gas rig counts in the Western Gulf and Anadarko regions are well below their levels at the beginning of 2008 (see figure).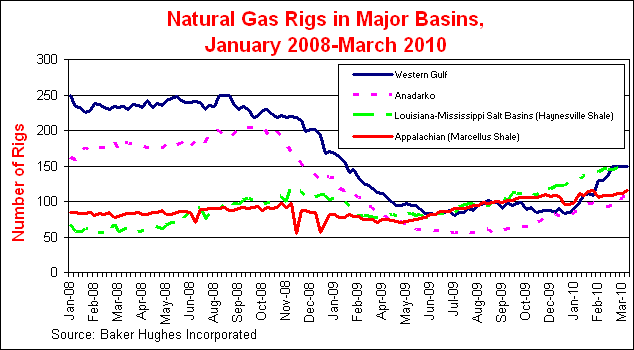 Commonwealth of Pennsylvania Fines Cabot Oil and Gas. Pennsylvania's Department of Environmental Protection (DEP) on April 15 issued an order requiring Cabot Oil and Gas Corporation to mitigate possible negative effects the company's drilling may have had on groundwater supplies in Dimock Township, Susquehanna County. The company, which operates in the Marcellus Shale, also has paid a fine of $240,000 to the DEP.

Colorado Governor Signed Clean Air-Clean Jobs Act into Law, Likely Resulting in Increasing Use of Natural Gas. On Monday, April 19, Governor Bill Ritter signed the Colorado Clean Air-Clean Jobs Act into law, which could substantially increase electric power generators' use of natural gas in the State, according to the governor's office. The law requires that natural-gas fired facilities replace older and less efficient coal plants.
Natural Gas Transportation Update
Texas Gas Transmission, LLC (TGT) on Wednesday, April 21, reduced capacity for its pipeline segment in Louisiana as a result of unplanned maintenance. The pipeline company will reduce the capacity of its Youngsville East segment from 535 million cubic feet (MMcf) per day to 350 MMcf per day until further notice. Maintenance is occurring on the section of the pipeline east of TGT's Youngsville Compressor Station in southern Louisiana. Based on current nominations, the reduction will affect firm primary deliveries on the segment, TGT said.

Transwestern Pipeline Company, LLC this week reduced total capacity for its pipeline facilities near Ash Fork, Arizona, from 1,225 MMcf per day to 700 MMcf per day. Citing necessary maintenance, Transwestern said the capacity reduction will be in effect from Wednesday, April 21, through Friday, April 23, and will affect deliveries to 16 points.

Citing mild weather and reduced injection capacity at a storage field on the production area-portion of its pipeline system, Tennessee Gas Pipeline Company on Tuesday, April 20, warned shippers to match physical flow with scheduled quantities to prevent imbalances. The pipeline company cited continued high volumes through Station 219 in Mercer County, Pennsylvania when reporting to customers that the pipeline does not have the ability to absorb imbalances caused by receipt point operators' overdeliveries into the system and delivery point operators' undertakes from the system.

Rockies Express Pipeline, LLC, (REX) this week reported an outage at its Echo Springs Booster Station in Sweetwater, Wyoming. The pipeline limited flows as of Wednesday, April 21, to 100 MMcf per day while performing maintenance on a compressor. REX expected the maintenance to limit its ability to fully schedule transportation requests through a local receipt meter with normal capacity of 115 MMcf per day. However, early in the report week, REX reported that repairs to a damaged cable on its transformer at its Cheyenne Compressor Station in Weld County, Colorado were complete. The pipeline company said that effective for the gas day of Friday, April 16, quantities through the compressor station would be scheduled to normal capacity of 1,600 MMcf per day.
See Weekly Natural Gas Storage Report for additional Natural Gas Storage Data.
See Natural Gas Analysis for additional Natural Gas Reports and Articles.
See Short-Term Energy Outlook for additional Natural Gas Prices, Supply, and Demand.