Released: April 15, 2010 at 2:00 P.M.
Next Release: Thursday, April 22, 2010
Overview (For the Week Ending Wednesday, April 14, 2010)
While natural gas spot prices inched lower at a number of market locations, prices at the majority of points in the lower 48 States increased since last Wednesday, April 7. Overall, spot prices in the lower 48 States varied between a 3-percent increase and a 3-percent decrease on the week. The Henry Hub spot price ended the report week yesterday, April 14, 7 cents higher than the preceding week, at $4.15 per million Btu (MMBtu).



At the New York Mercantile Exchange (NYMEX), the futures contract for May delivery at the Henry Hub ended trading yesterday at $4.199 per MMBtu, increasing by 18 cents or about 5 percent during the report week.



Natural gas in storage increased to 1,756 billion cubic feet (Bcf) as of April 9, following an all-time high net injection for this time of year of 87 Bcf and establishing a new record level of natural gas in underground storage for the second week of April. As of the latest report, inventories were 16.3 percent above the 5-year average (2005-2009).



The spot price for West Texas Intermediate (WTI) crude oil remained fairly flat, decreasing by 2 cents per barrel since Wednesday, April 7, to $85.62 per barrel or $14.76 per MMBtu.



The volume of crude oil contracts traded reached 1.42 million on April 13, a record-high, according to NYMEX. This volume was more than double the number of contracts traded on July 11, 2008, when futures reached a record price of $147.27 per barrel.



The number of natural gas rigs drilling totaled 959 for the week ended April 9, according to Baker Hughes Incorporated. The rig count increased by 10 rigs compared with the previous week. The latest report marks the fifteenth consecutive week the number of rigs drilling for natural gas has increased (see Other Market Trends).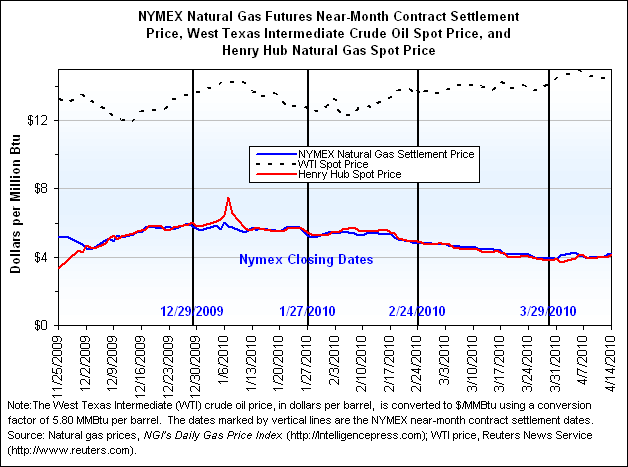 More Summary Data
Prices
Natural gas spot prices rose this week at the majority of market locations, despite the typical shoulder season weather and demand patterns across much of the lower 48 States. Spot price increases primarily occurred in production areas along the Gulf of Mexico, rising by between 2 and 13 cents per MMBtu. Prices in the high-demand areas of the Northeast also increased on the week, possibly the result of temperatures returning to 30-year normal levels after the unseasonably warm temperatures recorded the previous week. Overall, prices at spot locations serving markets in the Northeast rose between 4 and 11 cents per MMBtu since April 7. The spot price at the Iroquois Zone 2 location rose 11 cents on the week, ending trading yesterday at $4.70 per MMBtu—the highest price in the lower 48 States.

Prices at trading locations serving markets located in the Rockies and west of the mountain range saw prices that were generally slightly lower or flat compared with last Wednesday. Natural gas spot prices at the Malin, Oregon and Pacific Gas and Electric, California trading locations showed no change on the week, ending trading yesterday at $4.21 and $4.62 per MMBtu, respectively. Points serving southern California markets ended the week slightly lower, decreasing about 6 cents per MMBtu, on average. Similar to the southern California price movements, spot market locations in the Rockies also registered decreases this week, ranging between 4 and 9 cents per MMBtu at most market locations. The price declines in the Rockies may have resulted from transportation constraints attributable to maintenance on several compressor stations on the Rockies Express Pipeline (REX) in Colorado, Nebraska, Missouri, and Wyoming. The maintenance significantly decreased flows on REX, which fell from 1,307 million cubic feet (MMcf) to 548 MMcf per day, according to BENTEK Energy LLC (see Natural Gas Transportation Update).

Natural gas demand saw a sizeable increase this week compared with the week ended April 7. Total demand for the week ended April 14 rose by 8.4 percent compared with last week, according to BENTEK. Consumption in the residential and commercial sectors rose by 24 percent this week, while natural gas demand for electric power generation increased by 7 percent overall in the United States. The increase in demand was likely the result of the return of seasonable temperatures, which were colder than the previous week. The increase in the use of natural gas for electric power generation was particularly pronounced in the Gulf region. However, this week's total demand was about 6 percent lower compared with the same week last year.

Natural gas supply exceeded total demand each day this report week. Total natural gas supply fell slightly this week compared with the previous week, driven by decreases in domestic production (0.5 percent) and liquefied natural gas (LNG) sendout (28 percent), according to BENTEK. However, Canadian imports increased by almost 2 percent on the week, with the majority of Canadian pipeline imports delivered to Northeastern markets. Total supply of natural gas this week was 0.5 percent lower than last week and 0.9 percent lower than the same week last year.

At the NYMEX, the price of the near-month contract for May delivery increased by 18 cents during the report week to $4.199 per MMBtu. Similarly, prices for the remaining contracts in the 12-month strip (through April 2011) also all increased by between 9 and 19 cents per MMBtu, with the contracts for delivery during the summer months registering the largest increases. As of yesterday, contracts for delivery during the injection season (May 2010-October 2010) averaged $4.43 per MMBtu, reflecting expectations of increased demand this summer, most likely as a result of increased power burn and injection demand for natural gas storage. The 12-month strip increased 14 cents since last week, ending trading yesterday at $4.89 per MMBtu.

More Price Data
Storage
Working gas in storage totaled 1,756 Bcf as of Friday, April 9, according to EIA's Weekly Natural Gas Storage Report (see Storage Figure). The implied net injection during the report week was 87 Bcf, bringing the current level of supplies in underground storage to 16.3 percent above the 5-year average (2005-2009). Net injections totaled 21 Bcf during the comparable week on average over the past 5 years as well as for the comparable week last year.

The net injection of 87 Bcf is the largest net injection to date this year and the record-high net injection for the second week of April. Furthermore, last week's net injection was the third-highest net injection for the month of April. The latest net injection pushed the total volume of natural gas in storage to an all-time high volume for this time of year. Lower demand for the week coinciding with the latest storage report and ample supplies continue to be important factors in storage activity.

With spring-like average temperatures during the storage report week, there was likely little weather-related demand for space-heating or power-generation for air-conditioning needs. As a result, storage operators reported the comparatively large build-up in inventories in anticipation of higher demand later in the year. This week's above-average injection occurred during a week when temperatures across the country were quite moderate, averaging 58.3 degrees Fahrenheit compared with a normal average of 50.0 degrees. In fact, each Census Division with the exceptions of the Mountain and Pacific Census Divisions recorded temperatures that were above normal, with deviations ranging between 5 and 17 degrees. Census Divisions located in the east and around the Great Lakes registered the largest weekly temperature deviations from normal. However, the South Atlantic Census Division recorded the highest weekly average temperatures (see Temperature Maps and Data).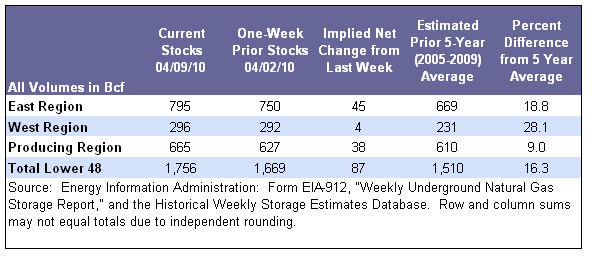 More Storage Data
Other Market Trends
EIA Projects a Robust 2010 Injection Season. Working natural gas inventories as of March 31 totaled 1,660 Bcf, closing the withdrawal season 4 Bcf above the year-ago level reported in EIA's Natural Gas Monthly. EIA's Short-Term Energy Outlook projects that storage operators will inject a total of 2,111 Bcf into storage during the 2010 injection season (April 1 through October 31) as a result of continuing strong production levels. This level of injections would place stocks as of October 31 just 36 Bcf below last year's record inventories.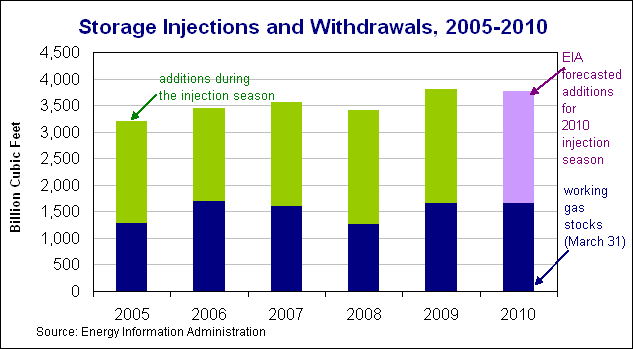 Horizontal Natural Gas Rigs Account for Increasing Share of Total Natural Gas Rigs. Natural gas rotary rigs rose to 959 on April 9, according to data Baker Hughes Incorporated released. Natural gas rigs are at their highest level in more than 13 months. Much of the increase in the natural gas rig count over the past several months has been attributable to growth in the number of horizontal rigs (see figure below). As of March 26, horizontal natural gas rigs totaled 567, an increase of about 24 percent since the beginning of 2010. Directional and vertical natural gas rigs totaled 159 and 215, respectively. Horizontal natural gas rigs comprised about 60 percent of natural gas rigs, while directional and vertical rigs accounted for 17 and 23 percent, respectively. The portion of natural gas rigs attributable to horizontal rigs has steadily increased over the last 2 years for which data are available. For example, horizontal rigs in January 2008 totaled 25 percent of the total number of natural gas rigs. Growth in horizontal rigs is related to growth in natural gas production from shale formations.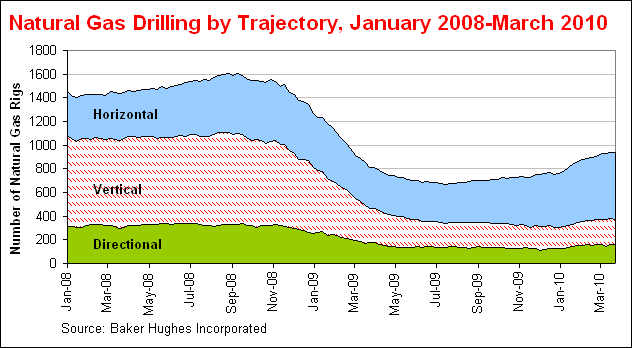 Natural Gas Transportation Update
Kern River Gas Transmission Company on April 9 completed an expansion increasing the pipeline's capacity by approximately 145 MMcf per day. With its completion, the Kern River system's design capacity increased to 1.9 Bcf per day. Capacity at the Veyo Compressor Station in Utah, which is the primary constraint on Kern River, has increased from 2,067 MMcf per day to 2,258 MMcf per day, according to the company. Following the completion, BENTEK Energy LLC reported flows on Kern River increased to 2,228 MMcf per day.



On April 13, Rockies Express Pipeline (REX) began planned maintenance at several compressor stations on its system, including Cheyenne Compressor Station in Weld County, Colorado; Steele City Compressor Station in Gage County, Nebraska; Turney Compressor Station in Clinton County, Missouri; and Wamsutter Compressor Station in Sweetwater County, Wyoming. During the outage, REX expected to limit capacity on segments of the pipeline associated with the compressor stations to 1,350 MMcf per day, from a normal capacity of about 1,600 MMcf per day. Based on the current level of nominations, REX expected that certain transportation requests were at risk of not being fully scheduled. In an update to shippers posted on April 14, REX said that maintenance at several stations would likely be complete by the end of the day. However, the need for new equipment at the Cheyenne Station complicated maintenance, which will likely not be complete until today (Thursday, April 15).



Anadarko Petroleum Corporation announced that flows had returned to normal as of April 14 at its Independence Hub in the Gulf of Mexico. As a result of maintenance at the facility, BENTEK noted reduced nominations from the Independence Trail Pipeline to Tennessee Gas Pipeline Company. Total flow had dropped from 795 MMcf per day on Friday, April 9, to 541 MMcf per day on Monday, April 12. Flows returned to 782 MMcf per day when Anadarko completed the work on Wednesday, April 14.
See Weekly Natural Gas Storage Report for additional Natural Gas Storage Data.
See Natural Gas Analysis for additional Natural Gas Reports and Articles.
See Short-Term Energy Outlook for additional Natural Gas Prices, Supply, and Demand.