Released: March 11, 2010 at 2:00 P.M.
Next Release: Thursday, March 18, 2010
Overview (For the Week Ending Wednesday, March 10, 2010)
Since Wednesday, March 3, natural gas spot prices fell at most market locations across the lower 48 States, with decreases of as much as 11 percent. Prices at the Henry Hub declined $0.32, or about 7 percent, to $4.44 per million Btu (MMBtu).

At the New York Mercantile Exchange (NYMEX), the futures contract for April delivery at the Henry Hub settled yesterday, March 10, at $4.56 per MMBtu, falling by $0.20 or about 4 percent since the previous Wednesday.

Natural gas in storage was 1,626 billion cubic feet (Bcf) as of March 5, about 1 percent above the 5-year average (2005-2009). The implied net withdrawal for the week was 111 Bcf.

The spot price for West Texas Intermediate (WTI) crude oil increased by $1.16 per barrel since Wednesday, March 3, to $82.07 per barrel or $14.15 per MMBtu.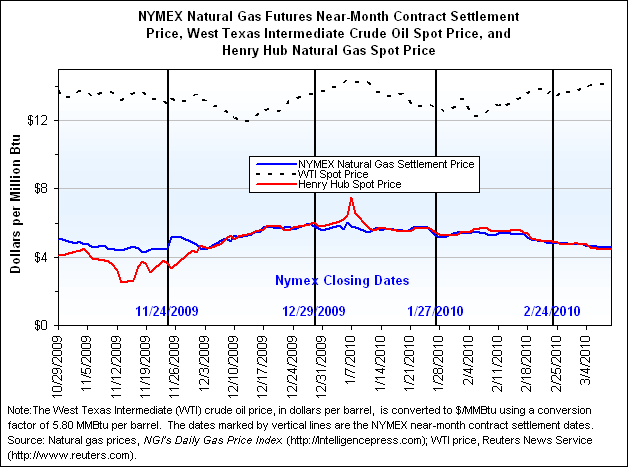 More Summary Data
Prices
Since last Wednesday, March 3, natural gas spot prices posted declines at market locations across the lower 48 States as temperatures moderated. Warmer temperatures throughout most of the lower 48 States and continued strength in natural gas production likely contributed to falling natural gas prices. On the week, price decreases generally ranged between $0.09 and $0.59 per MMBtu, or about 2 to 11 percent, at most markets. However, the largest decline since last Wednesday occurred at the Florida citygate, where prices fell $1.02 per MMBtu on the week.

Weekly natural gas consumption fell in all market sectors, decreasing about 12 percent for the lower 48 States overall since last week. Natural gas consumption posted declines on the week in each of the major market sectors, with decreases ranging between 2 to 18 percent, according to BENTEK Energy Services, LLC. The largest declines in natural gas consumption occurred in the residential/commercial and electric power market sectors, which fell 18 percent and 9 percent, respectively. The declines in these sectors likely resulted from the decrease in space heating demand associated with moderating temperatures. Industrial demand fell about 2 percent on the week. Despite these declines, natural gas consumption in the lower 48 States was about 9 percent higher than year-prior levels.

Natural gas supplies decreased on the week, despite an increase in natural gas production. Natural gas supplies decreased by almost 2 percent since last week, as Canadian and liquefied natural gas (LNG) sendout posted significant declines, according to BENTEK. However, natural gas production increased by almost 1 percent on the week. The robustness of domestic natural gas production suggests that the natural gas market remains well-supplied overall. In contrast to the rest of the lower 48 States, Canadian imports in the West region increased by 2 percent on the week and were about 4 percent above year-prior levels for the same report week. Compared with last year at this time, current U.S. natural gas production is about 0.2 percent higher, while total pipeline and LNG imports were 7 percent lower and 22 percent higher, respectively.

Natural gas price declines since last Wednesday were generally less pronounced in western markets, where significant heating demand for natural gas provided some support for prices. With average temperatures in the West between 2 and 8 degrees below normal for the week ended March 9, 2010, according to the National Weather Service, weather-related demand for natural gas in the region likely contributed to the relative strength of prices in the region despite price declines on the region in the week. These colder temperatures likely account for the relative strength of Canadian imports in the West region exhibited during the week. Prices at most markets in the California, Arizona/Nevada, West Texas, and Rocky Mountains regions fell between 3 and 6 percent, compared with declines ranging between 7 and 17 percent, on average, in eastern markets. With prices in the eastern lower 48 States declining at a more rapid rate than in western markets, the basis differential between these points narrowed considerably. In fact, prices at the Pacific Gas and Electric (PG&E) Citygate in California were $5.02 per MMBtu yesterday (March 10), exceeding the price of $4.76 per MMBtu at the New York Citygate, in contrast to the more typical pricing pattern of prices in the Northeast exceeding California prices during this time of year.

Natural gas spot prices at the Henry Hub are trading above year-ago levels. Prices at market locations across the lower 48 States are trading at a premium to year-ago levels. At $4.44 per MMBtu in trading on March 10, prices at the Henry Hub were 13 percent, or $0.52, above year-ago levels. Elsewhere in the lower 48 States, natural gas spot prices at most markets were trading at about 8 to 61 percent below year-ago levels.

At the NYMEX, the prices for natural gas delivery contracts through March 2011 decreased between $0.19 and $0.21 per MMBtu, or about 3 to 4 percent, during the report week. On the week, the price of the April contract decreased 20 cents per MMBtu, or about 4 percent. Overall, prices for the 12-month futures strip averaged $5.14 per MMBtu as of Wednesday, March 10, falling about $0.20 per MMBtu, or about 4 percent on the week. With natural gas futures prices declining at a significantly slower rate than the Henry Hub spot price, the differential between the futures strip and the Henry Hub spot price increased to $0.67 per MMBtu. This pattern suggests that the marginal value of holding natural gas in storage may be rising as current heating demand for gas slackens, which could give natural gas suppliers an incentive to replenish inventory levels of natural gas held in storage.

More Price Data
Storage
Working natural gas in storage decreased to 1,626 Bcf as of Friday, March 5, according to EIA's Weekly Natural Gas Storage Report (see Storage Figure). The implied net withdrawal was 111 Bcf, matching last year's net withdrawal for the report week. This week's implied net withdrawal was 2 Bcf above the 5-year (2005-2009) average withdrawal of 109 Bcf. Warming temperatures in most regions of the lower 48 States likely contributed to the declining rate of storage withdrawals since the preceding report week. Working gas inventories are currently 71 Bcf below year-ago levels and 19 Bcf above the 5-year average level. Working gas in storage continues to exceed historical levels and year-ago levels for this time of year in the East and West storage regions. However, working gas stocks in the Producing region are 39 Bcf below the 5-year average and 145 Bcf below last year's level.

Temperatures were generally colder than normal in most Census Divisions in the lower 48 States during the week ended March 5. Based on the National Weather Service's degree-day data, temperatures in the lower 48 States during the week ending March 5 were, on average, about 3 degrees colder than normal and 0.4 degrees warmer than last year (see Temperature Maps and Data). Temperatures were warmest in the West South Central and the Pacific Census Divisions, where the average temperatures were 47 and 51 degrees, respectively. Elsewhere in the lower 48 States, average temperatures ranged between 26 and 40 degrees. In contrast to the rest of the lower 48 States, the New England, Middle Atlantic, and Mountain Census Divisions reported warmer-than-normal temperatures.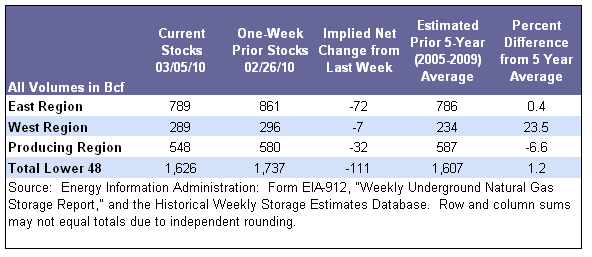 More Storage Data
Other Market Trends
EIA Expects Natural Gas Price Increases Through 2011. Natural gas spot prices are expected to rise to an average of $5.17 per MMBtu in 2010 and $5.65 per MMBtu in 2011, according to EIA's Short-Term Energy Outlook (STEO) released on March 9. So far this winter, prices have not exhibited significant increases that were apparent in years past. One factor likely influencing this reduction in price pressure is the large inventories of working gas remaining in underground storage. At the end of February 2010, working gas stocks were 1,729 Bcf, compared with the 5-year average of 1,665 Bcf. Total annual production in 2010 is expected to decline by 2.7 percent to 58.7 Bcf per day compared with 2009. The EIA estimates that marketed natural gas production will increase by 1.1 percent in 2011 to 59.3 Bcf per day. In addition, EIA expects total natural gas consumption to increase by 0.7 percent to 62.9 Bcf per day in 2010, and decline 0.4 percent in 2011. Cold weather in the first quarter of 2010 is the primary driver of the consumption increase in residential, commercial and electric power sectors, which is expected to result in an annual increase in consumption in these three sectors, more than offsetting declines in industrial consumption. During the first quarter of 2010, natural gas use for electric power generation is expected to increase by about 3 percent compared with the same period last year. Weather is expected to return to near-normal levels, thus resulting in a slight decrease in total consumption in 2011. The latest STEO includes market assessments of natural gas and West Texas Intermediate (WTI) prices exceeding or dropping below specific price levels using the forward curves for futures and option volatilities (see Energy Price Volatility and Forecast Uncertainty). EIA will include this measure in all future STEO publications.

Natural Gas Rigs Rise to Highest Level in More Than 1 Year. The number of natural gas rotary rigs in operation totaled 926 as of Friday, March 5, according to Baker Hughes Incorporated. According to Baker Hughes:
Rigs have now increased for 10 consecutive weeks, and are at the highest level since February 27, 2009. Year-to-date, natural gas rotary rigs have risen about 22 percent.
As of March 5, horizontal rigs (including both oil and natural gas) totaled 695, the highest level in the 19 years for which data are available. Data Baker Hughes released last month indicated that rig counts were at highs (for 2 years for which detailed data are available) in the Louisiana-Mississippi Salt Basins (Haynesville Shale) and Appalachian areas. Vertical rigs (including both oil and natural gas) rose to 471 as of March 5, the highest level in a year.
Although the natural gas rig count has increased recently, it remains 42 percent below the 2008 peak of 1,606. Natural gas production has remained relatively stable, likely because of the increase in the horizontal rig count. Horizontal drilling tends to produce more natural gas per well. In addition, operators have been drilling longer laterals (the horizontal lines that permeate gas-bearing rock) for horizontal wells, further increasing production. Additionally, operators have been drilling wells at a faster pace.
Natural Gas Per-Customer Consumption Declines. After adjusting for weather, the typical household using natural gas consumed 22 percent less natural gas in 2009 compared with 1990. Weather-adjusted per-customer consumption decreased from 95 thousand cubic feet (Mcf) in 1990 to 74 Mcf in 2009, according to the February 2010 Natural Gas Monthly and Natural Gas Annual 2008, released March 2. The main reasons for the decrease are:
Efficiency gains in space-heating equipment and other natural gas appliances. The American Gas Association attributes more than half of the per-customer reduction since 1990 to efficiency increases in natural gas appliances and heating equipment.
Improvements in housing construction. The Environmental Protection Agency reports that the number of ENERGY STAR®-qualified homes in the United States has increased significantly since the 1990s, totaling nearly one million homes in 2009.
Demographic changes. Migration from the Northeast and the Midwest to warmer areas in the South and West also decreased average use per customer.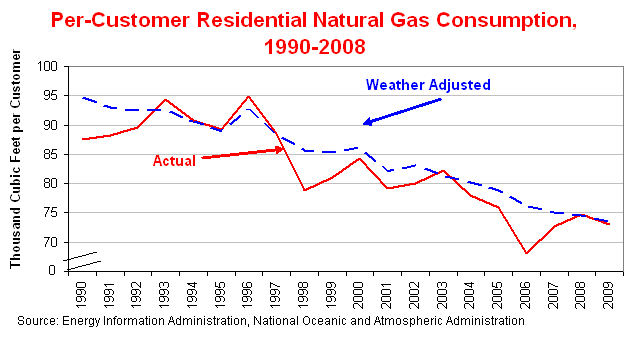 Natural Gas Transportation Update
On March 8, Rockies Express Pipeline (REX) issued a force majeure as a result of a transformer failure at its Cheyenne compressor station in Weld County, Colorado. REX initially estimated that repairs would be complete on or about March 11. However, as a result of inclement weather that occurred this week in the area, repairs will resume on March 14. REX did not post a new expected completion date for the repair work. REX scheduled volumes through the segment have been reduced to 1,550 million cubic feet (MMcf) per day, affecting interruptible service, as well as primary and secondary firm service.

Southern California Gas Company reported a loss of 750 MMcf per day in withdrawal capacity at its Aliso Canyon storage facility as a result of maintenance on two dehydration heat exchangers. The maintenance is expected to last through March 19.

Colorado Interstate Gas Company completed the repairs and commissioning operations to its Totem storage field dehydration facility in Colorado on Sunday, March 7. Effective Monday, March 8, the pipeline lifted a force majeure and the dehydration facility returned to service by cycle 1 of Monday's gas day. The failure of the dehydration facility resulted in the pipeline's inability to withdraw gas from the field.

Questar Pipeline announced that it has completed maintenance to one of the compressors at the Clay Basin storage facility in Utah, increasing the injection capacity to 240,000 decatherms (Dth) per day effective March 9. Furthermore, the pipeline reported that about 60,000 Dth per day of withdrawal nominations will be in place through the beginning of the reservoir maintenance, scheduled to commence on March 24.
See Weekly Natural Gas Storage Report for additional Natural Gas Storage Data.
See Natural Gas Analysis for additional Natural Gas Reports and Articles.
See Short-Term Energy Outlook for additional Natural Gas Prices, Supply, and Demand.