Released: October 29, 2009 at 2:00 P.M.
Next Release: November 5, 2009
Overview (For the Week Ending Wednesday, October 28, 2009)
Natural gas prices posted decreases at both the spot and futures markets since last Wednesday. Spot prices fell at virtually all market locations in the lower 48 States, with decreases ranging between 6 and 46 cents per million Btu (MMBtu). However, a couple trading locations did post gains this week. The price at the Henry Hub spot market fell 21 cents or about 4 percent, ending trading yesterday at $4.59 per MMBtu.



At the New York Mercantile Exchange (NYMEX), the natural gas futures contract for November delivery expired yesterday at $4.289 per MMBtu, falling 81 cents or about 16 percent since last Wednesday. The December contract posted similar decreases this week, falling by 73 cents.



As of Friday, October 23, working gas in underground storage rose to 3,759 billion cubic feet (Bcf), setting a new record high in each of the storage regions. Inventories exceeded the 5-year (2004-2008) average for this time of year by 12.4 percent.



The price of the West Texas Intermediate (WTI) crude oil contract declined by $3.64 on the week to $77.39 per barrel or $13.34 per MMBtu. The price of crude oil exceeded the $80-per barrel threshold on October 21 for the first time in more than a year. WTI traded above $80 for 3 days this report week before falling to $78.61 per barrel on Monday.



The number of natural gas rigs drilling in the United States increased by 4 to 725 rigs for the week ended October 23, 2009, according to Baker Hughes, Incorporated.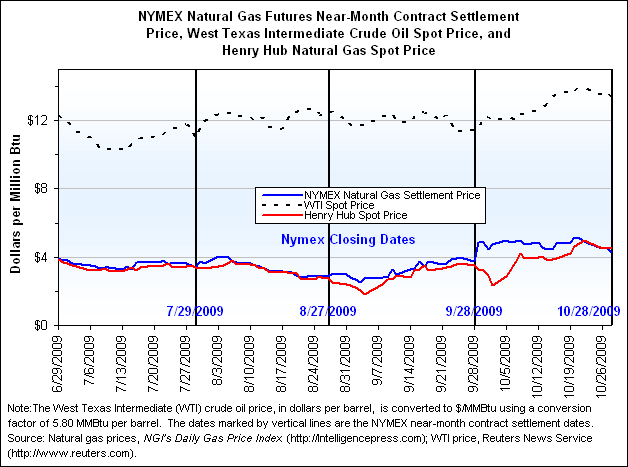 More Summary Data
Prices
Natural gas spot prices decreased on the week at all market locations, except for a couple trading points in the Rockies and Florida markets. Decreases ranged between 6 and 46 cents per MMBtu, although the majority of trading locations posted declines between 25 and 35 cents. Despite the snowfall and winter-like temperatures in the Rockies region this week, only one trading location registered a modest increase, with the remaining trading locations in the area decreasing. Northwest Sumas posted a 2-cent increase on the week, increasing less than half of 1 percent since last Wednesday. In addition, the Florida Citygate price rose by 45 cents or almost 9 percent, likely as a result of the capacity constraints reported by Florida Gas Transmission Company that temperatures in the 90s caused over the last few days.

Prices in the producing areas of the country, including the Gulf of Mexico States and the Rockies, posted significant declines this week as production continues to outpace last year's levels. The latest monthly production statistics published by EIA reflect the continued increase in domestic production, with the January-July 2009 dry production total exceeding the previous year's month-to-date production by more than 2 percent. Furthermore, according to Bentek Energy, year-to-date natural gas production as of October 29 is about 3 percent higher than last year. Elevated production levels and high natural gas storage supplies may have dampened prices across the country, despite an increase in heating demand. While the Rocky Mountains experienced significant snowfall and colder temperatures, only one trading location posted a modest price increase. Overall, prices at trading locations serving markets in the Rockies decreased by about 25 cents since last Wednesday. Similarly, prices at markets located in and serving the Gulf of Mexico also fell this week, with declines averaging about 31 cents per MMBtu.

High-demand centers in the country also saw significant price drops since last Wednesday. Spot prices at locations serving Northeastern markets decreased by up to 37 cents per MMBtu on the week. This decline occurred despite an increase in heating demand, as temperatures dropped to as low as 40 degrees in some areas. The Columbia Gas trading location, which serves the Mid-Atlantic, posted a 37-cent decline on the week. Transcontinental Pipeline's Zone 6, with deliveries to New York City, fell by 24 cents since last Wednesday. The spot price at the Southern California Citygate location, which serves markets in the southern half of the State, posted the largest net weekly decrease in the lower 48 States of 46 cents or 9 percent, ending trading yesterday at $4.82 per MMBtu.

At the NYMEX, the expiration of the November 2009 contract yesterday marked the first time a contract for delivery in November closed below $5 per MMBtu since 2003. The November 2009 contract expired yesterday at $4.289 per MMBtu. Yesterday also marked the first time a contract for delivery during the heating season expired below $5 per MMBtu since November 2003. During its tenure as the near-month, the November 2009 futures contract posted a net decrease of 55 cents or 11 percent, almost consistently trading below $5 per MMBtu. The only exceptions occurred on October 20 and 21, when the contract rose to $5.161 and $5.100, respectively. On the week, the contract fell by 81 cents or 16 percent, the largest weekly drop since becoming the near-month.

The price of the December 2009 contract also declined this report week, falling by 73 cents or 12 percent. The December contract ended the report week at $5.066 per MMBtu. In yesterday's session, the 12-month strip traded at $5.451 per MMBtu, declining 61 cents or 10 percent since last Wednesday. All of the contracts in the strip (with the exception of the November contract) were trading well above $5 per MMBtu. The heating season strip ended trading yesterday at $5.138 per MMBtu, decreasing by 70 cents or 12 percent since last Wednesday.

More Price Data
Storage
Working gas in storage reached a new record high, with each of the storage regions recording new highs for the third week in a row. In the Producing Region, however, the latest report marks the tenth straight week of record-setting working gas volumes. Working gas in storage increased to 3,759 Bcf as of Friday, October 23, according to EIA's Weekly Natural Gas Storage Report, following an implied net injection of 25 Bcf (see Storage Figure). The latest net injection was about 42 percent below the 5-year average (2004-2008) net injection of 43 Bcf, and about 49 percent below last year's net injection of 49 Bcf for the same report week. As of October 23, working gas stocks exceed the 5-year average by 12 percent and last year's levels by 11 percent.

At 513 Bcf for the week ending October 23, working gas stocks in the West region exceeded the regional demonstrated peak capacity of 509 Bcf. As reported in Estimates of Peak Underground Storage Working Gas Storage Capacity in the United States, 2009 Update, demonstrated peak capacity is a conservative measure of capacity based on the aggregation of each individual storage field's 5-year (May 2005-April 2009) historical maximum. Working gas stocks climbed above the demonstrated peak level in the West region, indicating that one or more facilities in the region set new record levels of working gas in storage. Nevertheless, in terms of physical design capacity, working gas storage capacity in the West region is approximately 694 Bcf and can accommodate further injections into storage as market conditions warrant. In addition, working gas stocks in the Producing region totaled 1,188 Bcf as of October 23, 99 percent of the regional demonstrated peak capacity of 1,202 Bcf. In the East region, working gas stocks were 120 Bcf below the demonstrated peak capacity of 2,178 Bcf. On a national level, demonstrated peak capacity in the lower 48 States is 3,889 Bcf and physical design capacity totals 4,313 Bcf. At 3,759 Bcf, working gas stocks as of October 23 were 97 percent and 87 percent of the demonstrated peak and physical design capacity, respectively.

Most Census Divisions in the lower 48 States registered colder-than-normal temperatures during the week. According to National Weather Service degree-day data, average temperatures in the country as a whole for the week ended October 22 deviated from normal by less than 1 degree. However, Census Divisions in the southern half of the country (South Atlantic, East South Central, and West South Central) registered the highest average weekly surplus in the number of heating degree-days from normal, each recording between 28 and 39 percent higher-than-normal heating degree-days (see Temperature Maps and Data). Census Divisions in the West, most notably the Pacific Census Division, recorded 47 percent fewer than normal heating degree-days, accounting for an average temperature that was 4 degrees higher than normal.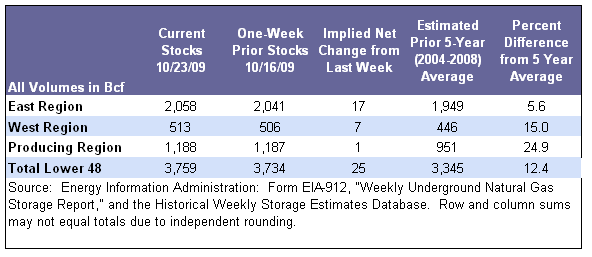 More Storage Data
Other Market Trends
New EIA Report Indicates Proved Natural Gas Reserves Rose by 3 percent in 2008. The Energy Information Administration (EIA) today released a report entitled, "U.S. Crude Oil, Natural Gas, and Natural Gas Liquids Proved Reserves." The report estimates that proved reserves of natural gas in the United States rose by 2.9 percent in 2008, largely the result of continued development of unconventional resources. Discoveries of crude oil rose for the third year in a row, but proved crude oil reserves fell by 10.3 percent, because of revisions resulting from the drop in oil prices during the year. Natural gas proved reserves are defined as the volumes that geological and engineering data demonstrate with reasonable certainty to be recoverable in future years from known reservoirs under existing economic and operating conditions. The report estimates that U.S. natural gas reserves at the end of 2008 totaled 244.7 trillion cubic feet (Tcf), the highest level in the 32 years EIA has collected these data. In addition, the report estimated that new discoveries of natural gas in 2008 were 29.5 Tcf, more than enough to offset both production and negative net revisions that arose largely from low year-end prices. EIA noted that improvements in production technology — especially in hydraulic fracturing and horizontal drilling — are allowing economically feasible recovery of previously unrecoverable resources. Discoveries of proved reserves from shale formations increased 8.9 Tcf in 2008, which represented about 30 percent of the total increase of 29.5 Tcf. By the end of 2008, proved reserves in shale formations accounted for about 13 percent of the 244.7 Tcf of total proved reserves of natural gas.

EIA Administrator Testifies Before the Senate Energy Committee. Richard Newell, Administrator of the U.S. Energy Information Administration (EIA), testified on the role of natural gas in mitigating climate change before the Senate Energy and Natural Resources Committee on October 28. In his prepared testimony submitted to the Committee, Newell said that natural gas will likely play an important role in domestic energy use for the foreseeable future. Newell also noted that the supply of natural gas is robust and will continue to remain robust, largely as a result of unconventional production. Newell also reiterated his testimony from earlier in the month before the same Committee regarding the results of an EIA analysis of the American Clean Energy and Security Act of 2009. The analysis indicates that the effect of the legislation on natural gas use for power generation depends on assumptions about cost and availability of international carbon offsets, as well as low-emitting power generation technology, such as nuclear, carbon capture and storage, and biomass. Newell's full prepared testimony is available here: http://energy.senate.gov/public/_files/NewellTestimony1028090.doc
Natural Gas Transportation Update
Northern Natural Gas Company on Wednesday, October 28, reported it had experienced an outage at its Beatrice Compressor Station in Nebraska. The unit will likely be out of service for several weeks because of a mechanical failure on one of the compressor units, according to the company. Northern Natural has reduced capacity through the station by 100,000 MMBtu per day.



Southern Natural Gas Company on Tuesday, October 27, announced that it had completed testing of operations at its Bear Creek storage facility in northwest Louisiana. As a result, the company has canceled an associated force majeure that had been in place since October 20. The force majeure had limited injections and withdrawals by customers to 64 percent of contract quantities.



CenterPoint Gas Transmission Company on Thursday, October 22, announced that it had completed maintenance on its Line CP from Carthage, Texas, to Perryville, Louisiana. The maintenance reduced capacity to zero for 2 days. CenterPoint accepted supplies on Line CP for transportation on Friday, October 23.



Citing limited operational flexibility, Tennessee Gas Pipeline Company on Tuesday, October 27, said that it will not provide services relating to parking, or the temporary placement of supplies, on its system. Additionally, customers may not add supplies to the system in return for past imbalances, often referred to as payback quantities. These restrictions will be in place until further notice.
See Weekly Natural Gas Storage Report for additional Natural Gas Storage Data.
See Natural Gas Analysis for additional Natural Gas Reports and Articles.
See Short-Term Energy Outlook for additional Natural Gas Prices, Supply, and Demand.