Released: October 22, 2009 at 2:00 P.M.
Next Release: October 29, 2009
Overview (For the Week Ending Wednesday, October 21, 2009)
Since Wednesday, October 14, natural gas spot prices increased at all market locations in the lower 48 States, with price hikes generally ranging between $0.31 and $1.14 per million Btu (MMBtu). Prices at the Henry Hub climbed 98 cents per MMBtu, or about 26 percent, to $4.80 per MMBtu.



At the New York Mercantile Exchange (NYMEX), the futures contract for November delivery at the Henry Hub settled yesterday, October 21, at $5.10 per MMBtu, increasing by 66 cents or about 15 percent during the report week.



Natural gas in storage was a record-setting 3,734 billion cubic feet (Bcf) as of October 16, which is about 13 percent above the 5-year average (2004-2008), following an implied net injection of 18 Bcf during the report week.



The spot price for West Texas Intermediate (WTI) crude oil increased by $5.83 per barrel since Wednesday, October 14, to $81.03 per barrel or $13.97 per MMBtu.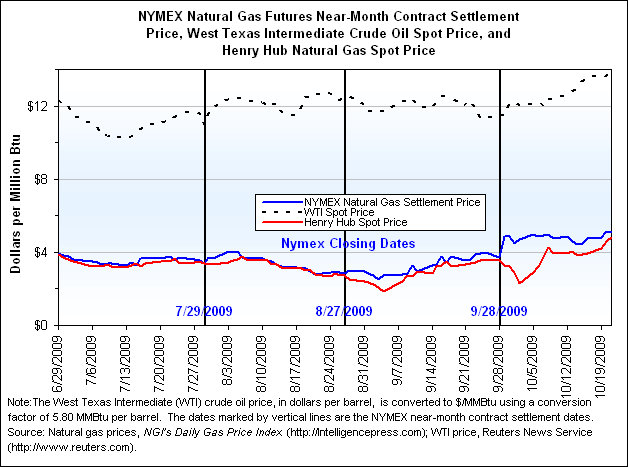 More Summary Data
Prices
Natural gas spot prices rose at market locations across the lower 48 States, with price increases ranging between $0.31 and $1.14 per MMBtu. Factors contributing to the hike in natural gas prices possibly included weather-related demand for natural gas, rising crude oil prices, and continuing injection demand for natural gas to exploit remaining arbitrage opportunities from storing gas. After falling for most of 2009, spot prices at the Henry Hub have been following a general upward trend since the first week of September, climbing from a low of $1.84 per MMBtu on September 4, 2009, to yesterday's level of $4.80 per MMBtu.

Despite the recent price increases, prices for natural gas at the Henry Hub continue to trade at significantly lower levels than last year at this time. At $4.80 per MMBtu in trading on October 21, prices were 29 percent, or $1.96 per MMBtu, below year-ago levels. Natural gas spot prices at Henry Hub have consistently traded below year-earlier levels since October 6, 2008. Nevertheless, the recovery of the Henry Hub spot price over the past several weeks has led to a narrowing of the year-on-year difference in price levels. On September 4, 2009, prices at the Henry Hub traded at a $5.40, or 75 percent, discount to the year-ago price.

At the NYMEX, the prices for natural gas delivery contracts through October 2010 increased by roughly 37 cents per MMBtu, or about 7 percent, during the report week. On the week, the price of the November contract increased 66 cents per MMBtu, or about 15 percent. The other remaining 11 contracts on the 12-month futures strip (November 2009 through October 2010) gained between 30 and 44 cents per MMBtu, or about 5 to 7 percent. Overall, prices for the 12-month futures strip averaged $6.06 per MMBtu as of Wednesday, October 21. Prices for delivery for the 2009-2010 heating season (November 2009 through March 2010) averaged $6.02 per MMBtu.

On October 20, the near-month contract settled at $5.161 per MMBtu, reaching a 9-month high. This marked the first time that the NYMEX futures contract for next month delivery settled above $5 per MMBtu since January 13, 2009. Since settling at $2.508 on September 3, the near-month contract futures contract has more than doubled, gaining $2.59 per MMBtu, or 103 percent over the period.

More Price Data
Storage
Working gas in storage increased to 3,734 Bcf as of Friday, October 16, according to EIA's Weekly Natural Gas Storage Report (see Storage Figure). The implied net injection of 18 Bcf was 53 Bcf, or 75 percent, below last year's net injection of 71 Bcf and 70 percent below the 5-year average (2004-2008) injection of 60 Bcf for the same report week. Cooler-than-normal temperatures possibly contributed to the below-normal rate of injections during the report week. Robust levels of gas in storage also likely contributed to the below-normal injections, as some pipeline companies required their interruptible storage customers to draw down working gas levels as some storage facilities approach capacity. Working gas inventories are 397 Bcf higher than year-ago levels and 432 Bcf above the 5-year average level. Working gas in storage exceeds historical levels by significant margins for this time of year in each of the three regions.

Working gas stocks established record levels in each of the three regions, as well as on a national level. At 3,734 Bcf, working gas in storage set a new record high for natural gas inventories, exceeding the level established last week. On September 15, 2009, natural gas inventories surpassed the previous 15-year high reported on the Weekly Natural Gas Storage Report (WNGSR) of 3,545 Bcf, and the all-time high of 3,565 Bcf reported in the October 2007 Natural Gas Monthly. In addition, new record levels were established in the West and Producing regions during the week ending September 15, exceeding the previous records of 482 Bcf and 1,126 Bcf in the WNGSR, respectively. In each subsequent week since September 15, new records were established in the Producing and West regions as the storage build has progressed. During the report week ending October 16, 2009, the East region matched its previous 15-year high level of 2,041 Bcf established on November 7, 2008, as the West and Producing regions also reached new record levels. This is the first time in the 15-year history of the WNGSR that record-highs were achieved in all three regions during the same report week.

Temperatures were generally cooler than normal in most of the Census Divisions in the lower 48 States during the week ended October 15, 2009. Based on the National Weather Service's degree-day data, temperatures in the lower 48 States during the week were, on average, about 4 degrees cooler than normal and 6 degrees cooler than last year's levels (see Temperature Maps and Data). Temperatures were coolest in the West North Central Census Division, where the average temperature was 41 degrees. In contrast to other Divisions, the New England, South Atlantic, and East South Central Census Divisions reported slightly warmer-than-normal temperatures.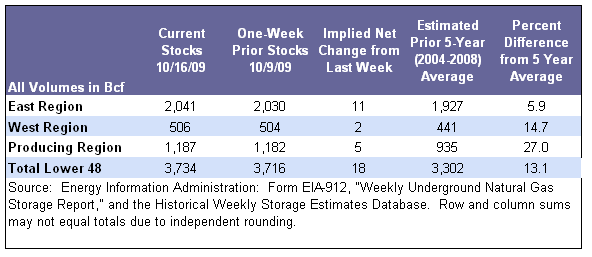 More Storage Data
Other Market Trends
EIA Finds Obstacles to Economic Development of Arctic Oil and Gas Resources. According to the EIA article entitled, Arctic Oil and Natural Gas Potential, released on October 19, Arctic oil and natural gas resources will be considerably more risky and time-consuming to develop than comparable deposits found elsewhere in the world. The Northern Hemisphere region (Arctic), located north of the Arctic Circle, could hold about 22 percent of the world's undiscovered, technically recoverable, conventional oil and gas resources, based on the US Geological Survey (USGS) estimate. The article discusses obstacles to Arctic oil and natural gas production, including cost, political conflict, and environmental impact. Cost issues pertain to transportation and resource development. The Arctic resource base is largely composed of natural gas and natural gas liquids, which are significantly more expensive to transport over long distances than oil. Political obstacles may also contribute to high costs. Denmark, Canada, Norway, Russia, and the United States have unresolved, overlapping economic sovereignty claims in Arctic waters, which could preclude or delay the development of oil and natural gas resources there. Lastly, the environmental impact of oil and natural gas resource development in the Arctic may threaten animal and plant species unique to the region. The preservation of the Arctic environment will also contribute to high costs. The article concludes that these obstacles diminish the economic incentive to develop Arctic oil and natural gas resources.

NOAA Report Finds El Niño Will Help Steer U.S. Winter Weather. According to the National Oceanic and Atmospheric Administration's (NOAA) 2009 Winter Outlook, El Niño in the central and eastern equatorial Pacific Ocean will greatly influence U.S. weather this winter. The report, which NOAA released October 15, forecast that temperatures across much of the western and central United States will be warmer than normal, especially in States from Montana to Wisconsin. On the other hand, cooler-than-normal temperatures are expected in Mid-Atlantic and Southeastern States. NOAA also predicted that Texas, Florida, and other southern border States will experience a wetter winter than normal. Additionally, NOAA noted that tornado records suggest the probability of tornado activity could increase this winter in the Gulf Coast region. Conditions are expected to be drier than normal in the Pacific Northwest and the Ohio and Tennessee River Valleys. The Northeast, which El Niño does not typically affect, has equal chances for above-, near-, or below-normal temperatures, according to NOAA. More information about NOAA's Winter Outlook can be found at: http://www.noaanews.noaa.gov/stories2009/20091015_winteroutlook.html
Natural Gas Transportation Update
As a result of maintenance on its system, CenterPoint Energy, Inc. reduced the capacity of Line CP, which runs from Carthage, Texas, to Perryville, Louisiana, from 1.45 Bcf per day to zero as of Tuesday, October 20. The capacity reduction is expected to last 3 days. However despite the outage, CenterPoint reported that secondary deliveries and secondary receipts will continue to be scheduled subject to capacity availability. According to Bentek Energy, production in the Haynesville shale decreased as a result of the capacity reduction.



Natural Gas Pipeline Company of America announced last week that it will isolate the Ozark lateral to install a new valve and flow computer at the Ozark White interconnection in Arkansas. The work is expected to occur and be completed on Tuesday, October 27, when the location will be completely shut in.



Young Gas Storage Company in Colorado announced a test of its facility's reservoir integrity on November 3-10, 2009. During the test, no injections or withdrawals will be allowed, which is expected to affect two of the operator's affiliates, Colorado Interstate Gas and Public Service Company of Colorado.



Rockies Express Pipeline (REX) reported that it has received approval from the Department of Transportation's Pipeline and Hazardous Materials Safety Administration to begin operating part of REX-East at 80 percent of its design capacity on October 20, raising capacity on the segment between Audrain County, Missouri, and the Hamilton compressor station in Ohio from 1.6 million decatherms (Dth) per day to 1.8 million Dth per day. In addition, REX began service on October 19 at the Citizens Gas utility interconnect in Indiana, with a capacity of 140,000 Dth per day.



Northern Natural Gas Company issued a force majeure on October 20 for its Matagorda Offshore Pipeline System (MOPS) as a result of an unexpected mechanical failure to its dehydration system near Tivoli, Texas. Crews are assessing the extent of the damage and MOPS will remain shut down until further notice, affecting 18 receipt points and 7 delivery points. This may affect up to 50 million cubic feet per day of production, according to Bentek Energy data.
See Weekly Natural Gas Storage Report for additional Natural Gas Storage Data.
See Natural Gas Analysis for additional Natural Gas Reports and Articles.
See Short-Term Energy Outlook for additional Natural Gas Prices, Supply, and Demand.