Released: October 8, 2009 at 2:00 P.M.
Next Release: October 15, 2009
Overview (For the Week Ending Wednesday, October 7, 2009)
Since last Wednesday, September 30, natural gas prices rose across the board, with increases ranging between 37 cents and $1.32 per million Btu (MMBtu).



Natural gas prices oscillated by large amounts at most market locations across the United States. The Henry Hub began the report week at $3.24 per MMBtu, fell to $2.32 on October 2, and ended trading yesterday at $3.70 per MMBtu.



At the New York Mercantile Exchange (NYMEX), the near-month contract for November ended the week at $4.904 per MMBtu, a slight increase from the previous week's value of $4.841 per MMBtu.



Natural gas in storage rose to 3,658 billion cubic feet (Bcf) as of October 2, following an implied net injection of 69 Bcf.



The spot price for the West Texas Intermediate (WTI) crude oil contract decreased to $69.60 per barrel, or $12.00 per MMBtu.



The natural gas rotary rig count rose by 2 to 712, its highest level since May 2009, according to data Baker Hughes Incorporated released on October 2.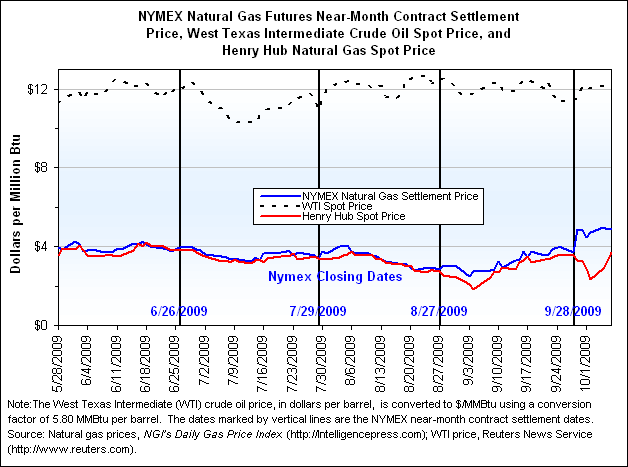 More Summary Data
Prices
Prices at most market locations fell significantly during intraweek trading, before rebounding at the end of the report week. The natural gas spot price at the Henry Hub began the week at $3.24 per MMBtu, settled at $2.32 per MMBtu on Friday, and ended the report week at $3.70 per MMBtu. At many market locations, prices fell by more than a dollar between Wednesday, September 30, and Friday, October 2. However, prices rebounded between Monday and Wednesday, with some gains exceeding intraweek losses. All spot prices made significant gains during the 3 trading days following Friday.

The presence of colder weather helped support natural gas prices, as heating demand rose with cooler-than-normal temperatures in many areas of the country. Cooler temperatures were notable in the Rocky Mountain Region, where in some areas the mean temperature on Monday, October 5, was in the 30s. Many pricing points across the United States ended the week above $4 per MMBtu. Most pricing points in the Northeast and Midwest ended the report week above $4 per MMBtu. Three pricing points in the Rocky Mountains, where prices are often the lowest in the country, also posted prices above $4. The pricing points—Northwest Sumas, Kingsgate, and Stanfield—had not settled above $4 since late winter of 2009. In addition to increased demand, pipeline capacity constraints also contributed to the rally in the spot markets at the end of the week.

Despite rebounds, Henry Hub prices are significantly lower than their levels 1 year ago. Yesterday's price of $3.70 per MMBtu is $3.04 or 45 percent lower than the price recorded on October 7, 2008, $6.74 per MMBtu. Factors contributing to this price reduction include near-record storage levels and a weakened economy. Additionally, the price of the WTI crude oil contract has dropped from year-ago levels. At $69.60 per barrel yesterday, the contract is about 23 percent lower than the October 7, 2008 price of $90.18 per barrel.

At the NYMEX, futures prices were somewhat volatile during the week, but ended the week with only a modest increase. The near-month contract ended the reference week at $4.904 per MMBtu, increasing only six cents from last Wednesday's price of $4.841 per MMBtu. The weakness in the near-month contract relative to spot prices likely reflects robust storage inventories and expectations of a milder winter. The National Oceanic and Atmospheric Administration (NOAA) predicted that the upcoming winter would be 1 percent warmer than both last winter and the 30-year average (see Other Market Trends). The average of contracts for winter heating months (November through March) increased slightly, from $5.682 to $5.712. The 12-month strip (November 2009 through October 2010) also increased slightly, from $5.932 to $5.945 per MMBtu. Contracts through July 2010 gained small amounts, while the August, September, and October 2010 contracts all fell by less than 1 cent.

More Price Data
Storage
Working natural gas inventories set a new record, increasing to 3,658 Bcf as of October 2, 2009, following an implied net injection of 69 Bcf, according to EIA's Weekly Natural Gas Storage Report (see Storage Figure). Inventories are 14.9 percent higher than levels 1 year ago and 15.1 percent higher than the 5-year (2004-2008) average. The injection of 69 Bcf fell short of last year's injection of 87 Bcf and the 5-year average injection of 70 Bcf. Overall inventories last week exceed the all-time high of 3,565 Bcf reported for the end of October 2007. Inventories in the West and Producing regions are also at record levels, with working gas in storage in the East Region totaling 1,992 Bcf. East Region stocks are only 49 Bcf lower than the previous 15-year high of 2,041 reached in November 2008, according to EIA's weekly storage data. EIA's Short-Term Energy Outlook projects that inventories in the East Region will reach 2,088 at the end of October, which is the end of the injection season.

Temperatures during the week ended October 1 were slightly warmer than normal, but cooler than last year's levels. Temperatures roughly coinciding with the storage report across the United States averaged 64.3 degrees, which is 1 degree warmer than normal and 2.4 degrees cooler than temperatures last year(see Temperature Maps and Data) . The East North Central recorded the coldest temperatures during the week, averaging 57.7 degrees, which is 0.7 degrees colder than normal and 4.3 degrees colder than last year.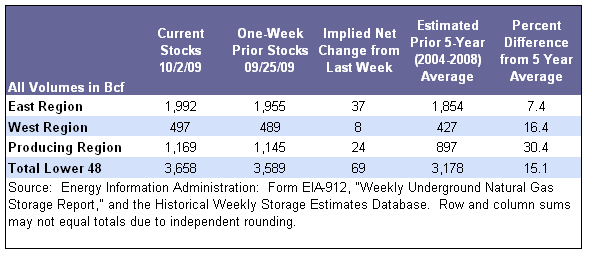 More Storage Data
Other Market Trends
EIA Releases the October 2009 Short-Term Energy Outlook. EIA released its latest Short-Term Energy Outlook (STEO) on September 9. Total natural gas consumption is expected to decrease by 2 percent in 2009 and by 0.2 percent in 2010. Weak economic conditions are driving expectations of lower consumption in all sectors in 2009, although consumption is expected to rebound somewhat in 2010. Marketed natural gas production is projected to increase by 1.5 percent in 2009 and decline in 2010 by 3.8 percent. As of the end of July 2009, marketed natural gas production increased by 2.9 percent this year compared with the same time in 2008. Liquefied natural gas (LNG) imports are expected to increase to about 471 Bcf by the end of 2009. That is 119 Bcf higher than last year's level. The spot price of natural gas at the Henry Hub averaged $3.06 per thousand cubic feet (Mcf) in September, which is $0.17 per Mcf lower than the average spot price in August. EIA expects prices at the Henry Hub to average $3.85 per Mcf in 2009 and expects $5.02 per Mcf in 2010. In addition to supply, disposition, and price projections, this month's issue includes three special reports: Winter Fuels Outlook (see below), Energy Price Volatility and Forecast Uncertainty, and Understanding the Decline in CO2 Emissions in 2009. The supplement on price volatility describes how markets price risk and how the market-clearing process for risk transfer can be used to generate "price bands" around observed futures prices for crude oil, natural gas, and other commodities. Beginning with the October 2009 STEO, EIA will include a measure of volatility in each of its editions.

EIA Releases Winter Fuels Outlook. Homes heated primarily with natural gas will spend an average of $105, or 12 percent less, this winter, according to EIA's Winter Fuel Outlook, released on October 6. EIA noted that individual households' fuel expenses this winter (October 1 to March 31) will vary as a result of local weather conditions, market sizes, efficiency of homes, and thermostat settings. The decline in expenditures represents an 11-percent drop in prices and a 1-percent decline in consumption. EIA noted that the NOAA expects this winter to be 1-percent warmer than both last winter and the 30-year average. EIA projected that natural gas bills in the Midwest would decline the most, as a result of a forecasted 4-percent decline in consumption and an 11-percent decline in price. In the Midwest, 72 percent of households use natural gas as their primary heating fuel, and the region is expected to be 4-percent warmer than the 30-year average. EIA noted that volumes of working gas in storage are projected to be at an all-time high of 3,849 Bcf heading into the winter. Robust storage volumes are likely to depress natural gas prices.

Natural Gas Rig Count Rises to 712. Rotary rigs are now at their highest level since May 15, 2009, according to data Baker Hughes Incorporated released. Natural gas rotary rigs rose by 2 to 712 as of October 2, 2009. Natural gas rig counts have generally been rising since the end of July. However, the current rig count remains 51 percent below the level at the beginning of 2009, and 54 percent below the year-ago level. Horizontal drilling rigs also rose by 2 during the week to 444, their highest level since March 6, 2009. Although the horizontal rig count displays a generally upward pattern, this count is currently 21 percent lower than at the beginning of the year. Vertical rigs rebounded significantly this week, rising by 15 to 396, following 3 weeks of declines. In general, the natural gas rotary rig count lags the Henry Hub price by 6 weeks or more. The price of natural gas at the Henry Hub has fallen in recent months, to an average of $2.97 per MMBtu in September, possibly signaling an upcoming decline in the natural gas rotary rig count.
Natural Gas Transportation Update
Growing levels of supply in underground storage fields are reducing pipeline companies' operational flexibility to handle imbalances on their systems. For example, citing high working gas inventory levels (equaling about 97 percent of capacity), Southern Natural Gas Company on October 3 implemented an operational flow order (OFO) requiring shippers to balance nominations into and out of its pipeline system in the Southeast. The OFO, which provides notice to shippers of penalties for violations of tariff requirements, will remain in effect until further notice.



Several times in the last month, including as recently as last weekend (October 3-4), Texas Eastern Transmission and Algonquin Gas Transmission, both subsidiaries of Spectra Energy Corp., have reported to shippers that they have limited operational flexibility to manage imbalances. As a result, the pipeline companies have not been allowing nominations that add supplies to their systems in place of past imbalances, nor the creation of new imbalances. A third Spectra Energy subsidiary, Maritimes & Northeast U.S. Pipeline on Tuesday October 6, reported to shippers that the pipeline is scheduled to capacity for that Wednesday. As a result, the pipeline will not allow delivery point operators to flow less than scheduled quantities, regardless of their cumulative imbalance position, effective immediately.



Columbia Gas Transmission LLC this week provided evidence of continued high levels of injections, despite the already-high levels of storage. The pipeline deemed the gas day on October 7 a "critical day" for storage. Based on storage injection capacity and forecasted firm storage injection requirements, Columbia projected that all available storage injection capacity will be required to meet firm service obligations. The pipeline will not accept nominations for interruptible storage injections or other lower-priority services.



While the more moderate temperatures of autumn have now spread across much of the country, Florida this week continued to experience temperatures in the 90s. Citing high capacity-utilization levels, Florida Gas Transmission Company notified its customers of restrictions and penalties for takes from the pipeline exceeding 15 percent of contract quantities.



Sea Robin Pipeline Company LLC, said it would limit transportation services available on its Gulf of Mexico pipeline while a processing plant on its system closes for maintenance. The Hess Corp.-operated processing plant was shut in Friday, October 2, until further notice. Sea Robin on Friday reduced nominations by approximately 60 percent.
See Weekly Natural Gas Storage Report for additional Natural Gas Storage Data.
See Natural Gas Analysis for additional Natural Gas Reports and Articles.
See Short-Term Energy Outlook for additional Natural Gas Prices, Supply, and Demand.