Released: September 3, 2009 at 2:00 P.M.
Next Release: September 10, 2009
Overview (For the Week Ending Wednesday, September 2, 2009)
Natural gas prices posted significant decreases at both the spot and futures markets since last Wednesday. Spot prices fell at all market locations in the lower 48 States, with decreases ranging between 7 and 68 cents per million Btu (MMBtu). The price at the Henry Hub spot market fell to $2.25 per MMBtu, decreasing by 51 cents or 18 percent. As of yesterday, the price of natural gas at the Henry Hub was the lowest since February 15, 2002, when natural gas at this location traded at $2.18 per MMBtu.



At the New York Mercantile Exchange (NYMEX), the natural gas futures contract for October delivery decreased by 58 cents to $2.715 per MMBtu. The September futures contract expired on August 27 at $2.843 per MMBtu, falling 90 cents or about 24 percent since becoming the near-month contract.



As of Friday, August 28, working gas in underground storage rose to 3,323 billion cubic feet (Bcf), with inventories exceeding the 5-year (2004-2008) average for this time of year by about 18 percent. Inventories are on pace to exceed the all-time high level of 3,565 recorded at the end of October 2007.



The price of the West Texas Intermediate (WTI) crude oil contract declined by $3.35 per barrel on the week to $68.03 per barrel or $11.73 per MMBtu.



The National Hurricane Center upgraded the status of the latest tropical depression on Monday, Tropical Storm Erika. However, the storm's currently projected path indicates a very small chance that natural gas production in the Gulf of Mexico will be affected by this storm.



The number of natural gas rigs drilling in the United States increased by 4 to 699 rigs for the week ended August 28, 2009, according to Baker Hughes, Incorporated. Despite this modest increase, the latest report marks the sixth consecutive week the rig count has increased.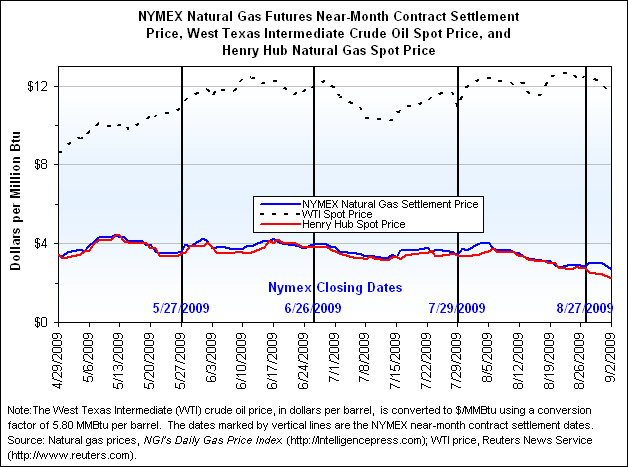 More Summary Data
Prices
Natural gas spot prices decreased on the week at all market locations, with declines of up to $0.68 per MMBtu. Dampened cooling demand in the northern parts of the lower 48 States, robust supplies of natural gas, and falling crude oil prices contributed to decreases in natural gas spot prices. Economic factors also likely affected natural gas spot prices. Equity markets experienced losses during the last 5 trading days, with the Dow Jones Industrial Average falling 262 points and the S&P 500 Index losing more than 33 points. In addition, the U.S. Department of Labor reported higher-than-expected number of new jobless claims at 570,000.

Northeastern markets, which have been experiencing low cooling demand for this time of year, registered the largest price drops since last Wednesday. Dampened demand resulting from Tropical Storm Danny last week and a new high-pressure system blanketing the area since the beginning of this calendar week contributed to falling prices at locations serving this market. Dominion Pipeline's delivery point into the northern areas of the South Atlantic Census Division registered a 65-cent price drop since last Wednesday, falling 22 percent to $2.34 per MMBtu. At the same time, Transcontinental Pipeline's Zones 5 and 6, which serve Virginia, the Carolinas, and Georgia, both fell 62 cents per MMBtu.

Robust price declines also occurred in the markets along the Gulf of Mexico coast, including a few delivery points off the Transcontinental Pipeline in the area. Transcontinental's Stations 65 and 45, which serve markets in Texas and Louisiana, decreased by 57 cents and 56 cents per MMBtu, respectively, or about 20 percent. As of yesterday, these two points traded at $2.23 per MMBtu. The Henry Hub location in Erath, Louisiana, decreased on the week by 51 cents or about 18 percent to $2.25 per MMBtu. Trading locations serving western markets of the country generally registered the lowest price declines this week, including Pacific Gas and Electric Citygate price decline of 7 cents or 2 percent. Similarly, the price at the Malin location in northern California fell by 11 cents or about 4 percent. Overall in the lower 48 States, spot prices averaged $2.29 per MMBtu, with most of the points trading between $2.10 and $2.25 per MMBtu. As of yesterday, only nine trading locations traded above $2.50 per MMBtu, the vast majority of them delivering natural gas to the western markets.

At the NYMEX, the price of the October 2009 contract fell by 57.9 cents since last Wednesday to $2.715 per MMBtu. The October 2009 contract began its tenure as the near-month contract on August 28, posting a price decrease in each of the trading sessions. Similar, although significantly different in magnitude to the October contract, futures contracts for delivery during the upcoming heating season (November 2009-March 2010) fell by an average of 41.2 cents or 8 percent per MMBtu. In yesterday's session, the heating season strip traded at $4.717 per MMBtu, with the February and March 2010 contracts trading at $5.030 and $5.027 per MMBtu, respectively. As of yesterday, the heating season strip traded at a premium of about $2.50 per MMBtu, a price differential of a magnitude that continues to provide suppliers with an economic incentive to inject natural gas into storage.

The September 2009 contract expired on August 27 with a final price of $2.843 per MMBtu, falling to the lowest near-month expiry price in more than 7 years. During its tenure as the near-month, the contract lost 90 cents or 24 percent per MMBtu. However, intramonth trading of the contract showed significant volatility, as the contract traded between a high of $4.042 (August 5) and the low price of $2.804 (August 21) per MMBtu.

More Price Data
Storage
Working gas in storage increased to 3,323 Bcf as of Friday, August 28, according to EIA's Weekly Natural Gas Storage Report (see Storage Figure). The implied net injection of 65 Bcf was 1.6 percent above the 5-year average (2004-2008) net injection of 64 Bcf, but about 29 percent below last year's net injection of 92 Bcf for the same report week. Current levels of working gas in storage remain significantly above both the historical levels, with current stocks exceeding the 5-year average by 17.8 percent and last year's levels by 17.3 percent. The latest report indicates that the volumes of natural gas in storage continue to outpace historical levels. With 9 weeks remaining in the current injection season, current working gas in storage is only 242 Bcf shy of the all-time high of 3,565 Bcf reached at the end of October 2007. At 3,323 Bcf, current storage is only 76 Bcf lower than the available gas in storage at the beginning of last year's heating season.

Warmer-than-normal temperatures in most of the Census Divisions in the lower 48 States during the week had little effect on storage injections. According to the degree-day data provided by the National Weather Service, average temperatures in the lower 48 States during the report week, which roughly coincides with the storage report week, were less than one degree higher than normal; however, some of the Census Divisions recorded significant deviations from normal temperatures (see Temperature Maps and Data). Temperatures in New England and Middle Atlantic were on average six and three degrees higher than normal, respectively. Areas that rely heavily on natural gas for space cooling, such as the West South Central and South Atlantic Census Divisions, recorded average temperatures of 82 and 79 degrees, respectively, which were slightly above normal for this time of year.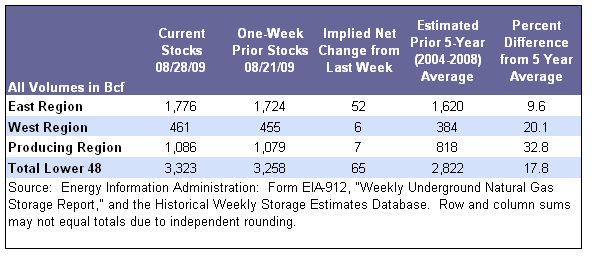 More Storage Data
Other Market Trends
EIA Releases an Update to a Report on U.S. Peak Storage Capacity. The Energy Information Administration (EIA) has released a report entitled Estimates of Peak Underground Working Gas Storage Capacity in the United States, 2009 Update which provides national and regional updates to estimates of total natural gas storage capacity as of April 2009. This report includes two measures of aggregate capacity: demonstrated peak working gas storage capacity and working gas design capacity. According to the report, demonstrated peak working gas storage capacity as of April 2009 was 3,889 Bcf, an increase of 100 Bcf since April 2008 and equivalent to 90.2 percent of aggregate working gas design capacity. Working gas design capacity as of April 2009 was 4,313 Bcf, an increase of 177 Bcf since April 2008. Regional demonstrated peak working gas capacity values range from 490 Bcf in the West Region to 2,153 Bcf in the East Region. In the West Region, demonstrated peak storage capacity is only 73.3 percent of working gas design capacity, reflecting several still-active fields that have experienced a shift in their primary role from seasonal storage to other functions, such as pipeline load balancing, and fields that are being drawn down to be taken out of service.

EIA Releases Natural Gas Monthly Updated with June 2009 Data. The Energy Information Administration (EIA) on August 27 released the newest version of the Natural Gas Monthly, which reflects data through June 2009, or the first two quarters of the year. The data indicate that marketed production of natural gas increased since the previous year despite falling natural gas prices and a weakened economy. June 2009 U.S. natural gas production totaled 1,815.3 Bcf (or 60.5 Bcf per day), compared with 1,787.8 Bcf (or 59.6 Bcf per day) in the same month last year. Aggregate marketed production during the first two quarters of 2009 totaled 10,968.5 Bcf, about 3 percent greater than the first two quarters of 2008. Regional and State-level production data suggest this increase is attributable to unconventional sources of natural gas. In States with unconventional sources of natural gas, including Wyoming, Louisiana, Texas, and Oklahoma, aggregate marketed production for the first half of 2009 exceeded totals for the first half of 2008, by 6.4 percent, 4.9 percent, 4.7 percent, and 1.2 percent, respectively. June 2009 production in Louisiana was more than 9 percent greater than the same month the previous year, and Wyoming production was about 3.5 percent greater in June 2009 than in the same month the previous year. On the other hand, production in the offshore Federal Gulf of Mexico has declined, likely indicating a drop in conventional production. Gulf of Mexico production in the first two quarters of 2009 was 131.3 Bcf or about 10 percent less compared with the same period in 2008.

FERC Requests Comments on Notice of Proposed Rulemaking. The Federal Energy Regulatory Commission (FERC) posted a notice on August 26 in the Federal Register soliciting comments on a Notice of Proposed Rulemaking issued July 16. This notice proposed standardized electronic information collection from pipelines under its jurisdiction. The proposal would revise contract reporting requirements for intrastate pipelines providing interstate service and Hinshaw pipelines providing interstate service. The pipelines would be required to report specific information quarterly, including identification of shippers, type of service performed, rates charged, receipt and delivery points, duration of contracts, volumes transported, and revenues received. Comments are due by November 2, 2009.
Natural Gas Transportation Update
Interstate pipelines continue to restrict services, as increasing underground storage inventories test system capacity this fall. Citing high storage injection activity, ANR Pipeline Company said interruptible rate storage customers must reduce their remaining inventories to zero by October 15. The pipeline advised customers that daily operating conditions and firm service obligations will determine the daily level of interruptible storage activity allowed in the meantime. The ANR notice follows storage-related restrictions by Columbia Gas Transmission and Tennessee Gas Pipeline Company the prior week.



Transwestern Pipeline Company completed maintenance at its Crawford Compressor Station in Carson County, New Mexico, this week. Repairs to the station were performed between August 30 and September 2, during which time capacity through the station was reduced from 60 million cubic feet (MMcf) per day to 33 MMcf per day.



El Paso Natural Gas Company on August 30 said it would have to take a portion of its pipeline out of service immediately because of damage to the pipeline from a third-party working in its right-of-way in Arizona. Following the incident, El Paso promptly isolated its Line 1100 and Line 1103, both of which are located west of Willcox, Arizona. On Monday, the company said that its personnel had returned a section of Line 1103 downstream of Willcox to service, but the section of Line 1100 downstream of Willcox will remain out of service for repairs. Supply on Line 1100 will be switched to 1103 until further notice.



ANR Pipeline on Wednesday, September 2, said maintenance at its Transok Compressor Station in Custer City, Oklahoma, has been completed. All associated restrictions on the pipeline have been lifted.
See Weekly Natural Gas Storage Report for additional Natural Gas Storage Data.
See Natural Gas Analysis for additional Natural Gas Reports and Articles.
See Short-Term Energy Outlook for additional Natural Gas Prices, Supply, and Demand.