Released: June 25, 2009
Next Release: July 2, 2009
Overview (For the Week Ending Wednesday, June 24, 2009)
Natural gas spot prices generally declined this report week (June 17-24), with the largest decreases generally occurring in the western half of the country. During the report week, the Henry Hub spot price decreased by $0.19 per million Btu (MMBtu) to $3.80.



At the New York Mercantile Exchange (NYMEX), futures prices for natural gas decreased as prices for most energy products fell amid concerns over the economy. The natural gas futures contract for July delivery decreased by 49 cents per MMBtu on the week to $3.761.



Working gas in underground storage as of last Friday, June 19, is estimated to have been 2,651 billion cubic feet (Bcf), which is 22.2 percent above the 5-year (2004-2008) average. During the week ending June 19, the implied net injections of natural gas into underground storage totaled 94 Bcf.



The price of crude oil decreased by more than 4 percent during the report week. The West Texas Intermediate (WTI) average price yesterday was $68.14 per barrel, or $11.75 per MMBtu.



Deliveries of liquefied natural gas (LNG) imports continue to exceed last year's levels, but remain below the record high levels experienced in 2007. Through the first 3 weeks of June, average send-out from terminals was about 1.2 Bcf per day, compared with about 0.9 Bcf per day for the month of June last year.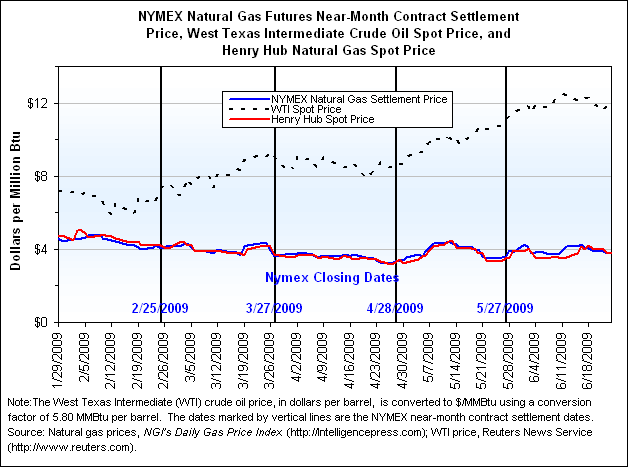 More Summary Data
Prices
Almost on cue with the official start of summer this week, temperatures in the southern and middle parts of the country soared, likely boosting air-conditioning demand. Although cooling demand represents a major consumption segment in the natural gas industry, in the past week higher demand from electric generation companies seems to have only limited declines in prices. Concerns over the state of the economy and ample supplies continued to dominate the pricing environment. With the exception of the Midcontinent and Florida, price declines were recorded in all market regions in the lower 48 States. In fact, many spot prices are trading near 6-year lows, with most market prices below $4. During the week, the Henry Hub spot price declined by $0.19 per MMBtu, or 4.8 percent. On a regional basis, spot markets along the Gulf Coast in Louisiana and east Texas registered average price decreases on the week of $0.20 and $0.13 per MMBtu, respectively. Average regional prices yesterday were $3.79 in Louisiana and $3.71 in east Texas.

Factors on both sides of the marketplace have contributed to price declines over the past year. Despite a recent upward movement in spot prices, the overall trend has been downward since mid-2008. The severe reduction in natural gas prices may be related to continued strength in domestic production, specifically related to supplies from gas shale fields such as the Barnett Shale in Northeast Texas and the Haynesville Shale in Louisiana. Furthermore, the decline in economic activity has reduced demand in the industrial sector, as demonstrated by a 5.5 percent decline in the country's gross domestic product, according to a June 25 release by the Commerce Department. Natural gas producers have responded with drastic cutbacks in drilling activity, with the number of rigs drilling for natural gas falling from 1,267 at the start of the year to 692 as of Friday, June 19, according to Baker Hughes Incorporated data (see Other Market Trends below). The combined impact of these influences on the recent natural gas supply and demand balances has resulted in an inordinately high amount of natural gas in storage for this time of year.

Prices in the Rockies and West Coast, already among the lowest of the regional markets in the lower 48 States, decreased most significantly during the report week. Price decreases averaged $0.23 per MMBtu in California, where a decline in weather-related demand likely resulted from moderate temperatures. At California trading locations, the average price as of June 24 was $3.14 per MMBtu, or 6.7 percent lower than the previous Wednesday. The average decline in the Rockies was 20 cents per MMBtu, or 6.8 percent. The largest price decrease in the region occurred for deliveries off Questar Pipeline in Utah. Yesterday's average price of $2.50 at the Questar trading point was 10.1 percent lower than the beginning of the report week.

In the South, increased weather-related demand likely mitigated price declines. In Texas, where temperatures exceeded 100 degrees Fahrenheit in many areas, price declines were generally less than 5 percent on the week. At the Houston Ship Channel, the average daily price yesterday was $3.78 per MMBtu, a decline of 11 cents or 2.8 percent on the week. Extreme heat in Florida resulted in one of the few price increases on the week occurring for natural gas deliveries in the State. The price of natural gas into Florida averaged $6.42 per MMBtu yesterday, which was $1.30 higher than the previous Wednesday.

The pace of deliveries of liquefied natural gas (LNG) imports in recent weeks has increased over the beginning of this year and in comparison with this time last year. Send-out from U.S. LNG import terminals has averaged 1.2 Bcf per day through June 21, compared with 1.0 Bcf per day in the first quarter of 2009 and 0.9 Bcf per day in June 2008, according to Tudor, Pickering, Holt & Co. Securities, Inc., which collects sendout data from U.S.-based import terminals. Deliveries have not increased to levels recorded in 2007, when the United States received a record-high volume of 771 Bcf for the year. U.S. imports of LNG are projected to increase by 40 percent from the level last year to about 500 Bcf in 2009, according to EIA's Short-Term Energy Outlook (June 2009).



At the NYMEX, the price of the contract for July delivery decreased by more than 49 cents per MMBtu, ending trading for this report week at $3.761. The decline likely resulted from a perception of strong supplies indicated by continued high production levels and natural gas in underground storage at all-time record levels, as well as lower prices for competing energy products (as represented by the decline in crude oil prices). The July contract is priced 22 cents per MMBtu higher than the final price of the June 2009 contract. However, the difference in price compared with the July contract from the previous 2 years is stark. The July 2008 contract expired at $13.105 per MMBtu, while the July 2007 contract expired at $6.929.

While the price of NYMEX contracts for delivery through October 2009 experienced similar decreases of close to 50 cents per MMBtu on the week, prices for next winter declined by an average of about 46 cents. As of yesterday, the 12-month strip, which is the average for natural gas futures contracts over the next year, was priced at $5.11 per MMBtu, a decrease of about $0.47, or 8.3 percent, since last Wednesday.

More Price Data
Storage
Working natural gas in storage totaled 2,651 Bcf as of Friday, June 19, 2009, according to EIA's Weekly Natural Gas Storage Report (see Storage Figure). The implied net injection during the report week was 94 Bcf, which is a considerably higher net injection than the 5-year (2004-2008) average of 84 Bcf and last year's average of 85 Bcf. As a result, the current level of natural gas in underground storage increased to 482 Bcf more than the 5-year average for this time of year and 631 Bcf more than the level last year. In every week to date in the injection season (normally from April 1 to October 31), net injections have exceeded the 5-year average. This year's injections have also exceeded last year's injections in every week of the season, with the exception of the week ending April 17, when in both years the net injection was 21 Bcf.

At 2,651 Bcf, working gas volumes in storage are at an all-time high for June. Inventories already exceed the previous record for the end of the month of 2,615 set in 2006.

Although the report week's net injection is significantly less than the net injection of 114 Bcf in the previous report week, it continues a trend of large additions into underground storage this spring. There has been a strong economic incentive behind the storage activity with a significant differential between current spot prices and prices for NYMEX futures contracts for next winter delivery. For example, the Henry Hub average last Friday, June 19, was $4.04 per MMBtu, while the average price for delivery next winter (November to March) was $5.86 and prices exceeded $6 for some winter month contracts. Reduced demand as a result of the current economic downturn and robust volumes from domestic production also continue to affect storage activity.

Despite high temperatures early this week, temperatures during the report week were significantly more moderate than normal and those of last year, likely limiting demand for natural gas by electric power generators meeting air-conditioning needs. According to degree-day data from the National Weather Service, cooling degree days totaled 6 percent below normal for the country as a whole and 27 percent lower than last year. Temperatures across the country were quite moderate, averaging 70.1 degrees Fahrenheit compared with a normal average of 70.7 degrees (see Temperature Maps and Data).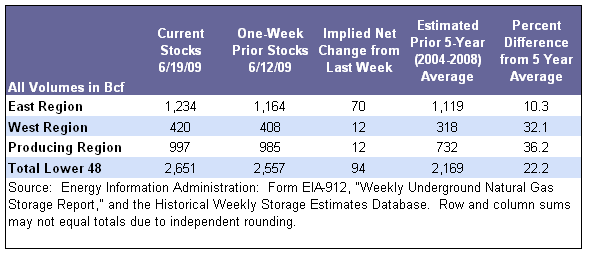 More Storage Data
Other Market Trends
Natural Gas Rotary Rig Count Breaks 29-Week Downward Trend. The U.S. natural gas rotary rig count rose last week to 692, according to data Baker Hughes Incorporated released on June 19. The increase of 7 from the previous week's level of 685 is the first increase following 29 consecutive weeks of declines. However, rigs are still at a historically low level, being at their lowest level since November 22, 2002. The gas rig count has fallen by 57 percent from their highest recorded level of 1,606, reached in late summer 2008. The decline in rigs is likely related to the decline in natural gas prices since summer 2008, as well as the weakened economy. The number of horizontal rigs (both oil and natural gas) has increased over the past 2 weeks, reaching 391 rigs as of this past Friday. Horizontal rigs are used for developing natural gas shale prospects.

Natural Gas Transportation Update

Williams Partners LP reported that the Ignacio gas processing plant in La Plata County, Colorado, has been repaired and returned to service on June 21, 2009. The plant had been shut down as a result of a pipeline rupture on June 3.



Texas Gas Transmission announced on June 23 that it was reducing pressure in its Fayetteville Lateral in Arkansas between the Grandview and Bald Knob locations as a result of anomalies found during a pipeline inspection on June 10. The pressure reduction is expected to continue until the completion of maintenance, pipeline inspection, and investigation activities. As of the time of the posting, the pipeline did not have an anticipated completion date. Firm secondary and interruptible deliveries to Natural Gas Pipeline Company of America, Texas Eastern, and Mississippi River Transmission will not be available during the maintenance period.



Northwest Pipeline announced that it has begun facility modifications on June 24 between the Soda Spring compressor station in Wyoming and Lava Hot Spring compressor station in Idaho, which are expected to continue through Thursday, June 25. As a result of the maintenance, primary firm nomination requests through the Soda Springs compressor station exceeded the available capacity (391,000 decatherm per day), as a result of which Northwest declared a deficiency period. A deficiency period is declared when total nominations at a point exceed actual capacity and the pipeline is unable to schedule otherwise acceptable nominations as a result of maintenance, force majeure, or unavailability of facilities.



Northern Natural Gas has experienced a force majeure on its pipeline. As a result of a line failure, service to the town of Ramsay in Gogebic County, Michigan, has been suspended. The pipeline has commenced repairs on the line and originally expected to have the service restored yesterday, June 24. However, the pipeline did not provide any further information on the status of the repairs.

See Weekly Natural Gas Storage Report for additional Natural Gas Storage Data.
See Natural Gas Analysis for additional Natural Gas Reports and Articles.
See Short-Term Energy Outlook for additional Natural Gas Prices, Supply, and Demand.