Released: June 18, 2009
Next Release: June 25, 2009
Overview (For the Week Ending Wednesday, June 17, 2009)
Natural gas prices increased across the board at both the spot and futures markets. Price jumps at spot market locations in the Lower 48 States ranged up to $1 per million Btu (MMBtu) with an overall average of 53 cents per MMBtu.



During the report week, the price at the Henry Hub spot market rose to $3.99 per MMBtu, increasing by 12 percent since last Wednesday.



At the New York Mercantile Exchange (NYMEX), prices of futures contracts rose this week. The natural gas futures contract for July delivery gained 54.5 cents and ended the report week at $4.253 per MMBtu. Meanwhile, the price for the August 2009 contract rose by 53 cents, settling at $4.424 per MMBtu in yesterday's trading session.



As of Friday, June 12, working gas in underground storage climbed to 2,557 billion cubic feet (Bcf), leaving inventories 22.6 percent above the 5-year (2004-2008) average.



The price of the West Texas Intermediate (WTI) crude oil contract fell by 31 cents per barrel on the week to $71.07 per barrel or $12.25 per MMBtu. However, at $72.69 on June 11, the price of the WTI recorded its highest price since October 20, 2008.



Natural gas rigs drilling in the United States fell last week to 685, falling by 15 rigs compared with the previous week, according to Baker Hughes, Incorporated. Since the beginning of this calendar year, the number of natural gas rigs drilling has fallen by 582 rigs or nearly 46 percent (See Other Market Trends).



Production at the Independence Hub platform flowed at 973 MMcf yesterday, according to Bentek Energy. This level of production almost matched the record high for the Hub of 974 MMcf per day recorded on October 6, 2008.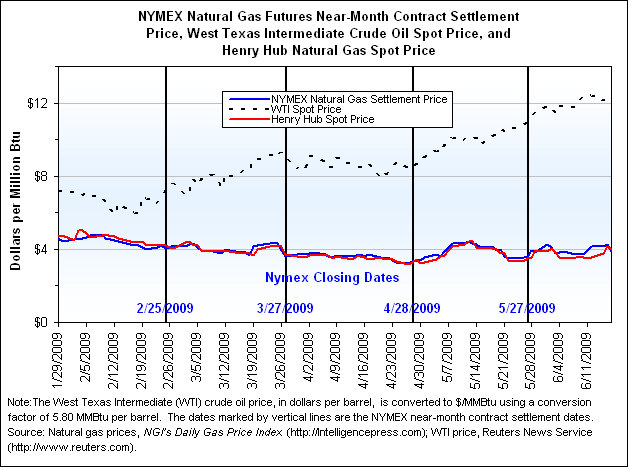 More Summary Data
Prices
Natural gas spot prices increased at all market locations in the Lower 48 States. Moderate weather in some large-consuming areas of the country this week appeared to have little effect on spot prices. In areas of the Lower 48 where moderate temperatures prevailed for the week, such as the Northeast, recorded price increases were up to 51 cents per MMBtu. However, some of the price increases likely occurred in response to space cooling demand, particularly in the desert Southwest, as well as the Southeast, (including Florida, Alabama, Mississippi), and the Gulf of Mexico States of Texas and Louisiana. For example, the Florida citygate price rose by $1 since last Wednesday, ending trading yesterday at $5.12 per MMBtu. The Florida citygate price increase was the highest of all trading locations monitored by this report, and as of yesterday, this location posted the highest price of any location in the Lower 48 States.

Spot prices seem to be demand-driven this week, particularly in the Southern regions of the country. Despite higher natural gas production in the Gulf of Mexico, prices in locations along the Gulf jumped by 43 cents per MMBtu on average this week, likely in response to the high temperatures in neighboring markets. The average price at Louisiana trading locations rose by 44 cents per MMBtu or about 12 percent since last Wednesday, while similar increases occurred in the South and East Texas trading locations. West of the Rocky Mountains, prices rose by an average of 74 cents per MMBtu. However, California trading locations still ended the report week with prices well below $4 per MMBtu. In the Rockies, this week's gains of between 43 and 87 cents failed to push spot prices in this region above $3 per MMBtu.

At the NYMEX, the price of the July 2009 futures contract increased by 54.5 cents in its second full week of trading as the near-month contract, ending trading yesterday at $4.253 per MMBtu. The July 2009 contract rose in three out of this week's five trading sessions, with increases peaking at 33 cents in Monday's trading. Despite the previous report week's decline in the price of the near-month contract, the futures prices for the July contract (and prior to that, the May and June contracts), continued their upward trend that began at the end of April. Still, yesterday's futures price was only about one-third of the July 2008 contract. The August 2009 contract also rose this week, climbing by 52.6 cents or about 13 percent to $4.424 per MMBtu. Since Thursday, June 11, the August 2009 futures contract has remained above $4 per MMBtu.

Prices of contracts for the next heating season (November 2009-March 2010) posted smaller increases than the July and August 2009 contracts, as expectations adjust to ample supplies of natural gas in storage. Furthermore, the potential for possible outages related to hurricanes this season reflects an expectation of fairly low impacts to the industry, particularly as the industry approaches some of the historically most active tropical storm months. According to the EIA, cumulative shut-ins are expected to total 36 Bcf of natural gas in the Federal Waters of the Gulf of Mexico for the 2009 hurricane season (see Other Market Trends), which is well below the 404 Bcf lost to hurricane-induced shut-ins during 2008. The 12-month strip, which is the average for natural gas futures contracts over the next year, was priced at $5.578 per MMBtu, an increase of about $0.35 or 7 percent since last Wednesday. Price increases for the contracts in the strip ranged between 23 and 55 cents per MMBtu.

More Price Data
Storage
Working gas in storage increased to 2,557 Bcf as of Friday, June 12, according to EIA's Weekly Natural Gas Storage Report (see Storage Figure). Natural gas in storage is now 622 Bcf or 32 percent higher than levels 1 year ago and 472 Bcf or 23 percent higher than the 5-year (2004-2008) average. At 2,557 Bcf, working gas stocks are at the third-highest level in June for any year in history. However, with more than 2 weeks left in the month, stocks this year are on pace to break the all-time record of 2,617 recorded at the end of June 2007. Inventories in the East region contribute 46 percent of the total inventory. Stocks in the Producing region are 39 percent of the total after peaking at 45 percent as of April 17, 2009. For most of March through mid-May, Producing region stocks exceeded those in either of the other two regions.

The industry sets a new record with the fifth consecutive week of implied net injections exceeding 100 Bcf. The implied net injection of 114 Bcf exceeded the 5-year average injection of 80 Bcf by 43 percent and nearly doubled last year's injection of 60 Bcf. For the most recent 5 weeks, cumulative net injections total 552 Bcf.

The relatively large additions to storage resulted from weak demand and strong economic incentives. As indicated by the National Weather Service's degree-day data, moderate temperatures continued during the week ending last Thursday. The average temperature was 67 degrees in the United States, which is almost 2 degrees cooler than normal and 7 degrees cooler than last year's level (see Temperature Maps and Data). According to data released by the Edison Electric Institute (EEI), electric output for the week ended June 13 was down more than 14 percent over the corresponding week in 2008. While this estimate includes power from all energy sources, the marginal fuel for power generation is generally natural gas, so the volume impact on gas markets is expected to have been significant. Additionally, economic incentives favor storing natural gas. The average difference between NYMEX contract prices for winter delivery and the Henry Hub spot price during the storage week was the highest yet for any week in the refill season, which began April 1. The average differences during the week for delivery contracts in December 2009 through February 2010 were $2.52 per MMBtu, and $2.34 on average for delivery over the entire winter (November 2009 through March 2010).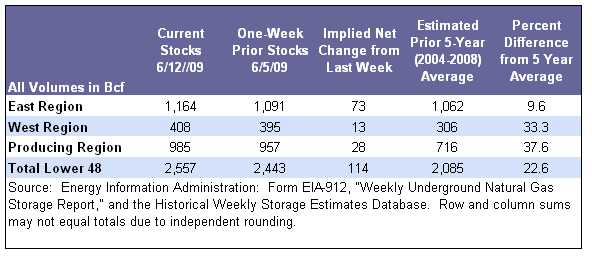 More Storage Data
Other Market Trends
Potential Gas Committee Report Shows Unprecedented Increase in U.S. Natural Gas Resource Estimates. The Colorado School of Mines Potential Gas Committee (PGC) released its biennial report, Potential Supply of Natural Gas in the United States, on Thursday, June 18. According to the PGC, the report indicates that the remaining natural gas resource base is much bigger than previously estimated, with 2,074 trillion cubic feet (Tcf) of natural gas as of the end of 2008. This volume is almost 100 years' supply at current production levels. This total represents an unprecedented increase in the PGC estimate of potential gas resources of about 35 percent compared with the year-end resource base reported for 2006 of 1,532 Tcf. The net reported increase of 542 Tcf since the last report is more than twice as large as the net increase of 202 Tcf reported in the 2006 report. The 2,074 Tcf natural gas resource base includes the 238 Tcf of proved reserves reported at year-end 2007 by the Energy Information Administration.

DOE's Office of Fossil Energy Permits LNG Export. The Office of Fossil Energy (FE) at the U.S. Department of Energy recently granted permission to two liquefied natural gas (LNG) import terminals to export LNG. On May 28, FE gave permission to Freeport LNG to export previously imported LNG from its facility on Quintana Island, Texas. In addition, FE authorized Cheniere Marketing Incorporated to export previously imported LNG from its Sabine Pass terminal in Cameron Parish, Louisiana, on June 8. Both companies were authorized to export LNG on a short-term or spot market basis for 2 years, beginning on the date of authorization. In May, the Federal Energy Regulatory Commission granted the operators of the two facilities permission to modify their facilities to allow for export of LNG.

Recent U.S. LNG Import and Export Data Show Shifting Trends. The Office of Fossil Energy (FE) at the U.S. Department of Energy (DOE) recently released import and export data for liquefied natural gas (LNG) through April 2009. During the month of April, approximately 54.2 billion cubic feet (Bcf) were imported into the United States. April import levels increased roughly 72 percent from March, when 31.6 Bcf were imported, and close to double the levels of January and February. Trinidad and Tobago remains a prime supplier of LNG to the United States. However, the amount of LNG the United States imported from Egypt increased considerably over the first 4 months of this year—from 7 to 20 Bcf. LNG from Egypt was 24 percent of total January LNG imports and 37 percent of total April imports. However, the percentage share of LNG imports from Trinidad has shrunk from 65 percent in January to 37 percent in April. LNG received under long-term contracts (from all countries combined) in April was 33 Bcf, while short-term contracts represent 21.3 Bcf. The vast majority of LNG received during the first 4 months of the year arrived on the East Coast, with imports to Cove Point, Maryland; Elba Island, Georgia; and Everett, Massachusetts, totaling 45.8 Bcf, or about 84 percent of total LNG imports, with the other 16 percent going to terminals along the Gulf coast.

Natural Gas Rotary Rig Count Falls below 700. According to data released by Baker Hughes Incorporated, the natural gas rotary rig count was 685 as of June 12, 2009, a drop of 15 from the previous week. Having fallen 29 consecutive weeks, the natural gas rotary rig count is now at its lowest level since November 22, 2002. Year-to-date, natural gas rotary rigs have fallen 46 percent from 1,267, recorded on January 2, 2009; and 57 percent from the highest recorded level of 1,606, reached in late summer 2008. The decline in rigs is likely related to the decline in natural gas prices since summer 2008, as well as the weakened economy. Vertical rigs have fallen at a much steeper rate than horizontal rigs (the "vertical" and "horizontal" rig data include counts of both oil and natural gas rigs) since they began declining in late November. Vertical rigs have fallen 67 percent from their 2008 peak of 1,017, recorded on August 29. On the other hand, horizontal rigs, which are used for developing gas shale prospects, have fallen 41 percent from their 2008 peak of 650, recorded on October 29. Currently, the number of horizontal rigs is at 381, while vertical is at 331. For the past 4 weeks, the number of horizontal rigs has been higher than vertical. The total number of horizontal rigs surpassed the total number of vertical rigs for the first time in the more than 18 years that data are available on March 27, 2009. This week's increase of nine in the horizontal rig count and modest decreases in recent weeks suggest the decline in horizontal rigs may be ending.
Natural Gas Transportation Update

Transcontinental Gas Pipe Line Company (Transco) on Friday, June 12, said that maintenance work on its mainline downstream of Compression Station 35 near Houston, Texas is complete. Effective for the beginning of gas day Saturday June 13, 2009, Transco began accepting nominations that have receipts upstream of Station 35. Transco continues to repair a section of pipeline near the North Carolina-Virginia border. Interruptible services are not available through this section of the pipeline, which includes Station 170 in Appomattox, Virginia.



As of June 16, the Sea Robin Gas Plant, which Hess Corporation operates, returned to full operations after an extended period of maintenance. As a result, flows on Sea Robin Pipeline Company, which transports natural gas from the Gulf of Mexico to the Sea Robin gas plant in Southern Louisiana, have resumed.



Florida Gas Transmission Company, LLC, on Wednesday, June 17, implemented tighter controls on imbalances on its system as a result of warmer weather moving into its service territory and expected higher demand from electric power plants. The pipeline yesterday declared an Overage Alert Day, limiting negative balances (withdrawal volumes exceeding nominations for supplies) to 25 percent of a shipper's contractual volumes. Temperatures in Florida are expected to exceed 90 degrees today, Thursday, June 18.

See Weekly Natural Gas Storage Report for additional Natural Gas Storage Data.
See Natural Gas Analysis for additional Natural Gas Reports and Articles.
See Short-Term Energy Outlook for additional Natural Gas Prices, Supply, and Demand.