Released: June 11, 2009
Next Release: June 18, 2009
Overview (For the Week Ending Wednesday, June 10, 2009)
Since Wednesday, June 3, natural gas spot prices fell at most market locations in the Lower 48 States, with the Henry Hub spot price falling to $3.56 per million Btu (MMBtu), about a 7 percent decline from the previous Wednesday's level of $3.81 per MMBtu.



At the New York Mercantile Exchange (NYMEX), the price for the July contract fell from $3.766 to $3.708 over the week, about a 2 percent decline. Prices for contracts beyond the near month and August 2009, however, increased.



Natural gas in storage was 2,443 billion cubic feet (Bcf) as of June 5, which is 21.8 percent above the 5-year (2004-2008) average, after an implied net injection of 106 Bcf.



The spot price for West Texas Intermediate crude oil (WTI) continued its recent upward trend, closing at $71.38 per barrel, which represents a $5.24 increase from $66.14 per barrel, recorded on Wednesday, June 3. On an MMBtu basis, oil is now at $12.31 per MMBtu.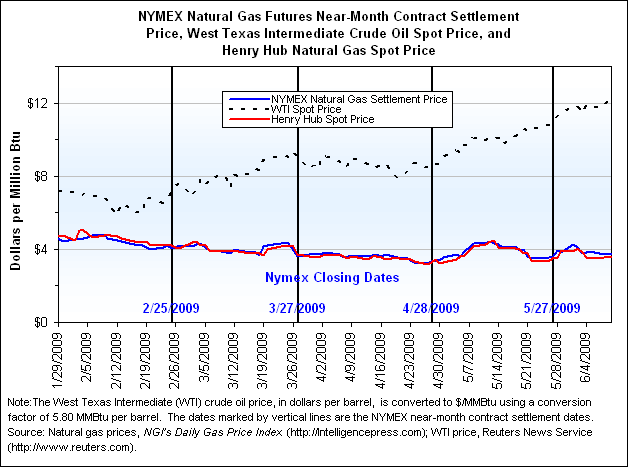 More Summary Data
Prices
Reversing the trend of the previous week, prices fell at almost all market locations, with the Florida Gas Transmission (FGT) Citygate as the sole exception. Temperatures during the report week were generally mild, though warmer than in previous weeks as spring comes to an end. The Pacific Gas and Electric Citygate in California recorded the highest price decline on the week of 50 cents or 15.5 percent, with price declines elsewhere being less. The average price of trading locations in Louisiana fell from $3.77 per MMBtu on June 3 to $3.55 per MMBtu on June 10, about a 6-percent decline. The FGT Citygate was the only trading location posting a gain on the week, rising from $4.04 per MMBtu on June 3 to $4.12 per MMBtu on June 10, about a 2-percent gain. Warm weather in Florida likely led to additional natural gas demand for cooling, contributing to the price increase. The FGT Citygate is also the only location in the Lower 48 States where natural gas prices are above $4 per MMBtu.

Prices remain lowest in the Rockies and Midcontinent areas. The lowest prices in the country are in the Rocky Mountains, with prices at the 12 trading locations in the area averaging $2.34 per MMBtu. Rockies price declines averaged 24 cents, from an average of $2.58 at the beginning of the report week, or about 9 percent. The Midcontinent region displayed similar pricing patterns, declining by 32 cents or 11 percent to $2.58 per MMBtu. Prices in California trading locations experienced the largest drops, with an average decline of 40 cents. Prices at all five trading locations in California fell by 12 percent or more. Northeast prices remain higher than most other trading locations, averaging $3.82 per MMBtu at the end of the report week.

Prices have fallen significantly at all market locations since the beginning of the year. At $3.56 per MMBtu, Henry Hub prices have fallen 34 percent from their level of $5.41 per MMBtu on January 2, 2009. The contrast from a year ago is even more pronounced. On June 10, 2008, the Henry Hub price closed at $12.72 per MMBtu, close to their spike of more than $13 in July 2008. Economic weakness and strong natural gas supply have contributed to the subsequent decline in prices. However, on June 10, 2009, oil prices reached $71.38 per barrel, their highest level since October 20, 2008, when the WTI contract closed at $74.08 (or $12.77 per MMBtu). On that day, the natural gas price closed at $6.98 per MMBtu at the Henry Hub, which is nearly twice the level now. However, the relatively low natural gas prices are expected to rebound eventually as declining rig activity curtails production (see the overview of the EIA's Short-Term Energy Outlook in the Other Market Trends section). The natural gas rotary rig count, as reported by Baker Hughes Incorporated on June 5, fell to 700. This is the 28th consecutive week the rig count has fallen.

NYMEX contracts declined for July and August, but rose for months farther out. On the NYMEX, prices for the July 2009 contract fell from $3.766 per MMBtu to $3.708, about a 2 percent drop. During its tenure as the near-month contract, the July 2009 contract has fallen about 6 percent. On the other hand, the 12-month strip rose from $5.143 per MMBtu at the beginning of the week to $5.23 on June 10. While both the July 2009 and August 2009 contracts posted losses, the remaining 10 months of the 12-month strip all showed gains on the week. The contracts for November and December 2009, and January 2010, all posted gains greater than or equal to 13 cents. The February 2010 contract is priced the highest of contracts in the 12-month strip, at $6.082 per MMBtu. Compared with the Henry Hub price of $3.56, the premium of more than $2.50 provides a strong incentive to inject natural gas into storage.

More Price Data
Storage
Working gas in storage increased to 2,443 Bcf as of Friday, June 5, according to EIA's Weekly Natural Gas Storage Report(see Storage Figure).. Natural gas in storage is now 568 Bcf, or 30.3 percent, higher than levels 1 year ago and 438 Bcf, or 21.8 percent, higher than the 5-year (2004-2008) average. The implied net injection of 106 Bcf exceeds the 5-year average injection of 91 Bcf and last year's injection of 84 Bcf. Inventories in the Producing region make up the majority of the surplus. In the Producing region, stocks are currently 255 Bcf above the 5-year average, which is about 58 percent of the total surplus.

At an estimated 2,367 Bcf, natural gas inventories as of the end of May were at an all-time record high for the month. EIA's June 2009 Short-Term Energy Outlook (STEO) projects inventories of 3,659 Bcf at the end of October 2009, the end of the injection season. This inventory level would set a new record, surpassing the previous record of 3,565 Bcf recorded in October 2007. Roughly 1,300 Bcf of natural gas is needed to reach the new record projected by STEO, which would be about 91 percent of the 5-year average injections over the remaining 5 months of the refill season.

Mild temperatures likely contributed to the strong storage injection during the report week. Weather during the storage report week was very mild. As indicated by the National Weather Service's degree-day data, average temperatures were 66.4 degrees in the United States, which is 0.7 degrees cooler than normal and 0.4 degrees cooler than last year's level (see Temperature Maps and Data).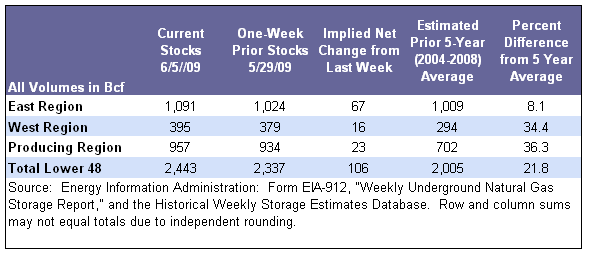 More Storage Data
Other Market Trends
EIA Releases New Maps of Domestic Natural Gas Sources. EIA on June 8 released new summary maps of domestic natural gas sources, including Lower 48 States conventional production onshore and offshore, shale plays, tight gas plays, and coalbed methane fields. Many more oil and gas maps, summary and detailed, are also available.

EIA Releases the June Short-Term Energy Outlook. The Energy Information Administration (EIA) released its latest Short-Term Energy Outlook (STEO) on June 9, which includes a special report titled The 2009 Outlook for Hurricane Production Outages in the Gulf of Mexico (see related article in this section). According to the June STEO, total natural gas consumption is expected to decline by 2.2 percent in 2009 because of the economic downturn, and then increase slightly in 2010. A 2.7-percent increase in electric power sector consumption in 2009 is anticipated, as natural gas prices are expected to decline until the fourth quarter this year. However, an 8-percent decline in industrial consumption in 2009 more than offsets the growth in natural gas use for electric power generation. The economic recovery in 2010 is expected to lead to slight consumption increases in the industrial and commercial sectors. Total U.S. marketed production is expected to decline by 1.1 percent in 2009 and then by 2.6 percent in 2010, because of a drop in natural gas drilling. According to Baker Hughes Incorporated, total working natural gas rigs are now down 56 percent from September 2008. The monthly average Henry Hub natural gas spot price is expected to remain below $4 per thousand cubic feet (Mcf) until late in the year because of abundant natural gas supplies and weak demand. However, the average price at the Henry Hub is expected to increase to $5.49 in 2010, as consumption expands and domestic production declines further. Additionally, based on information from the National Oceanic and Atmospheric Administration (NOAA), EIA estimates expected production shut-ins on the U.S. Gulf Coast during the 2009 hurricane season (June 1 – November 30) at about 36 billion cubic feet of natural gas and 4.5 million barrels of crude oil. Actual shut-ins are likely to differ from this expectation depending on the number, track, and strength of hurricanes as the season moves forward.

EIA Predicts Impacts of Hurricane Season on Natural Gas and Crude Oil Production: In a supplement to the Short-Term Energy Outlook, the Energy Information Administration (EIA) on June 9 estimated disruptions to natural gas and crude oil production during the current hurricane season, based on climate predictions from the National Ocean and Atmospheric Administration (NOAA). EIA predicted that a cumulative total of 4.5 million barrels (bbl) of crude oil and 36 billion cubic feet (Bcf) of natural gas in the Federal Gulf of Mexico would be shut in as a result of expected disruptions during the 2009 hurricane season. EIA performed a Monte Carlo hurricane outage simulation based on data released by NOAA in May. NOAA predicted between 9 and 14 named storms during the hurricane seasons (June 1 through November 30). Of the storms, 4 to 7 will be hurricanes, and 1 to 3 of those will be intense. EIA's simulation indicates a 3 to 4 percent probability of offshore crude oil and natural gas production outages equal to or greater than those of the 2008 hurricane season, when Hurricanes Gustav and Ike shut in production of more than 60 million bbl of crude oil and 335 Bcf of natural gas. EIA also estimated that the likelihood of shut-in production greater than 0 is about 95 percent.
Natural Gas Transportation Update

On Wednesday, June 10, Williams Partners LP said it expects to complete repair work at its Ignacio Processing Plant in Durango, Colorado, early next week. A ruptured pipeline at the plant on June 3 required routing approximately 250 million cubic feet (MMcf) per day to other facilities in the San Juan Basin. The Ignacio plant has a processing capacity of 450 MMcf per day. The plant is part of Williams' Four Corners gathering system, which connects the Kutz and Lybrook natural gas processing plants and the Milagro and Esperanza natural gas treating plants in northwestern New Mexico.



With temperatures in Florida exceeding 90 degrees on Wednesday, June 10, Florida Gas Transmission Company, LLC, has been monitoring pipeline conditions closely to maximize flows. The pipeline yesterday declared an Overage Alert Day, which limits negative balances (withdrawal volumes exceeding nominations for supplies) to 25 percent of a shipper's contractual volumes.



As a result of line inspections, Transcontinental Gas Pipe Line Company said Wednesday that maintenance work will require the company to take a section of pipeline near the North Carolina-Virginia border out of service temporarily. Beginning June 13, interruptible services will not be available through this section of the pipeline, which includes Station 170 in Appomattox, Virginia. The pipeline company said that work could take up to 6 weeks to complete.



Gulf South Pipeline, LP, on Tuesday, June 9, said it had completed maintenance at its Bistineau compressor station in Louisiana. Gulf South began the maintenance June 2 on unit 4 at the station, temporarily lowering capacity by approximately 100 MMcf per day.

See Weekly Natural Gas Storage Report for additional Natural Gas Storage Data.
See Natural Gas Analysis for additional Natural Gas Reports and Articles.
See Short-Term Energy Outlook for additional Natural Gas Prices, Supply, and Demand.