Released: May 21, 2009
Next Release: May 28, 2009
Overview (For the Week Ending Wednesday, May 20, 2009)
Natural gas prices at most trading locations fell on the week because of mild weather as well as continued weakness in the economy. Declines ranged between 37 cents at the Dracut trading area in the Northeast to 90 cents at the El Paso non-Bondad area in the Rocky Mountains.



The Henry Hub spot price fell by 67 cents during the week to $3.75 per million Btu (MMBtu).



Moving in the opposite direction of natural gas prices, the price of the West Texas Intermediate (WTI) crude oil contract rose on the week to $61.45 per barrel, or $10.59 per MMBtu. Oil prices are now at their highest level since November 10, 2008, having more than doubled since falling to a low of $30.28 per barrel on December 23, 2008.



Working gas in storage increased to 2,116 billion cubic feet (Bcf) as of May 15, following an implied net injection of 103 Bcf.



Reversing the upward trend from the previous week, the June 2009 contract on the New York Mercantile Exchange (NYMEX) fell from $4.333 to $3.97 per MMBtu, a drop of $0.363, or 8 percent.



According to data reported by Baker Hughes Incorporated, the natural gas rotary rig count fell to 728, a decline of 2 from the previous week. Rigs have declined for 24 consecutive weeks now, although the pace of the decline has slowed in recent weeks.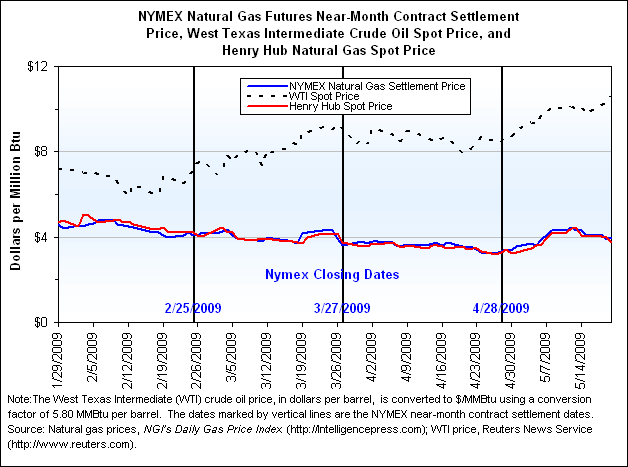 More Summary Data
Prices
Natural gas spot prices fell by large amounts at all trading locations in the Lower 48 States, reversing the increasing trend that began in the beginning of May. The average decline in spot prices between May 13 and May 20 was 62 cents, and declines ranged between 8 percent and 22 percent. Prices fell this week as a result of mild weather across the country, resulting in weak natural gas demand for heating and for power generation for cooling. The Henry Hub price fell by 67 cents to $3.75 on Wednesday, May 20, from $4.42 the previous Wednesday, a 15 percent decline. At other trading locations in Louisiana, declines in prices ranged between 59 and 68 cents. Since early February, prices at the Henry Hub have remained between $3 and $5.

Generally, spot prices across the Lower 48 were between $3 and $4 per MMBtu, with higher prices in the Northeast and Florida. The average price in the Northeast was $4.15 per MMBtu. Additionally, at the Florida Gas Transmission Citygate trading area, the only trading area for which data are collected in Florida, the average price was $4.22 per MMBtu as of yesterday. Prices have recovered somewhat from lower levels in April, when prices at many trading locations fell below $3 per MMBtu. However, in the Rocky Mountain region, prices were $2.93 per MMBtu on average yesterday.

The largest regional price declines for the week occurred in the West Texas, California, and Arizona/Nevada. West Texas prices fell by an average of 78 cents, or 19 percent; Arizona/Nevada prices fell by 77 cents, or 19 percent; and California prices fell by an average of 73 cents, or 18 percent. The smallest declines occurred in the Northeast, falling on average 56 cents or about 12 percent. The relatively low prices could eventually recover, as the declining rig count is expected to reduce production. Baker Hughes Incorporated reported that the natural gas rotary rig count fell to 728 as of Friday, May 15, the lowest level in more than 6 years.

On the NYMEX, the near-month contract dropped to $3.97 per MMBtu as of Wednesday, May 20. The NYMEX June 2009 contract closed $0.363, or about 8 percent, lower than the level on the previous Wednesday. At $3.97 per MMBtu, the contract had edged up slightly from its low for the week of $3.914, the closing price on Tuesday, May 19. Despite the declines on the week, the June 2009 contract has risen by about $0.567, or almost 17 percent, since the beginning of its tenure as the near-month contract. On the other hand, the June 2009 contract is trading at 62 percent lower than its level one year ago, when it closed at $10.553 per MMBtu on May 20, 2008. The value of the 12-month strip (the average of the 12 contracts between June 2009 and May 2010) fell on the week from $5.401 to $5.186, a drop of $0.215, or 4 percent. Contract prices for delivery during the upcoming summer months posted the largest declines, with all contracts from June 2009 to September 2009 posting declines of more than 30 cents.

More Price Data
Storage
Working gas in storage increased to 2,116 Bcf as of Friday, May 15, following a net injection of 103 Bcf (see Storage Figure). Natural gas in storage is now 514 Bcf, or 32.1 percent, higher than the level of 1,606 Bcf recorded 1 year ago, and 387 Bcf, or 22.4 percent, higher than the 5-year average (2004-2008) of 1,729 Bcf. The 103 Bcf implied injection exceeds both the injection of 86 Bcf in the same week last year, and a 5-year average injection of 90 Bcf.

Mild temperatures during the report week likely contributed to the strong storage injection. According to degree-day data for the Lower 48 States collected by the National Weather Service, temperatures were slightly warmer than normal. Average temperatures were 2 degrees warmer than normal and 1 degree warmer than last week. The average temperature for the United States as a whole was 62.7 degrees, and regional averages for the week ranged from 56 degrees in the New England Census Division to 76 degrees in the West South Central Census Division. (see Temperature Maps and Data)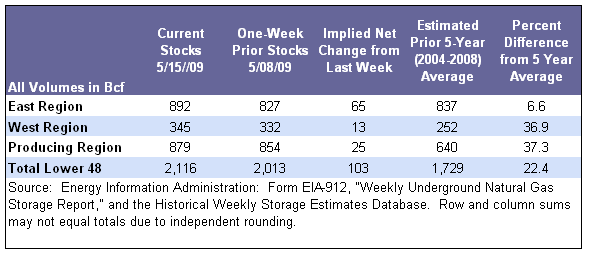 More Storage Data
Other Market Trends
EIA Releases an Analysis of the Effects of Lower Natural Gas Prices on Power Generation. The Energy Information Administration on May 12 released a supplement to the Short-Term Energy Outlook (STEO), The Implications of Lower Natural Gas Prices for Electric Generators in the Southeast. The analysis found that current natural gas prices, which have fallen dramatically over the last year, increase the potential for displacing coal-fired power generation with natural-gas-fired generation. The report noted that natural gas prices do not need to fall as low as coal prices before substitution with natural-gas-fired generation becomes economical, as combined cycle natural-gas-fired electricity generators are generally more efficient than coal-fired generators. Additionally, the delivered cost of coal is likely to be higher in the Southeast than in other areas of the United States because of higher costs associated with transporting coal from coal-producing regions such as the Powder River Basin, located in Montana and Wyoming. The report noted that a drop in the average delivered natural gas price from $4.75 to $4.25 in the East South Central and South Atlantic Census Divisions could boost natural gas consumption for baseload power generation in the electric power sector by 2.1 billion cubic feet (Bcf) per day in the two regions. However, EIA noted that the analysis results are uncertain, as factors other than natural gas and coal prices have the potential to affect power generation. Contractual obligations, natural gas pipeline capacity constraints, and the availability of natural-gas-fired combined cycle generation capacity could affect the ability of the electric power sector to switch fuels.

U.S. Energy-Related Carbon Dioxide Emissions Declined by 2.8 Percent in 2008. According to preliminary estimates issued May 20 by the Energy Information Administration (EIA), carbon dioxide emissions from fossil fuels fell from 5,967 million metric tons of carbon dioxide (MMTCO2) in 2007 to 5,802 MMTCO2 in 2008, the largest decrease since EIA began reporting emissions data. According to U.S Carbon Dioxide Emissions from Energy Sources 2008 Flash Estimate, high energy prices in the summer of 2008 as well as the economic downturn in the second half of the year led to the decrease in emissions. Energy consumption declined by 2.2 percent, although Gross Domestic Product (GDP) grew by 1.1 percent in 2008. Carbon dioxide emissions per unit of GDP fell by about 3.8 percent. Energy-related carbon dioxide emissions account for more than 80 percent of U.S. greenhouse gas emissions. Transportation-related emissions, accounting for roughly one-third of total energy-related carbon emissions, fell by 5.2 percent during 2008 and emissions from the residential sector fell by 1.1 percent. While heating degree-days were higher in the winter, the summer was cooler, offsetting the increase in heating demand.
Natural Gas Transportation Update

Northwest Pipeline Corporation on Wednesday, May 13, said repairs to a line leak near the Vernal Compressor Station in Utah are complete and flows up to design capacities would be scheduled for today's gas day. Northwest detected a mainline leak Monday just north of the station and as a result, nominations through the station were restricted.



Gulf Crossing Pipeline Company, LLC, on May 18 announced it will shut in all receipt and delivery locations beginning June 1, 2009 for a period of approximately 30 days. Flows on Gulf Crossing, which begins near Sherman, Texas and extends to Perryville, Louisiana, have averaged about 750 million cubic feet (MMcf) per day, according to Bentek Energy. Currently, all of the deliveries off Gulf Crossing, construction of which was completed in February 2009 (for an initial phase of operations), are being nominated to the Texas Gas meter in Delhi, Louisiana.



Young Gas Storage, an affiliate of El Paso Company, has scheduled reservoir maintenance for June 1-7 at its underground storage field in Morgan County, Colorado. During this time, no injections or withdrawals will be allowed. The outage will affect two interconnects between the storage field and Colorado Interstate Gas and one with Public Service Company of Colorado.



Questar Pipeline Company on Wednesday, May 20, reported the completion of necessary repairs at Kastler Compressor Station in Daggett County, Utah. Questar said operations will temporarily return to normal at its nearby Clay Basin storage facility, where injection capacity had been reduced following mechanical failure at the station. However, Questar said the storage facility has unseasonably high inventory levels. As a result, it will not accept any ISS (interruptible) injection or transfer nominations there effective June 1 until further notice.



Northwest Pipeline Corporation on Wednesday, May 20, said annual inspection work at compressor stations in Soda Springs, Idaho, and Muddy Creek, Wyoming, was progressing. The pipeline company now projects completion of the work at both sites by tomorrow morning, Friday, May 22. Beginning with Friday's gas day, capacity at the compressor stations will be at design capacities of approximately 652 MMcf per day.



In its weekly construction update dated May 14, Rockies Express Pipeline (REX) revealed further delay in completing horizontal drilling under the Illinois River. The pipeline company now reports that it expects initial REX-East service to commence in the first half of June (rather than late May), providing transportation to delivery points in Illinois and Indiana only, through interconnects with several interstate pipelines, including Natural Gas Pipeline Company of America and Trunkline Gas Company. However, projected in-service dates beyond Illinois and Indiana are unchanged. Service to Lebanon, Ohio, is projected to commence June 15, 2009, with an initial capacity of 1.6 billon cubic feet (Bcf) per day (increasing to 1.8 Bcf per day at a date to be determined). Full operation of the entire REX-East pipeline to Clarington, Ohio, is projected to begin before November 1, 2009.

See Weekly Natural Gas Storage Report for additional Natural Gas Storage Data.
See Natural Gas Analysis for additional Natural Gas Reports and Articles.
See Short-Term Energy Outlook for additional Natural Gas Prices, Supply, and Demand.