Released: May 14, 2009
Next Release: May 21, 2009
Overview (For the Week Ending Wednesday, May 13, 2009)
Since Wednesday, May 6, natural gas spot prices rose at most market locations in the Lower 48 States, with increases ranging between 49 and 95 cents per million Btu (MMBtu). Prices at the Henry Hub climbed by 75 cents per MMBtu, or about 20 percent, to $4.42 per MMBtu.

At the New York Mercantile Exchange (NYMEX), the futures contract for June delivery at the Henry Hub settled yesterday, May 13, at $4.333 per MMBtu, increasing by 45 cents or about 11 percent during the report week.

Natural gas in storage was 2,013 billion cubic feet (Bcf) as of May 8, which is about 23 percent above the 5-year average (2004-2008), following an implied net injection of 95 Bcf during the report week.

The spot price for West Texas Intermediate (WTI) crude oil increased by $1.71 per barrel since Wednesday, May 6, to $58 per barrel or $10.14 per MMBtu.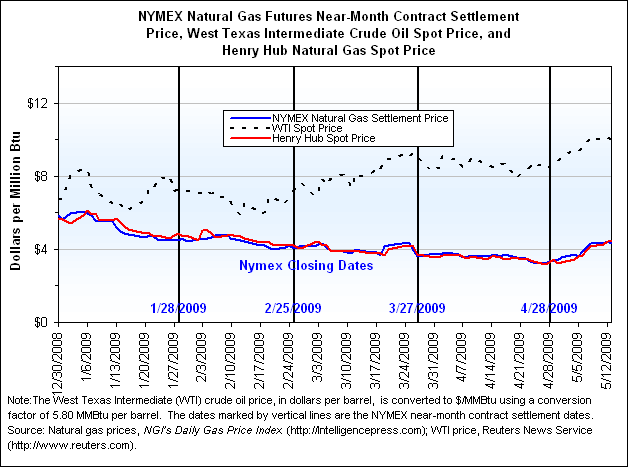 More Summary Data
Prices
Natural gas spot prices continued to rally since Wednesday, May 6, despite relatively moderate temperatures at all market locations in the Lower 48 States and robust levels of natural gas in storage. Natural gas spot prices were up between 11 and 31 percent since last Wednesday, May 6, continuing the pattern of generally rising natural gas prices that began in trading on May 1 at most markets. Natural gas traded at $4.42 per MMBtu at the Henry Hub on May 13—a 36-percent increase over the $3.25 per MMBtu price reported on April 30 when natural gas prices last bottomed out. Factors contributing to the rising natural gas prices likely included increased cooling demand for natural gas and rising crude oil prices. However, general macroeconomic conditions, including a weaker U.S. dollar and signs of an incipient recovery in the U.S. economy, appear to be playing a significant and perhaps a leading role in the recent run-up in natural gas prices.

On a regional basis, natural gas prices increased between 52 and 86 cents per MMBtu, or 12 to 26 percent, since last Wednesday, May 6. Price increases were largest in western markets, including the West Texas, California, Arizona/Nevada, and Rocky Mountains regions, where prices climbed by more than 24 percent since last Wednesday, May 6. The Florida region posted the smallest relative gain since last week and also the highest price in the Lower 48 States, climbing by 52 cents to $5 per MMBtu. The Midcontinent and Rocky Mountains regions reported the lowest prices in the Lower 48 States, averaging less than $4 per MMBtu. Prices in the Northeast region gained 15 percent since last Wednesday, climbing to $4.70 per MMBtu on average.

Despite the recent increases, natural gas prices at the Henry Hub remain well below last year's level at this time. At $4.42 per MMBtu on Wednesday, May 13, prices at Henry Hub were $6.76 per MMBtu, or 60 percent, below last year's level at this time. Current spot prices at market locations in the Lower 48 States are about 60 percent below year-ago levels on average.

At the NYMEX, the prices for natural gas delivery contracts through May 2010 rose since Wednesday, May 6. Prices for the 12-month futures strip (June 2009 through May 2010) averaged $5.40 per MMBtu as of Wednesday, May 13, rising by roughly 33 cents per MMBtu, or about 6 percent, during the report week. Prices for the futures contracts for delivery during the remaining injection season months (June through October 2009) posted larger increases than contracts for delivery later in 2009 or in early 2010, climbing between 41 and 45 cents per MMBtu. Prices for delivery in the upcoming months of the 2009 injection season averaged $4.55 per MMBtu, while prices for delivery for the 2009-2010 heating season (November 2009 through March 2010) averaged $6.00 per MMBtu, indicating strong incentives for continued injections of natural gas into storage. Settling at $4.333 yesterday (May 13), the near-month contract was 62 percent below the level reported last year at this time.

More Price Data
Storage
Working gas in storage increased to 2,013 Bcf as of Friday, May 8, according to EIA's Weekly Natural Gas Storage Report (see Storage Figure). The implied net injection of 95 Bcf exceeds last year's net injection of 89 Bcf and the 5-year average (2004-2008) injection of 83 Bcf for the same report week. Working gas inventories are 497 Bcf higher than year-ago levels and 374 Bcf above the 5-year average. Working gas in storage exceeds historical levels by significant margins in each of the three regions, with the Producing region contributing the majority of the surplus, exceeding the 5-year average by 235 Bcf and last year's levels by 282 Bcf.

This week marks the eighth consecutive week, dating back to the week ending March 20, without a net withdrawal from working gas storage. After a net withdrawal of 30 Bcf during the week ended March 13, 2009, reduced stocks to 1,651 Bcf, net injections to working gas have totaled 362 Bcf, exceeding the 5-year average net increase of 216 Bcf over the same 8-week period. With no net withdrawals occurring since the report for the week ended March 20, 2009, this year marks the earliest effective start of the natural gas storage injection season on record.

Working gas stocks exceeded the 2,000-Bcf threshold in May for only the third time since the weekly series began in 1994. However, working gas levels of this magnitude during May are becoming more common, as working gas stocks also exceeded 2,000 Bcf during May 2006 and 2007.

Warmer-than-normal temperatures occurred in each of the Census Divisions in the Lower 48 States during the week ended April 2, 2009. Based on the National Weather Service's heating degree-day (HDD) data, temperatures in the Lower 48 States during the week were 5 percent warmer than normal and 6 percent warmer than last year's levels (see Temperature Maps and Data). Temperatures were warmest in the South Atlantic, East South Central, and West South Central Census Divisions. Temperatures in these Census Divisions along the Gulf of Mexico contributed to modest cooling demand for natural gas.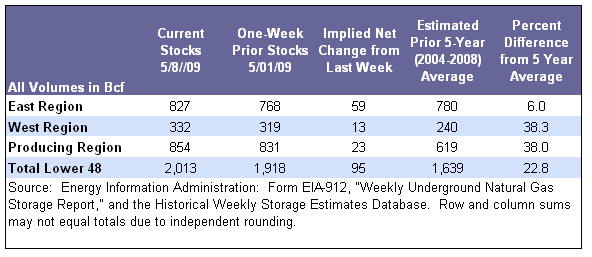 More Storage Data
Other Market Trends
EIA Releases May Short-Term Energy Outlook: On May 12, 2009, the Energy Information Administration (EIA) released its latest Short-Term Energy Outlook (STEO), which included monthly forecasts through December 2010. EIA projected that the current economic recession would adversely affect natural gas prices, consumption, and production in 2009, and upward movements in 2010 are contingent upon the timing and pace of economic recovery. This edition of the STEO predicted that poor economic conditions and robust storage levels would depress natural gas prices, and the Henry Hub spot price is expected to average $4.06 per thousand cubic feet (Mcf) in 2009. However, economic recovery and sustained lower production levels could lead to elevated price levels in 2010, with the Henry Hub spot price averaging $5.21 per Mcf next year. Lower natural gas consumption in the industrial sector is expected to be the main source of a 1.9 percent decline in total natural gas consumption for 2009. However, total natural gas consumption is expected to increase slightly in 2010, promoting the growth in prices. Despite expectations of elevated price levels next year, the lagged effects of the downturn in drilling and productivity this year likely would contribute to lower production in both the lower-48 non-Gulf of Mexico (GOM) and Federal GOM regions in 2010. Total U.S. marketed natural gas production is expected to decline by 1 percent in 2009 and 2.8 percent in 2010. U.S. liquefied natural gas (LNG) imports are expected to increase from 350 billion cubic feet (Bcf) in 2008 to roughly 500 Bcf in 2009 and 650 Bcf in 2010. This projected increase in LNG imports reflects expected increases in availability of LNG for the United States because of weak LNG demand in Asia and Europe, new liquefaction capacity, and limited natural gas storage capacity in countries that typically rely on LNG. U.S. pipeline imports are expected to decline by roughly 7 percent in 2009 because of the impacts of suspended drilling programs and declining well productivity in Canada. The natural gas working inventory in underground storage is projected to peak at about 3,635 Bcf at the end of October 2009, exceeding the previous record of 3,565 reported for the end of October 2007.
Natural Gas Transportation Update

Weather conditions continue to impede the completion of the eastern segments of the Rockies Express Pipeline (REX). In its weekly construction update dated May 7, REX revealed that delays are related to completing horizontal drilling under the Illinois River. The pipeline company now reports that it expects initial REX-East service to commence in late May, providing transportation to delivery points in Illinois and Indiana only, through interconnects with several interstate pipelines, including Natural Gas Pipeline Company of America and Trunkline Gas Company. Service to Lebanon, Ohio, is now projected to commence June 15, 2009, with an initial capacity of 1.6 billon cubic feet (Bcf) per day (increasing to 1.8 Bcf per day at a later date to be determined). Full operation of the entire REX-East pipeline to Clarington, Ohio, is projected to begin before November 1, 2009.

Northwest Pipeline Corporation on Wednesday, May 13, said it had completed repairs to a line leak near the Vernal Compressor Station in Utah and would be scheduling flows up to design capacities for today's gas day. Northwest detected a mainline leak Monday just north of the station and as a result, nominations through the station were restricted.

On Friday, May 8, Transwestern Company informed shippers that it would take its P-3 compressor station located in Gray County, in the Texas panhandle, out of service for maintenance until May 15. The maintenance reduced capacity through the station to 100,000 decatherms (Dth) per day from a normal operating capacity of 253,000 Dth per day. The affected portion of the pipeline includes interconnections with ANR Pipeline Company and Natural Gas Pipeline Company of America.

Young Gas Storage, an affiliate of El Paso Company, this week said it has scheduled reservoir maintenance for June 1-7 at its underground storage field in Morgan County, Colorado. During this time, no injections or withdrawals will be allowed. The outage will affect two interconnects between the storage field and Colorado Interstate Gas and one with Public Service Company of Colorado.

Enterprise Products Partners, LP on Tuesday, May 12, partially cut service at its Independence Hub natural gas platform in the Gulf of Mexico in order to change the antifreeze that prevents the deepwater pipes from freezing. The 24-hour maintenance period resulted in flows from the platform being temporarily reduced to approximately 489 million cubic feet (MMcf) per day at Independence, which has a capacity to send out 1 Bcf per day.

See Weekly Natural Gas Storage Report for additional Natural Gas Storage Data.
See Natural Gas Analysis for additional Natural Gas Reports and Articles.
See Short-Term Energy Outlook for additional Natural Gas Prices, Supply, and Demand.