Released: April 16, 2009
Next Release: April 23, 2009
Overview (For the Week Ending Wednesday, April 15, 2009)
Since Wednesday, April 8, natural gas spot prices increased at most market locations in the Lower 48 States, with some exceptions including those in the Northeast, Midwest, and Midcontinent. Despite this week's upticks at most locations, natural gas spot prices remain at relatively low levels and have continued to trade within a limited range for the past 4 weeks

The Henry Hub spot market prices gained about 10 cents or 2.9 percent per million Btu (MMBtu), ending trading yesterday at $3.60 per MMBtu.

At the New York Mercantile Exchange (NYMEX), the futures contract for May delivery at the Henry Hub settled yesterday (April 15) at $3.693 per MMBtu, posting a 6-cent increase on the week.

Natural gas in storage rose to 1,695 billion cubic feet (Bcf) as of April 10, which is 22.5 percent above the 5-year average (2004-2008).
The spot price for West Texas Intermediate (WTI) crude oil ended the week at $49.26 per barrel, falling by 11 cents since last Wednesday. The WTI price is the equivalent of $8.49 per MMBtu.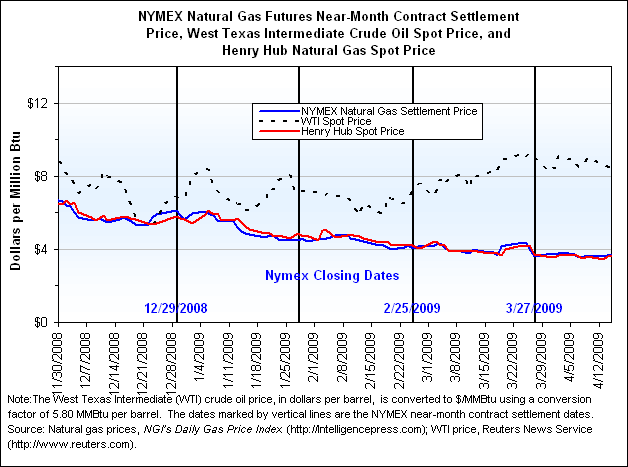 More Summary Data
Prices
Despite ample supplies of natural gas and the lack of temperature extremes across much of the Lower 48 States, prices inched upward this week at most market locations. In Louisiana, prices rose by an average of 9 cents per MMBtu, while East and South Texas recorded increases of 12 and 20 cents this week.

Cold temperatures and winter-like weather contributed to a net increase in prices in the Rocky Mountain region on the week, although regional average prices early this week were below $2 per MMBtu. Prices bottomed out at an average of $1.97 per MMBtu on Monday because of pipeline constraints and the continued closure of Questar's Clay Basin storage facility in Utah. Prices rebounded by an average of 81 cents per MMBtu in the following 2 days of trading as regional pipeline bottlenecks were resolved. The average price increase for the week in the Rockies averaged 26 cents per MMBtu. With these price increases, the basis differential between markets in the Rockies and at the Henry Hub fell from an average of 85 cents per MMBtu on Wednesday, April 8, to 42 cents yesterday. The Northwest Pipeline's trading point located south of Green River rose 53 cents or about 25 percent to $2.68 per MMBtu. As of yesterday, the Rockies' average spot price was $2.78 per MMBtu or about 10 percent higher than the previous week.

Prices in selected markets, such as the Northeast, Midcontinent, and Midwest, moved counter to the general price increases in this week's trading. In the Northeast, for example, where chilly temperatures persisted for most of the week, natural gas prices fell since last Wednesday by an average of 2 cents, ending the week at an average regional price of $4.05 per MMBtu. Prices in Midcontinent and Midwest markets also fell by an average of about 2 cents in each region to $2.89 and $3.71 per MMBtu, respectively. In addition, there were a number of scattered decreases throughout the Lower 48 States, including PG&E in California, El Paso Bondad in the Rockies, and a few other points.

The Edison Electric Institute's (EEI) latest report indicated a 5.2 percent drop in electric output for the week ended April 11, 2009, compared with last year. The slowdown in industrial sector activity and the resulting lower demand for energy is the likely driver of the lower electric power output. Power generation by region in the past week showed year-over-year declines ranging from 3 to 8 percent. Cumulative electric power output for the first 15 weeks of this year is 3.3 percent lower than the level during the first 15 weeks of 2008. While the electric power data released by EEI includes all sources of generation, given that natural gas tends to be the marginal fuel used for generation, declines in electric generation are expected to reduce natural gas demand.
At the NYMEX, natural gas futures prices for May delivery rose on the week, posting a 6-cent per MMBtu increase. The price of the May futures contract settled yesterday at $3.693 per MMBtu, increasing in three of the four trading sessions in the Easter holiday-shortened trading week. The day-to-day price increases for the near-month contract were relatively small, resulting in a 1.7 percent increase on the week and failed to signal a significant change in the pricing pattern of natural gas futures. Compared with a year ago, the near-month futures contract is about 64 percent lower than the May 2008 contract's price recorded on April 15, 2008.

Futures prices for natural gas delivery through April 2010 posted similar increases, with the 12-month strip rising 10 cents. Prices for the 12-month futures strip (May 2009 through April 2010) averaged $4.818 per MMBtu as of Wednesday, April 15, increasing about 2 percent. Futures contract prices for delivery in May, June, and July 2009 all settled below $4 per MMBtu, reflecting the expected availability of supplies over the upcoming summer months despite the continuing fall-off in natural gas rigs drilling (see Other Market Trends).

More Price Data
Storage
Working gas in underground storage increased to 1,695 Bcf as of April 10, increasing the differential to the 5-year average inventory level for the report week to 311 Bcf or 22.5 percent, according to EIA's Weekly Natural Gas Storage Report (see Storage Figure). This week's net injection, which was the fourth consecutive injection of the year, was 21 Bcf and equaled last year's net injection, while exceeding the 5-year average injection by 1 Bcf or 5 percent. Although this year's and last year's total net additions were equal, the regional patterns of net additions to storage differed greatly. For example, a 4-Bcf injection in the East region this report week was well below the 14-Bcf injection last year. This difference was roughly offset by a net injection of 12 Bcf in the Producing region this week, which sharply contrasted with last year's net addition of 4 Bcf for the same week.

This report week's implied net injection came during a week in which the weather for the country as a whole was colder than normal, with heating degree-days (HDDs) about 15 percent higher than normal. At the same time, temperatures in the Lower 48 States were about 6 percent colder than last year for the same week (see Temperature Maps and Data). Although colder than normal, average temperatures for the week were generally moderate, at least 41 degrees in each Census Division, except in the West North Central. The New England and Middle Atlantic were the only Census Divisions that recorded warmer-than-normal temperatures, with HDDs numbering 7.7 and 2.2 percent lower than normal, respectively.
More Storage Data
Other Market Trends
EIA Releases Report on Natural Gas Production Data. The Energy Information Administration (EIA) released a special report examining the stages of natural gas processing from the wellhead to the pipeline network on April 9, 2009. The report, EIA's Natural Gas Production Data, details the process by which natural gas is made ready for transportation and eventual consumption and describes the framework used for presenting natural gas production data. The volume of natural gas available for consumption falls as the natural gas is changed from its original state to meet pipeline standards. Gross withdrawal volumes are reduced for repressuring, venting and flaring, and removal of nonhydrocarbon gases, resulting in marketed production. The removal of natural gas liquids (NGLs) from marketed production, known as extraction loss, yields total dry production, which is natural gas ready for shipment through the pipeline network and for final end use.

EIA Releases the April Short-Term Energy Outlook. The Energy Information Administration (EIA) released its latest Short-Term Energy Outlook (STEO) on April 14, including two special reports titled 2009 Summer Transportation Fuels Outlook Slideshow and Biodiesel Supply and Consumption. The April STEO projects that natural gas total consumption will fall by nearly 2 percent in 2009, which likely will lead to lower natural gas prices. The decline in natural gas consumption from the industrial sector is expected to total more than 7 percent. However, natural gas use in electric power generation is expected to increase by almost 1 percent. EIA projects that the spot price of natural gas at the Henry Hub will decline from an average of $9.13 per thousand cubic feet (Mcf) in 2008 to $4.24 per Mcf in 2009, but then increase in 2010 to an average of $5.80. The projected price path reflects the influence of the trend in natural gas marketed production, which is expected to decline by 0.3 percent in 2009 and then decrease by another 1.0 percent in 2010. As of April 3, 2009, working natural gas in storage was 1,674 billion cubic feet (Bcf), which was 310 Bcf higher than the 5-year (2004-2008) average and 438 Bcf above the level during the corresponding week last year.

Natural Gas Rig Count Drops to 6-Year Low. Natural gas rotary rigs declined to 790 for the week ending April 9, 2009, according to data released by Baker Hughes Incorporated. This figure has declined more than 50-percent from levels in late summer 2008, when the natural gas rig count reached its highest-recorded level of 1,606, on August 29, 2008, and again on September 12, 2008. The natural gas rig count has fallen for 20 consecutive weeks, and is at the same level it was on April 11, 2003. Both horizontal and vertical rigs have dropped from their respective peaks over the last 12 months. Horizontal rigs fell from their peak of 650 (reached October 31, 2008) to 410 or 37 percent, while vertical rigs have dropped from their peak of 1,017 (reached August 29, 2008) to 404 or 60 percent. Notably, horizontal rigs now outnumber vertical rigs and have exceeded vertical rigs twice in the past 3 weeks for the first time in history. Horizontal rigs now make up 41 percent of all rigs, compared with 26 percent about a year ago; and vertical rigs' share has fallen from about 54 percent to 40 percent. Horizontal rigs are important to the development of natural gas shale prospects, which relies heavily on horizontal drilling and completions.

U.S. Coast Guard Opens New Center to Improve Marine Safety. The U.S. Coast Guard established the Liquefied Gas Carrier National Center of Expertise in Port Arthur, Texas, on April 9, 2009, as part of the Coast Guard's Marine Safety Enhancement Program. The center will serve as the Coast Guard's focal point in both the operation and examination of gas carrying ships and the establishment and maintenance of expertise in cryogenic and compressed gas carrier technology and operations. In addition, the center will provide training to Coast Guard personnel who work with liquefied gas carriers. The center will focus on liquefied natural gas (LNG), as well as other gases shipped on specialized carriers, such as liquefied petroleum gas and anhydrous ammonia. The Coast Guard is responsible for ensuring that ships carrying LNG meet international and domestic construction and operation standards. More information is available here: http://coastguardnews.com/coast-guard-establishes-liquefied-gas-carrier-national-center-of-expertise/2009/04/06/
Natural Gas Transportation Update
Rockies Express Pipeline, Ltd. (REX) announced that it is experiencing delays with its two remaining horizontal directional drills and now expects to commence drilling in mid-May 2009. The problems occurred as a result of the recent flooding of the Wabash River, located in Ohio, which had significantly exceeded flood stage and is projected to remain above flood stage through next week. REX affirmed its previously projected in-service dates for Lebanon (June 15, 2009), and Clarington (November 1, 2009).

Colorado Interstate Gas Company (CIG) announced on April 14, 2009, that the delivery points on Segment 118 in Oklahoma's panhandle region have been affected by variations in pipeline pressure needed to deliver gas to the east end delivery points on Segment 118. As a result, CIG notified its customers that a new constraint point, Beaver East, will be established in order to control pressure levels. The operationally available capacity at this point will be 210 million cubic feet per day effective April 16.

On April 14, Sea Robin Pipeline Company announced that it has completed the repair work to reroute around its toppled platform on its West leg in East Cameron (EC) 265. The company has discovered additional damage to its West Leg in EC 334. Additional assessments on its West Leg will be completed over the next 2 to 3 weeks to determine if any other damage exists between EC 335 and EC 265.
See Weekly Natural Gas Storage Report for additional Natural Gas Storage Data.
See Natural Gas Analysis for additional Natural Gas Reports and Articles.
See Short-Term Energy Outlook for additional Natural Gas Prices, Supply, and Demand.