Released: March 26, 2009
Next Release: April 2, 2009
Overview (For the Week Ending Wednesday, March 25, 2009)
Spot prices increased at all trading locations this week, with the biggest increases occurring in the Northeast. Many market locations ended the week with spot prices above $4 per million British thermal units (MMBtu). During the report week, the Henry Hub spot price increased by $0.38 to $4.13 per MMBtu.

At the New York Mercantile Exchange (NYMEX), futures prices also increased, climbing by $0.65 to $4.329 for the April 2009 contract. Prices for the April 2009 contract reached their highest levels since February 13, 2009, on March 24.

Natural gas in storage was 1,654 billion cubic feet (Bcf) as of March 20, following an implied net injection of 3 Bcf. Storage inventories are about 20 percent above the 5-year average and 29 percent above last year's level.

The price of West Texas Intermediate (WTI) crude oil increased by $4.12 on the week to $52.24 per barrel, or $9.01 per MMBtu. WTI prices this week reached their highest levels this year.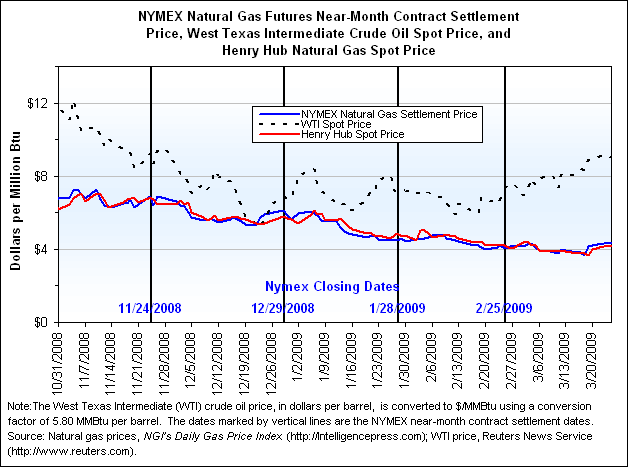 More Summary Data
Prices
Prices increased at all trading locations during the week, despite warmer temperatures in most areas of the country. The average price increase across all trading areas was 40 cents per MMBtu, with Carthage posting only an 8-cent increase, and the Algonquin Citygate in the Northeast posting a 55-cent increase. On a percentage basis, the highest price increases occurred in the Midcontinent region, where increases averaged 16.5 percent. However, Midcontinent prices on average were only slightly more than $3 per MMBtu. Prices in the Northeast averaged $4.55 per MMBtu, reflecting an average increase of 11.4 percent, or $0.47. Spot markets in Louisiana averaged an increase of 38 cents, or 10 percent. The increase in prices this week is probably not weather-driven, but more likely a result of industrial use of natural gas rebounding, according to recent company releases and trade press reports. The increase in natural gas prices this week also reflected the increase in the WTI price, which on Tuesday, March 24, closed at $53.36, its highest level in 4 months.

Prices averaged above $4 in several regions. In contrast to the previous week, when prices exceeded $4 in the Northeast and Florida, prices this week averaged more than $4 per MMBtu also in the Midwest and Louisiana. Spot prices ended the week slightly lower than their intra-week highs, with the Henry Hub closing at $4.17 on Monday, March 23. On the same day, Northeast price peaks included those at the Algonquin Citygate and Tennessee Zone 6 markets at $4.89 per MMBtu.

Prices remained relatively low in western regions. In West Texas and the Rocky Mountain regions, average regional prices remained below $3 per MMBtu, at $2.96 and $2.99, although they increased by 14 percent and 15 percent, respectively. Midcontinent prices ended the week at an average of $3.02 per MMBtu. An abundance of natural gas supplies in the Rockies and Midcontinent regions is likely a factor in the relatively low prices in the area. The lowest price in the country occurred at the Northwest South of the Green River trading area in the Rockies, where prices closed yesterday at $2.70 per MMBtu. The low prices continue to reflect seasonal gas consumption — the coldest weather of the year is over, and spring officially began on March 20.

Current spot prices generally are down by more than 50 percent from year-earlier levels. Although the Henry Hub daily spot price ended the week at $4.13 per MMBtu, which is a 10 percent increase on the week from $3.75 per MMBtu, it was 55 percent below the $9.28 per MMBtu recorded on the same date last year. Prices in other trading areas have displayed similar patterns.

At the NYMEX, the price of the near-month contract (for April 2009 delivery) increased by $0.65 to $4.329. During the report week, the price for the April 2009 contract reached its highest level and the highest level for a near-month contract since February 13, 2009, with the April contract closing at $4.347 on March 24. From March 18 to March 19, the April contract rose by $0.49 from $3.684 to $4.174, which was the biggest 1-day price increase for a near-month contract since November 2008. At the end of trading yesterday, the 12-month strip, or the average of contracts from April 2009 to March 2010, was priced at $5.208, about $0.65 or 15 percent higher than the 12-month strip the previous Wednesday, which was priced at $4.561. Although NYMEX prices have rebounded somewhat over the week, the April 2009 contract closed yesterday priced about 28 percent lower than its level on the first trading day of the year; and the price of the 12-month strip was about 20 percent lower than its level at the beginning of 2009.
More Price Data
Storage
Natural gas in storage increased to 1,654 Bcf as of Friday, March 20, according to EIA's Weekly Natural Gas Storage Report. Working gas in storage is 372 Bcf higher than last year at this time and 280 Bcf above the 5-year average of 1,374 Bcf (see Storage Figure). Though the storage withdrawal season (November 1 to March 31) has not yet ended, the 3 Bcf net injection was likely the result of warmer temperatures during the report week. The implied net injection compares with a 43 Bcf net withdrawal for the same week last year, and a 5-year average withdrawal of 49 Bcf. Both the Producing Region and the West Region posted net injections, while the East posted a net withdrawal of 13 Bcf.

This week's net injection into storage is the first weekly net addition this year. During March, stocks have increased on a weekly basis 10 percent of the time since the weekly data series began in 1994. The largest weekly injection to date during March was the 58 Bcf added during the week ended March 30, 2007.

Warmer-than-normal temperatures likely contributed to the net injection. The National Weather Service's heating degree-day (HDD) data indicate that temperatures in the Lower 48 States were both warmer than normal and warmer than last year. Average temperatures in the Lower 48 States exceeded 47 degrees, which likely limited space-heating needs across the country. HDDs were below normal in all Census Divisions, except the West South Central (see Temperature Maps and Data).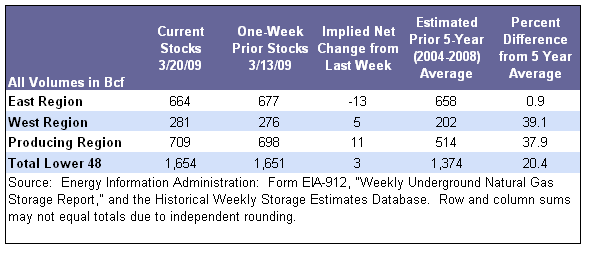 More Storage Data
Other Market Trends
Gulf of Mexico Coastal States Receive First GOMESA Funds: Secretary of the Interior Ken Salazar announced on March 23 that Gulf of Mexico coastal States will receive the first payments required by the 2006 Gulf of Mexico Energy Security Act (GOMESA), which provides that these States and counties receive 37.5 percent of the oil and gas qualified leasing revenues from certain Outer Continental Shelf Areas. These payments total more than $25 million. Secretary Salazar noted that these funds will support conservation and restoration projects in recipient communities. The revenues include approximately $6.2 million to Alabama; nearly $6.4 million to Louisiana; $5.5 million to Mississippi; and $2.2 million to Texas. Forty-two eligible political subdivisions will receive more than $5 million. Those include roughly $1.5 million to eligible Alabama counties; nearly $1.6 million to Louisiana parishes; approximately $1.4 million to political subdivisions in Mississippi; and nearly $540,000 to counties in Texas. Most of the $25 million to be disbursed was received from Lease Sales 224 and 206, held on March 19. Lease Sale 205, held on October 3, 2007, also contributed a share of the funds. GOMESA stipulates that 12.5 percent of qualified revenues are allocated to the Land and Water Conservation Fund, which provides funds and matching grants for various land and water projects. The remaining receipts are disbursed to the U.S. Treasury. More details are available at the MMS website: http://www.mms.gov/ooc/press/2009/press0323.htm.

Companies Submit Bids to MMS for Offshore Leases: The Central Gulf of Mexico Oil and Gas Lease Sale 208, held on March 18, 2009, attracted approximately $703 million in high bids, the U.S. Minerals Management Service (MMS) reported. Seventy companies submitted 476 bids on 348 tracts, comprising more than 1.9 million acres in offshore Louisiana, Mississippi, and Alabama. The sum of all bids was roughly $934 million. Shell Gulf of Mexico Inc. submitted the highest bid on a tract, approximately $66 million. Thirteen tracts received bids in the 181 South Area, located in the Central Gulf of Mexico, with high bids totaling $6,476, 545. Alabama, Mississippi, Louisiana and Texas will share 37.5 percent of the high bids as well as future revenues in the 181 South Area, under a revenue-sharing program mandated by the Gulf of Mexico Energy Security Act of 2006. Additionally, 12.5 percent of revenues from the same area will be deposited into the Land and Water Conservation Fund for States to enhance parklands and conservation projects. The MMS will evaluate the high bids to ensure fair market value before awarding leases. More details about the lease sale are available on MMS's website: http://www.gomr.mms.gov/homepg/lsesale/208/cgom208.html
Natural Gas Transportation Update
Kern River Gas Transmission Company on March 20 revised its schedule for annual tests of its Emergency Shut Down (ESD) system. During the testing, which will occur over the next several weeks, various compression units will be taken partially offline, which will affect capacity on the pipeline system. Through yesterday (March 25), capacity was reduced by about 146,000 decatherms (Dth) per day from operational maximum capacity of 1,800,000 Dth per day at the Muddy Creek compressor station in Wyoming. Annual maintenance is also scheduled at the Coyote Creek and Dry Lake compressor stations in Wyoming and Nevada, respectively, for April 7. The capacity of the system at these stations will be reduced by 75,000 Dth per day from normal operational capacity of 2,081,000 Dth per day.

Blizzard conditions in the Rocky Mountains this report week affected transportation flows on several area pipelines. Colorado Interstate Gas Company (CIG) on Tuesday said that flows were substantially lower on receipt points along its Powder River Lateral, as the weather was hindering production. Additionally, the storm also affected receipts on the Medicine Bow and Powder River laterals for Wyoming Interstate Company (WIC). CIG on Tuesday placed an underperformance cap at the Powder River receipt point until further notice, which in effect requires customers to either reduce nominated quantities or increase shipments. WIC posted similar caps for the Antelope location on its Medicine Bow Lateral and for the Powder River location on its Powder River Lateral.

Rockies Express Pipeline, Ltd. (REX) continues to assess its progress in constructing REX East (the portion of REX from Missouri to Ohio) and its projected in-service dates. Owing to recent flooding and additional rain projected in the Midwest, initial REX-East service to points in Indiana and Illinois is projected to commence in late April to early May with a capacity of 1,600,000 Dth per day.
See Weekly Natural Gas Storage Report for additional Natural Gas Storage Data.
See Natural Gas Analysis for additional Natural Gas Reports and Articles.
See Short-Term Energy Outlook for additional Natural Gas Prices, Supply, and Demand.