Released: January 23, 2009
Next Release: January 29, 2009
Overview (For the Week Ending Thursday, January 22, 2009)
Bitter cold in much of the eastern half of the country failed to boost prices this report week (Wednesday, January 14, to Thursday, January 22), as continued concerns over the economy and the perception of a healthy supply picture dominated price movements. During the report week, the Henry Hub spot price decreased by $0.75 per million Btu (MMBtu) to $4.72.



At the New York Mercantile Exchange (NYMEX), futures prices decreased for the report week as the economic downturn is expected to be accompanied with a large-scale reduction in demand for all energy products, thus affecting prices for energy in forward markets. The futures contract for February 2009 delivery decreased by 29 cents per MMBtu on the week to $4.681.



As of Friday, January 16, working gas in underground storage was 2,560 billion cubic feet (Bcf), which is 1.2 percent above the 5-year (2004-2008) average.



The price of West Texas Intermediate (WTI) crude oil finished trading yesterday at $42.33 per barrel, or $7.30 per MMBtu. Although the price was higher by $4.90 per barrel from the multi-year lows from the previous week, the WTI price is still less than one-third the all-time high price of $145.31 (recorded just 6 months ago).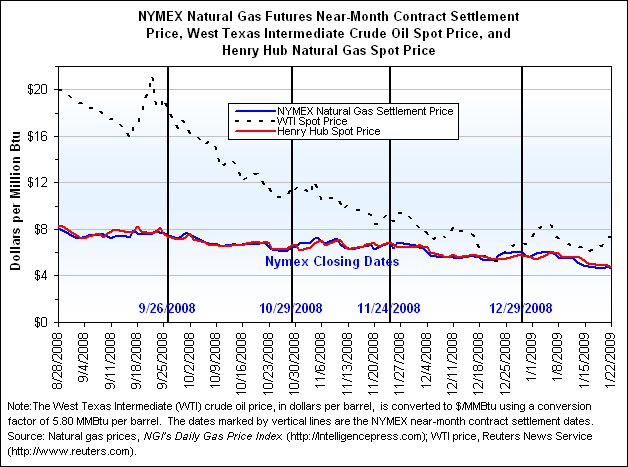 More Summary Data
Prices
A major arctic air-mass enveloped the eastern half of the country, bringing the lowest temperatures of the season to date as far south as Florida during the report week. Nonetheless, increased space-heating demand in consuming regions was insufficient to reverse a weakening trend in prices. This was most dramatically represented in Northeast markets, where the average spot price declined on the week by almost 55 percent from more than $12 per MMBtu to an average of $5.55, which not only proved a large price swing for a week, but brought the lowest prices in the region in more than a year. Price weakness was widespread. Prices in the Gulf of Mexico region generally declined more than 10 percent. Along the Gulf Coast in Louisiana and in East Texas, the average decreases were $0.54 and $0.74 per MMBtu, respectively, resulting in average regional prices of $4.68 and $4.28. Prices in the Midcontinent and Rockies producing regions, now firmly below $4 per MMBtu (with a couple of exceptions), generally decreased by between 20 and 30 percent.

The price decreases during the report week continued the downward trend of the past 6 months, reflecting a number of market conditions. The current economic downturn continued to suggest declining demand, particularly in the industrial sector, with many companies announcing layoffs and closures of manufacturing plants around the country. Reduced prices for natural gas in recent months also relate to growing productive capacity in the Lower 48 States, particularly because of reported increases in domestic production at unconventional fields such as the prolific Barnett shale in Northeast Texas and the Haynesville shale in Louisiana. Through the first 10 months of 2008, domestic production increased 6.8 percent in comparison with the same period in 2007, according to EIA's Natural Gas Monthly, despite reports of production volumes being shut-in this fall as a result of hurricanes in September. Natural gas prices have now reached multi-year lows, a remarkable contrast to the record-high levels of more than $13 per MMBtu as recently as the beginning of July 2008. The spot price at the Henry Hub has decreased $8.59 per MMBtu, or 65 percent, since the peak price of $13.31 reached on July 2. The current Henry Hub price also is the lowest since $4.30 per MMBtu was recorded on October 13, 2006.

Prices in the Northeast by the end of trading yesterday, January 22, had dropped to less than half of their value at the beginning of the report week, as heating requirements from recent bitter cold relaxed. The average price in the Northeast as of yesterday was $5.55 per MMBtu, or 54 percent lower than the average of $12.14 at the beginning of the report week. The most significant decline in the region occurred at the heavily-traded New York market off Transcontinental Gas Pipe Line (Transco Zone 6). The price for delivery at Transco Zone 6 fell $11.41, or 66 percent, during the report week to $5.93, which is the lowest price at this market area since September 10, 2007. The average price at Transco Zone 6 yesterday was $1.21 per MMBtu higher than the average Henry Hub price. This differential had surged to $11.87 at the start of the report week, as often occurs in the Northeast during the winter when demand peaks are stimulated by low temperatures and pipeline capacity into the region becomes constrained.

Price decreases in the Rockies and Midcontinent during the week suggested the re-occurrence of an oversupply situation that developed in these markets for several months in fall 2008. The advent of colder weather had eased depressed prices temporarily, but during the last week prices again dropped well below $4 per MMBtu at many market locations. At Rockies trading locations, the average price decreased on the week by $0.78 per MMBtu, or 18 percent, to $3.46. For supplies moving westward, however, weekly price decreases were less severe. The price for supply off Northwest Pipeline Corporation in Washington for delivery into Sumas decreased $0.21 per MMBtu to $4.84. In the Midcontinent, the average price declined by $1.17 per MMBtu, or 26 percent, to $3.33. The lowest prices in this region occurred at market centers with interconnections with pipelines transporting Rockies production into the region, particularly with the Rockies Express Pipeline (REX). For example, the price off Panhandle Eastern Pipe Line, which interconnects with REX in Audrain County, Missouri, averaged $3.09 per MMBtu in trading yesterday, or $1.01 less than the start of the report week.

At the NYMEX, the price of the near-month contract (for February delivery) decreased by 29 cents per MMBtu during the report week to $4.681. The decrease was attributed to expected lower consumption as a result of the ongoing economic downturn, as well as a current (though perhaps temporary) reprieve from the extreme cold experienced in some parts of the country in the past couple weeks. The February contract yesterday finished trading at less than 40 percent of its record-high price of $14.52 per MMBtu established just 5 months ago, prior to the buildup of concerns over the state of the economy. Downward price pressure also appears related to continued improvements in domestic production and declines in the crude oil price, which decreased this week to its lowest level in more than 4 years. At the end of trading yesterday, the 12-month strip, which is the average for natural gas futures contracts over the next year, was priced at $5.28 per MMBtu, a decrease of about $0.32, or 5.8 percent, since last Wednesday.

More Price Data
Storage
Working gas in storage totaled 2,560 Bcf as of Friday, January 16, 2008, according to EIA's Weekly Natural Gas Storage Report (see Storage Figure). The implied net withdrawal for the week of 176 Bcf is the largest yet this heating season, and significantly more than the 128 Bcf that was withdrawn last year and 126 Bcf that has been withdrawn on average over the past 5 years (2004-2008). The aggregate level of supplies in underground storage now exceeds the 5-year average by 1.2 percent. Net withdrawals during the report week exceeded average withdrawals in each of the report's three regions (East, West and Producing). However, the largest deviation from normal occurred in the East region, where a net withdrawal of 125 Bcf occurred. This exceeded the average withdrawal of 74 Bcf by 69 percent.

This week's withdrawal from storage reflects a number of market conditions. While this withdrawal was the largest to date this heating season, it was still less than seasonal peak net withdrawals of more than 200 Bcf that have become common in recent years. The net withdrawals perhaps were lessened by reduced demand as a result of the current economic downturn and robust volumes from domestic production. Nonetheless, during the week ending Friday, January 16, there were several factors that made this withdrawal as large as it was. Significant volumes of natural gas were still shut-in because of damage caused by hurricanes in the fall (see Other Market Trends section). Additionally, colder-than-average weather occurred during the week in all regions east of the Mississippi River. As indicated by National Weather Service degree-day data, temperatures were 4.4 percent colder than normal for the country as a whole, with regional differences of as much as 16 percent colder than average. In general, the average overall temperature for the week was 31.4 degrees Fahrenheit, about 1.6 degrees below normal (see Temperature Maps and Data). Lastly, futures prices on the NYMEX during the week were lower than spot prices at the Henry Hub. This backwardation in the forward price curve provides an economic incentive to consume available supplies (including those in storage) rather than hold supplies in storage for future use.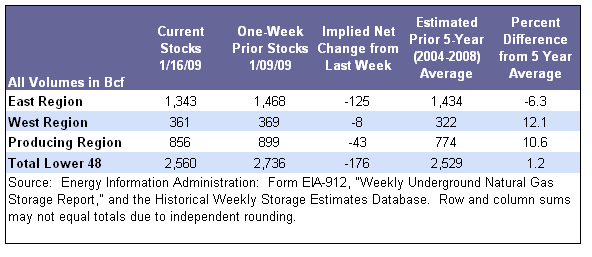 More Storage Data
Other Market Trends
Overview of Natural Gas Shut-ins Caused by the Hurricanes of 2008. An estimated 1.1 billion cubic feet per day of Federal Gulf of Mexico natural gas production remained shut in from damages resulting from Hurricanes Gustav and Ike, as of January 14, 2009, according to data reported by the U.S. Minerals Management Service. Gustav and Ike both made landfall in September 2008 and producers continue recovery efforts. Shut-in production in the Federal Gulf has fallen 85 percent from a high of 7.3 Bcf per day on September 13, 2008; and 27 percent from its last reported value of 1.5 Bcf per day on December 16, 2008. However, shut-in production still represents roughly 2 percent of total U.S. production. Cumulative shut-in production for both the Federal Gulf of Mexico and onshore and offshore production in the State of Louisiana are estimated at more than 425 Bcf as of January 14. Gulf production losses make up about 89 percent of total shut-in production at an estimated 378 Bcf. Estimated cumulative shut-ins for the final 4 months of 2008 represented about 6 percent of total U.S. natural gas production for 2008. Despite losses from the hurricanes, EIA's January 2009 Short-Term Energy Outlook predicts production will have increased by 5.9 percent in 2008, because of the growth in onshore unconventional production.

Prices of Natural Gas Liquids Have Been Generally Decreasing Since Summer. Despite the active hurricane season in 2008 and the associated loss in processing capacity beginning in August 2008, natural gas liquids (NGL) prices have decreased dramatically, while NGL volumes in storage increased to levels above those recorded at the same time in 2007. Prices for NGLs fell by more than 12 percent on average in September 2008 compared with August 2008 prices, followed by another 34 percent drop in October 2008. Overall, average monthly NGL prices in October were more than 50 percent lower than prices in July 2008. The highest price decreases since July 2008 were observed for ethane and normal butane. Lower prices in September and October occurred as NGL storage levels exceeded those recorded in August. NGL additions to storage increased through the spring and summer and total volume in storage exceeded the previous year's level in each month between April and October. This was particularly the case for propane and normal butane stocks, which added 33,604 and 31,636 thousand barrels, respectively, between April and October. While total NGL net additions fell short of the 5-year average between May and July 2008, they still ended September and October at levels above those of the 5-year average for the 2 months. This was the result of larger-than-average net additions to storage in August and September 2008.
Natural Gas Transportation Update
Destin Pipeline Company announced on January 14 than it will no longer provide transportation service to the Plant Daniel delivery point in Jackson County, Mississippi. According to the pipeline the delivery point has been disconnected from the system.



Tennessee Gas Pipeline reported on January 20 that it has completed the installation of the anchor weights and matting on the 36-inch Bluewater East Leg, completing the repair of this section. The Bluewater East Leg line had been out of service since Hurricane Ike made landfall and damaged the system in mid-September 2008. Last week, Tennessee also began leak tests, using gas provided as operational assistance by producers with manned platforms, on the 30-inch Bluewater Header between Ship Shoal area block 198 and Main Line Valve 523M-105 in South Marsh Island area block 79. Furthermore, Tennessee is conducting leak tests on the 30-inch line between Ship Shoal area block 198 and Eugene Island area block 349.



Trunkline Gas Company notified its customers that the T-27 platform in the Ship Shoal area block offshore Louisiana toppled during the Hurricane Ike causing significant damage to this segment of Trunkline's system. Trunkline does not intend to replace the toppled platform, but does intend to make subsea repairs to bring this lateral back in service. While the first phase of the repairs already has been completed, the pipeline company expects that the second phase will be completed in the second quarter of 2009.



In expectation of a return to more normal temperatures in its market area, Transcontinental Pipeline terminated the operational flow order on January 22 that was in place since January 13. Furthermore, the pipeline has lifted all restriction on imbalance nominations.



Sabine Pipe Line declared a force majeure on January 21 as a result of the removal of a compressor at the Henry Hub North Booster Station in order to complete necessary repairs. The repairs were expected to be completed within 24 hours and resulted in a reduced compression capabilities at the station by 20 percent. The pipeline reported that firm transportation services were not affected.
See Weekly Natural Gas Storage Report for additional Natural Gas Storage Data.
See Natural Gas Analysis for additional Natural Gas Reports and Articles.
See Short-Term Energy Outlook for additional Natural Gas Prices, Supply, and Demand.