Released: January 8, 2009
Next Release: January 15, 2009
Overview (For the Week Ending Wednesday, January 7, 2009)
Since Wednesday, December 31, natural gas spot prices increased at most markets in the Lower 48 States except in the Northeast region. Prices at the Henry Hub rose 26 cents per million Btu (MMBtu) or about 5 percent, to $5.89 per MMBtu.

At the New York Mercantile Exchange (NYMEX), the futures contract for February delivery at the Henry Hub settled yesterday (January 7) at $5.872 per MMBtu, climbing 22 cents per MMBtu or about 4 percent since last Wednesday, December 31.

Natural gas in storage was 2,830 billion cubic feet (Bcf) as of January 2, which is about 3 percent above the 5-year average (2004-2008), following an implied net withdrawal of 47 Bcf during the report week.

The spot price for West Texas Intermediate (WTI) crude oil increased $3.50 per barrel since last Wednesday, December 31, to $42.75 per barrel or $7.37 per MMBtu. On December 23, 2008, crude oil prices fell to their lowest levels since December 1, 2003, falling to $30.28 per barrel.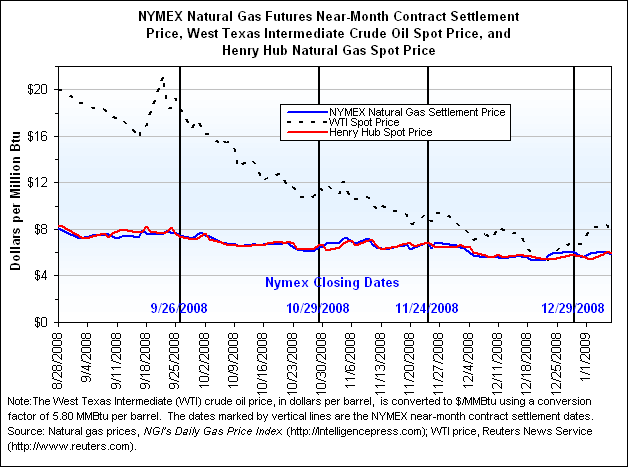 More Summary Data
Prices
Natural gas spot prices increased at most market locations in the Lower 48 States, posting increases of 10 to 41 cents per MMBtu since Wednesday, December 31. Factors contributing to the climbing prices included cold winter weather prevailing throughout most of the Lower 48 States, and the increased crude oil prices. The principal exceptions to the overall pattern of rising prices since last Wednesday occurred in the Northeast region where prices fell between $0.60 and $1.75 per MMBtu as transportation constraints eased in the region.

Despite this week's increases, natural gas prices are significantly below the levels reported last year at this time. As of January 7, natural gas prices are $0.38 to $2.47 per MMBtu, or 5 to 36 percent, below levels at this time last year at most market locations. At the Henry Hub, prices were $1.22, or 23 percent, below the 2008 level. The year-over-year price declines were even more pronounced in the Rocky Mountains region, where prices were $2.11 per MMBtu below last year's levels, on average. Factors contributing to the relative softness of natural gas prices compared with last year at this time likely included the robust levels of domestic natural gas production and working gas in storage, the lower level of crude oil prices, and the effects of the weakening economy on natural gas demand, especially in the industrial sector.



At the NYMEX, the prices for natural gas delivery contracts through January 2010 rose between 17 and 25 cents per MMBtu, or 3 to 4 percent, since Wednesday, December 31. Prices for the 12-month futures strip (February 2009 through January 2010) averaged $6.41 per MMBtu as of Wednesday, January 7, climbing by roughly 20 cents per MMBtu, or about 3 percent, on the week. Contracts for delivery during the rest of the current heating season (February through March 2009) averaged $5.87 per MMBtu, and traded at an average discount of 2 cents per MMBtu relative to the spot price.

The January contract for natural gas delivery at the Henry Hub expired in trading on December 29 at $6.136 per MMBtu, declining 25 cents per MMBtu during its tenure as the near-month contract. At $6.136 per MMBtu, the January 2009 contract expired $1.04 or 14 percent below the expiry of the January 2008 contract. This marks the lowest level for the expiry of a January contract since the January 2007 contract expired at $5.84 per MMBtu.

More Price Data
Storage
Working gas in storage decreased to 2,830 Bcf as of Friday, January 2, according to EIA's Weekly Natural Gas Storage Report (see Storage Figure). The implied net withdrawal of 47 Bcf from working gas was 100 Bcf below last year's net withdrawal of 147 Bcf for the same report week. Working gas stocks are now 31 Bcf above last year's level at this time and 87 Bcf above the 5-year average. This is the first time that working gas stocks exceeded year-ago levels since December 7, 2007.

Warmer-than-normal temperatures in the Lower 48 States likely contributed to the below-average level of net withdrawals from working gas storage. The National Weather Service's degree-day data (see Temperature Maps and Data) indicate that temperatures in the Lower 48 States during the week were above normal levels and the levels that prevailed last year. On average, heating degree-days were 16 percent below normal in the Lower 48 States. The pattern of warmer-than-normal temperatures prevailed throughout most of the Lower 48 States, as each Census Division, except the Pacific Census Division, reported heating degree-days that were between 5.5 and 35 percent below normal. Heating degree-days exceeded historical norms in the Pacific Census Division by 6 percent.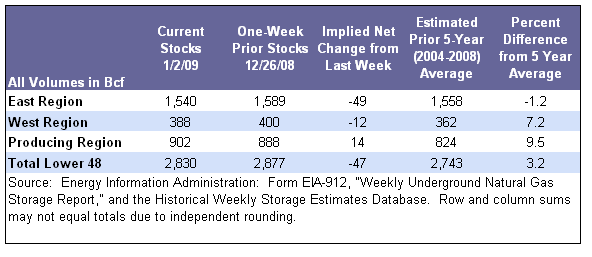 More Storage Data
Other Market Trends
SEC Updates Its Rule on Reserves Reporting. The Securities and Exchange Commission (SEC) updated its reserves reporting requirements for oil and natural gas companies on Monday, December 29, 2008. The new disclosure requirements include provisions that permit the use of new technologies to determine proved reserves if those technologies have been demonstrated empirically to lead to reliable conclusions about reserves volumes. The new requirements also will allow companies to disclose their probable and possible reserves to investors. Currently, SEC's rules limit disclosure to only proved reserves. To classify reserves as proved, a company must be reasonably certain, based upon geological and engineering data, that it can economically recover them. The new disclosure requirements also require companies to report the independence and qualifications of a reserves preparer or auditor and to file reports when a third party is relied upon to prepare reserves estimates or conduct a reserves audit. Furthermore, companies are required to report oil and gas reserves using an average price based upon the prior 12-month period rather than year-end prices. According to the SEC, the use of the average price will maximize the comparability of reserves estimates among companies and mitigate the distortion of the estimates that arises when using a single pricing date.

EIA Updates Its Residential Price Brochure. The Energy Information Administration (EIA) has released the 2008 update of the brochure entitled Residential Natural Gas Prices: What Consumers Should Know. This brochure provides basic information to residential consumers concerning natural gas supplies and prices. It explains the factors that influence natural gas prices, summarizes EIA's projections for the coming heating season (based on the November 2008 Short-Term Energy Outlook), and suggests ways for consumers to save on their natural gas bills. Despite the recent decline in wholesale prices, EIA expects that generally higher prices to residential customers will continue through this winter. The generally higher prices will be partly the result of temperatures that are expected to prevail in the Lower 48 States, which are expected to be 2.1 percent colder than last winter (October 2008 – March 2009). However, supplies of natural gas are expected to be sufficient to satisfy all residential consumers' needs. EIA estimates that the average price of residential natural gas in the Midwest, where about 76 percent of its 24.7 million households use natural gas to heat their homes, will be about 1.8 percent higher than last winter. Consumption in the Midwest is projected to be about 2.3 percent lower this winter, reflecting the warmer temperatures in this region. As a result, EIA expects that the total amount spent for natural gas consumed by an average Midwest residential customer this winter will decrease by about 0.5 percent compared with last winter's level.
Natural Gas Transportation Update
On Tuesday, January 6, Gulf South Pipeline Company began unscheduled maintenance at its Montpelier Compressor Station, which is located in St. Helena Parrish, Louisiana. The pipeline estimated that work will continue for 6 to 8 weeks, during which capacity through the station could be reduced by as much as 75 million cubic feet (MMcf) per day.
ANR Pipeline Company on Tuesday said it will continue engine maintenance at several compressor stations this month along its Southeast Mainline (SEML), which connects producing fields in the Gulf region (starting in Louisiana) to markets in the Midwest with a terminus in Michigan. The work will result in several capacity reductions on SEML. Through today (January 8), SEML capacity will be reduced by 200 MMcf per day from a normal operational level of 1.4 billion cubic feet (Bcf) per day. Beginning January 9 and continuing through January 31, capacity will be reduced by 90 MMcf per day. ANR noted that shippers without firm transportation entitlements may experience interruptions in service, if the recent level of flows continues during the month.

About 80 percent of the Douglas gathering system in Wyoming is back in service, according to owner and operator DCP Midstream Partners (DCP). On Tuesday, January 6, DCP announced completion of the second phase of an upgrade of the gathering system, which transports up to 25 MMcf per day in the Powder River Basin. The final phase of the system enhancement project is scheduled for completion by the end of the first quarter of 2009. Volumes are currently returning to the system after a curtailment to repair damage to a pipeline discovered during pipe integrity testing.

Southern California Gas Company will continue maintenance at its Aliso Canyon storage facility in Los Angeles County, California, until March 15. The work began Monday, January 5, and has resulted in a reduction of 300 MMcf per day of withdrawal capacity from a total of 1.8 Bcf per day.
See Weekly Natural Gas Storage Report for additional Natural Gas Storage Data.
See Natural Gas Analysis for additional Natural Gas Reports and Articles.
See Short-Term Energy Outlook for additional Natural Gas Prices, Supply, and Demand.