Released: October 16, 2008
Next Release: October 23, 2008
Overview (For week ending Wednesday, October 15)
Since Wednesday, October 8, natural gas spot prices increased at most markets in the Lower 48 States outside the California, West Texas, and Arizona/Nevada regions, with prices rising as much as 76 cents per million Btu (MMBtu). Prices at the Henry Hub rose 6 cents per MMBtu or about 1 percent, to $6.64 per MMBtu.

At the New York Mercantile Exchange (NYMEX), the futures contract for November delivery at the Henry Hub settled yesterday (October 15) at $6.592 per MMBtu, declining 15 cents per MMBtu or about 2 percent since last Wednesday, October 8.

Natural gas in storage was 3,277 billion cubic feet (Bcf) as of October 10, which is about 3 percent above the 5-year average (2003-2007), following an implied net injection of 79 Bcf.

Amid signs of a softening economy, the spot price for West Texas Intermediate (WTI) crude oil decreased $14.53 per barrel on the week to $74.38 per barrel or $12.82 per MMBtu. At $74.38 per barrel, the crude oil price is at its lowest level since August 31, 2007, when the price averaged $73.98, and 49 percent below the record-high price of $145.31 posted on July 3, 2008.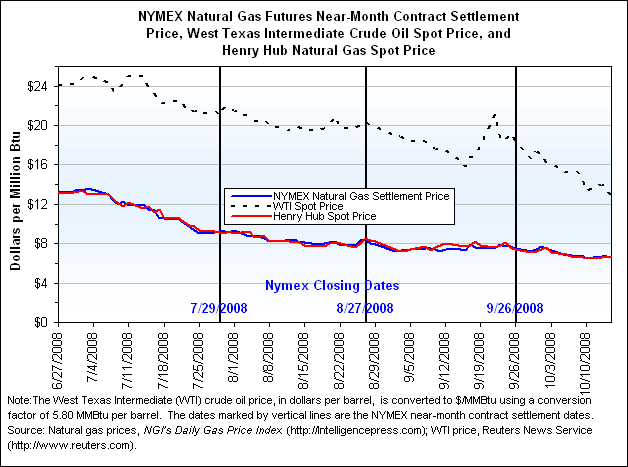 Prices
Natural gas spot prices increased on the week at most market locations, with increases of up to 76 cents per MMBtu. Since Wednesday, October 8, natural gas prices exhibited considerable resilience despite falling crude oil prices and the general softening of the economy. Factors contributing to the relative strength of natural gas prices likely include the imminent advent of the 2008-2009 heating season, a cooling trend in some parts of the Lower 48 States, and continuing production shut-ins of 2.7 Bcf per day in the Gulf of Mexico. However, there may be an unusual degree of uncertainty surrounding price expectations. The volatility in the financial markets seems to be contributing to heightened uncertainty in natural gas markets about the upcoming heating season. Additionally, downside risks to natural gas prices remain significant. With storage levels at 3,277 Bcf and 3 weeks remaining before the heating season, it appears increasingly likely that natural gas stocks will exceed 3,400 Bcf by October 31. Further, the impact of the softening economy on natural gas demand—particularly in the industrial sector—remains unknown.

The largest average regional price increases occurred in the Midcontinent and Rocky Mountains regions, with prices at most markets in the regions climbing between 27 and 76 cents per MMBtu, or 10 to 27 percent, since last Wednesday, October 8. Cooling temperatures in the Midcontinent and Rocky Mountains regions likely contributed to the price hikes, as prices gained 47 and 44 cents per MMBtu, respectively, since last Wednesday. The Florida region posted the next largest increase, as prices climbed by 20 cents per MMBtu. Price increases elsewhere in the Lower 48 States were less pronounced, with increases of less than 15 cents per MMBtu in the Louisiana, Alabama/Mississippi, Midwest, and East and South Texas regions.

In contrast to the pattern of rising prices elsewhere in the Lower 48 States, prices in the California, Arizona/Nevada, and West Texas regions posted declines since last Wednesday. Relatively mild temperatures and light weather-related demand in the Southwest likely contributed to the declines, as prices fell between 9 and 48 cents per MMBtu on average in the regions. By far the largest declines since last Wednesday occurred in the Southern California region, where prices fell between 79 and 84 cents per MMBtu.

Prices at most market locations in the Lower 48 States are significantly below the levels reported last year at this time. Prices at the Henry Hub are at their lowest levels since November 9, 2007. Compared with last year at this time, the natural gas spot price at the Henry Hub is 45 cents per MMBtu, or 6 percent, below last year's level.

At the NYMEX, the prices for natural gas delivery contracts through October 2009 fell between 15 and 34 cents per MMBtu, or 2 to 4 percent, since Wednesday, October 8. Prices for the 12-month futures strip (November 2008 through September 2009) averaged $7.11 per MMBtu as of Wednesday, October 15, falling by roughly 28 cents per MMBtu, or about 4 percent on the week. Contracts for delivery next heating season (November 2008 through March 2009) averaged $6.98 per MMBtu, and traded at an average premium of 34 cents per MMBtu relative to the spot price.

Storage
Working gas in storage increased to 3,277 Bcf as of Friday, October 10, according to EIA's Weekly Natural Gas Storage Report (see Storage Figure). The implied net injection of 79 Bcf into working gas was 16 Bcf or 25 percent more than the 5-year average net injection of 63 Bcf, and was 30 Bcf above last year's net injection of 49 Bcf for the same report week. Working gas stocks are now 87 Bcf below last year's level at this time compared with the peak difference of 389 Bcf as of July 4, 2008. Working gas is 85 Bcf above the 5-year average. To match last year's level at the start of the heating season, working gas stocks would have to increase 258 Bcf over the last 3 weeks of the heating season, or about 86 Bcf per week, exceeding the 5-year average injection over the period by about 30 percent.

Mild temperatures in the Lower 48 States mitigated weather-related demand for natural gas, and contributed to the magnitude of net injections into working gas storage. The National Weather Service's degree-day data (see Temperature Maps and Data) indicate that temperatures in the Lower 48 States were close to normal levels, with average temperatures in each Census Division ranging between 51 and 70 degrees Fahrenheit. These relatively mild temperatures would not result in significant natural gas demand for heating or cooling.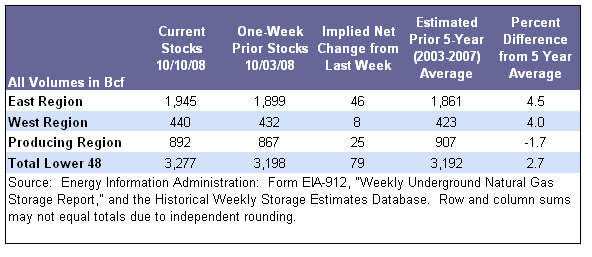 More Storage Data
Other Market Trends
EIA Requests Comments Regarding Release Policies for Weekly Data Reports. The Energy Information Administration (EIA) has issued a Federal Register notice to solicit comments on the process and technologies used for disseminating weekly information regarding petroleum and natural gas stocks in the Weekly Natural Gas Storage Report (WNGSR) and the Weekly Petroleum Status Report (WPSR). EIA has attempted to develop its current dissemination processes and information technologies to meet its goal of providing fair access to any interested user, but has recently faced significant challenges in this area that may require changes to be made. EIA is asking for public comment on a range of issues concerning release of its weekly information. Key issues include the following.


Should EIA be concerned over the accessibility of the information it disseminates on its Web site if some users experience delays in accessing the weekly data?
Would treating different types of customers differently be a problem?
Are there particular technologies that EIA should consider to (a) manage the brief, extraordinarily high computer loads associated with the WNGSR and WPSR releases, (b) block aggressive behaviors that reduce service quality to others (inadvertently or intentionally), and (c) protect data after it is loaded onto the servers and before its release?
Should EIA consider moving the release times for the WNGSR and WPSR?
Additional issues and questions are presented in the notice. Comments submitted in response to this notice will be considered by EIA in the development of future dissemination policies, processes, and systems. Comments must be filed by November 14, 2008.

The EIA Released New Brief on Natural Gas Transportation. On October 10, the Energy Information Administration (EIA) released a new Energy in Brief (EIB) How Does Natural Gas Travel From Producing Fields to Consumers? According to the EIB, the natural gas transportation network in 2007 delivered more than 21 trillion cubic feet of natural gas, which went to about 70 million customers. The network, excluding gathering system operators, is made up of more than 200 mainline transmission pipeline companies, more than 1,300 local distribution companies, and about 125 underground natural gas storage operators. The network expanded greatly in the 1990s when more than 225,000 miles of new local distribution lines were installed to provide service to many new commercial facilities and housing developments that wanted access to lower-priced natural gas supplies during that period of economic growth.
Natural Gas Transportation Update
The Williams Companies on Monday, October 13, released its most recent assessment of hurricane-related damage to company-owned infrastructure and its recovery schedule. Williams said that inspections of Discovery Gas Transmission LLC revealed that an 18-inch lateral was severed from its connection to the 30-inch mainline in the central Gulf of Mexico. The 30-inch mainline is likely to be returned to service by the end of November, while the 18-inch lateral is expected to be repaired and returned to service by the end of December. In southern Louisiana, the Cameron Meadows plant, which was out of service for 5 months following Hurricane Rita in 2005, also sustained significant damage from Hurricane Ike. Williams reported that plant operations are suspended while the company evaluates extent of the damage and required repair work.

Noting the need to protect the operational integrity of its pipeline in the Gulf of Mexico, Tennessee Gas Pipeline Company on Tuesday required scheduled volumes to be reduced to zero until further notice for the 527A-1300 and 527A-1800 pipelines offshore southeastern Louisiana. The force majeure is required as a result of damage from Hurricane Ike, according to Tennessee. The 527A-1300 line is a 15-mile, 12-inch-diameter lateral originating at South Pass area of the Gulf, while the 527A-1800 line is a very short 8-inch-diameter lateral also originating in South Pass. Tennessee previously reported that portions of the Bluewater segment and associated facilities of the pipeline system are expected to be repaired and operational by late October.

Southern California Gas Company (SoCal) on Monday shut down its Aliso Canyon storage facility in Los Angeles County, California, because of a wildfire threat. While SoCal was able to report preliminarily that no damage occurred to any major structures, the company states that it is not known at this time when the facility will be back in service. Nonetheless, SoCal on Tuesday was able to lift constraints on shippers relating to high linepack as expressed in an operation flow order implemented the prior day.

Questar Pipeline Company completed reservoir testing at its Clay Basin storage facility in Daggett County, northeastern Utah, and returned it to service on Wednesday, October 15. Injection capacity will return to 305,000 decatherms per day, according to Questar. However, physical withdrawals to Northwest Pipeline Company will be not available until installation of a replacement filter/separator is completed in early November.
See Weekly Natural Gas Storage Report for additional Natural Gas Storage Data.
See Natural Gas Analysis for additional Natural Gas Reports and Articles.
See Short-Term Energy Outlook for additional Natural Gas Prices, Supply, and Demand.