Released: September 25, 2008
Next Release: October 2, 2008
Overview (Wednesday, September 17, to Wednesday, September 24)
Since Wednesday, September 17, natural gas spot prices increased at nearly all markets in the Lower 48 States, with prices rising as much as $2.02 per MMBtu but climbing less than $1 per million Btu (MMBtu) at most locations. Prices at the Henry Hub rose 33 cents per MMBtu or about 4 percent, to $8.15 per MMBtu.



At the New York Mercantile Exchange (NYMEX), the futures contract for October delivery at the Henry Hub settled yesterday (September 24) at $7.679 per MMBtu, declining 23 cents per MMBtu or about 3 percent since last Wednesday, September 17.



Natural gas in storage was 3,023 billion cubic feet (Bcf) as of September 19, which is about 1.2 percent above the 5-year average (2003-2007), following an implied net injection of 51 Bcf.



The spot price for West Texas Intermediate (WTI) crude oil increased $9.45 per barrel on the week to $106.84 per barrel or $18.42 per MMBtu.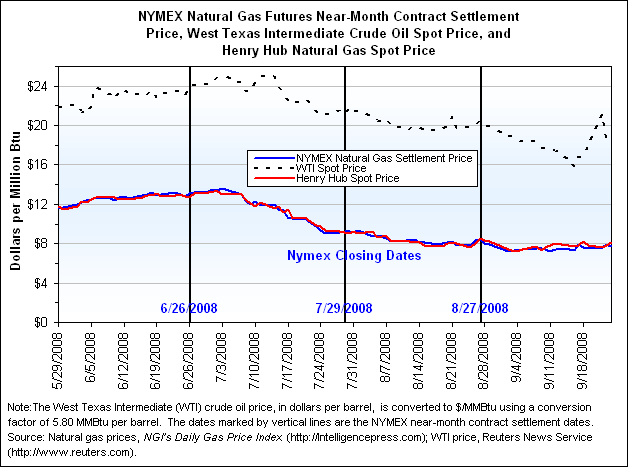 More Summary Data
Prices
Natural gas spot prices increased on the week (Wednesday-Wednesday) at almost all market locations, with increases of up to $2.02 per MMBtu as operators made gradual progress in their recovery from the impact of Hurricanes Gustav and Ike. Natural gas prices rose since last Wednesday, September 17, as natural gas production shut-ins and rising crude oil prices contributed to upward price pressure. Natural gas production has been slow to recover from the impact of Hurricanes Gustav and Ike, with the Minerals and Management Service reporting that 4.2 Bcf per day—57 percent—of offshore natural gas production in the Federal offshore Gulf of Mexico remained shut-in as of September 24. Cumulative shut-in production for the week (Thursday through Wednesday) was 35.4 Bcf in the Federal offshore Gulf of Mexico and another 5.9 Bcf reported for onshore Louisiana, including State waters. EIA confirmed that seven natural gas processing plants with an aggregate operating capacity of 4.7 Bcf per day—26 percent of the capacity in the path of Hurricane Ike—remained shut down. Despite early mild fall-like temperatures and record overnight lows, weather-related demand for natural gas was not a significant factor during the week.

The largest regional average price increases occurred in the Midcontinent and East and South Texas regions with prices climbing between $1.05 and $1.29 per MMBtu, or 18 to 28 percent since last Wednesday, September 17. The Houston Ship Channel and Katy Hub market locations posted the largest price hikes since last Wednesday, with prices climbing $2.01 and $2.02 per MMBtu, respectively, from their depressed levels following Hurricane Ike. Price increases elsewhere in the Lower 48 States were less pronounced. Price increases in the West Texas, Rocky Mountain, and Midwest regions ranged between 42 and 58 cents since last Wednesday. Prices in the Louisiana and Northeast regions rose 30 and 32 cents per MMBtu, respectively. The smallest price increases occurred out West where prices climbed 25 cents per MMBtu in California and 17 cents in the Arizona/Nevada region.

In contrast to the pattern of rising prices elsewhere in the Lower 48 States, two market locations, both serving the Florida region, posted declines since last Wednesday. Relatively mild temperatures and light weather-related demand in the Southeast likely contributed to the declines, as prices fell 44 cents per MMBtu at the Florida citygate and 13 cents per MMBtu at Florida Gas Zone 3.

At the NYMEX, the prices for natural gas delivery contracts through September 2009 fell between 2 and 29 cents per MMBtu since Wednesday, September 17. Prices for the 12-month futures strip (October 2008 through September 2009) averaged $8.27 per MMBtu as of Wednesday, September 24, falling by roughly 13 cents per MMBtu, or about 2 percent on the week. Contracts for delivery next heating season (November 2008 through March 2009) traded at an average premium of 12 cents per MMBtu relative to the spot price. However, with natural gas storage levels near normal levels for this time of year, the natural gas market appears to be well-supplied for the upcoming heating season.

More Price Data
Storage
Working gas in storage increased to 3,023 Bcf as of Friday, September 19, according to EIA's Weekly Natural Gas Storage Report (Weekly Natural Gas Storage Report (see Storage Figure). The implied net injection of 51 Bcf into working gas was 26 Bcf less than the 5-year average net injection of 77 Bcf, and was 20 Bcf below last year's net injection of 71 Bcf for the same report week. At 3,023 Bcf, working gas in storage has climbed above the 3,000 Bcf level for the first time during 2008. Working gas stocks are now 162 Bcf below last year's level at this time and 35 Bcf above the 5-year average. This week's injection ends an 8-week stretch during which injections into working gas in storage exceeded the last year's net injection. The shortfall with respect to last year's level peaked on July 4, 2008, at 389 Bcf.

Mild temperatures in the Lower 48 States mitigated weather-related demand for natural gas, and contributed to the magnitude of net injections into working gas storage. However, shut-in production in the Gulf resulted in the smaller-than-normal level of injections. The National Weather Service's degree-day data (see Temperature Maps and Data) indicate that temperatures in the Lower 48 States were close to normal levels, with average temperatures in each Census Division ranging between 63 and 76 degrees Fahrenheit. These mild temperatures would not result in significant demand for natural gas for heating or cooling. During the week ending last Thursday, cumulative shut-ins in the Gulf totaled about 46 Bcf, with another 5.6 Bcf in Louisiana. The loss of production would have significantly reduced the level of natural gas available for injections.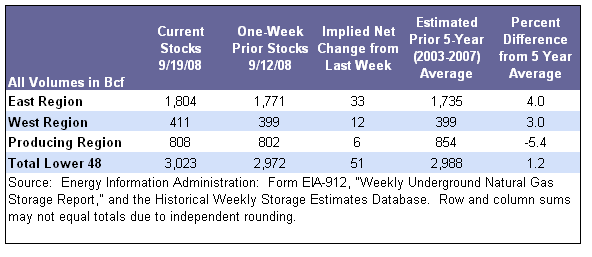 More Storage Data
Other Market Trends
FERC Authorizes First LNG Terminal on the West Coast. The Federal Energy Regulatory Commission (FERC) approved the first new liquefied natural gas (LNG) import terminal and a sendout pipeline to serve the Pacific Northwest on September 18, 2008. The new LNG terminal, Bradwood Landing, would deliver up to 1.3 Bcf of natural gas per day to Georgia Pacific's Wauna Mill and Portland General Electric's Beaver Power Plant, and into intrastate and interstate pipeline systems through interconnections with Northwest Natural Gas Company and Williams Northwest Pipeline. The Bradwood Landing LNG terminal is planned to be constructed on the Columbia River in Clatsop County, Oregon, and would consist of two storage tanks and a 36.3-mile pipeline, among other related facilities. FERC's approval of the project requires that the applicant fully implement 109 mitigation measures designed to enhance the safety and security of the facilities and to ensure the project has limited effects on the environment. According to FERC, Bradwood Landing can help meet the projected energy needs of the Pacific Northwest and also provide the United States with direct access to LNG markets in the Pacific region.
Natural Gas Transportation Update
According to the Department of Energy, as of September 24, 9 of the 26 major natural gas pipelines in the Gulf Coast area continue to report complete shut-in of their systems because of Hurricane Ike. The remaining pipelines report that portions of their systems remain at reduced levels of gas flow. Damage assessments and repairs continue to be performed at both onshore and offshore facilities. The pipelines continue to provide updates to their customers on those points along the systems that were impacted and are now approved to flow gas based on line integrity tests.



On September 24, the Natural Gas Pipeline Company of America (NGPL) reported that power has been restored to Compressor Station 343 in Liberty County, Texas. However, a force majeure remains in effect for Compressor Station 342 in Cameron Parish, Louisiana. In addition, the leaks found on the Louisiana Line have been repaired and NGPL has notified its customers that the capacity along this segment has been restored and the restrictions have been lifted.



Sea Robin Pipeline Company commenced gas flow on those segments that have been cleared and were available to flow on September 22. Certain segments along the East and West Legs of Sea Robin's offshore system sustained damage from Hurricane Ike and will remain out of service. No time frame has been provided for when service will commence at these segments.



Sabine Pipe Line LLC reported on September 22 that it has approved additional points for flow on the Texas Mainline interconnects. However, only partial compression continues to be available at the Henry Hub complex and the pipeline has informed its shippers that it may be required to allocate capacity if nominations exceed Sabine's compression capabilities.
See Weekly Natural Gas Storage Report for additional Natural Gas Storage Data.
See Natural Gas Analysis for additional Natural Gas Reports and Articles.
See Short-Term Energy Outlook for additional Natural Gas Prices, Supply, and Demand.