Released: September 11, 2008
Next Release: September 18, 2008
Overview (Wednesday, September 3, to Wednesday, September 10)
Natural gas spot prices increased at most market locations in the Lower 48 States this report week (Wednesday–Wednesday, September 3-10), as the fifth hurricane of the season moving through the Gulf of Mexico has prompted mandatory evacuation orders in some areas as well as evacuation of personnel from offshore platforms. Mandatory evacuation orders in Louisiana have led to the shutdown of at least two processing plants, with a total of 700 million cubic feet (MMcf) per day of processing capacity.



During the report week, the Henry Hub spot price increased $0.39 per million Btu (MMBtu) to $7.65.



At the New York Mercantile Exchange (NYMEX), futures prices for the near-month (October) contract rose each day for the first 4 days of the report, with a decline yesterday (September 10), resulting in a weekly net increase of $0.129 per MMBtu. The October 2008 contract settled yesterday at $7.393 per MMBtu.



Natural gas in storage reached 2,905 Bcf as of Friday, September 5, with net injections totaling 58 Bcf. Currently, the total volumes in storage stand 2.9 percent above the 5-year (2003-2007) average, but remain about 5 percent below last year's level.



The average West Texas Intermediate (WTI) crude oil price decreased $6.72 per barrel on the week. The WTI settled yesterday at $102.66 per barrel or $17.70 per MMBtu. Yesterday's crude oil price reached the lowest level since April 1, 2008.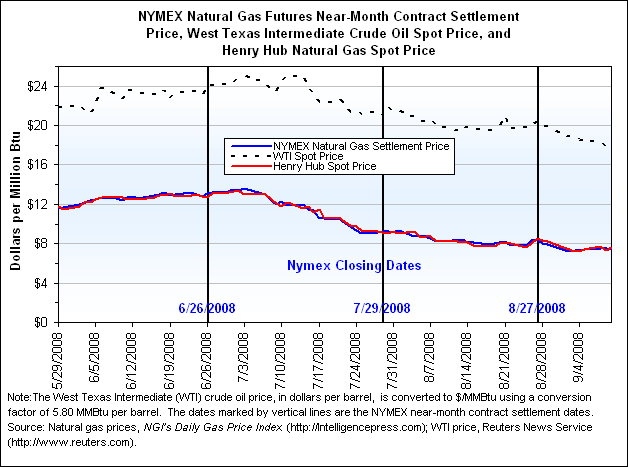 More Summary Data
Prices
The formation of Hurricane Ike over the past week and its forecasted track pushed natural gas prices higher this report week. While the projected path of the storm indicates that areas in the western Gulf of Mexico will be affected the most and landfall is expected in the early morning hours of Saturday, at least two parishes in Louisiana are currently under mandatory evacuation orders. As a result, natural gas facilities offshore and onshore Louisiana are shutting in production and processing. Furthermore, several pipeline companies in the western Gulf of Mexico indicate that production and flows have been shut in as a result of the approaching storm, but the duration of the shut-ins remains uncertain. According to the Minerals Management Service (MMS), as of yesterday, about 96 percent of the Gulf natural gas production was shut in, and the cumulative shut-ins reached nearly 68 Bcf since August 28, with a loss of 38 Bcf during the report week (Wednesday-Wednesday). While the uncertainty and the impact of the storm was reflected in the price increases that occurred across the Lower 48 States, spot prices in areas along the Gulf coast increased between 8 and 63 cents per MMBtu, which was significantly below increases in other areas of the country where prices rose between 3 cents and $2.98 per MMBtu.

The only exceptions to the general pattern of price increases in the Lower 48 States occurred at a number of locations in the Northeast where prices decreased on the week. Milder temperatures in the region, which dampened space cooling demand, contributed to the decrease in some Northeast pricing points this week. Furthermore, the availability of natural gas in storage in the East Region, which currently stands at 6.3 percent above the 5-year average, indicates strong supply conditions, leading to further softening of prices.

On the regional level, spot prices in the Rockies increased this week, after sliding to $3.89 per MMBtu last Wednesday (September 3). Spot prices in this region fell dramatically early this month when the Rockies Express pipeline was closed for hydrostatic testing, thereby reducing the effective market for gas in the area. Since then, spot prices in the Rockies have been increasing, reaching an average regional price of $5.50 per MMBtu yesterday. Other regions in the Lower 48 States posted increases of less than 50 cents per MMBtu with the exception of West Texas, which increased by 63 cents.

Liquefied natural gas (LNG) deliveries continue to lag behind last year's volume of imports, averaging at about 1.2 Bcf per day so far this month. Monthly average LNG flows so far in 2008 have been significantly lower than those in 2007, particularly for the months of April through August, the months in recent years when the United States has received most of its yearly LNG imports. This decrease is the result of natural gas prices in Europe and Asia that are significantly higher that those in the United States. For example, the LNG price in the United Kingdom exceeded that of the United States by $6.58 per thousand cubic feet (Mcf) last week, compared with a price differential of 8 cents per Mcf 1 year ago. As a result of the reduced LNG imports so far this year, LNG imports are expected to total 350 Bcf in 2008, compared with 771 Bcf in 2007 (see Other Market Trends).

Similar to the spot price movements, the price of the near-month contract at the NYMEX also increased this week. The October 2008 contract price rose $0.129 per MMBtu since last Wednesday as Hurricanes Gustav and Ike continue to affect natural gas production in the Gulf. Still, the price of the October contract remained significantly below the September 2008 contract, which traded well above $8 per MMBtu last month when it was the near-month contract. Prices for all other contracts in the 12-month strip decreased on the week, and the 12-month strip settled yesterday at $8.087 per MMBtu or about $0.081 lower than last Wednesday. The largest declines on the week were recorded for the January and February 2009 contract prices, reflecting the increase in overall production, above-average volume of natural gas in storage, as well as decreases in the price of crude oil.

More Price Data
Storage
Working gas in storage increased to 2,905 Bcf as of Friday, September 5, 2008, which is 2.9 percent above the 5-year average inventory level, according to EIA's Weekly Natural Gas Storage Report Weekly Natural Gas Storage Report (Weekly Natural Gas Storage Report (see Storage Figure). This report week's implied net injection of 58 Bcf is about 26 percent lower than the 5-year average injection of 78 Bcf for the week, falling short of the 5-year average net injection for the first time in 8 weeks. Net injections to storage would have been affected by the 36 Bcf of hurricane-induced production shut-ins in the Gulf of Mexico and the warmer-than-normal temperatures across much of the country. However, the 58-Bcf addition to storage surpassed last year's injection of 56 Bcf by about 4 percent.

The lower-than-average net injection came during a week of warmer-than-normal temperatures in every Census Division except the Mountain and West South Central, which likely drove space cooling demand higher. According to the National Weather Service, cooling-degree days were about 21 percent higher than normal in the country as a whole. Temperatures in the New England, Middle Atlantic, and East North Central Census Divisions, which include key natural gas consuming areas, were between 25 and 75 percent higher than normal (see Temperature Maps and Data).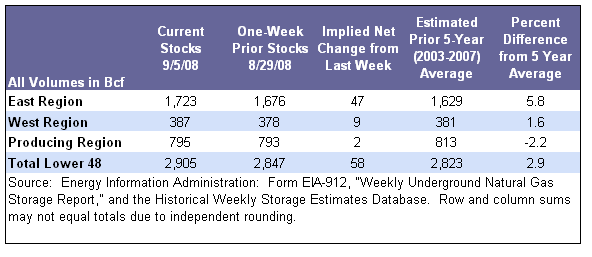 More Storage Data
Other Market Trends
EIA Reports on Hurricane Impacts: The U.S. Department of Energy (DOE) has been tracking the impact of the recent hurricanes, Gustav and Ike. According to the Minerals Management Service (MMS), as of September 10, approximately 5.4 Bcf, or more than 70 percent of production in the Federal Gulf of Mexico, has been shut in. Since the initial shut-ins caused by Hurricane Gustav, 67.8 Bcf of natural gas has not been produced. DOE reported that as a result of Hurricane Gustav three pipelines do not have any gas flow available from offshore points as of September 10, and four pipelines have shut in their systems in order to prepare for the arrival of Hurricane Ike. As of 11 a.m. eastern daylight time, on September 10, 24 of the processing plants in the path of Hurricane Gustav have resumed operations, with some at a reduced level. Additionally, three other processing plants are waiting for the return of electric power and/or gas flow from upstream pipelines resume, while the remaining four plants continue to be shut down, one of which is undergoing scheduled maintenance. The approach of Hurricane Ike to the U.S. Gulf Coast has raised a new round of concerns and some facilities are taking action to shut down operations before Ike's arrival.

EIA Releases the September Short-Term Energy Outlook. The Energy Information Administration (EIA) released its latest Short-Term Energy Outlook on September 9, which includes highlights about natural gas spot prices at the Henry Hub, residential natural gas prices for the upcoming heating season, and expected heating fuel expenditures for households using natural gas. The spot price of natural gas at the Henry Hub averaged $7.17 per thousand cubic feet (Mcf) in 2007 and is expected to average about $9.70 in 2008 and then decrease to $8.55 in 2009. Residential natural gas prices for October 2008 through March 2009 are expected to increase by $2.21 per Mcf from levels last heating season to an average of $14.93 per Mcf. Heating fuel expenditures for the average household using natural gas are expected to increase by $162 or 19 percent. Total natural gas consumption is expected to increase by 2.7 percent in 2008 and by 2.2 percent in 2009. Growth in all sectors is expected to remain high through 2009, driven primarily by increases in the residential and commercial sectors in 2008, and by electric power in 2009. Marketed natural gas production is projected to increase by 7.8 percent in 2008 and by 3.8 percent in 2009, owing to the strong production growth from the development of onshore fields, mostly in Texas and Wyoming. U.S. imports of liquefied natural gas (LNG) have declined from last year, as a result of growth in global LNG demand as well as the escalated relative prices in the Asia-Pacific region and Europe. LNG imports are expected to decline by more than 50 percent in 2008 reaching about 350 Bcf, and then increase to about 450 Bcf in 2009.
Natural Gas Transportation Update
As of September 10, three interstate pipeline companies still reported no gas flow from offshore points in the aftermath of Hurricane Gustav. These pipelines are the Mississippi Canyon Gas Pipeline LLC, Venice Gathering System LLC, and Destin Pipeline Company LLC, according to the U.S. Department of Energy (DOE). During the period of supply disruptions, the Energy Information Administration (EIA) has been providing a daily update of U.S. oil and natural gas market impacts at EIA Market Impact and DOE has been providing an update on the status of energy infrastructure at DOE Situation Report.



Even as outages relating to damages from Hurricane Gustav continue, operators in the Gulf of Mexico region are preparing for yet another major threat to energy infrastructure with Hurricane Ike expected to make landfall along the Texas coast sometime early Saturday, September 13. Texas Eastern Transmission Corp. and Transcontinental Gas Pipe Line Corp. were among the pipeline systems reporting plant and pipeline closures in preparation for Hurricane Ike, mostly because of mandatory evacuations onshore and reduced flows from operators who were evacuating offshore platforms. Because of the possible threat to safety, Texas Eastern said there has been a mandatory evacuation of the pipeline's Blessing Compressor Station in South Texas and, as a result, there would be lower capacity available for customers starting today. Citing the mandatory evacuation of Cameron Parish, Louisiana, Transco reported that its Southwest Louisiana Lateral will be shut, which will affect about 250 million cubic feet (MMcf) per day of supplies of flowing gas. Production losses from offshore operations also are resulting in reduced flows on Transco's Central Texas Gathering System and Mobile Bay Lateral.



Because of emergency conditions from Hurricane Ike, Tennessee Gas Pipeline Co. is postponing maintenance projects that were scheduled to begin in the next 2 weeks. The projects included pipeline inspections, hydrostatic testing, and preparations to abandon a small section of a pipeline. On Wednesday, September 10, Tennessee said it has already experienced a decline of approximately 1,000 MMcf per day of production in the supply area because of Hurricane Gustav and additional declines are occurring because of Hurricane Ike. However, the pipeline company noted that the interruption of supply has currently not had any significant operational impact in meeting customer obligations.



Northwest Gas Pipeline Corp. on Wednesday, September 10, said it continues to experience mechanical difficulties at the compressor station in La Plato County, Colorado. As a result, available capacity at the station has been reduced to 300 MMcf per day from a design capacity of 348 MMcf per day.
See Weekly Natural Gas Storage Report for additional Natural Gas Storage Data.
See Natural Gas Analysis for additional Natural Gas Reports and Articles.
See Short-Term Energy Outlook for additional Natural Gas Prices, Supply, and Demand.