Released: August 28, 2008
Next Release: September 4, 2008
Overview (Wednesday, August 20, to Wednesday, August 27)
Natural gas spot prices increased at most market locations in the Lower 48 States this report week (Wednesday–Wednesday, August 20-27), as tropical storm Gustav appeared to be heading into the Gulf of Mexico and industry initiated precautionary safety measures likely to result in the evacuation of offshore Gulf of Mexico platforms. During the report week, the Henry Hub spot price increased $0.53 per million Btu (MMBtu) to $8.55.



At the New York Mercantile Exchange (NYMEX), a trend of declining prices for futures contracts was at least temporarily interrupted. Early in the report week, the price of the near-term contract (September 2008) had decreased to its lowest price level since February, closing at $7.825 per MMBtu on Monday, August 25. However, the price increased nearly $0.57 per MMBtu over the next two trading sessions as the threat of supply interruptions from Gustav grew. For the week, the September 2008 contract gained 31.7 cents per MMBtu, ending trading yesterday (August 27) at $8.394.



During the week ending Friday, August 24, estimated net injections of natural gas into underground storage totaled 102 billion cubic feet (Bcf), an unusually high injection for August. Working gas in underground storage as of August 24 was 2,757 Bcf, which is 2.6 percent above the 5-year (2003-2007) average.



At least partially in response to the looming threat of supply interruptions from Gustav, the price of crude oil increased almost 3 percent during the report week. The West Texas Intermediate (WTI) average price yesterday was $118.17 per barrel, or $20.37 per MMBtu, which was $2.69 per barrel higher than the previous Wednesday.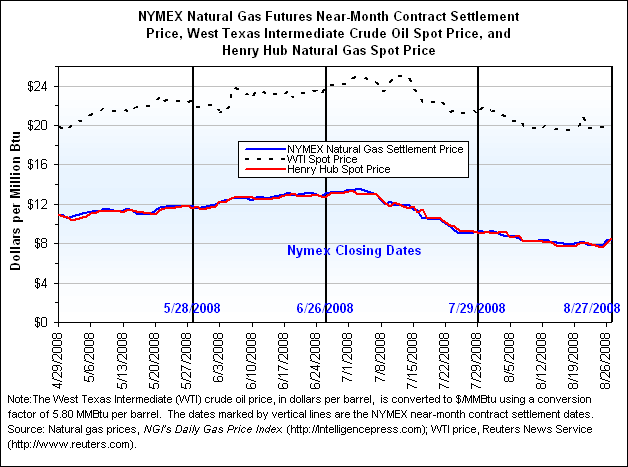 More Summary Data
Prices
The steady and steep decline in spot natural gas prices this summer abruptly ended this report week with the advent of Gustav, a tropical storm which is forecast to reach hurricane status shortly and appears to be tracking toward the U.S. Gulf Coast. While landfall would not occur until early next week, cities such as New Orleans are already preparing evacuations. From the perspective of the energy industry, crews would need to be airlifted from offshore platforms and rigs. Natural gas production likely would be temporarily shut-in, but the extent and duration of lost production capacity is still speculative. Nonetheless, the gravity of Gustav's threat was signaled in the Henry Hub price shooting up 93 cents per MMBtu since Monday for a net gain on the week of 53 cents. On a regional basis, spot markets along the Gulf Coast in Louisiana and East Texas registered an average price increase of $0.54 and $0.39 per MMBtu, respectively. The average regional price yesterday was $8.48 in Louisiana and $8.18 in East Texas.

Notwithstanding the prospect of supply interruptions from a tropical storm, many of the factors leading to the decline in prices this summer remain firmly in place. Temperatures during this report week were moderate in key consuming regions, and the peak summer demand season (from electric generators meeting air-conditioning needs) has passed with a surprisingly strong build in inventories occurring in preparation for next winter. Recent price decreases are related to an improved outlook for supplies, particularly because of reported increases in domestic production at unconventional fields such as the prolific Barnett Shale in Northeast Texas. Through the first 5 months of 2008, domestic production increased 8.7 percent in comparison with the same time period in 2007. Even with the increase in price at the Henry Hub during the report week, the spot price at the Henry Hub has decreased $4.76 per MMBtu, or 36 percent, since the recent peak price of $13.31 reached on July 2.

Contrary to the general increase in prices across the country, market prices at Rockies trading locations declined during the report week. The average spot price in the region was $5.96 per MMBtu yesterday, representing a decline of 38 cents on the week. Decreases were widespread in the region, with the largest ($1.29 per MMBtu) occurring at the Cheyenne Hub in Wyoming. Weather likely had an impact on natural gas demand in this region as temperatures were significantly cooler than normal over the weekend and early this week, prompting a decrease in cooling load.

The pace of deliveries of liquefied natural gas (LNG) imports remains considerably below last year's volumes. LNG imports, which had been expected to grow this year, appear to be on course to set a new 5-year low for 2008. Deliveries are estimated to have averaged about 0.9 Bcf per day in August compared with an average of 2.7 Bcf per day last year. To the extent LNG cargos are available for flexible delivery, LNG supplies are heading to Europe and Asia, where buyers continue to purchase LNG at prices higher than those that have prevailed in U.S. markets.

At the NYMEX, the price of the near-month contract (for September delivery) increased $0.317 per MMBtu during the report week to $8.394, also chiefly in response to the looming threat of production interruptions from Gustav. Nonetheless, the September contract, which reached its monthly expiration yesterday, recorded a significant decrease in price level in comparison with the August contract with an expiration price 82 cents per MMBtu, or almost 9 percent, lower than the prior month's contract price. Downward price pressure appeared related to an improved domestic production outlook, limited demand by electric power generators during the month, and movements in the crude oil price, which has decreased by about $7 per barrel since the beginning of the month. At the end of trading yesterday, the 12-month strip, which is the average for futures contracts over the next 12 months, was priced at $9.08 per MMBtu, an increase of about $0.32 since last Wednesday.

More Price Data
Storage
Working gas in storage increased to 2,757 Bcf as of Friday, August 22, 2008, according to EIA's Weekly Natural Gas Storage Report Weekly Natural Gas Storage Report (see Storage Figure). This report week's implied net injection of 102 Bcf is considerably higher than both the 5-year average injection of 57 Bcf and last year's injection of 38 Bcf. As a result, current inventories are now 2.6 percent above the 5-year average level of 2,686 Bcf. Further, the deficit between current inventories and levels last year at this time decreased to 6.8 percent, or 200 Bcf. The injection marked the third-largest weekly injection during 2008 and only the third time the weekly injection has exceeded 100 Bcf during 2008. Indeed, this is the largest weekly net increase to storage during August since data collection began in 1994, and the first time a weekly injection during August has exceeded 100 Bcf.

The relatively large net injection came during a week of cooler-than-normal temperatures in every Census Division except the Pacific, which likely reduced weather-related demand (by power-generators to meet air-conditioning needs). As indicated by National Weather Service data, the average temperature of 72.4 degrees during the week was 1.5 degrees below normal and 2.2 degrees below the same week last year. Moreover, cooling degree-days (a measure of the energy-use required by weather conditions) were 36 and 26 percent lower than normal in the Middle Atlantic and East North Central Census Divisions, respectively (see Temperature Maps and Data).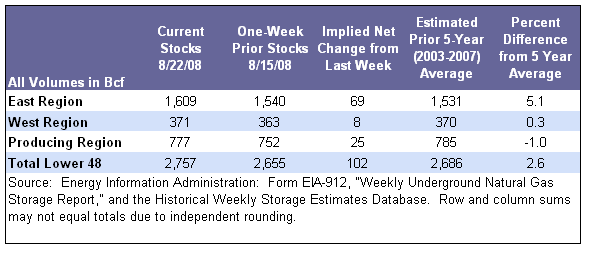 More Storage Data
Other Market Trends
MMS Reports Results of Lease Sale 207. The Minerals Management Service (MMS) announced on August 20 that the Western Gulf of Mexico Lease Sale 207 attracted a total of $487 million in high bids. The sale, which was held in New Orleans, was conducted by MMS and received 423 bids from 53 companies, with the sum of all bids received totaling $607 million. The lease sale covered 319 tracts comprising more than 1.8 million acres offshore Texas. According to MMS, about 17 percent of the tracts receiving bids were in ultra-deep water, which are areas that are in water depths of more than 5,249 feet (1,600 meters). The deepest tract receiving a bid was the Alaminos Canyon, Block 783 in 9,767 feet of water. Furthermore, the highest bid received for a tract was $61.1 million submitted by Statoil Gulf of Mexico LLS for Alaminos Canyon Block 380.

CME Group, Inc., Completes Acquisition of NYMEX Holdings, Inc. CME Group, Inc., announced on August 22 that it has completed its acquisition of NYMEX Holdings, Inc. According to the company, this acquisition will allow it to expand its product offerings and will provide customers around the world with access to all major benchmark asset classes. The new portfolio of product offerings will include interest rates, equity indices, foreign exchange, energy, agricultural commodities, as well as metals. CME Group stock will continue to trade, while NYMEX Holdings common stock has been delisted and will no longer trade. The acquisition created a company with approximately $2.7 billion in annual revenue (2007) and average trading volume of 14.2 million contracts per day, based on the first 2 quarters of 2008. CME Group operates the Chicago Mercantile Exchange, the electronic exchange Globex, and the Chicago Board of Trade. NYMEX Holdings operated the New York Mercantile Exchange (NYMEX) and the COMEX division of the exchange. The two companies entered into a strategic partnership in May 2006, listing all NYMEX energy and metals futures contracts to trade electronically on the Globex. As of August 22, more than 1 million NYMEX contracts traded electronically. Overall, the combined open outcry and electronic trading average daily volume, including over-the-counter trades on ClearPort, in July for NYMEX was 1.9 million contracts, a 30-percent increase from 1.4 million contracts per day in July 2007.
Natural Gas Transportation Update
Pacific Gas and Electric Company issued a systemwide Stage 2 high-inventory operational flow order (OFO) for Friday and Saturday (August 22-23) as a result of pipeline linepack that was close to maximum target levels. Penalties were set at $1 per decatherm (Dth) for positive daily imbalances exceeding a 6-percent tolerance.



Southern Natural Gas Company announced on August 21 that it had restored West Leg capacity to 770,000 Dth per day in time for Friday's nomination cycle. The capacity on the West Leg was reduced as a result of pipeline inspection operations (known as pigging) on the South Section 28 line south of White Castle compressor station in Louisiana. However, an additional pig run is scheduled for September 23 and 25. A pig is a device that runs through the pipeline, moved by the natural gas pressure in the pipeline, which cleans and inspects the pipe.



Tennessee Gas Pipeline took line 527A-700 in offshore Louisiana out of service on Tuesday, August 26, for replacement of a subsea pipe assembly and installation of a check valve. The repairs are expected to last through September 8. Physical flow was suspended at four offshore Louisiana meters while the repairs are underway.



On Tuesday, August 26, Natural Gas Pipeline Company experienced a failure on the south part of its North Lansing storage field located in Harrison County, Texas. The entire storage facility has been shut in until the preliminary investigation is completed. Firm storage services are not affected; however interruptible injection services are not available.
See Weekly Natural Gas Storage Report for additional Natural Gas Storage Data.
See Natural Gas Analysis for additional Natural Gas Reports and Articles.
See Short-Term Energy Outlook for additional Natural Gas Prices, Supply, and Demand.