Overview (Wednesday, February 13, to Wednesday, February 20)
Released: February 21, 2008
Next release: February 28, 2008
Natural gas spot and futures prices increased this report week (February 13-20), as frigid temperatures returned to regions of the country that rely on the fuel for space heating. During the report week, the Henry Hub spot price increased $0.73 per million Btu (MMBtu) to $9.08.
At the New York Mercantile Exchange (NYMEX), prices for futures contracts also registered significant increases. The futures contract for March delivery rose about 58 cents per MMBtu on the week to $8.965.
As of Friday, February 15, working gas in storage was 1,770 Bcf, which is 5.8 percent above the 5-year (2003-2007) average.
<![if !vml]>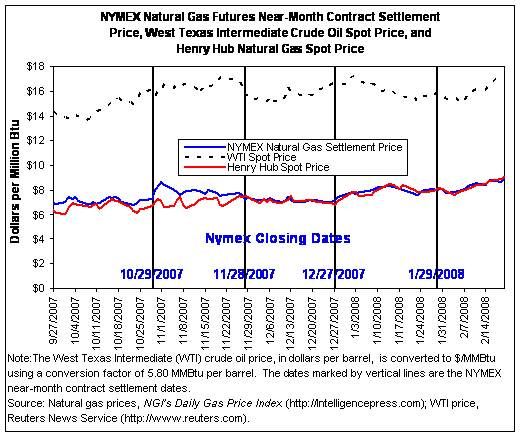 <![endif]>
Spot prices increased this week as space-heating demand remained strong in large population centers in the Midwest and Northeast. Continued cold temperatures and increased crude oil prices, which rose to more than $100 per barrel yesterday (February 20), contributed to increases in natural gas prices. On the week, the spot price at the Henry Hub in Louisiana increased $0.73 per MMBtu to $9.08. This is the highest spot price at the Henry Hub in over a year (since February 5, 2007, when the price reached $9.10 per MMBtu) and 72 percent higher than its recent low of $5.29 on September 4, 2007. Other spot prices along the Gulf Coast in Louisiana and Texas also registered relatively large increases between $0.56 and $0.72 per MMBtu, resulting in an average regional price of $9.00 in Louisiana and $8.79 in East Texas yesterday (Wednesday, February 20).  Price increases generally were smaller at trading locations more distant from the weather in the eastern half of the Lower 48 States. The average price in West Texas increased 57 cents per MMBtu for the week to $8.38, while prices increased an average of 55 cents in California to $8.65.
In the Northeast, the average price yesterday was $10.63 per MMBtu, which was 73 cents higher than the previous Wednesday. Significant variability in pricing existed for much of the report week, including an increase exceeding $0.50 per MMBtu at several market locations on Tuesday, February 19, in response to expectations of a frigid air mass moving into the region. For the week, the average spot price for delivery in New York City off Transcontinental Gas Pipe Line (Transco Zone 6 NY) increased $2.06 per MMBtu on the week to $12.94, which was the highest net change of any trading location in the regions. As extreme weather conditions have increased heating load in the region, various natural gas transportation providers such as Iroquois Gas Transmission Company, Tennessee Gas Pipeline, and Transcontinental Gas Pipe Line Corporation have been reporting tight operating conditions. This reduction in transportation flexibility primarily affects shippers who have purchased less expensive, non-firm capacity that often is interrupted during peak demand periods.
One factor in the recent runup in prices may be the relatively low imports of liquefied natural gas (LNG) to the Lower 48 States.  LNG imports have averaged less than 1 Bcf per day this winter, based on the send-out data published on companies' websites. LNG cargoes instead are heading to Europe and Asia, where buyers continue to purchase LNG at much higher prices than have prevailed in U.S. markets. Recent LNG imports are substantially lower than the large-scale volumes that moved into the U.S. market last summer, when at times they averaged more than 3 Bcf per day. For this report week, the Trunkline LNG terminal in Lake Charles, Louisiana, has reported low sendout volumes of regasified LNG (an average of 12 MMcf per day). Additionally, activity is limited at Dominion's terminal in Cove Point, Maryland (with sendout averaging just 36 MMcf per day). Meanwhile, activity has not been affected as significantly at the Suez North America LNG terminal in Everett, Massachusetts, where sendout activity of more than 400 MMcf per day is reported. The reduction in U.S. LNG imports reflects changes in LNG supply and demand across the world.  For example, Japan, which is the largest importer of LNG in the world, last year experienced a massive earthquake that resulted in the shutdown of nuclear power plants. As a result, Japan is now relying more on LNG as a fuel for electric power generation. Some LNG importing countries in Asian and Europe rely on LNG imports as a primary source of natural gas, resulting in a willingness at times to pay prices exceeding those in U.S. markets in order to have LNG cargos diverted to meet their demand requirements.
 <![if !vml]>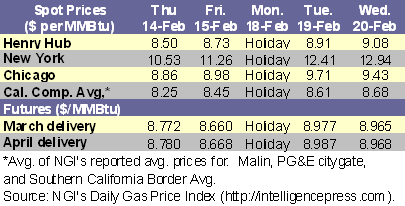 <![endif]>
Futures prices increased at the NYMEX, likely because of wintry weather in the Midwest and East and higher prices for competing products. The price of the near-month contract (for March delivery) rose $0.58 per MMBtu this week to $8.965 at the close of trading on Wednesday, February 20. During the week, higher crude oil prices (including some intraday trading at more than $100 per barrel) likely provided upward pressure on all energy commodities. The largest daily price increases occurred last Thursday ($0.38 per MMBtu) and Tuesday ($0.32), both days in which crude oil prices advanced significantly. However, price increases likely resulted from continuing cold, which has boosted space-heating demand and a pattern of large storage withdrawals this heating season. The current March contract price of $8.965 per MMBtu is nearly $1 per MMBtu higher than the January 2008 contract price of $7.996. It is also significantly higher than both the March 2007 expiration price of $7.55 per MMBtu and the March 2006 contract price of $7.112 at expiration.
Contracts for futures prices beyond the near-month contract all generally increased during the week. At the end of trading yesterday, the 12-month strip, which is the average for futures contracts over the next 12 months, was priced at $9.31 per MMBtu, an increase of about 45 cents since last Wednesday. Currently, the contract prices for deliveries in March, April, and May are similarly priced at about $8.97 per MMBtu. Beginning with the June 2008 contract, forward prices increase steadily through the remaining months of 2008 and the beginning of 2009. The highest-priced contract in the forward strip is the January 2009 contract, which closed at $9.995 per MMBtu on Wednesday, February 20.
Recent Natural Gas Market Data
<![if !vml]>

<![endif]>
Working gas in storage decreased to 1,770 Bcf as of Friday, February 15, 2008, according to EIA's Weekly Natural Gas Storage Report (see Storage Figure). This report week's implied net withdrawal of 172 Bcf is 8 percent higher than the 5-year average withdrawal of 160 Bcf for the week. However, the size of the net withdrawal is substantially less (25 percent) than the withdrawal of 228 Bcf for the comparable week last year, a period of bitterly cold temperatures in the Lower 48 States. Storage levels as of February 15 were still 5.8 percent above the 5-year average, despite the continuing relatively large withdrawals from storage in the past several weeks. If net withdrawals were to equal the 5-year average for the remainder of the heating season, underground storage levels would reach 1,345 Bcf at the end of March.
This week's above-average withdrawal resulted from continuing cold temperatures in much of the country. Temperatures across the country were 4 percent colder than normal, as measured by National Weather Service heating degree-days (HDDs) for the week ended February 14. HDDs in the East North Central Census Division totaled 17 percent above normal. The East North Central Division includes major population centers in the Midwest, the region of the country with the largest percentage of residents that heat their homes with natural gas (see Temperature Maps and Data). In comparison with last year at this time, however, temperatures for this report week were significantly warmer and HDDs were 13 percent lower. According to the National Weather Service, temperatures in every Census Division except the Mountain Division were higher during the report week this year. As a result, the net withdrawal (172 Bcf) for the report week ending February 15, 2008, was considerably lower than the withdrawal (228 Bcf) for the comparable report period last year.
<![if !vml]>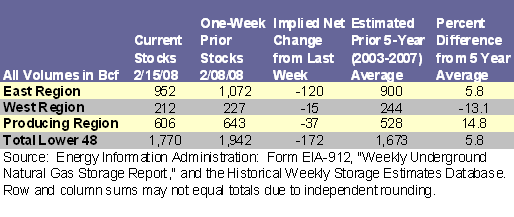 <![endif]>
Other Market Trends:
MMS Issues Final Notices of Eastern and Central Gulf Lease Sales: The Minerals Management Service (MMS) issued final notices of Lease Sales 206 and 224 on February 13, 2008. Both Federal oil and gas lease sales are scheduled to take place on March 19, 2008, at the Louisiana Superdome in New Orleans. Central Gulf of Mexico (GOM) Lease Sale 206 includes about 5,000 unleased blocks covering more than 28.5 million acres in the Central GOM planning area, offshore Louisiana, Mississippi, and Alabama.  The acreage is located from 3 to about 230 miles offshore and in water depths of about 10 feet to more than 11,200 feet.  MMS projects that Sale 206 contains between 877 to 1,457 million barrels of oil and from 3.66 to 5.90 trillion cubic feet (Tcf) of natural gas. Eastern Gulf Lease Sale 224, mandated by the Gulf of Mexico Energy Security Act of 2006, consists of 118 whole or partial unleased blocks that cover about 547,000 acres of the Eastern GOM planning area.  The acreage is located at least 125 statute miles offshore, south of the Florida panhandle and west of the Military Mission Line in water depths ranging between about 2,700 feet to 10,200 feet.  Eastern Gulf Lease Sale 224 is the only sale scheduled in the MMS's current Five-Year Oil and Gas Leasing Program to include acreage in the Eastern GOM.  The last time this acreage was available in the Eastern GOM lease sale was in 1988.  Furthermore, according to MMS, it is the first sale in which the revenue sharing provision of the Gulf of Mexico Energy Security Act of 2006 will start immediately.  MMS estimates that the area has between 100 and 140 million barrels of oil and from 0.16 to 0.34 Tcf of natural gas. Revenue from all leases in the Eastern GOM Sale 224 will be shared by Alabama, Mississippi, Louisiana, and Texas.
Natural Gas Transportation Update:
<![if !supportLists]>· <![endif]>Mississippi River Transmission Corporation (MRT) issued a system protection warning (SPW) on February 15 that will remain in effect until further notice.  The warning is a response to forecasted cold weather.  During the SPW, MRT will not schedule any mainline interruptible or authorized overrun volumes for delivery located north of Glendale, Arkansas; firm volumes will be limited to their primary direction of flow. During the duration of the SPW, MRT will not schedule volumes that result in a daily short position in the market zone, and MRT will not cover imbalances in the market zone that result from actual deliveries exceeding scheduled deliveries.  According to MRT, capacity is available on the East Line and shippers who are affected by the SPW are encouraged to use the East Line or reduce delivery volumes.
<![if !supportLists]>· <![endif]>Northern Natural Gas Company issued a system overrun limitation (SOL) for all market-area zones for gas day February 21, 2008.  The SOL was the result of continued below-zero forecasted temperatures that will last through much of the gas day. 
<![if !supportLists]>· <![endif]>On February 18, Trunkline Gas Company announced an outage on the Kaplan 200-2 line in South Louisiana between gate valve sections 202-2 and 203-2. The outage was necessary so that the installation of the Cheniere interconnect could begin as scheduled on February 19, 2008.  The outage is expected to last 5 days, and shippers are not affected at this time. 
<![if !supportLists]>· <![endif]>On February 15, Eagle Rock Energy Partners, L.P. announced that its subsidiary, HESCO Gathering Company, experienced an explosion and fire on its 20-inch pipeline located in a remote rural area of Hidalgo County, Texas.  According to the company, there were no injuries or fatalities in connection with the incident.  The company shut off the source of natural gas flowing through the affected pipeline, which contained the fire.  At the time of the fire, about 35 MMcf per day of natural gas flowed through the pipeline, and at present, all but 5 MMcf per day of the pipeline's volumes have been diverted to alternate outlets.  The explosion is under investigation in order to determine the cause of the incident.