Overview (Wednesday, February 6, to Wednesday, February 13)
Released: February 14, 2008
Next release: February 21, 2008
<![if !supportLists]>· <![endif]>Since Wednesday, February 6, natural gas spot prices increased at virtually all markets in the Lower 48 States. Prices at the Henry Hub rose 41 cents per million Btu (MMBtu), or about 5 percent, to $8.35 per MMBtu.
<![if !supportLists]>· <![endif]>At the New York Mercantile Exchange (NYMEX), the futures contract for March delivery at the Henry Hub settled yesterday (February 13) at $8.388 per MMBtu, climbing 39 cents or about 5 percent since Wednesday, February 6.
<![if !supportLists]>· <![endif]>Natural gas in storage was 1,942 billion cubic feet (Bcf) as of February 8, which is 5.9 percent above the 5-year average (2003-2007).
<![if !supportLists]>· <![endif]>The spot price for West Texas Intermediate (WTI) crude oil climbed $6.12 per barrel on the week to $93.28 per barrel or $16.08 per MMBtu.
<![if !vml]>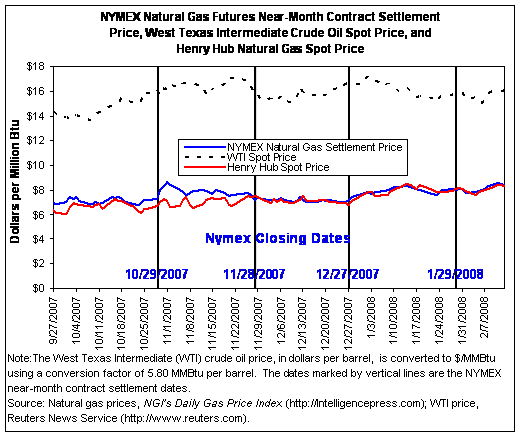 <![endif]>
Unlike in the previous report week, when prices eased despite colder temperatures, the even colder temperatures this week led to price increases at virtually all market locations, reflecting an increase in space heating demand. Price increases at market locations in the Lower 48 States ranged between $0.11 and $1.96 per MMBtu this week. Only one location, Northwest Sumas in Washington, recorded a decrease of 42 cents per MMBtu or about 5 percent. The Henry Hub spot price increased 41 cents on the week, trading yesterday at $8.35 per MMBtu. Prices at other trading locations in the Gulf production areas also increased by about the same amount, reaching average regional prices of $8.34 in Louisiana, $8.12 in South Texas, $8.16 in East Texas, and $8.46 in Alabama/Mississippi.
In the Northeast, spot prices yesterday averaged $9.90 per MMBtu, or about $1 per MMBtu higher than last Wednesday. Following last week's decreases, natural gas prices in the Northeast returned to double-digits in several locations this week. For the week, the price of natural gas off Algonquin Gas Transmission increased $1.94 per MMBtu to $11.14, the highest price in the Lower 48 as of yesterday.
 <![if !vml]>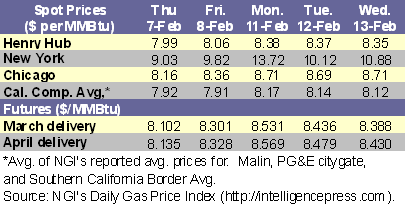 <![endif]>
At the NYMEX, prices of futures contracts for delivery in March and April 2008 both recorded sizeable increases since last Wednesday. The March 2008 contract increased about 40 cents on the week, settling yesterday at $8.388 per MMBtu. After increasing in four consecutive sessions, the March 2008 contract remained well above $8 per MMBtu for much of the week. On Monday, February 11, the near-month contract reached $8.531 per MMBtu, which is the highest price for a near-month contract since the December 2007 contract settled at $8.637 per MMBtu on November 1, 2007. The April 2008 contract also increased by 41 cents or more than 5 percent, to yesterday's settlement price of $8.430 per MMBtu.
Prices of all contracts for delivery in the May 2008–January 2009 period increased on the week by at least 4 percent. The cold temperatures that engulfed the Nation had the most impact on futures contracts for delivery between 3 and 11 months in the future. The sizeable increases in futures prices for delivery during this period likely reflect other uncertainties in the market that are not related to the current weather conditions. As of yesterday, futures contracts settlement prices were consecutively higher through the January 2009 delivery contract, which settled at $9.671 per MMBtu. Overall, the 12-month strip increased 40 cents on the week to $8.864 per MMBtu.
Increased hydro supplies in the West in recent weeks are expected to reduce the pressure on natural gas demand this spring and summer. According to the Western Regional Climate Center, current above-average snowpack and expectations of additional storms in the near future have contributed to a favorable refill and runoff for much of the West, particularly California, where the expected runoff levels could be significant between April and July 2008. Currently, the snowpack in the Sierra Mountains is more than 100 percent of normal.
Recent Natural Gas Market Data
<![if !vml]>

<![endif]>
Working gas in underground storage decreased to 1,942 Bcf as of Friday, February 8, according to EIA's Weekly Natural Gas Storage Report. The implied net withdrawal of 120 Bcf for the report week was about 28 percent lower than the 5-year average of 167 Bcf and about 53 percent lower than last year's withdrawal of 254 Bcf (see Storage Figure). Currently, working gas stocks remain 109 Bcf or 5.9 percent above the 5-year average, but 183 Bcf or 8.6 percent below last year's level of 2,125 Bcf.
While withdrawals in the East and Producing regions were both below the 5-year average and last year's levels, net withdrawals in the West region differed significantly. This week's net withdrawal of 27 Bcf in the West region significantly exceeded the 5-year average net withdrawal of 18 Bcf and last year's net withdrawal of 13 Bcf. The magnitude of the West region's net withdrawal is likely the result of the temperatures that were recorded in the area for the week.  As measured by heating degree-days (HDD), temperatures in the Pacific and Mountain Census Divisions (the Census Divisions that most closely correspond to the West storage region) were 33 and 16 percent colder than normal and 15 and 53 percent colder than last year, respectively. Temperatures in all other Census Divisions in the Lower 48 States, however, were at least 25 percent warmer than normal and 32 percent warmer than last year.  Temperatures for the Lower 48 States as a whole were 16 percent warmer than normal and 33 percent warmer than last year. (see Temperature Maps and Data)
<![if !vml]>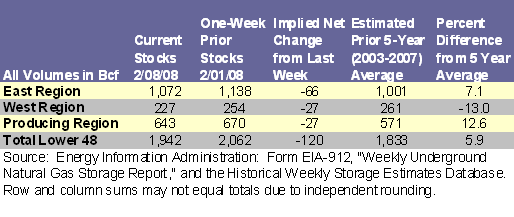 <![endif]>
Other Market Trends:
EIA Releases February 2008 Short-Term Energy Outlook: In its latest Short-Term Energy Outlook (STEO), released February 12, the Energy Information Administration (EIA) reported that the Henry Hub spot price averaged $7.17 per thousand cubic feet (Mcf) in 2007.  EIA projects that the Henry Hub spot price will continue to increase, reaching an average of about $7.83 per Mcf in 2008 and 7.93 per Mcf in 2009. As of January 2008, the Henry Hub spot price averaged $8.25 per Mcf, which was $0.92 more than the December spot price.  With the assumption that temperatures will remain cold, but near normal during the first quarter, prices during the first 3 months of 2008 are expected to be $0.77 per Mcf higher than last year during the same period.  Total natural gas consumption is expected to increase by 0.9 percent in 2008 and by 1.0 percent in 2009.  The expected growth in natural gas consumption in 2008 is due to the residential and commercial sectors because of the expected slightly colder winter months on average. Consumption in the electric power sector is expected to remain relatively unchanged in 2008 because of the projected milder summer this year compared with last.  U.S. marketed natural gas production is projected to increase by 2.2 percent in 2008 and by 0.8 percent in 2009.  The expected increase in 2008 is mainly a result of the planned startup of new deepwater Gulf of Mexico supply infrastructure, as well as continued production growth from unconventional reserve basins in the lower 48 onshore region.  Liquefied natural gas (LNG) imports are expected to average about 788 billion cubic feet (Bcf) in 2008, which is a 1.8 percent increase compared with the 2007 imports.  Working gas in storage was 2,062 Bcf as of February 1, 2008, which was 62 Bcf above the 5-year average (2003-2007).  This month's STEO includes a special report on non-OPEC petroleum supply growth, which is expected to surpass that in recent years because of the large number of new oil projects scheduled to come online in 2008 and 2009.
U.S. LNG Imports Reached Record Level in 2007:  U.S. Imports of liquefied natural gas (LNG) reached a record high in 2007, totaling the equivalent of 771 billion cubic feet (Bcf) of natural gas in gaseous form, according to data from the Office of Fossil Energy, U.S. Department of Energy. This volume was 32 percent higher than the volume in 2006 and 18 percent more than the previous record of 652 Bcf in 2004. LNG imports have substantially increased since early this decade, but growth has been uneven from year to year. In fact, the record volume in 2007 followed 2 consecutive years of decreases in 2005 and 2006.
During 2007, there were five LNG import terminals operating in the continental United States. Southern Union Company's Trunkline LNG terminal in Lake Charles, Louisiana, received the largest volume of any U.S. terminal with receipts totaling 252 Bcf. The facility owned by Suez Energy North America, Inc., in Everett, Massachusetts, received the second biggest volume at 184 Bcf. El Paso Corporation's Southern LNG facility on Elba Island, Georgia, received 170 Bcf in 2007, while Dominion's Cove Point LNG facility on the Chesapeake Bay in Maryland, received 148 Bcf. Excelerate Energy's Gulf Gateway port offshore Gulf of Mexico received 17 Bcf.
Although shipments to the Everett and Elba Island facilities were relatively constant during the year, the offshore Gulf Gateway port, and Lake Charles and Cove Point facilities all received LNG shipments primarily during the spring and summer (see LNG Figure). The pattern of U.S. LNG imports reflects the pattern of global demand.  The mid-year increase in deliveries occurred at a time of relatively low demand for LNG in other parts of the world. As demand increased during the fall and into winter, LNG imports declined significantly as available global supplies were bid away by other countries. In fact, the lowest monthly total for LNG imports in 2007 occurred in December, when the United States received 21 Bcf. This was equivalent to 21 percent of the peak month deliveries of 99 Bcf (April).
LNG imports during the year came from six source countries, compared with just four in 2006. Deliveries from Trinidad and Tobago, which at 58 percent of total imports is the leading source country for LNG to the United States, totaled 451 Bcf, about 62 Bcf more than in the previous year. The Atlantic LNG facility, located in Port Fortin, Trinidad and Tobago, now has four operational trains, the newest of which is the largest in the world with the capacity to liquefy 5 million tons per year (240 Bcf). In total, Atlantic LNG has a production capacity of 15 tons per year (720 Bcf). Egypt, which only started exporting LNG in 2005, exported a total of 115 Bcf to the United States in 2007, which was down slightly from the previous year volume of 120 Bcf. Nigeria was the source country for the third largest volume of U.S. LNG imports. U.S. imports from the country increased from 57 Bcf in 2006 to 95 Bcf in 2007, because of increased capacity at the country's liquefaction facility on Bonny Island. Algerian LNG production also increased in 2007 in comparison with 2006, leading to U.S. imports nearly tripling in volume to 75 Bcf. Qatar and Equatorial Guinea (a new LNG exporting country in 2007) each exported 18 Bcf of LNG to the United States.
Although numerous companies have announced intentions to participate in the reemerging international trade of LNG with the United States, the number of companies that have actually imported LNG in recent years has been few and relatively unchanged. Through its BG LNG Services subsidiary, BG Group in 2007 imported the largest volume of LNG (422 Bcf), accounting for about 55 percent of overall LNG imports. Suez North America's entire throughput (184 Bcf) was sourced in Trinidad and Tobago and imported through its Everett terminal. The combined total for the three next largest importers was less than the Suez volume. BP (55 Bcf), Statoil (52 Bcf) and Shell (42 Bcf) all imported LNG solely through the Cove Point LNG facility. Lastly, Excelerate Energy imported 17 Bcf through its Gulf Gateway terminal offshore Gulf of Mexico.
Natural Gas Transportation Update:
<![if !supportLists]>· <![endif]>As of February 14, Northern Natural Gas implemented a system overrun limitation (SOL) affecting all market area zones.  These zones are located in the northern part of the company's system, north of Kansas.  The SOL was declared as a result of forecasts of extremely cold weather.  
<![if !supportLists]>· <![endif]>Maritimes and Northeast Pipeline, L.L.C., announced that it would begin restrictions on imbalance-related nominations starting February 10. This is due to cold weather forecasts and high demand on the system. 
<![if !supportLists]>· <![endif]>Transcontinental Gas Pipe Line Corporation (Transco) announced on February 11, that as a result of cold weather conditions, the pipeline might implement an operational flow order. Shippers are cautioned about the need to ensure that market area receipts are consistent with market requirements and are encouraged to limit their takes to their daily contractual volumes to the extent practicable.