Overview (Wednesday, January 23, 2007 to Thursday, January 30, 2008)
Released: January 31, 2008
Next release: February 7, 2008
<![if !supportLists]>· <![endif]>Natural gas spot and futures prices increased this report week (Wednesday to Wednesday, January 23-30), as frigid temperatures in much of the country increased demand for space heating. During the report week, the Henry Hub spot price increased $0.33 per million Btu (MMBtu) to $8.17.
<![if !supportLists]>· <![endif]>At the New York Mercantile Exchange (NYMEX), prices for futures contracts also registered increases. The futures contract for March delivery rose by about 46 cents per MMBtu on the week to $8.045.
<![if !supportLists]>· <![endif]>As of Friday, January 25, working gas in storage was 2,262 Bcf, which is 3.9 percent above the 5-year (2003-2007) average. For the report week, EIA recorded the largest implied net withdrawal (274 Bcf) in its 14-year database of weekly storage statistics.
<![if !supportLists]>· <![endif]>The spot price for West Texas Intermediate (WTI) crude oil increased $4.69 per barrel, trading yesterday at $92.34 per barrel or $15.92 per MMBtu.
<![if !vml]>
<![endif]>
With the exception of prices in the Northeast, natural gas spot prices moved up this report week. The previous week's severe cold through much of the country subsided this week.  However, winter-like temperatures in the East (along with associated space-heating demand) remained, even as yet another Arctic front moved into the Midwest. Additionally, higher crude oil prices during the week, likely tied to perceived broad economic conditions, provided upward pressure on all energy commodities. On the week, the spot price at the Henry Hub in Louisiana increased $0.33 per MMBtu to $8.17, which is a 4.2-percent increase since last Wednesday, January 23.  Other spot prices along the Gulf Coast in Louisiana generally increased between $0.15 and $0.34 per MMBtu (outside of decreases at a couple of trading points), resulting in an average regional price of $8.22 in trading yesterday (Wednesday, January 30). The average price in East Texas increased 25 cents per MMBtu to a regional price of $8.00 at the end of the report week, while the average price in West Texas increased 19 cents to $7.78.  
In the Northeast, the average price yesterday was $9.24 per MMBtu, which was $2.34 lower than the previous Wednesday. After sharp price increases during the prior report week, the price of natural gas in the Northeast returned to trading in a range that is more typical for this time of year. The coldest temperatures of last week's Arctic freeze were gone by the end of week, allowing prices to drop by more than $5 in at many trading locations in the Northeast last Friday. For the week, the price for deliveries off Algonquin Gas Transmission dropped $4.20 per MMBtu–the steepest drop in the region–to $10.01.  During the wintertime, fluctuations in the prices for natural gas into the Northeast can be highly variable. As extreme weather conditions increase heating load into the Northeast region, various natural gas transportation providers have reduced capacity available to bring gas to markets. However, the reduction in available transportation capacity primarily affects shippers who have purchased less expensive, non-firm capacity, which can be interrupted during peak demand periods.
In the West, natural gas spot prices increased, especially at trading locations that depend on natural gas from Canada, where prices increased early this week as yet another cold front moved through Alberta. At Sumas, Washington, a primary receipt point for Canadian supplies, the price rose by 38 cents per MMBtu to $8.96. Price levels in the Rocky Mountain region also increased, ending the week at an average of $7.84 per MMBtu or 28 cents higher than in the previous report week. The price for supplies on the Questar Corp. system in Utah increased 31 cents per MMBtu, or 4.2 percent, to $7.72. The staged opening of the new Rockies Express Pipeline over the course of this winter is integrating this supply region with markets in other parts of the country, which results in smaller differences between prices there and in the Gulf of Mexico region.
 <![if !vml]>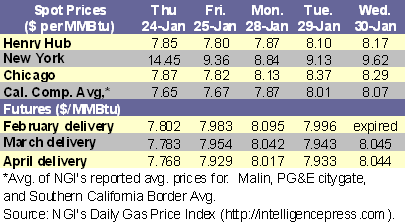 <![endif]>
Futures prices increased at the NYMEX, likely because of continued wintry weather and a reprieve from the volatility in financial markets from the previous week. The price of the near-month contract (for March delivery) rose by $0.464 per MMBtu this week to $8.045. With news of colder weather arriving, the near-month contract increased in 4 out of the 5 trading days during the report week. However, price movements likely were contained by caution regarding current macroeconomic conditions. All natural gas demand sectors would be affected by a slowdown in the economy, but industrial natural gas demand probably would decrease most significantly. In fact, price decreases at the NYMEX during trading last week appeared to correspond to extreme movements in the financial markets. In the same way, the relative stability in equity markets this report week may have provided some easing in the downward pressure on futures prices. The current near-term contract price of $8.045 per MMBtu is higher than both the March 2007 expiration price of $7.547 per MMBtu, and the March 2006 contract expiration price of $7.112.
The February 2008 contract expired on Tuesday, January 29, at $7.996 per MMBtu, after rising nearly 61 cents since first trading as the near-month contract on December 28, 2007. Generally, the contract traded in a range of 80 cents with closing prices changing no more than 20 cents from the previous day during its time as the near-month contract. At the expiration price of $7.996 per MMBtu, the February contract is the highest-priced contract settled since December 2006. The February 2008 contract expired $1.079 per MMBtu higher than the February 2007 price of $6.917.
Contracts for futures prices beyond the near-month contract all generally increased during the week. At the end of trading yesterday, the 12-month strip, which is the average price for futures contracts over the next 12 months, was priced at $8.457 per MMBtu, an increase of about 43 cents since last Wednesday. Currently, only the April 2008 contract is lower than the previous month contract, so that contract prices increase through the forward curve, reaching above $9 per MMBtu next winter.
Recent Natural Gas Market Data
<![if !vml]>

<![endif]>
Working gas in storage decreased to 2,262 Bcf as of Friday, January 25, 2008, according to EIA's Weekly Natural Gas Storage Report (see Storage Figure). This report week's implied net withdrawal of 274 Bcf is the largest in EIA's record of weekly storage activity dating from the beginning of 1994, surpassing an estimated 260 Bcf net withdrawal in January 1997. (More recently, there was a net withdrawal of 259 Bcf in February 2007.) The 274-Bcf net withdrawal is significantly more than the 5-year average withdrawal and last year's withdrawal, both of which equaled 185 Bcf.  Storage levels as of January 25 were 3.9 percent above the 5-year average.
This week's above-average withdrawal resulted from bitter cold in much of the country. Temperatures across the country were 19.6 percent colder than normal and about 17 percent colder than last year, as measured by National Weather Service heating degree-days (HDDs) for the week ended January 24. HDDs in each of the nine Census Divisions numbered higher than normal. Moreover, large deviations from normal occurred in the Midwest, the region of the country with the largest percentage of residents that heat their homes with natural gas (see Temperature Maps and Data). HDDs in the East North Central region, which includes Chicago, totaled 21 percent higher than normal. Additionally, all Census Divisions recorded significantly higher HDDs than those for the same week last year.
<![if !vml]>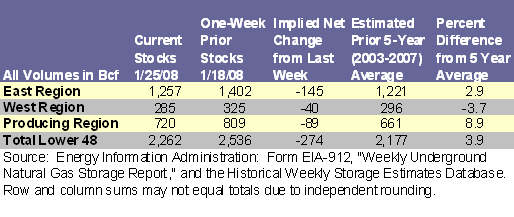 <![endif]>
Other Market Trends:
Registration Opens for the EIA 2008 Energy Conference: The Energy Information Administration (EIA) announced that registration for the EIA 2008 Energy Conference: 30 Years of Energy Information and Analysis is now available online at http://www.eia.doe.gov/eia_conference_2008.html.  Attendees are encouraged to register early because seating is limited.  The online posting includes an agenda and a list of the confirmed speakers.  The conference will take place on April 7 and 8, 2008, at the Washington Convention Center in Washington, DC.
EIA Releases Annual Natural Gas Data in New Format: The Energy Information Administration (EIA) released comprehensive historical annual natural gas data in an Excel format for the first time on January 29, 2008. The data series include natural gas supply and disposition at the national and State level, which are presented in the Natural Gas Annual. The new format provides comprehensive time series summary statistics, and data is presented for most series from the 1930s to 2006, with marketed production data available from 1900. Prior to the release of the new format, the full data series was available only in an HTML format, while data for the most recent 5 years was available in PDF and CSV formats.
Natural Gas Transportation Update:
<![if !supportLists]>· <![endif]>Tennessee Gas Pipeline Company declared a force majeure on January 24 as a result of a possible leak on the TTT Pipeline offshore Louisiana. Nine Eugene Island and four Ship Shoal meters had to be shut in, as operators and producers were required to keep physical flow and scheduled volumes at zero. Tennessee expects the repairs to be complete by February 1.
<![if !supportLists]>· <![endif]>The Maritimes & Northeast Pipeline required shippers to schedule receipts equal to expected deliveries, and meter operators to flow at scheduled volumes as a result of unplanned loss of about 100 MMcf per day of production from the Sable Offshore Energy Project. The loss of volumes began on Friday, January 25, and continued through Monday, January 28, when the volumes returned to the normal level of more than 400 MMcf per day.
<![if !supportLists]>· <![endif]>ANR Pipeline Company declared an extreme condition in Wisconsin, as temperatures dipped well below forecasted levels, which lowered the swing percentage from 10 to 5 percent. Additionally, ANR is not allowing any unauthorized overruns under several of its firm transportation agreements, and is requiring that all receipts and deliveries be at a uniform hourly flow rate. The extreme condition was declared on January 30 and will remain in effect until further notice.
<![if !supportLists]>· <![endif]>Mississippi River Transmission Company (MRT) issued a system protection warning (SPW) effective January 31 until further notice as a result of cold weather conditions and low East Line supply nominations. The pipeline added that firm volumes will be limited to their primary direction of flow and shippers are not allowed to have daily short imbalance positions on the MRT system. Failure to comply with the SPW may result in MRT declaring individual operational flow orders.