Overview (Wednesday, November 28 to Wednesday, December 5)
Released: December 6
Next release: December 13, 2007
<![if !supportLists]>· <![endif]>Natural gas spot prices decreased at most market locations in the Lower 48 States for the week.
<![if !supportLists]>· <![endif]>The Henry Hub spot price averaged $7.04 per million Btu (MMBtu) as of December 5, declining 47 cents, or about 6 percent.
<![if !supportLists]>· <![endif]>The New York Mercantile Exchange (NYMEX) futures contract for January delivery at the Henry Hub settled at $7.185 per MMBtu on Wednesday, December 5, down about $0.30 per MMBtu, or 4 percent, for the week.
<![if !supportLists]>· <![endif]>The spot price for West Texas Intermediate (WTI) crude oil decreased $3.26 per barrel, or about 4 percent, on the week to $87.45 per barrel or $15.08 per MMBtu.
<![if !supportLists]>· <![endif]>Natural gas in storage was 3,440 Bcf as of November 30, which is 8.6 percent above the 5-year average.
<![if !vml]>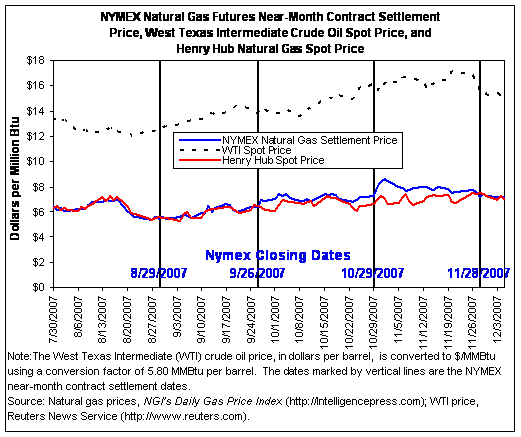 <![endif]>
Spot prices were lower at most market locations since last Wednesday, November 28, generally by more than 40 cents per MMBtu, with price increases principally limited to markets in the Northeast region. Despite colder temperatures and increased heating demand for natural gas, spot price decreases were widespread, ranging between 13 cents and $1.19 per MMBtu. The western part of the Lower 48 States recorded price decreases on the week, with declines averaging 46 cents per MMBtu in California, 52 cents in Arizona/Nevada, and 58 cents per MMBtu in the Rocky Mountains. In the Northeast, however, prices increased on average by $1.94 per MMBtu.  The largest weekly price hike of $5.82 per MMBtu was recorded at the Transcontinental Pipeline Zone 6 pricing point, where pipeline capacity was constrained. Additionally, shut-in production offshore Canada at the Sable Offshore Energy Project (SOEP) affected the availability of supply in the Northeast, which also contributed to price increases in the region. The SOEP came back online on Tuesday, December 4, and resumed deliveries into the Maritimes & Northeast Pipeline after it had been shut in since the previous weekend.
Prices in the production regions along the Gulf of Mexico and in West Texas declined this week.  The Henry Hub spot price decreased 47 cents or about 6 percent since last Wednesday to yesterday's price of $7.04 per MMBtu. Prices at other market locations in Louisiana decreased by an average of 44 cents per MMBtu. Similarly, spot prices in East and South Texas decreased by an average of 53 and 56 cents per MMBtu, respectively.
 <![if !vml]>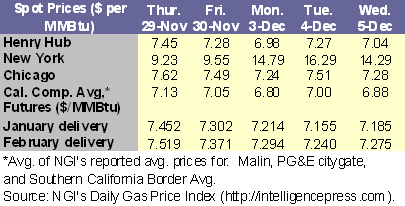 <![endif]>
At the NYMEX, prices for the futures contracts for the next 12 months all decreased, with the 12-month futures strip (January 2008-December 2008) averaging about 15 cents per MMBtu lower than last Wednesday. The lowest contract price in the 12-month strip is the near-month (January) at $7.185 per MMBtu, closely followed by the March 2008 contract, which settled yesterday at $7.246 per MMBtu. Somewhat unusual for this time of year, the contract prices for the remaining delivery months this winter are lower than the contract prices for delivery during the summer (June 2008-October 2008). This likely reflects the expected warmer-than-normal weather and the available natural gas supplies, especially gas in storage, that are putting downward pressure on the futures contracts prices for delivery during the heating season, while tightness in the market is expected to return by mid 2008. 
NYMEX futures prices during yesterday's trading recorded their first gains in seven sessions, as cold temperatures and a number of winter storms in the Lower 48 States led to a slight uptick in prices. Still, with an average price increase of only 3 cents yesterday, the prices for January 2008-March 2008 contracts remained below the corresponding prices as of last Wednesday. The record-high volumes of natural gas in storage and a lack of significant influence from continuing relatively high crude oil prices are dampening upward pressure on prices. 
Recent Natural Gas Market Data
<![if !vml]>

<![endif]>
Working gas in storage decreased to 3,440 Bcf as of Friday, November 30, 2007, according to EIA's Weekly Natural Gas Storage Report (see Storage Figure). The implied net withdrawal was 88 Bcf, which leaves storage levels at 8.6 percent above the 5-year average. This report week's implied net withdrawal is 47 percent above the 5-year average withdrawal of 60 Bcf and is also significantly above last year's net withdrawal of 14 Bcf.
This week's above-average withdrawal likely resulted from the return of cold temperatures across much of the Lower 48 States. Temperatures across the country were 9 percent colder than normal and about 50 percent colder than last year, as measured by National Weather Service heating degree-days (HDDs) for the week ended November 29. HDDs in seven Census Divisions were colder than normal, with the highest deviations recorded in the East North Central, West South Central, and East South Central Census Divisions (see Temperature Maps). Furthermore, all Census Divisions except the Pacific recorded temperatures significantly higher than those for the same week last year.
The small premium of the futures contract prices to the Henry Hub spot price that prevailed for much of the week also contributed to the higher-than-average withdrawal. As might be expected this time of year, the premium of the futures over the Henry Hub spot price has decreased. For example, the difference between the near-month contract price and the Henry Hub spot price, which began the week at $1.19 per MMBtu, was essentially zero in trading on Wednesday and Thursday (November 28 and 29). With the record-high natural gas volume in storage and the small price premium, suppliers have economic incentive to rely more on natural gas from storage for current supplies. This is particularly the case in the East Region, where spot prices at most locations traded in the $8- to $9-range for much of the storage week.
   <![if !vml]>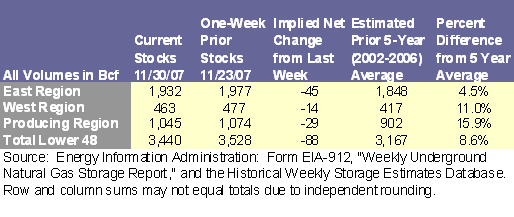 <![endif]>
Other Market Trends:
EIA Announces 2008 Energy Conference: The Energy Information Administration (EIA) announced November 30 that its annual energy conference will take place on April 7 and 8, 2008, at the Washington Convention Center in Washington, DC. In conjunction with EIA's 30th anniversary, the free conference will include more sessions on a wider range of energy-related topics than in previous years. Some of the highlights include the 2008 EIA Summer Fuels Outlook, 2008 EIA Annual Energy Outlook, The Outlook for Energy and Climate Legislation, and The Role of Energy Efficiency in Meeting Future Demand. Additional information on the conference and speakers is available on the EIA 2008 Energy Conference: 30 Years of Energy Information and Analysis page.
Natural Gas Transportation Update:
<![if !supportLists]>· <![endif]>Northern Natural Gas Company reported that an operational flow order (OFO) is in effect as of gas day December 2 and until further notice, as a result of 100 percent capacity currently in use at the Carlton Resolution, in Minnesota.
<![if !supportLists]>· <![endif]>Questar Pipeline Company announced on December 2 that it experienced an unexpected outage at the Oak Spring Compressor Station in Utah. Repairs are being finalized, however, that will enable service at Oak Spring 1 to come back online by next week.  As a result of the outage, the company reported that it will continue to schedule volumes at the West Fidlar scheduling point.  Questar will reduce scheduled volumes by 60,000 decatherms (Dth) per day to 265,000 per day. 
<![if !supportLists]>· <![endif]>Southern Natural Gas Company announced on November 30 that the White Castle Compressor Station on the pipeline's west leg in South Louisiana has returned to service after an unscheduled engine outage.  Capacity on the west leg was raised to 720,000 Dth per day for gas day November 30.  However, another unit at the White Castle Compressor Station will be unavailable until mid-January 2008 as a result of foundation repairs.  Therefore a force majeure for the compressor station remains in effect.
<![if !supportLists]>· <![endif]>Maritimes & Northeast Pipeline, L.L.C., announced on December 1, effective immediately, that shippers are required to schedule receipts commensurate with expected deliveries, meter operators are required to maintain flow at scheduled volumes, and imbalance gas will not be allowed to be taken off the system. Due shipper payback and/or due pipe imbalances will not be allowed until further notice.