Overview: Thursday, November 15, 2007 (next release 2:00 p.m. on November 29, 2007)
Natural gas spot prices decreased this week, with the changes at most market locations somewhat more modest than the price changes observed over the past couple weeks. On the week (Wednesday-Wednesday, November 7-14), the price at the Henry Hub decreased 15 cents per MMBtu or about 2 percent. Relatively abundant supplies in the West and high stock levels in storage helped to drive spot prices lower this week. At the New York Mercantile Exchange (NYMEX), the price of the futures contract for December delivery moved up about 21 cents to $7.835 per MMBtu. Natural gas in storage was 3,536 Bcf as of Friday, November 9, which is 8.4 percent higher than the 5-year average of 3,263 Bcf. The spot price for West Texas Intermediate (WTI) crude oil decreased on the week by $2.44 per barrel or about 3 percent to trade yesterday at $94.02 per barrel or $16.21 per MMBtu.
<![if !vml]>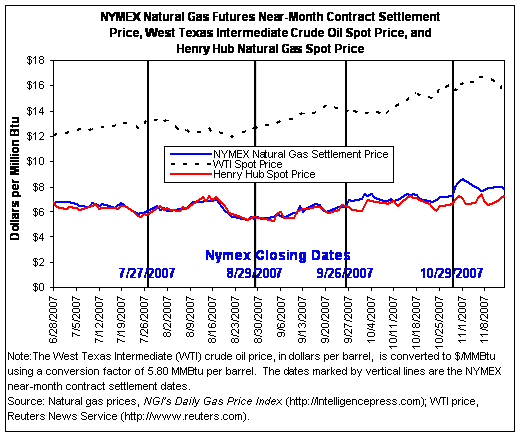 <![endif]>
Natural gas spot prices yesterday (November 14) were lower on average than last Wednesday's prices in the Lower 48 States. Some space-heating demand during the second week of the heating season and high prices for competing petroleum products failed to provide significant support for spot prices on the week. Despite increasing in three of this report week's trading sessions, the Henry Hub recorded a net price decrease of 15 cents or about 2 percent, trading yesterday at $7.27 per MMBtu. With a few exceptions, other trading locations in producing areas along the Gulf Coast also registered decreases of up to 50 cents. Significant price decreases from the previous week's levels were recorded in the West outside the Rocky Mountains as temperatures were significantly warmer than normal. Several operational flow orders were issued, such as the one on El Paso Natural Gas Company's system (see Other Market Trends), which resulted from high linepack. The adequacy of natural gas supplies in the West is evidenced by the 6 Bcf net injection in the region, which contrasted with the net withdrawal from storage in the East Region (see Storage section below). Spot prices in California and Arizona/Nevada decreased overall by averages of $1.32 and $1.58 per MMBtu, respectively. In the Northeast prices also fell, albeit by much smaller amounts, despite the cold front that is moving into the area at the time of this writing. Natural gas spot prices in this region were on average 23 cents lower than last Wednesday's prices. The only region to record increases on the week was the Rocky Mountain region as temperatures returned to normal and a major pipeline (Cheyenne Plains Gas Pipeline Company) came back online recently. For the week, trading locations in the Rockies registered an average price increase of 57 cents per MMBtu. Prices at Opal, Questar, and Cheyenne Hub trading locations increased since last week by $1.70, $1.49, and $1.48 per MMBtu, respectively. A few other locations in the region also recorded increases of more than $1 per MMBtu.Despite these price increases, regional prices in the Rockies remained the lowest in the Lower 48 at an average of $3.99 per MMBtu.
<![if !vml]>
<![endif]>
At the NYMEX, the price of the futures contract for December delivery gained $0.21 per MMBtu on the week to settle at $7.835 yesterday. Prices of all futures contracts for delivery over the next 12 months moved up slightly this week, as colder weather and higher winter season demand appears imminent and has already reached some areas in the Lower 48 States. Despite the price increase, the December 2007 contract failed to break back above the $8 per MMBtu mark after reaching $7.949 during Tuesday's trading. Contracts for the remainder of the heating season (January 2008 through March 2008) increased an average of 22 cents per MMBtu to settle at an average of $8.217, which is a premium of about $0.95 per MMBtu over yesterday's Henry Hub cash price. The 12-month strip, which is an average of futures prices for the coming year, increased 18 cents per MMBtu since last Wednesday (November 7) to $8.086.
Recent Natural Gas Market Data
<![if !vml]>

<![endif]>
Working gas in storage as of November 9 was 3,536 Bcf, which is 8.4 percent above the 5-year average inventory level for the reporting week, according to EIA's Weekly Natural Gas Storage Report (see Storage Figure). At 3,536 Bcf, total working gas in storage exceeds the 5-year (2002-2006) historical average. The implied net withdrawal of 9 Bcf for the report week sharply contrasts with both last year's net injection of 3 Bcf and the 5-year average net injection of 9 Bcf. This week's report marks the first withdrawal of the 2007-2008 heating season. Higher-than-normal heating demand in key market locations contributed to the net withdrawal, as colder-than-normal temperatures prevailed in certain areas (see Temperature Maps). Temperatures across the Lower 48 States varied significantly, with overall temperatures about 4 percent colder than normal for the week ending November 8, according to the number of heating degree-days as measured by the National Weather Service. Temperatures in New England, the Middle Atlantic, and East North Central Census Divisions were 13, 14, and 12 percent colder than normal for the week, respectively. Temperatures elsewhere also were colder than normal except in the West, particularly in the Mountain and Pacific Census Divisions, which were substantially above normal. Regional temperature differences contributed to the first net withdrawal of the season of 15 Bcf in the East storage region and the net injection of 6 Bcf in the West region. In addition to the implied strength of space heating demand during the report week, an increase in electricity demand also may have contributed to the overall net withdrawal. Electricity demand in the United States increased 1.9 percent compared with the same week last year, according to the Edison Electric Institute.
<![if !vml]>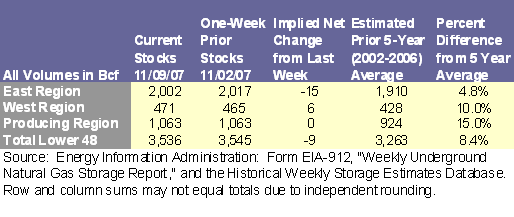 <![endif]>
Other Market Trends:
EIA Releases Country Energy Profiles: The Energy Information Administration (EIA) released Country Energy Profiles, a publication that presents energy data for 215 countries, including production, consumption, and carbon dioxide emissions. In addition to illustrating energy data through 2006 by country, region, and commercial group, Country Energy Profiles also presents forecasts for 2007 for selected countries for total oil production and consumption. Included in the newly released publication are also the 158 Country Analysis Briefs previously released by EIA. Highlights of the publication include statistics on natural gas reserves, production, consumption, imports, and exports. For example in North America, which is made up of the United States, Canada, Mexico, Greenland, and Bermuda, natural gas production totaled 26.2 trillion cubic feet (Tcf) in 2005, while consumption reached 27.4 Tcf. Total proved reserves were estimated at 264 Tcf. North America was ranked the second largest natural gas producing region in the world, second only to Eurasia, while its consumption was the largest.
Natural Gas Transportation Update:
Questar Pipeline Company reported a mechanical failure on the Greasewood compressor station unit 1 in Colorado. As a result, deliveries to TransColorado Pipeline were reduced to 25,000 decatherms (Dth) per day from the normal 47,500 Dth per day. The outage was in effect between November 8 and 13.

In a separate notice, Questar informed its interruptible storage service (ISS) customers that it was declaring an operational flow order (OFO) for its Clay Basin storage facility in Utah. All ISS customers with a negative inventory balance as of October 31 are required to transfer gas in place to bring the inventory to zero by the end of the day, November 30.

Southern California Gas Company issued a high-linepack OFO for November 10 through 12. The company assessed buy-back charges to customers who delivered more than 110 percent of their usage onto the system. It also reminded customers that winter balancing rules are currently in effect and that they are required to comply with appropriate minimum delivery requirements.

El Paso Natural Gas Company declared a strained operating condition (SOC) on its entire system for November 13 through 20, with the imbalance tolerance initially set at 10 percent. The company stated that it will reduce the imbalance tolerance should the conditions fail to improve. El Paso initially issued an SOC warning on November 4 as a result of milder-than-usual weather and the planned outage at the Washington Ranch storage facility in New Mexico. However, because of extremely high linepack and the resulting loss in system flexibility, ISS will be completely suspended for the duration of the SOC.

Natural Gas Pipeline Company of America (NGPL) declared a force majeure event on November 13 as a result of a leak on the Gulf Coast Mainline Number 3 in Jackson County, Illinois. The affected section of the line between compressor stations 309 and 310 was isolated and it is being repaired. Interruptible services in the constraint area were reduced as a result of the event.