Overview: Thursday, November 8, 2007 (next release 2:00 p.m. on November 15,2007)
Natural gas spot price movements varied this week (Wednesday-Wednesday, October 31-November 7). Prices in Lower 48 market areas in the West and the Midcontinent decreased significantly on the week. Other regions, however, most notably the high-demand areas of the Northeast and the Midwest, as well as Gulf Coast production areas, recorded price increases. The spot price at the Henry Hub gained 16 cents per MMBtu, or about 2 percent, to $7.42 per MMBtu. In contrast to the spot market, prices of futures contracts at the New York Mercantile Exchange (NYMEX) for the next 12 months uniformly decreased, with the futures contract for December delivery at the Henry Hub decreasing about 71 cents since last Wednesday to close yesterday (November 7) at $7.624 per MMBtu. Working gas stocks as of Friday, November 2, again hit a record high with 3,545 Bcf in storage, which is 8.9 percent above the 5-year average. The spot price for West Texas Intermediate (WTI) crude oil increased $2.30 per barrel, or 2.4 percent, since last Wednesday to trade yesterday at $96.46 per barrel or $16.63 perMMBtu. Yesterday's crude oil price was $37.52 per barrel higher than the year-ago level, when crude oil traded at $58.94 per barrel on November 7, 2006.
<![if !vml]>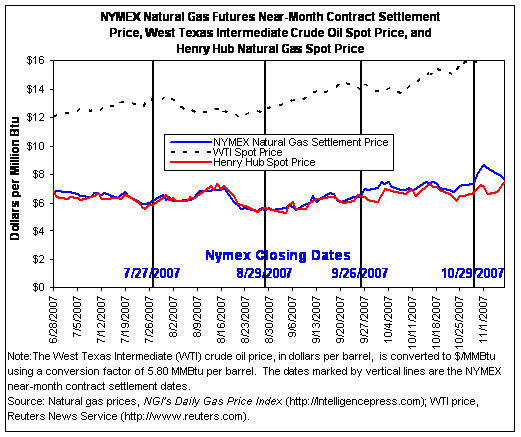 <![endif]>
Natural gas spot price movements in the Lower 48 States varied during the report week. Seasonally moderate temperatures in some regions of the country this week (Wednesday-Wednesday) likely limited heating demand in many market areas; however, some heating demand emerged in key market areas such as the Northeast, parts of the Midwest, and in the South that resulted in price upticks on the week. Prices at market locations in and to the west of the Rocky Mountains, as well as in the Midcontinent, generally decreased on the week, with wide-ranging declines between 9 cents and $3.44 per MMBtu. Average spot prices in the Rockies were $3.42 per MMBtu on Wednesday, November 7, with seven locations recording prices below $2 per MMBtu. The low prices in the Rockies, particularly at Cheyenne Hub, which traded yesterday at $1.75 per MMBtu, are expected to recover in the near future. Cheyenne Plains Gas Pipeline Company announced the restoration of full system capacity of 874 MMcf per day on the eastbound line. Capacity had been limited to 590 MMcf per day since mid-September, when a compressor station fire forced the reduction. The price decreases in the West and the Midcontinent were not matched elsewhere in the Lower 48 States, as trading locations along the Gulf of Mexico and in the Northeast and Midwest mostly recorded increases on the week. The Henry Hub spot price increased 16 cents or about 2 percent on the week to $7.34 per MMBtu. Other market locations in Louisiana had price increases on the week between 3 and 31 cents resulting in a regional average price of $7.58 per MMBtu. Average prices in key Northeast and Midwest consuming areas as of yesterday were $8.08 and $7.39 per MMBtu, respectively. The spot price off the Algonquin citygate, which supplies New England, including the key market area of Boston, increased 77 cents on the week to $8.57 per MMBtu.
<![if !vml]>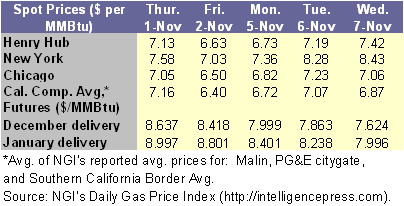 <![endif]>
The price of the NYMEX futures contract for December delivery decreased about 71 cents, or 8 percent, since last Wednesday (October 31) to settle at $7.624 per MMBtu yesterday. Similarly, the contracts for delivery during the remainder of the heating season (January-March) all decreased on the week. During yesterday's trading, prices of heating season futures contracts decreased for the fourth session in a row, as mild weather is expected to keep demand lower, according to new forecasts. Record-high volumes of gas in storage also are thought to have contributed to the futures price decreases, as the apparent supply seems to have eased concerns about tightness in the market for now. On the week, the January 2008 contract decreased 66 cents or about 8 percent, settling yesterday at $7.996 per MMBtu, while the February 2008 contract, which was the highest priced contract, settled yesterday at $8.061 per MMBtu, or 7 percent lower than last Wednesday. The 12-month strip decreased about 50 cents or 6 percent per MMBtu this week to $7.906 per MMBtu. The differential between the Henry Hub spot price and the price of the futures contracts this winter decreased this week. At the close of trading yesterday, the price for delivery during peak winter months (December 2007 through February 2008) averaged about 47 cents per MMBtu more than the Henry Hub price, decreasing considerably from the differential throughout most of October, during which the differential reached as high as $1.991 per MMBtu.
Recent Natural Gas Market Data
<![if !vml]>

<![endif]>
Working gas in storage reached a record level for the second week in a row with 3,545 Bcf as of Friday, November 2.Factors contributing to the large volume in storage include improved supply and favorable economics (see the recap of the refill season at the end of this section).The 3,545 Bcf is 8.9 percent above the 5-year average inventory level for the report week, according to EIA's Weekly Natural Gas Storage Report (see Storage Figure). The net injection of 36 Bcf for the week contrasts sharply with both the 5-year average net injection of 17 Bcf and last year's withdrawal of 7 Bcf for the report week. Natural gas stocks as of November 2 were 99 Bcf higher than at this time last year and 291 Bcf higher than the 5-year average. While net withdrawals are more typical for this time of year, this week's net injection reflects the seasonally moderate temperatures that prevailed across the Lower 48 States. Overall, temperatures were 15 percent warmer than normal and about 20 percent warmer than last year for the week (see Temperature Maps). All Census Divisions with the exception of West South Central recorded warmer-than-normal temperatures, including New England, Middle Atlantic, and East North Central, which recorded temperatures that were 14, 16, and 12 percent warmer than normal, respectively.
Recap of the 2007 Natural Gas Injection Season: The 2007 refill season (April 1-October 31) ended with an estimated 3,535 Bcf of working gas in storage, which is the highest volume ever recorded. Natural gas inventories ended the 2006-2007 heating season with the second highest volume in storage for that time of year since 1991 and then remained above historical averages throughout the refill season. In all, 1,932 Bcf was injected into storage during the refill season, which equals 97 percent of the 5-year (2002-2006) average. The difference between actual net injections and the 5-year average is the equivalent of 0.23 Bcf per day for the season.
The record working gas stocks are attributable to a number of factors. First, natural gas supplies in the past refill season were larger than the levels of 2006. Absence of significant tropical storm activity or other supply disruptions contributed to an increase in domestic production. Additionally, U.S. LNG imports for the April-August 2007 period were more than 168 Bcf, or 56 percent, higher than the level in 2006. However, the relative increase in LNG imports for the entire refill season likely will not be at such a high rate. As a result of several LNG producers not being able to maintain full production levels and relatively higher natural gas prices in other LNG-importing countries, the number of cargoes that reached the U.S. terminals in September and October was significantly lower than at the onset of the 2007 refill season, according to trade press reports.
A second factor contributing to the record storage levels was the favorable economics that prevailed throughout the refill season. Average NYMEX contract prices for delivery during peak winter months (December 2007 through February 2008) were in strong contango with the Henry Hub spot prices. The average differential for the season was $2.02 per MMBtu, which would have exceeded expected storage costs by a considerable margin. These clear arbitrage opportunities for holders of capacity would have been a significant economic incentive to inject into storage or continue holdings of natural gas already in storage. Without supply disruptions or unexpected weather-driven demand surges, the accumulation of gas in storage continued at a pace sufficient to eclipse the previous record level.
<![if !vml]>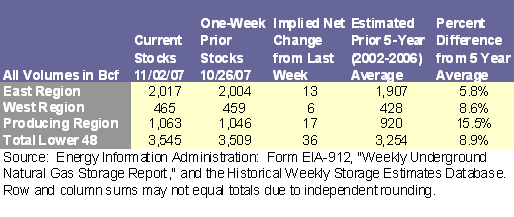 <![endif]>
Other Market Trends:
EIA Releases Advance Summary of Its 2006 Annual Reserves Report: The Energy Information Administration (EIA) released the Advance Summary: U.S. Crude Oil, Natural Gas, and Natural Gas Liquids Reserves 2006 Annual Report on November 5, which presents highlights of petroleum industry activity that affected oil and natural gas proved reserves and production during the year. According to the report, proved natural gas reserves rose by 3 percent in 2006 to more than 211 trillion cubic feet (Tcf), which extended the trend of year-over-year increases to 8 years. The level of proved reserves in 2006 marks the highest level since 1976. Reserve additions replaced 136 percent of 2006 dry gas production in 2006. Texas added the largest amount of gas reserves in 2006, a 9-percent increase, mainly as a result of the rapid development of Barnett Shale reservoirs in the Newark East Field. Total discoveries of natural gas reserves, which comprise field extensions, new field discoveries, and new reservoir discoveries in old fields, amounted to 23.3 Tcf. This was 1 percent more than in 2005 and 35 percent more than the previous 10-year average of 17.2 Tcf. Most natural gas total discoveries in 2006 were from extensions to existing gas fields. Field extensions amounted to 21.7 Tcf or 3 percent of discoveries. Coalbed methane accounted for 9 percent of proved dry gas reserves and 9 percent of dry natural gas production. U.S. crude oil proved reserves declined by 4 percent in 2006 because of downward revisions and fewer new discoveries. Reserve additions of crude oil fell short of production; operators replaced only 52 percent of 2006 crude oil production with reserve additions. Crude oil proved reserves in the Gulf of Mexico Federal Offshore and Alaska declined by 10 and 7 percent, respectively.
EIA Releases a Report on Natural Gas Compressor Stations: The Energy Information Administration (EIA) released a special report titled Natural Gas Compressor Stations on the Interstate Pipeline Network: Developments Since 1996, which examines the use of natural gas pipeline compressor stations on the interstate natural gas pipeline network that serves the Lower 48 States. The report also discusses compression facilities added over the past 10 years and how the expansions have supported pipeline capacity growth intended to meet the increasing demand for natural gas. According to the report, mainline natural gas pipeline compressor stations constitute a significant element of the infrastructure that makes up the national pipeline network. These facilities advance the flow of natural gas and ensure its continuous flow between supply areas and consumers. As of 2006, a total of 1,201 compressor stations were operating on the interstate pipeline network. They are generally situated between 50 and 100 miles apart along the system with an average capacity of about 700 MMcf per day. The number of compressor stations increased significantly since 1996, when 1,047 mainline compressor stations were operating and pipeline companies reported investment in mainline compressor station equipment of $9.4 billion. In 2005, however, the interstate natural gas pipelines that owned and/or operated mainline compressor stations reported plant costs or investment expenditures of more than $15 billion for compressor station equipment, second only to the $50 billion they reported as invested in natural gas transmission pipeline. Further increase in compressor station infrastructure is expected to occur in the future, as more than 183 gas pipeline projects were proposed for completion between the end of 2007 and 2010. These projects could result in 42 new compressor stations and 53 expansions of existing stations.
EIA Releases Its November 2007 Short-Term Energy Outlook: In its latest Short-Term Energy Outlook (STEO), released November 11, the Energy Information Administration (EIA) projects that the Henry Hub spot price will average $6.94 per thousand cubic feet (Mcf) for October 2007 and reach $8.65 per Mcf in January 2008. On an annual basis, the Henry Hub spot price is expected to average about $7.30 per Mcf in 2007 and $8.01 per Mcf in 2008. The high level of natural gas in storage and limited fuel switching capability have mitigated the impact of the recent petroleum product price increases on natural gas prices. Total natural gas consumption in 2007 is expected to average 62.2 billion cubic feet per day (Bcf/d), an increase of 4.5 percent over the 59.50 Bcf/d in 2006. The increase was mostly due to growth in the residential, commercial and electric power sectors. In 2008, total consumption is expected to continue to grow by 0.9 percent. Total dry natural gas production is expected to increase by 1.4 percent in 2007 and by 1.3 in 2008. This growth in production is expected despite an expected decline in Federal Gulf of Mexico (GOM) production of 2.8 percent in 2007. The downward trend in GOM production is projected to reverse in 2008 with an increase of 7.4 percent resulting from developing deepwater supply infrastructure. Liquefied natural gas (LNG) imports slowed since earlier in 2007 because of higher relative prices in other LNG-consuming countries, which resulted in redirecting cargo away from the United States. Nevertheless, LNG imports in 2007 are expected to be 39 percent higher than in 2006.For the first time, working gas stocks have exceeded 3.5 Bcf; as of October 26, working natural gas in storage was 3,509 Bcf.
Natural Gas Transportation Update:
California Gas Transmission Pipeline Company issued a systemwide stage 2 high-inventory operational flow order (OFO) for November 5 with penalties set at $1 per decatherm (Dth). On November 7, the company announced another systemwide stage 2 high-inventory OFO, also with penalties set at $1 per Dth. The OFO did not continue beyond Wednesday, November 7.

On November 1, Florida Gas Transmission Company began pipeline maintenance upstream from compressor station number 6, located in Texas. Maintenance is expected to last about 15 days. During this project, the company will schedule up to approximately 150,000 million Btu (MMBtu) per day. Normally 300,000 MMBtu per day is scheduled.

Northern Natural Gas Company issued a force majeure that is expected to last from November 3 to November 21 at the Perryton Barlow compressor station in Ochiltree County, Texas.According to the company, the station's dehydration system is currently not operational, requiring the pipeline company to shut in the station until repairs are completed. During this period capacity will be zero.

Cheyenne Plains Gas Pipeline Company announced that repairs have been completed on the compressor at the Cheyenne Plains Compressor Station and Treating Plant, in Colorado. Operationally available capacity was expected to increase on Wednesday, November 7, to 816 million cubic feet per day (MMcf/d) at the Cheyenne Plains West constraint point and 874 MMcf/d at the Cheyenne Plains East constraint point.

On November 6, the El Paso Natural Gas Company announced a force majeure because of turbine mechanical failure at the Alamo Lake number 2 station. The station is located in La Paz County, Arizona. The estimated timeframe for the repair is approximately 2 weeks. According to the company, the force majeure will result in a reduction of 100 MMcf/d from the estimated base capacity of 620 MMcf/d on the Havasu Crossover.