Overview:  Thursday, August 23, 2007 (next release 2:00 p.m. on August 30, 2007)
Natural gas spot and futures prices eased this report week (Wednesday to Wednesday, August 15-22), as Hurricane Dean failed to have a significant impact on U.S. production in the Gulf of Mexico and moderate temperatures limited demand. On the week, the Henry Hub spot price declined $1.46 per MMBtu, or 20 percent, to $5.84. Trading of futures contracts at the New York Mercantile Exchange (NYMEX) also resulted in large price decreases. The NYMEX contract for September delivery decreased $1.286 per MMBtu on the week to a daily settlement of $5.578 yesterday (August 22). Working gas inventories reported in today's release of EIA's Weekly Natural Gas Storage Report were 2,926 Bcf as of Friday, August 17, which is 12.8 percent above the 5-year average inventory for the report week. The spot price for West Texas Intermediate (WTI) crude oil decreased $4.06 per barrel on the week to $69.30 per barrel, or $11.95 per MMBtu.
<![if !vml]>
<![endif]>
Natural gas spot prices tumbled early this calendar week as it became more certain that Hurricane Dean's path would avoid U.S. producing regions. Dean followed a path across energy-related infrastructure in Mexico (with the precise impact still unknown), but the hurricane did not come close to production infrastructure located in the U.S. waters of the Gulf of Mexico. The result was only a slight disruption of industry activity in the Gulf, and production shut-ins never exceeded 100 million cubic feet per day, according to the Minerals Management Service. On the report week, the Henry Hub price fell about 20 percent, or $1.46 per MMBtu, to an average of $5.84 yesterday (Wednesday, August 22). Other market locations in the Gulf region registered similar decreases between $1.30 and $1.68 per MMBtu, although the price for delivery in Florida (where natural gas is primarily used as a fuel for power generation to meet air-conditioning needs) remained the highest in the country at $9.47 per MMBtu yesterday. The South had plenty of heat as demonstrated by the high prices in Florida, but moderate temperatures blanketed the Northeast for a couple days during the report week. For example, the high of 59 degrees on Tuesday, August 21, in New York City was 23 degrees below normal. The largest price decreases on the week were in fact in the Northeast, with the average price for the region falling $1.61 per MMBtu to a regional average price of $6.18 yesterday. With the exception of one market location (Questar), market centers in the Rockies recorded decreases between 9 cents and $1.24 per MMBtu. The regional average price for Rockies market locations was $4.04 at the end of the report week. West of the Rockies, weekly decreases of over $1 per MMBtu were registered at market locations in southern California, Arizona, and Nevada.
<![if !vml]>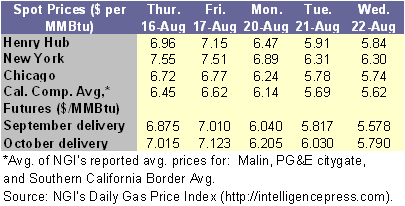 <![endif]>
NYMEX futures registered steep declines this week, including the largest single-day movements in nearly 20 months. A 97-cent decline for the September 2007 contract on Monday was the largest decline since the January 2006 contract lost $1.26 per MMBtu on December 27, 2005. The decrease came as it became clear that Hurricane Dean would not have an impact on Gulf production (at least on the U.S. side of the Gulf). On the week, the September contract declined a total of $1.286 per MMBtu to $5.578. At this price level, the September contract is priced more than 53 cents less than the close of the August 2007 contract and $1.238 less than the September 2006 expiration price. Without exception, futures contracts in the 12-month strip and even further out also registered large decreases for the report week as NYMEX trading resulted in declines in all three trading sessions this calendar week. As a result, the 12-month strip closed yesterday at $7.32 per MMBtu, a decrease of 77 cents or almost 10 percent since last Wednesday.
Recent Natural Gas Market Data
<![if !vml]>

<![endif]>
Working gas in underground storage was 2,926 Bcf as of August 17, which is 12.8 percent above the 5-year average inventory level for the report week, according to EIA's Weekly Natural Gas Storage Report (see Storage Figure). The implied net injection for the week was 23 Bcf, which was significantly lower than both the 5-year average net injection of 61 Bcf and last year's net injection of 54 Bcf. As a result, the difference between current inventory levels and the 5-year average decreased to 333 Bcf, and the difference between current inventories and last year's level decreased 77 Bcf. The pace of injections this year has surpassed even last year's record-breaking refill, even though this is the second consecutive week in which the level of injection was lower than it was in 2006. The slowdown in injection activity likely resulted from increased weather-related demand. The latest cooling degree-day (CDD) statistics published by the National Weather Service for the period roughly coinciding with the week covered by this storage report show that weather-related gas demand was likely higher than last year in all Census Divisions with the exception of the West South Central. For the United States as a whole, CDDs totaled almost 30 percent more than last year. The large temperature deviations relative to both last year's level and normal suggest demand for natural gas as a fuel for power generation to meet air-conditioning needs would have been larger this year compared with last year's or normal consumption levels. (see Temperature Maps)
<![if !vml]>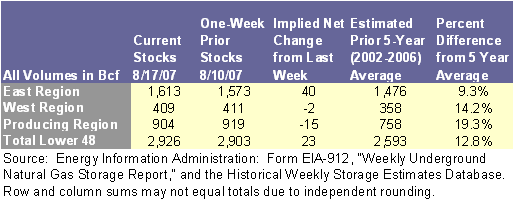 <![endif]>
Other Market Trends:
EIA Releases Report on Natural Gas Price Volatility: The Energy Information Administration (EIA) has published a report that analyzes price volatility in the spot natural gas markets. The report titled An Analysis of Price Volatility in Natural Gas Markets states that a high degree of price volatility seems inherent in natural gas markets because of the nature of the commodity. However, the annual volatility during 1994 and 2006 does not exhibit a clear overall trend.  Based on statistical and graphical analysis, the report draws several conclusions about trends in and influences on volatility. According to the analysis, monthly volatility is higher during the colder months when short-term demand peaks.  Additionally, weekly price volatility increases as storage levels move away from the 5-year average, and this effect is more pronounced during the months that surround the start of the heating season. This relationship is independent of whether storage levels are above or below the 5-year average. While there are seasonal trends in volatility levels, there is no clear increasing or decreasing trend. Finally, although volatility, which is defined on the basis of percent changes in market prices, may be stable, this trend obscures the absolute impact on costs or revenues as the market price rises. Volatility may not be increasing, but even under relatively low levels of volatility, financial risk can be large as daily price movements increase.
MMS Activates its Continuity of Operations Plan: In the wake of Hurricane Dean, the Minerals Management Service (MMS) has activated its Continuity of Operations Plan to monitor the activities of platform and rig operators in the Gulf of Mexico, as a number of operators have shut in oil and gas production. Based on data from offshore operator reports submitted as of August 22, personnel have been evacuated from a total of 19 production platforms, which is 2.3 percent of the 834 manned platforms in the Gulf of Mexico. Personnel from 3 rigs have also been evacuated, which is equivalent to about 3 percent of the 101 rigs currently operating in the Gulf. MMS also estimates that 24,815 barrels of crude oil per day or about 1.9 percent of the production in the Gulf remains shut in, while 83 MMcf of natural gas per day, or more than 1 percent, was shut in as of Wednesday. The latest numbers reflect decreases in shut-in production since Monday, when daily volumes of 41,967 barrels of oil and 100 MMcf of natural gas were shut in. Since Monday, however, the number of platforms evacuated has increased from 10 to 19 as of yesterday. Under the Continuity of Operations Plan, all facilities will be inspected once the storm passes. Production from undamaged facilities is expected to be brought back online immediately, while facilities that have sustained damage may take longer to resume production.
Natural Gas Transportation Update:
<![if !supportLists]>· <![endif]>Northwest Pipeline Company announced that effective gas day August 22, and until further notice, injection requests for interruptible storage capacity at the Jackson Prairie storage facility in Washington State will not be accepted. Furthermore, all interruptible storage holders that have a balance in the storage facility must bring their storage balance to zero by September 7, 2007. Park and loan service remains available on a limited basis at the Jackson Prairie facility.
<![if !supportLists]>· <![endif]>Questar Pipeline Company announced on Friday, August 17, that it will be performing piping modifications between September 18 and 19, 2007, as part of the Southern System Expansion II project. To facilitate the work, Mainline 40 will be taken out of service from the Fidlar Station in Utah to the Green River block valve, located 24 miles west of Fidlar. In all, the pipeline plans on shutting in 18 points and reducing nominations to zero during the modifications. In addition, the Mainline 40 capacity will be reduced to about 330,000 decatherms per day for the 2 days. Nominations are expected to return to normal for gas day September 20.
<![if !supportLists]>· <![endif]>Dominion Gas Transmission Company took the Smithburg station in Virginia out of service between August 22 and 23 for work related to a planned expansion of the station. During the outage, producer compression in bubble 4403 was shut in.
<![if !supportLists]>· <![endif]>Southern Natural Gas Company announced on Monday, August 20, that it has experienced an unscheduled outage at the DeArmanville compressor station located on the north system in eastern Alabama. As a result of this outage, Southern may be required to limit interruptible capacity in Group 4 – Chattanooga Group, Group 13 – East Tennessee Group, and Group 59 – Tallapoosa Group and/or limit deliveries to 6 percent hourly entitlement rights. The limitation of interruptible capacity is supposed to remain in place until further notice.