Overview: Thursday, August 9, 2007 (next release 2:00 p.m. on August 16, 2007)
The sweltering heat that engulfed most of the Lower 48 States for much of the report week led to natural gas spot price increases at most locations this week (Wednesday-Wednesday, August 1-8). The Henry Hub spot price increased 7 cents per MMBtu this week, or about 1 percent to $6.26. There were, however, some price decreases on the week, as well. For example, trading locations west of the Rocky Mountains decreased on the week between 7 and 14 cents per MMBtu. The price of the NYMEX futures contract for September delivery also decreased by 13 cents since last Wednesday (August 1) to settle yesterday at $6.220 per MMBtu. Natural gas in storage as of Friday, August 3, was 2,882 Bcf, which is 16.4 percent above the 5-year average. After reaching the all-time high of $78.20 per barrel on July 31, the crude oil price decreased almost 8 percent. On the week, the spot price for West Texas Intermediate (WTI) crude oil ended yesterday's trading session at $72.23 per barrel ($12.45 per MMBtu) after decreasing $4.26 per barrel (73 cents per MMBtu), or 5.6 percent.
<![if !vml]>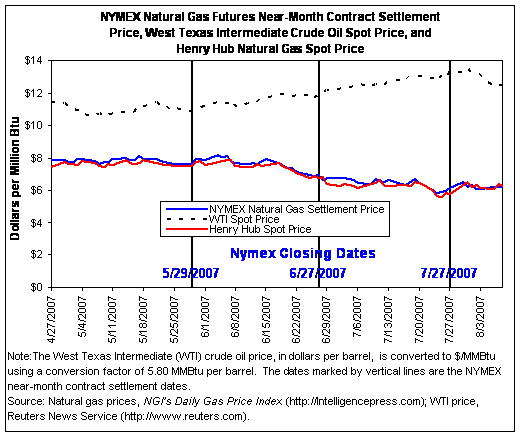 <![endif]>
Above normal temperatures during the report week, with 26 States east of the Rockies registering temperatures in the 80s and above, resulted in upward spot price movement this week. Since Wednesday, August 1, spot price increases were widespread and varied between 1 cent and $1.56 per MMBtu. In all, more than two-thirds of trading locations in the Lower 48 States recorded net weekly increases. The Henry Hub spot price increased 7 cents on the week, ending trading yesterday at $6.26 per MMBtu. Other trading locations in Louisiana all increased, reaching a regional average of $6.41 per MMBtu, 17 cents higher than last Wednesday. Other producing regions along the Gulf Coast also recorded increases on the week that ranged between 1 and 49 cents per MMBtu. The highest weekly increase occurred in Florida, where the Florida Gas Transmission citygate price reached $8.96 per MMBtu after increasing $1.56, in the wake of sustained high temperatures that exceeded 90 degrees. Some trading locations, most notably those west of the Rockies, decreased on the week, reflecting the cooler temperatures in California, Oregon, and Washington. Prices in California decreased by an average of 9 cents per MMBtu to $5.75, while prices in the Rocky Mountain region, on average experienced nearly no change on the week (the average regional price increased by about 0.5 cents).
<![if !vml]>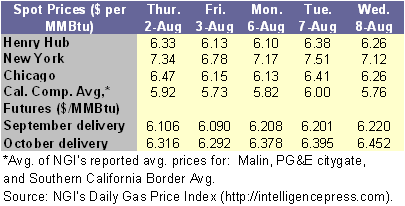 <![endif]>
The price of the NYMEX futures contract for September delivery decreased 13.2 cents since last Wednesday and settled at $6.220 per MMBtu yesterday. The October 2007 contract also decreased on the week, ending trading yesterday 11.2 cents or 1.7 percent lower than last Wednesday (August 1). Contracts for delivery during the next 12 months (September 2007 - August 2008) declined by an average of 18.6 cents per MMBtu this week to settle at an average of $7.784 per MMBtu. Currently, the highest priced contract is the February 2008 contract, which settled yesterday at $8.599 per MMBtu. Current natural gas supplies are deemed sufficient to meet both the ongoing high heat-induced space cooling demand as well as heating demand during the upcoming heating season. These current market expectations resulted in futures contract price decreases for delivery through December 2008. Futures contract prices for delivery during the 2007-2008 heating season remain below last year's prices for the 2006-2007 heating season contracts by an average of $0.794 per MMBtu. The November 2007-through-March 2008 contracts traded yesterday at an average of $8.238 per MMBtu, compared with the November 2006-through-March 2007 strip's price of $9.033 per MMBtu on August 8, 2006. Additionally, contracts for delivery during the next heating season were trading at an average premium of $1.97 per MMBtu relative to the Henry Hub spot price yesterday, which is significantly lower than the premium of more than $3 that the 2006-2007 heating season futures contracts exhibited 1 year ago.
Recent Natural Gas Market Data
<![if !vml]>

<![endif]>
Working gas in storage totaled 2,882 Bcf as of Friday, August 3, according to EIA's Weekly Natural Gas Storage Report. Working gas inventories are roughly 16 percent above the 5-year average for the report week and about 4 percent above the level last year for the same week (see Storage Figure) . This week's net injection of 42 Bcf is about 7 percent lower than the 5-year average injection for the week, and it sharply contrasts with last year's net withdrawal of 7 Bcf for the report week. During the week ended August 2, the National Weather Service reported temperatures that were 13 percent warmer than normal as measured by cooling degree days (CDDs) (see Temperature Maps). For the report week, temperatures in eight out of the nine Census Divisions were warmer than normal, with CDDs exceeding normal levels between 1 and 65 percent. The Census Divisions that include large population centers in the Northeast and the Midwest experienced temperatures that were around 30 percent warmer than normal. Only the West South Central Census Division, which includes the States of Arkansas, Louisiana, Oklahoma, and Texas, recorded temperatures that were about 10 percent cooler than normal. However, this week's temperatures were significantly lower than last year, when warmer-than-normal temperatures resulted in a record level of electric power generation and a storage net withdrawal.
<![if !vml]>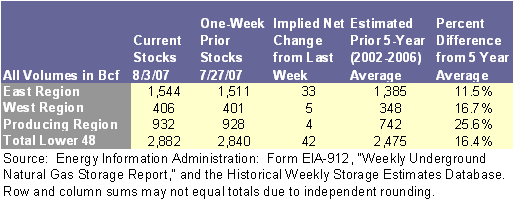 <![endif]>
Other Market Trends:
EIA Releases August 2007 Short-Term Energy Outlook: In its latest Short-Term Energy Outlook (STEO), released August 7, the Energy Information Administration (EIA) projects that the Henry Hub spot price will average $7.45 per thousand cubic feet (Mcf) in 2007 which is $0.52 per Mcf more then the 2006 average. Furthermore, EIA expects the average price to increase to $8.06 per Mcf in 2008. These price projections are influenced by the lack of hurricane activity in the Gulf of Mexico. However, since the hurricane season does not end until November, current price projections will remain open to potential storm-related disruptions during the remainder of the hurricane season. With natural gas serving as a primary fuel source for meeting peak demand for summer cooling, temperatures will continue to play a key role in determining natural gas consumption throughout the third quarter. On an annual basis, total natural gas consumption is expected to increase by 4 percent in 2007 and 1.3 percent in 2008. EIA projects an increase of 4.8 percent in consumption of natural gas for electric power generation in 2007. The 2007 total dry natural gas production is expected to increase by 0.8 percent, followed by another 1.5 percent in 2008. Liquefied natural gas (LNG) imports are expected to decline for the remainder of the year as more cargoes are directed to European and Asian markets. Despite the expected decline, total LNG imports are expected to reach a record high of 850 billion cubic feet by the end of 2007.
Natural Gas Transportation Update:
Southern Natural Gas Company declared a force majeure on August 3 because of an unscheduled outage at Gate 6 platform located offshore Louisiana approximately 16 miles upstream of the Toca compressor station. Southern's Gate 6 platform has seven supply lines operated by three parties feeding into the platform and three Southern-operated lines leaving the platform. As a result of the force majeure, Southern had to shut in all production upstream of Toca. On August 6, Southern announced that two of the three Southern lines leaving the platform have ruptured.According to the company announcement, it is anticipated that one of the 20-inch pipelines will remain out of service for the next 2 to 3 weeks.

Transcontinental Gas Pipe Line Corporation (Transco) reported on August 7 that because of pipeline operating conditions, capacity available for interruptible transportation have been reduced at Station 50 and Station 60, located in Louisana. Effective with gas day Thursday, August 9, 2007, and continuing until further notice, Transco will limit the total scheduled quantity through both locations to 1,750 million decatherms (Dth) per day. The design capacity at Station 50 is about 2,298 million Dth per day and at Station 60 the design capacity is about 2,294 million Dth per day.Primary firm transportation is not impacted by this capacity curtailment.

On August 6, Northwest Pipeline Corporation sent a notice to all shippers notifying them that the pig run between the Lava Hot Springs and Pocatello compressor stations located in Idaho, has been moved to August 9, as a result of scheduling issues. A pig run consists of inserting a robotic device into the pipeline which travels through the system performing various operations. For example, it can test the thickness and roundness; and detect leaks, corrosion, and many other defects along the interior of a pipeline.Available capacity at the Lava Hot Springs compressor was reduced from 648,000 Dth per day to 588,000 Dth per day on August 9, 2007.Current primary nominations through the Lava Hot Springs compressor are in excess of 620,000 Dth per day. Furthermore, the company announced that if primary nominations exceed available capacity, a deficiency will be declared and nominations will be cut accordingly.

Florida Gas Transmission Company declared an overage alert day (OAD) on Wednesday, August 8, with a 20 percent tolerance for negative daily imbalances. Then on August 9, the pipeline extended the OAD, tightening the tolerance to 15 percent, because of high temperatures.